Let's just get this part out of the way: This post contains major spoilers for Shazam! Fury of the Gods. If you haven't seen it yet, turn around and do that before you scroll any further. Don't say we didn't warn you!
Now, if you did see the movie, we hope you stayed through the credits for not one, but two surprise scenes.
It's practically tradition these days for superhero movies to tease what's around the corner in their credits and Fury of the Gods is no different—though these particular scenes might have left you scratching your head if you haven't seen some other DC shows or movies. That's what we're here for, though, so you're in luck. We're going to break them down!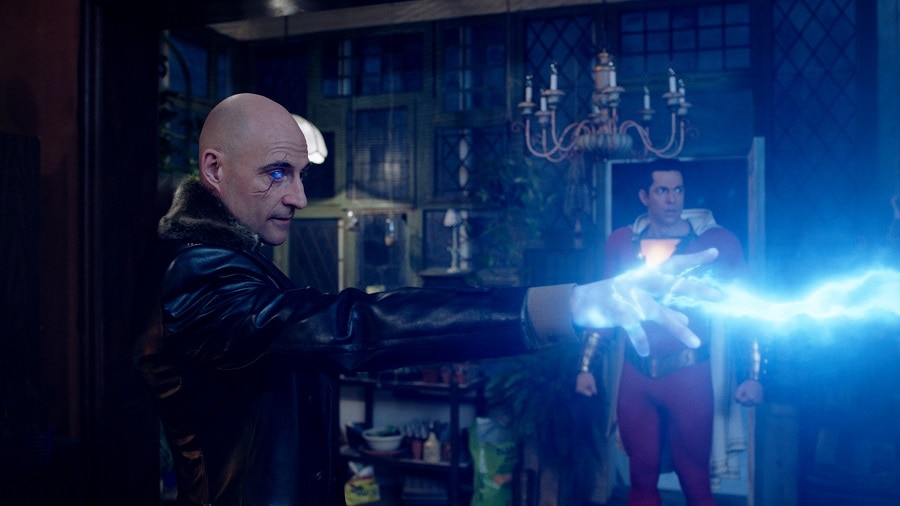 Following the ultimate defeat of the Daughters of Atlas (and the resurrection of Billy, who very nearly sacrificed himself to accomplish that goal) we're taken back to a place that might seem a bit familiar to you if you can recall the mid-credits scenes of the first Shazam! Dr. Sivana's cell in the institution has certainly seen better days—he's apparently spent the last year-and-change scrawling all sorts of arcane notes on his wall, as you do when you're a magic-obsessed mad scientist. It is, however, a little surprising to find him still in prison. After all, in the first Shazam!, we saw Sivana having a very fateful meeting with a talking worm in a robot suit shortly after his incarceration. That worm, DC fans will know, is none other than Mister Mind, a dangerous cosmic telepath who just so happens to be a tiny caterpillar.
Well, apparently Mind's plans have been slow moving because, as we learn in the scene, he's left Sivana in the dark all this time. Sivana is, unsurprisingly, unimpressed with his erstwhile partner when he shows back up to explain that, yes, he still is working on his master plan, and yes, Sivana is still involved, but Mind is not very fast. His tiny little worm legs only move at one speed, after all.
The scene doesn't give us many hints as to what's actually next for Mind and Sivana, but it does emphasize that they are still very much on the playing field and Mind is still hard at work. It's even likely that they're in a better position now than they would have been shortly after Sivana's initial defeat, because the Shazamily has likely written Sivana off as a threat altogether.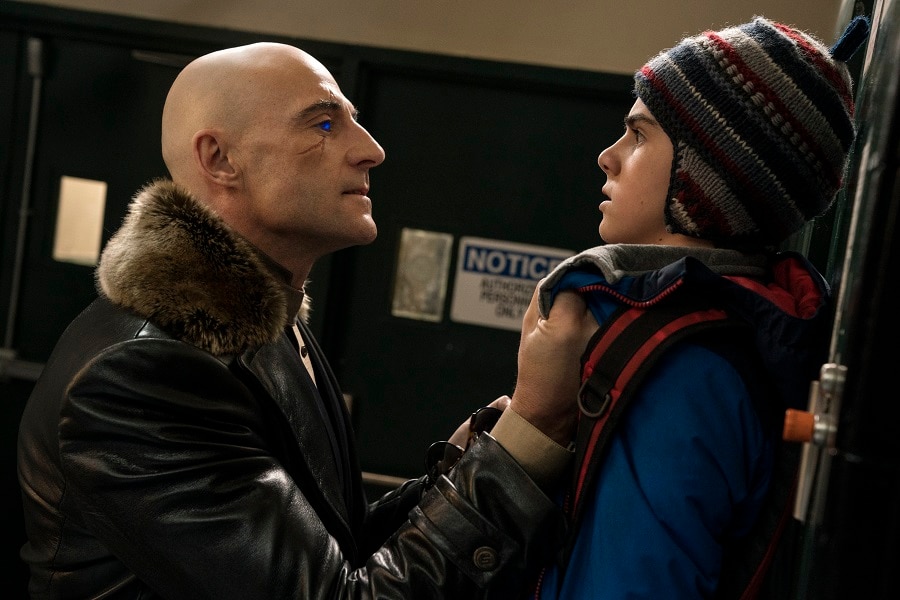 We spoke with director David F. Sandberg about the decision to hold Mind and Sivana back from the sequel where he also took the time to explain that they were still on the table for future movies, so with any luck we can expect to see them again at some point down the road.
The second post credits scene offers a more direct look at what to expect moving forward. We meet up with Billy in Shazam form once more, but he's out in the middle of nowhere having target practice with his lightning against some bottles at an abandoned gas station. It's not made clear what he's doing out there, exactly, but he's not alone—two familiar faces are on their way to meet up with him. John Economos and Emilia Harcourt, two of the A.R.G.U.S. agents from the series Peacemaker have apparently been assigned to track Shazam by their boss, Amanda Waller.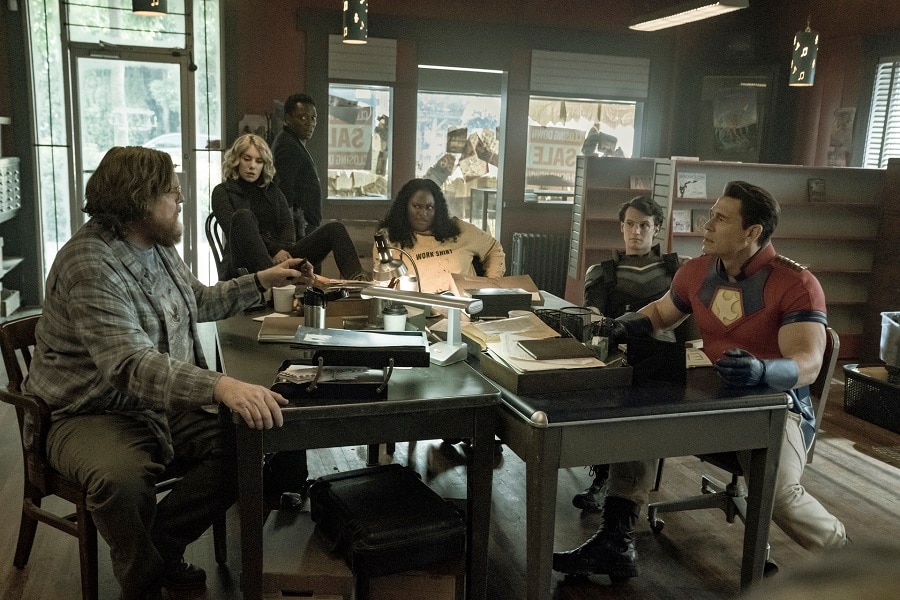 But Waller isn't interested in Shazam for the Suicide Squad or for A.R.G.U.S., apparently. She's more keen on potentially recruiting him for another project: The Justice Society. Billy is excited at the prospect, but immediately confused that there would be a Justice Society and a Justice League working at the same time, and he's a little disappointed to learn that he's being scouted for the less famous of the two.
Economos and Harcourt don't provide him with much in the way of details, and they don't share any information about who else they've contacted or why, so we're left to take some wild guesses at what this may lead to in the future. One thing to note is that Economos and Harcourt first appeared in James Gunn's The Suicide Squad, before moving on to its spinoff, Peacemaker. So, the fact that Shazam is mixing it up with two Gunn characters who sound like they'll be a part of "Gods and Monsters" may suggest he might be a part of it too down the line. But that's just rampant speculation on my part.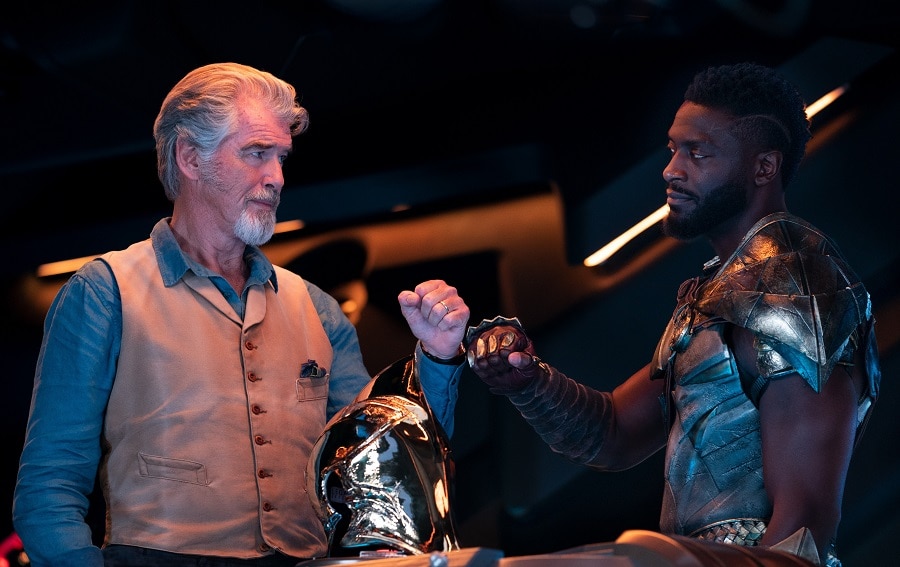 As for the JSA side of things, there is certainly a precedent in the comics for Shazam to work with the JSA, but the team's roster of past and current members is absolutely massive so that doesn't narrow things down too much. Of course, we last saw the Justice Society onscreen in Black Adam with Hawkman, Doctor Fate, Cyclone and Atom Smasher, but it's not clear in this scene whether Waller is looking to add to or replace the current line-up with new recruits.
Could a movie or TV series involving Shazam and the Justice Society await us in the future? Or is this just a way for two of DC's funnier franchises—Shazam and Peacemaker—to have a little fun together in a bonus scene? Will Dr. Sivana and Mr. Mind ever get their crap together and unleash their looming revenge? Maybe…or perhaps these Sivana/Mind post-credits scenes will just be a running gag in every Shazam movie going forward. We can only speculate, but Sandberg, Zachary Levi and the rest of the Shazam team need only say the word, and we'll be back in the theater for more!
 
Shazam! Fury of the Gods, starring Zachary Levi and directed by David F. Sandberg, hits theaters March 17th. Visit our official Shazam! Fury of the Gods page to buy tickets and catch up on all of the latest news, trailers and more!
Mason Downey writes about comics, movies and superhero history for DC.com. Look for more of his work on GameSpot, IGN and Polygon and follow him on Twitter at @rustypolished.
NOTE: The views and opinions expressed in this feature are solely those of Mason Downey and do not necessarily reflect those of DC Entertainment or Warner Bros., nor should they be read as confirmation or denial of future DC plans.