John Constantine doesn't want much to do with magician society, especially since his father—famed magician Thomas Constantine—walked out on him when he was little. When the opportunity to study under a colleague of his stepfather Roderick—another famed magician—comes up, he uses it as a way to get out from under his parents' watchful eye in England. He heads across the pond to stay with a friend, Veronica, and be the lead singer in her (mediocre, to be honest) punk band.
Curiosity gets the best of him, however, and he visits his stepfather's colleague. She's Not Impressed, and sends him on his way…but he doesn't leave empty-handed. And the little book he steals is filled with the kind of magic he wants to do but is perhaps too hot-headed to handle.
Read more about Constantine and the consequences of his actions in DC's latest YA graphic novel: Constantine: Distorted Illusions, written by Kami Garcia and illustrated by Isaac Goodhart. And learn more about the book in the breakdown below!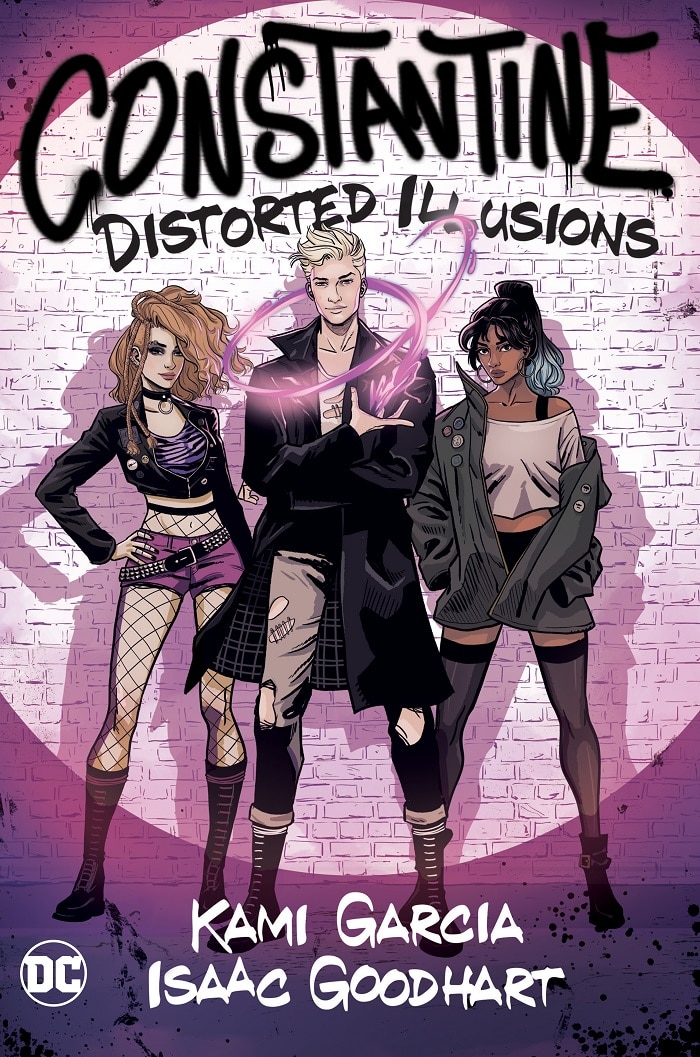 Cover Crackdown:
This 100% looks like the album cover of a teenage pop-punk band, which is perfect for the story since it includes a punk band made up of near-teenage people. It could also be the poster for a teenage illusionist show with a punk theme, which…is also appropriate for the book. Either way, it absolutely captures the feel of the story. If you're intrigued by neither of those ideas, then this book might not be up your alley. Then again, you might be surprised at how much you enjoy breaking from your norm!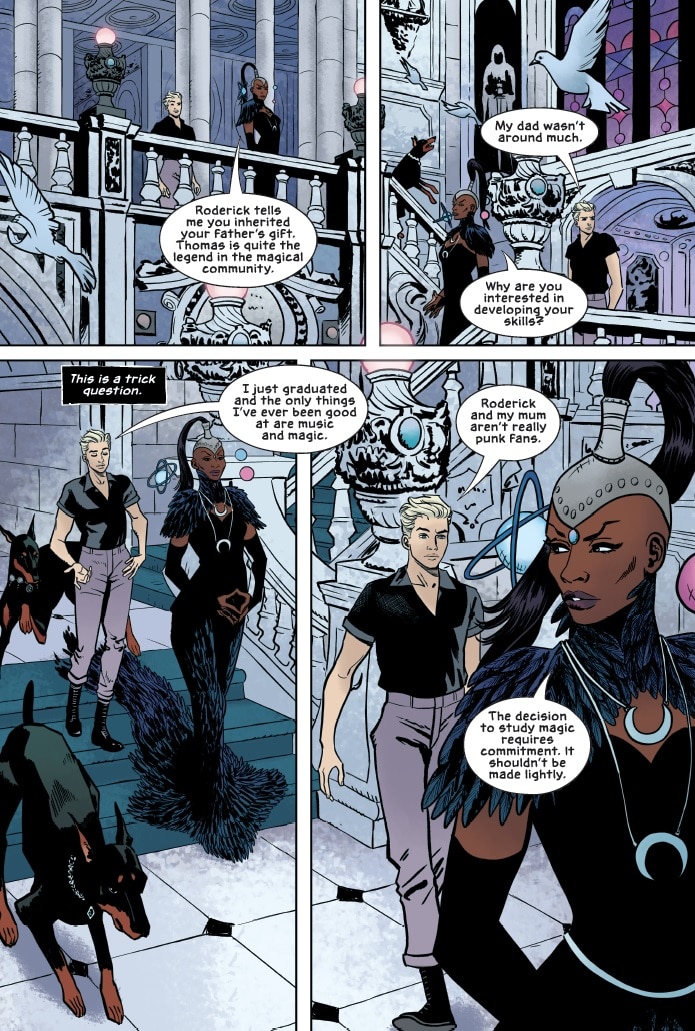 Tell Me a Story:
John Constantine is good at two things: magic and music. His parents aren't keen on the latter being his life's career, however, so they try to hook him up with proper magical training from Lady Margaret, a magician in the US. He's more interested in taking advantage of the magician's location, however, and helping out his friend Veronica, whose punk band just lost their lead singer. So that he can say he didn't travel all that way for nothing, John visits Lady Margaret. But his inability to keep his hands off things that aren't his gets him in trouble and the magician wants nothing to do with him.
So, John "borrows" a book of spells from Lady Margaret's collection, a book that seems harmless enough at first…but quickly leads to Veronica's life being on the line. John must quickly come to terms with his inexperience and lean on the people he earlier turned his nose up at for their snobbery. (The irony, it burns.)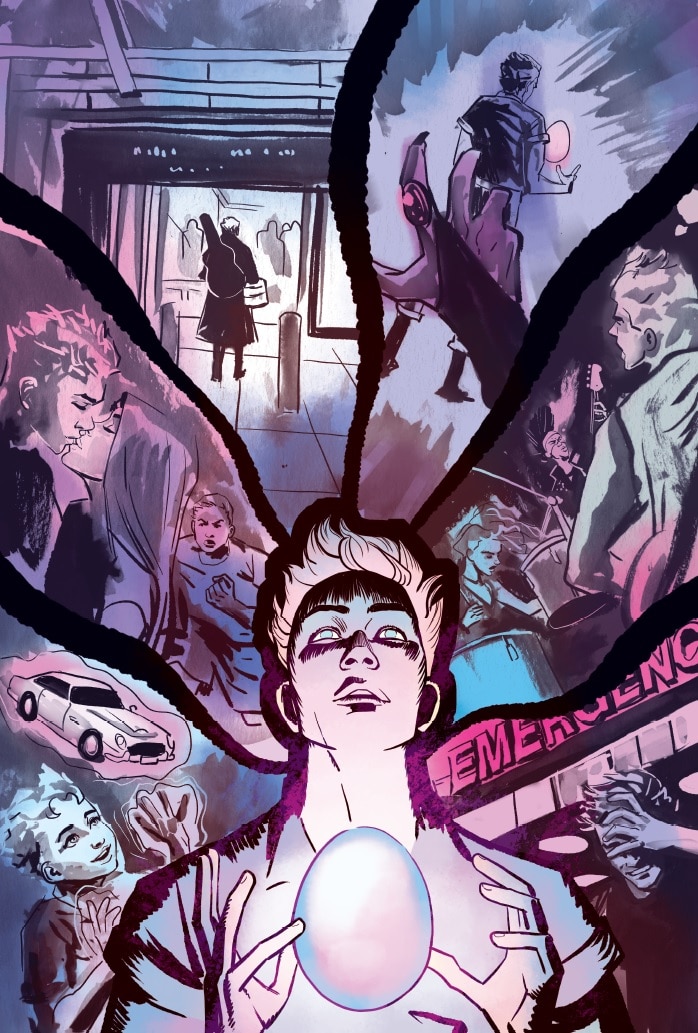 Let's Talk Art:
This is the third DC young adult graphic novel Isaac Goodhart has illustrated (he also illustrated Under the Moon: A Catwoman Tale and Victora and Nora: A Gotham Love Story), and he continues to excel at drawing characters that are expressive and real. Constantine: Distorted Illusions is a great combination of grit and pretty people—super accurate for the character of John Constantine, even if in this case he's a teenage punk singer and not your normal adult exorcist.
The color palette is interestingly '80s, too. Lots of pinks, purples and teals. Although the book is set in modern times, the colors are a nice nod to punk's mainstream heyday.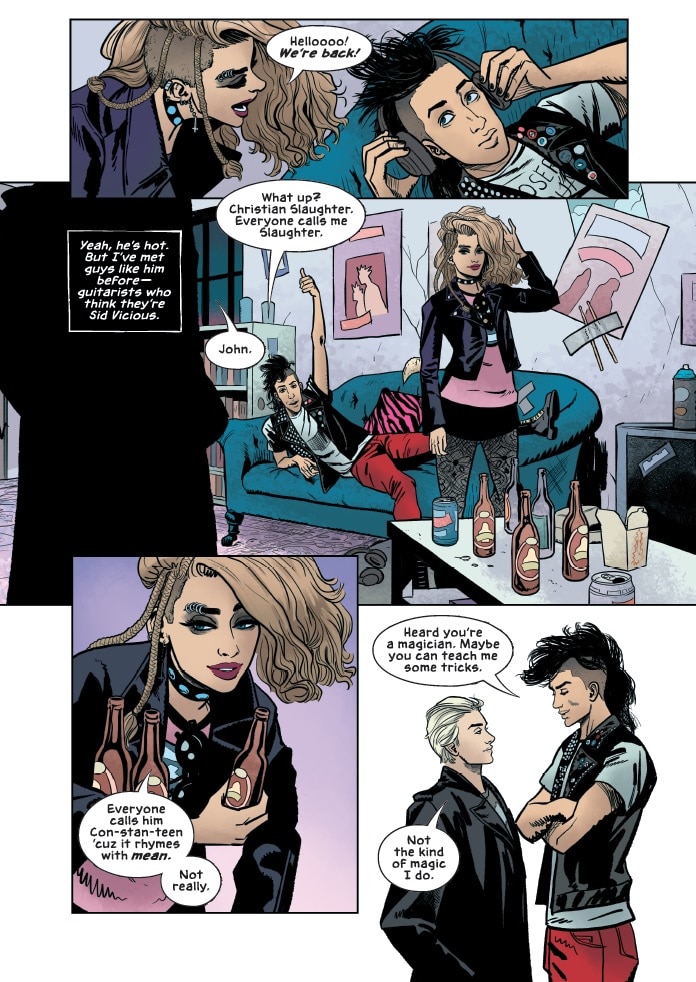 Dialog Discussion:
Kami Garcia's old hat at writing YA graphic novels for DC now, too. (Her other books include the Teen Titans series: Teen Titans: Raven, Teen Titans: Beast Boy and Teen Titans: Beast Boy Loves Raven.) She's also a bestselling YA prose novelist, so it's no surprise that she's really skilled at writing dialog that feels very teen. John and his mates have conversations that are on that familiar cusp of adulthood, both naive and too mature at the same time.* John's particularly insightful when he's not thinking that he knows better than his elders. I really loved his thoughts about Luna—his love interest in the book. He's a hopeless romantic underneath that hard, jaded exterior!
*Except for Slaughter. He's just a massive doof.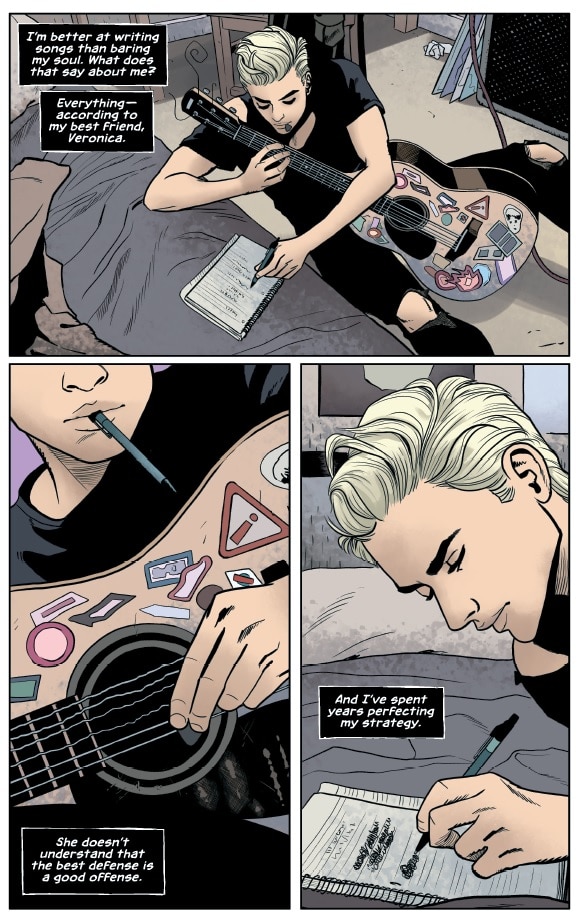 Most Crushworthy Character:
It's his book, yes, but the fact that John's the main character isn't the reason he's the most crushworthy of all the characters in this book. It's also not just his sexy lead singer persona or his prowess with magic or his hidden heart of gold. Or the fact that he's canonically bisexual, which is always great to see in a YA book. (Representation matters!) It's all of these things combined. John exudes main character energy—he would even if he wasn't the literal main character—and that kind of charisma is hard to ignore.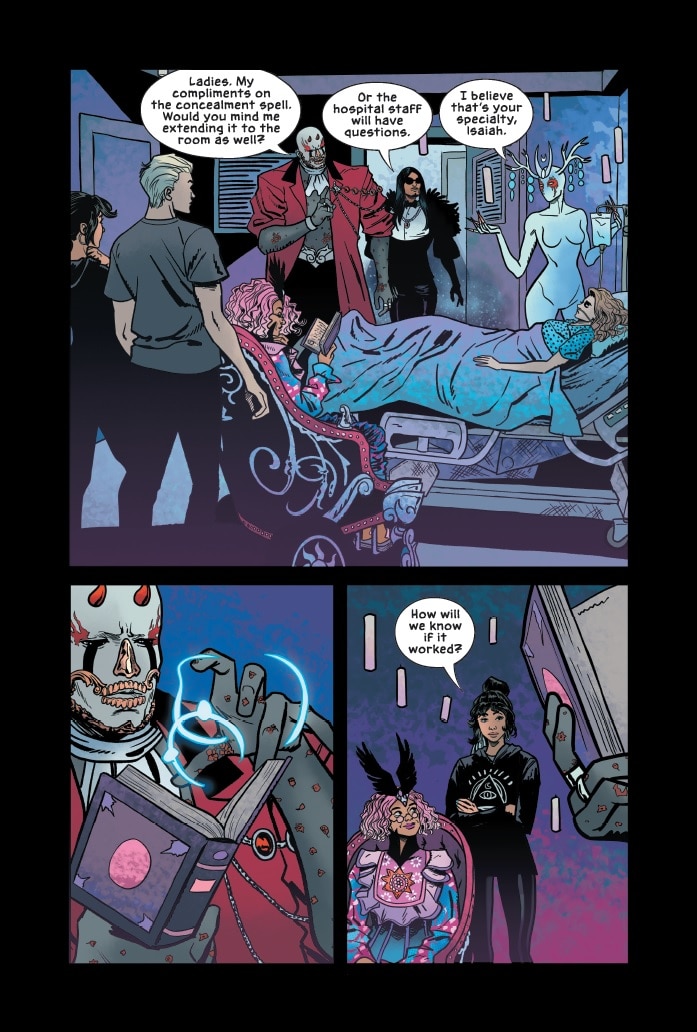 What Would You Most Like to Ask?
I'd love to ask the magicians in the book more about themselves. They are some super unusual-looking characters, and I know they have to have loads of backstories just waiting to be told. Sure, John and his peers are interesting, but they're not nearly as interesting as the members of his stepfather's magician society, including Roderick himself. You think John, Veronica and Luna's looks on the cover are something? Roderick's crew is on a whole other level.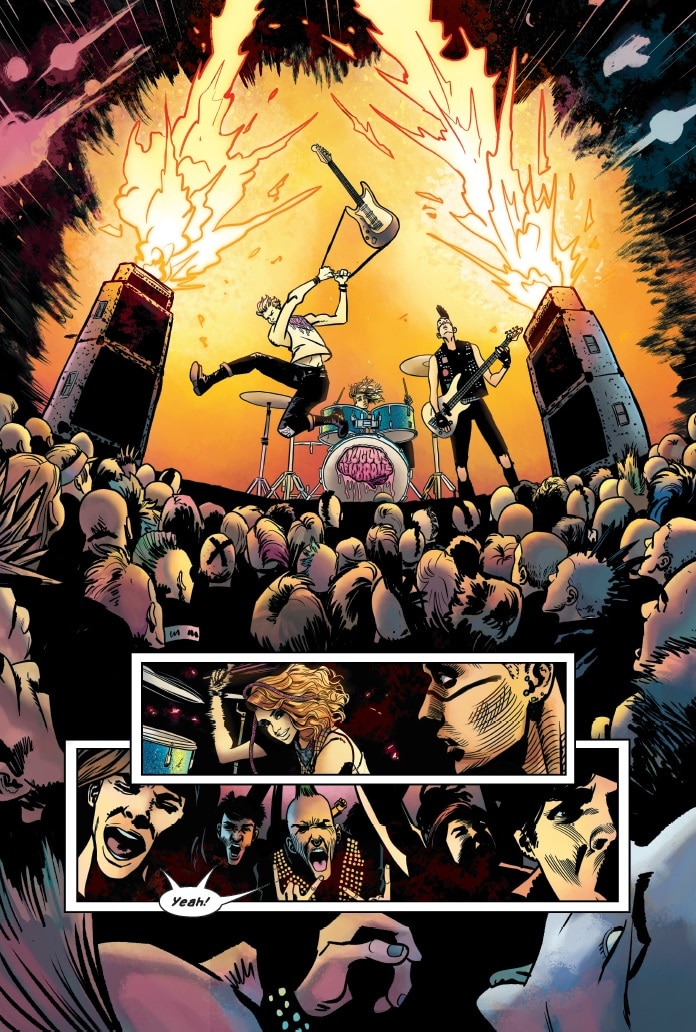 One Perfect Page:
As I mentioned previously, there's a real magical punk flavor to Constantine. There's no better example of that than this page, which is of the band's first performance together. (Their name is Mucus Membrane, which is equally hilarious and terrible, in a great way.) The flames, the action indicated by John's leap and Veronica's wild hair, the riotous nature of the crowd. It evokes a major feeling and overwhelms the senses by engaging the imagination. I can practically feel the heat and smell the salt of sweaty bodies. Sure, neither of those things are exactly good to feel or smell, but the fact that this page makes me feel those things is quite impressive.
 
Constantine: Distorted Illusions by Kami Garcia and Issac Goodhart is now available in bookstores, comic shops, libraries, and as a digital graphic novel.
When Mandy Curtis isn't reading books by Leigh Bardugo or Sarah J. Maas, she's dreaming of busting bad guys with Wonder Woman—if Steve Trevor's there, too, she won't complain—and writing about YA fiction and pop culture at Forever Young Adult. Follow her on Twitter at @mandyannecurtis.
Not sure what you just read? Click here for the skinny on our Book Breakdowns.
NOTE: The views and opinions expressed in this feature are solely those of Mandy Curtis and do not necessarily reflect those of DC Entertainment or Warner Bros.