DC UNIVERSE INFINITE IS LIVE IN THE U.K.
The Ultimate Digital Comic Book Subscription

Service Features More Than 25,000 Comics and Original Graphic Novels, Unlimited Offline Reading, and More
Following its first international expansion in Canada, Australia and New Zealand, DC UNIVERSE INFINITE is now available in the U.K.! The premium digital comics subscription service allows fans to access over 25,000 of their favorite comic books on iOS and Android devices starting at £36.99 BPS a year.
DC UNIVERSE INFINITE subscribers will have full access to classic stories including Crisis on Infinite Earths, Batman: Year One, Flashpoint, Dark Knight Returns and recently released comics like Arkham City: The Order of the World, Batman: The Imposter, Nubia & The Amazons and Refrigerator Full of Heads. With new comic books being added to DC UNIVERSE INFINITE six months after they hit retail store shelves, the expansive library is constantly being updated.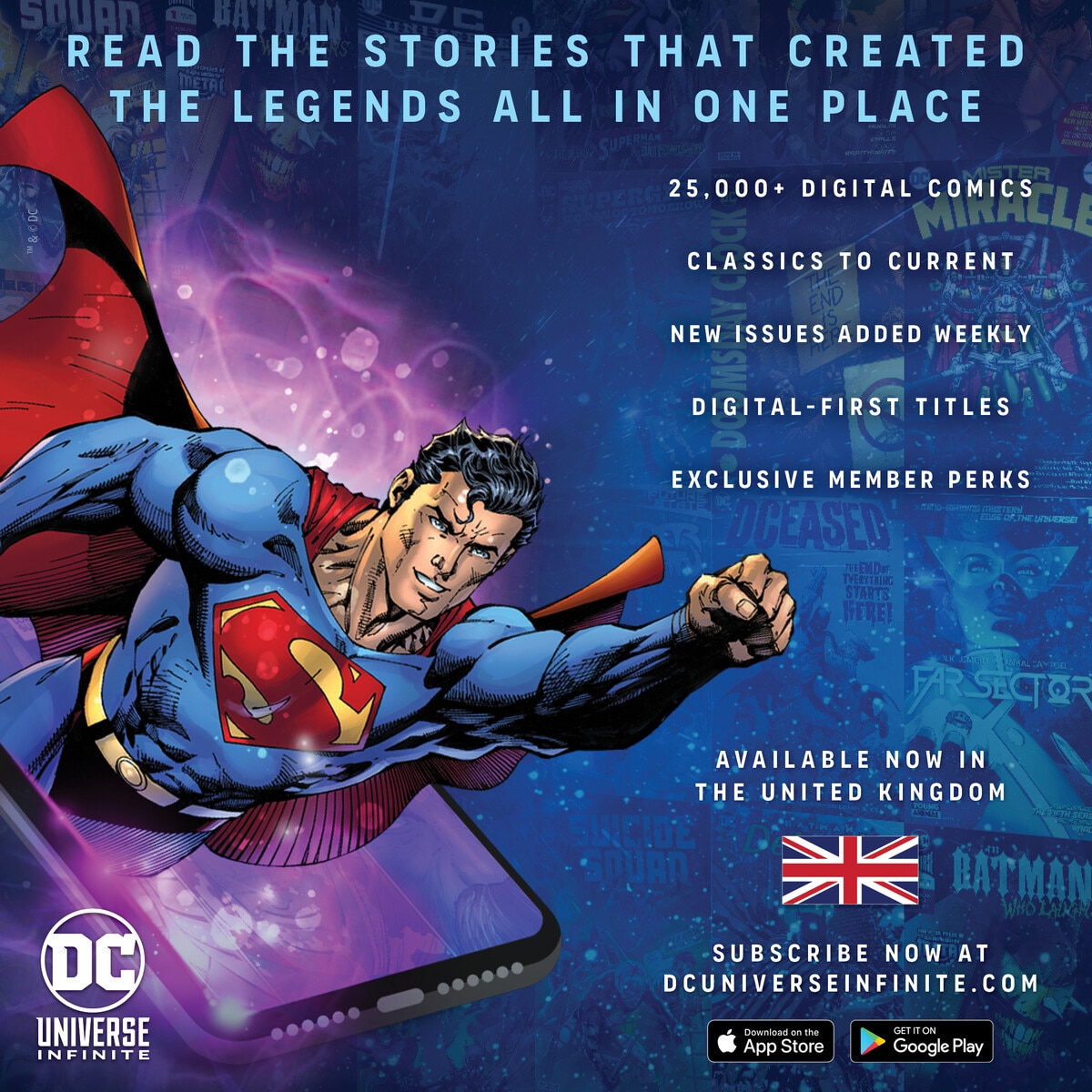 Subscribers will also have early access to new Digital First comics that include titles such as the recently announced Young Justice: Targets.
DC UNIVERSE INFINITE is also home to a fan-favorite community area full of in-depth discussions on the latest releases, Q&As with talent and more. The community is free to all registered and premium subscribers and will be available, alongside a web reader, soon.
Fans who sign-up for an annual subscription to DC UNIVERSE INFINITE during the first 30 days of the U.K. launch are able to subscribe for £36.99 BPS a year. Anyone that utilizes the introductory pricing will be able to renew at the same price, as long as they maintain their paid subscription. After the first 30 days, annual subscriptions will be available for £54.99 BPS a year and monthly subscriptions are also available for £6.99 BPS.
DC UNIVERSE INFINITE will roll out in Brazil and Mexico later this Summer with additional countries to be announced.
DC UNIVERSE INFINITE subscribers can download comics for unlimited offline reading on their favorite iOS and Android devices. For more information on DC UNIVERSE INFINITE, download the app from the Apple App and Google Play stores and visit dccomics.com. DC UNIVERSE INFINITE is not intended for children.