Hello, I'm Alex Jaffe. If you're a regular around here, you might know me from "Ask… The Question," my monthly column where I answer the trickiest and most perplexing questions the DC Community needs to know. But were you aware that every Tuesday at 2 PM Pacific, 5 PM Eastern, I also run a "Trivia Tuesday" competition for the DC diehards in our community message boards. The topics are wild and varied. The past few weeks, they've ranged from the history of the Suicide Squad to Tim Burton's Batman films to the world of LEGO DC. Every week, the winner gets the opportunity to take home the prestigious Riddler Badge, one of many elusive digital badges one can strive to earn as a member of our community.
However, as we embark on the Road to DC FanDome, we're celebrating this intense weekly trivia competition by taking things up a notch. For the next several weeks leading up to DC FanDome, every participant will be entered into a drawing for some pretty fabulous prizes. What sort of things are we talking about? You'll have to join us each week to find out, but we can tell you right now that they're things you absolutely will not want to miss out on.
How Does Trivia Tuesday Work?
Every Tuesday at 2 PM Pacific, 5 PM Eastern, Trivia Tuesday begins in a message board thread marked in the DC Community (which you can find at community.dcuniverseinfinite.com). As we approach game time, look for a banner that appears at the top of the DC Community homepage and click on it.

In the thread, I (using my alter ego of HubCityQuestion) will post one new question as soon as the game starts, with a subsequent question appearing every five minutes for the next two hours.

Whoever correctly answers each question first will be acknowledged as the winner and receive a point!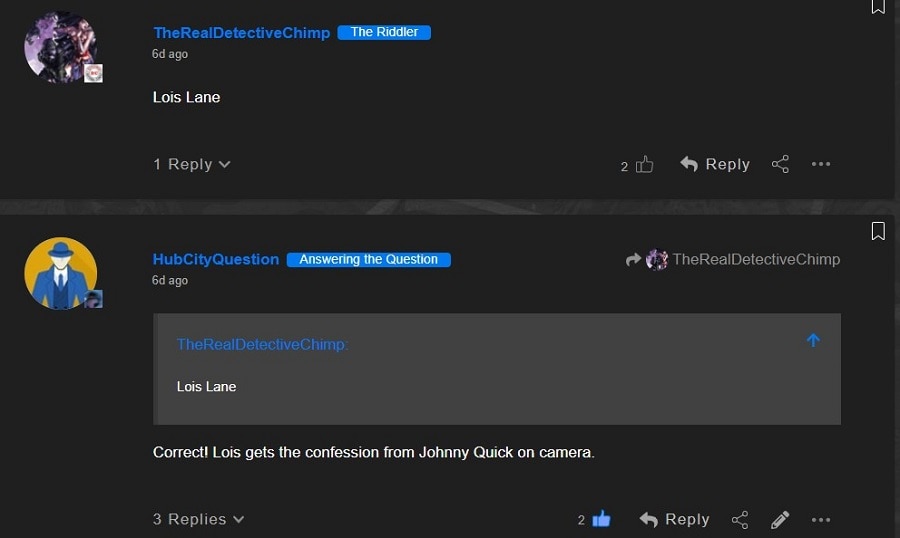 All points earned by all players are kept track of in a continuously updated scoreboard in the opening post of the thread.

Whoever has the most points after two hours of questions wins! But between now and DC FanDome, everyone who participates in the upcoming games, regardless of whether they make the scoreboard or not, will be entered into a drawing for that week's big prize.
What Are the Topics?
If you're going to play competitively on Trivia Tuesday, you're going to want to study up. That means you'll want to pay attention every FanDome Friday and make note of that week's theme because it'll also be the theme of that week's trivia. For example, our theme for next Tuesday, September 7, is…
DC Through the Decades
One of the strongest pillars of DC as a whole is the concept of Legacy, and how generations of stories continuously build on everything that has come before. This week, we'll be moving from decade to decade, from DC's very beginnings in the 1930s up until the modern day, exploring each of the most significant events in every generation of fandom. Comic and media history buffs will want to line up for this one!
The Future
Look for other special DC FanDome editions of Trivia Tuesday every week between now and DC FanDome: September 14, September 21, September 28, October 5 and October 12.
If you enjoy it, maybe you'll make Trivia Tuesday a regular thing! It'll continue to run every week even after DC FanDome has wrapped up. Sometimes, we'll be promoting upcoming DC projects, other times, we'll feature topics chosen by you, the players. With tens of thousands of comics and uncountable hours of games, television and film, true knowledge of the DC Universe is a lifelong pursuit. After all, the greatest prize we offer on Trivia Tuesday is the opportunity to learn something new!

Trivia Tuesday is just one of the activities you can join in on each week in the DC Community. Not yet a member? Head on over and register for free!
Alex Jaffe is the author of our monthly "Ask the Question" column and writes about TV, movies, comics and superhero history for DCComics.com. Follow him on Twitter at @AlexJaffe and find him in the DC Community as HubCityQuestion.