I want to be honest with you. I'm someone who's completely new to comics, and as such, I certainly did not know what to expect when reading I Am Batman #0. I never read The Next Batman: Second Son or Future State: The Next Batman and I have a very basic knowledge of Batman's story, largely from films like The Dark Knight. Would I Am Batman, a series that promises to introduce a Batman for today's quickly changing world, still speak to me?
I Am Batman #0, the debut issue of the series from writer John Ridley and artist Travel Foreman, puts a fresh and timely spin on a classic hero's story. The comic picks up where Second Son presumably left off, allowing readers to dive deeper into the complexity of Tim "Jace" Fox's character. He is a vigilante, yet peacemaker.
Whether you're a comic fan or not, we've all gone through periods of uncertainty leading to self-discovery. We constantly grow and evolve, uncovering new facets of ourselves that we did not even know existed. As the issue begins, Jace faces an internal struggle. He has vowed to become a force for good in the city in which he grew up, yet he's unsure if he's ready for the obstacles to come. Jace's experience with putting on the batsuit for the first time is more relatable than one might think at first glance, especially me. It goes to show how daunting it is to fill someone else's shoes, especially those of Bruce Wayne. Imposter syndrome is real, even for superheroes.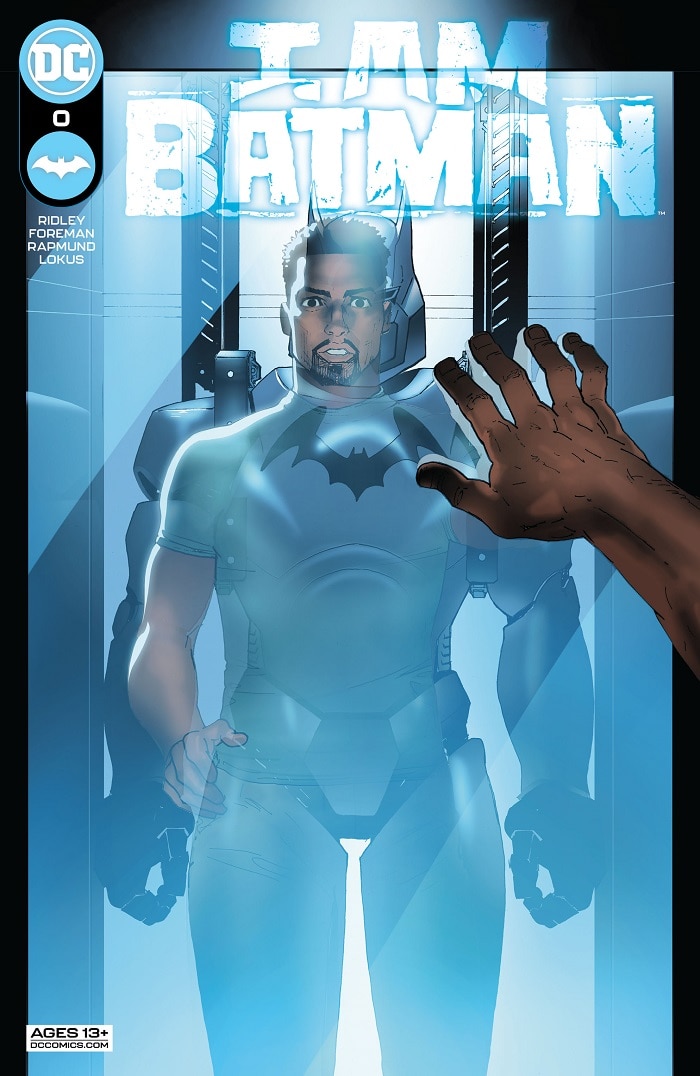 Because I'm new to this world, I am a bit unsure of how Jace truly feels about Batman. From what I can tell, he believes that the batsuit's advanced technology is used as a tool to serve the needs of the wealthy and powerful. Or is it a weapon? Based on Jace's sentiments, it seems that he is well-aware of the privilege disparity that exists in Gotham City and he feels that it is his duty to change it.
Much of issue #0 revolves around a dispute between mask-wearing protestors and law enforcement. The imagery of cops cracking down on protestors, often with force, is something that is hugely familiar today. More times than not, protests start out peacefully but often turn into riots as a result of excessive pushback from authorities—or in this case, extremists planted within the group of protestors looking for trouble. In an interesting twist, the demonstrators in I Am Batman are protesting for their right to wear masks in a city in which the air has turned toxic, while the government has taken an anti-mask stance. Although these scenes are quite literally the opposite of reality, they still draw striking parallels to our own society. Pulling imagery from familiar and timely experiences is a great way to bring this comic to the current era.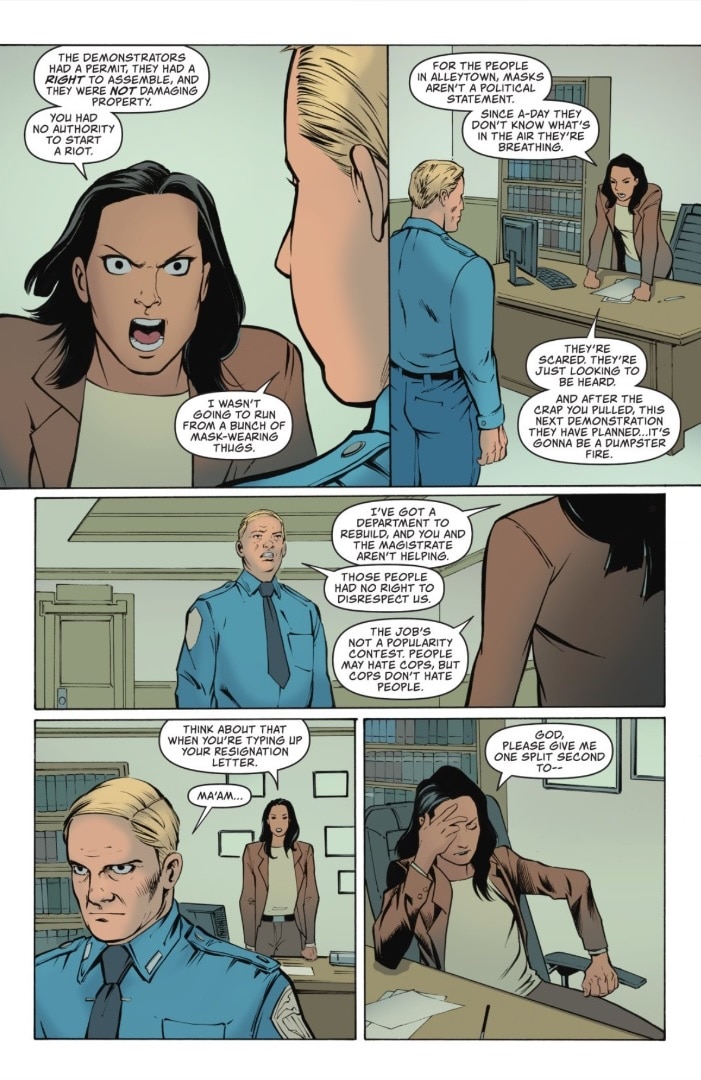 After an early protest turns violent, the heated conversation between the GCPD Commissioner, Renee Montoya, and the inciting officer sheds light on the double-edged sword that law enforcement faces. Montoya wants to protect the demonstrators' right to assemble and understands the severity of the issues they are protesting against. (We love a leader who wants to protect the people!) However, the officer stands behind his choice to crack down on the protestors with force. To me, he really doesn't care about the will of the people. The demonstrators seek to wear masks for their own health and safety, so it doesn't make sense to me that law enforcement would have a problem with that.
After the officer leaves the room, instructed to draft up his resignation letter, a detective comes in to speak with Montoya with a different perspective on masks. She associates masks with anonymity, not protection. As the conversation progresses, the issue of mask-wearing becomes one about hiding your identity to be the person you really are rather than a conversation about the protection of your health and wellness. It's clear the GCPD's stance on masks here lacks the nuance it deserves—masks worn to fight crime outside the rigid structure of the law are one thing, but masks worn so that people can breathe safely are another thing entirely. Yet, both seem to be banned under Gotham's new ordinance.
Clearly, there is a much bigger issue here, which is where Jace comes in. He wants to bring vengeance to the Magistrate and the people that believe they are above the law. (Just an FYI, acting like you're above the law might work in Gotham City, but not IRL.) He instructs his assistant Vol to hack into the batsuit's technology so that he can use it for his own mission. Wearing the suit for the first time, Jace fights off the radicals planted in the protest…which only causes more trouble. (Sigh…) The protestors believe that Batman is attacking them, which totally wasn't Jace's intention. Instead of being seen as a hero, Batman is viewed as a member of the Magistrate and even worse, a villain.
The aftermath of the gruesome riot sheds light on the power of social media. On sites like Facebook, TikTok and Twitter, people always talk...whether it's good or bad. And even more important, people listen. More times than not, I find myself scrolling through social media gossip, and clearly people in Gotham are no different. It's evident that Batman's "attack" went quite viral and this was not good press. Batman's reputation is shattered.
I really feel for Jace here because he only intended to do good, yet he caused more harm than imaginable. Yet, although this experience was terrible, it is a pivotal moment in Jace's life. After speaking with his friend Hadiya, he realizes that in order to make a true difference in Gotham City, he needs to transform Batman into a symbol of peace, rather than violence.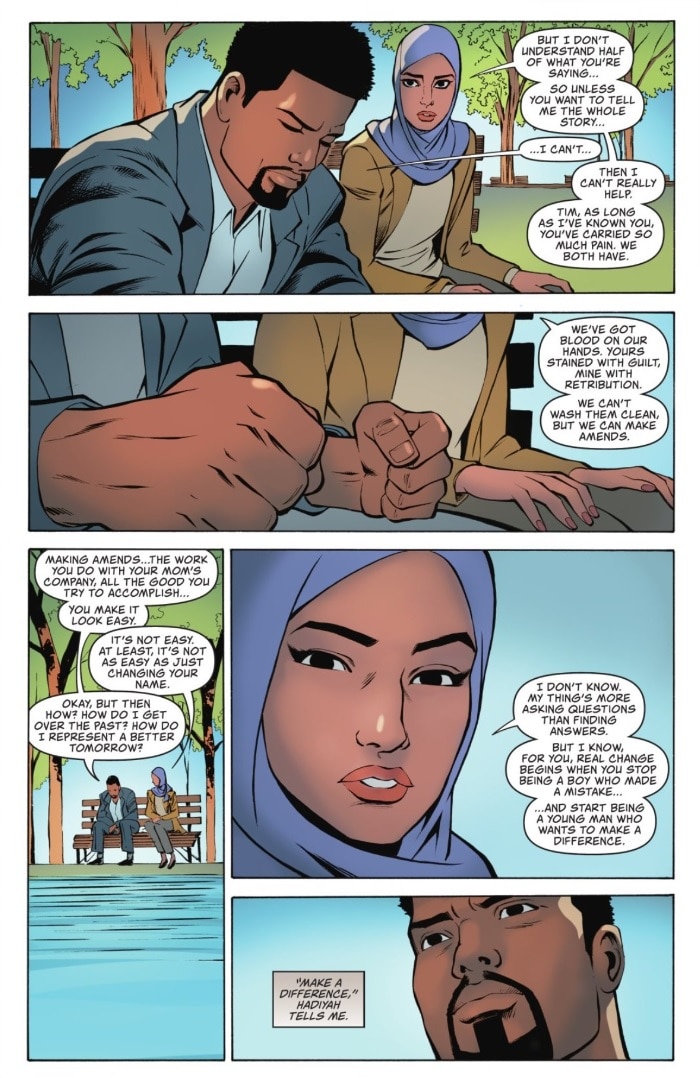 After reading I Am Batman #0, I really think there is something to learn here. We fight for issues that we are passionate about, whether big or small. Sometimes, this fight throws obstacles our way that make us question what we are even fighting for, but Ridley and Forman's debut chapter encourages us to look at the bigger picture and to stay vigilant in the face of adversity. With the state of the world as it is today, hopefully we can all find inspiration in Jace as we fight for the issues we care about most.
 
I Am Batman #0 by John Ridley, Travel Foreman, Norm Rapmund and Rex Lokus is now available in print and as a digital comic book.
Olivia Symczak is a University of Florida Advertising student. She's a DC Comics newbie, but loves Harley Quinn and the Suicide Squad movies. Follow her on Instagram at @oliviasymczak.