Starting this brand-new year off with a bang is DC's latest Young Adult graphic novel, Wonder Woman: Warbringer.  This inspiring story originally started as a novel by Leigh Bardugo, and now has been adapted into a graphic novel by Louise Simonson and illustrated by Kit Seaton. (It's actually DC's second YA graphic novel adaptation after October's Batman: Nightwalker.) Wonder Woman: Warbringer is all about the power of friendship, helping others and doing the right thing.
This graphic novel does an excellent job of following two young women who are simply trying to make the right choices—deciding between what is easy and what is right. The result is a story packed with adventure and surprise twists, but that also promotes honorable morals and ideals, making the characters sympathetic and very human.
Let's break it down to discover more about this great story!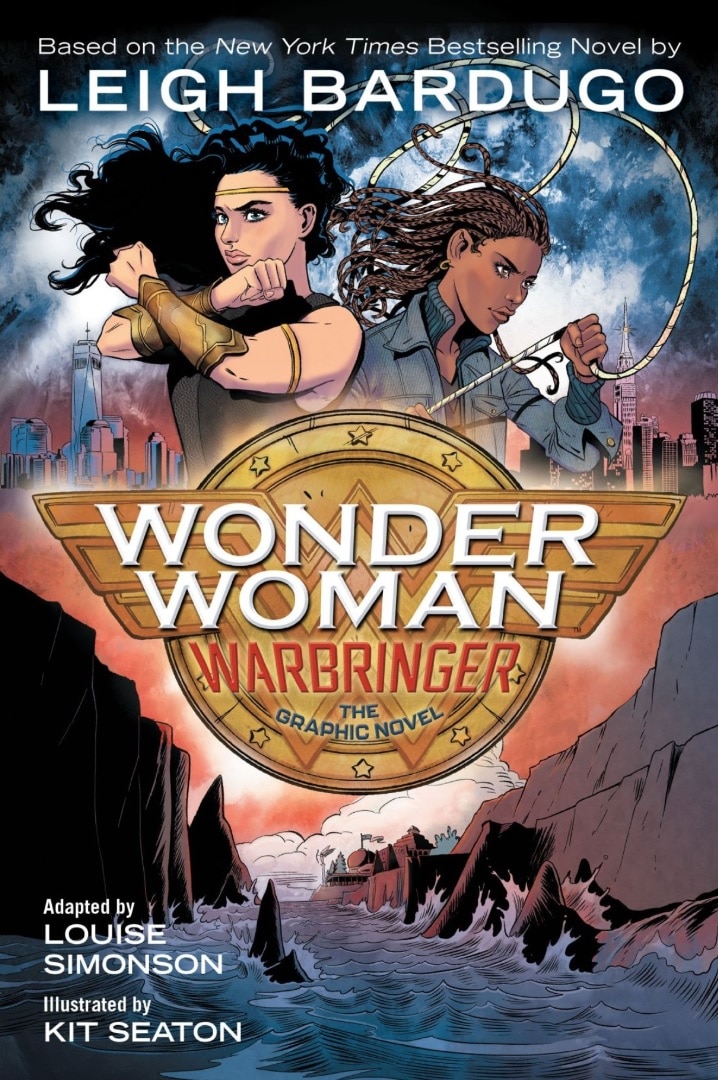 Cover Crackdown:
Well, right off the bat you can clearly see who this story is about! The famed Wonder Woman, aka Diana Prince, and a new character who seems just as strong and powerful as Diana. You also see that the story takes place in two epic places, New York City and the majestic island of Themyscira. The cover does a great job of showing two young women in two completely different parts of the world, yet somehow on the same path towards their destinies, their futures intertwined.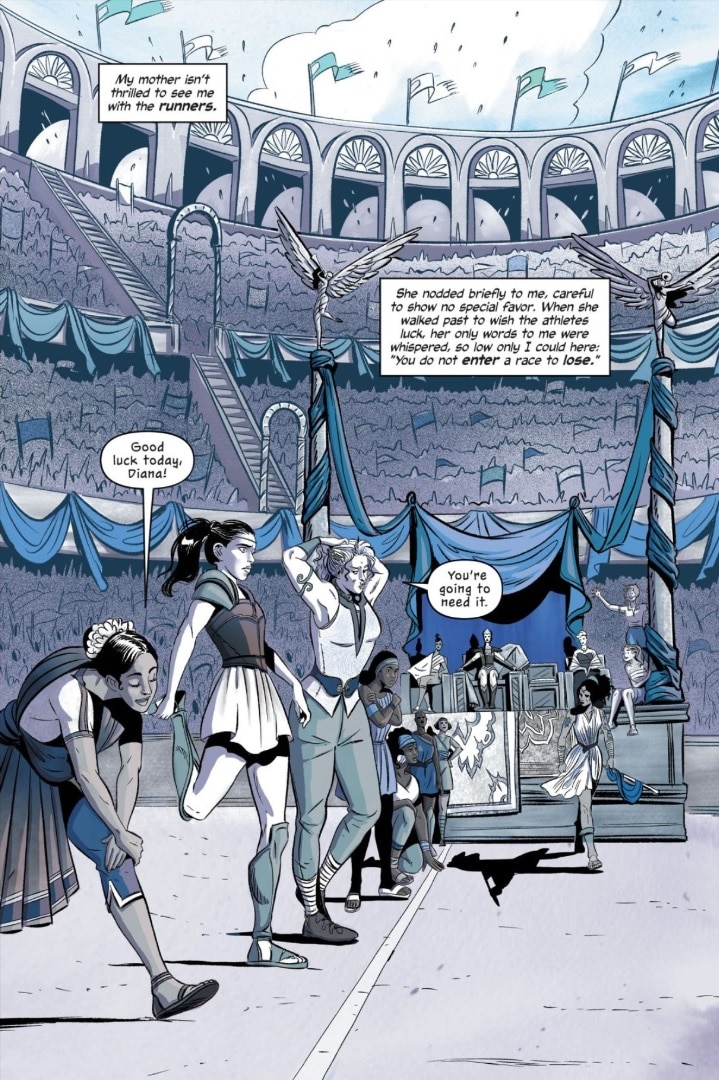 Tell Me a Story:
Every comic fan knows Wonder Woman's origin story about how she was created and her youth on the magical island of Themyscira. However, Wonder Woman: Warbringer offers a new twist on that tale—one no one's seen before! Young Diana wants to prove herself to her fellow Amazonians, especially her mother, so she enters a race with a plan to finish first. Only, in the midst of the race, she meets a young woman shipwrecked off the coast of the island who changes Diana's life and fate forever. The girl's name is Alia Keralis, and Diana yearns to help her, but doing so potentially means being banned from Themyscira forever.
We learn that Alia is actually a Warbringer—someone whose very DNA brings about devastating wars and chaos amongst man. Desperate to change her destiny after learning about who she is, Alia and Diana go on an adventure with Alia's brother and a few of her pals to reverse her fate. How? By going to Greece and finding a magical spring that can end the Warbringer line in her DNA forever. Twists and turns abound along the way, with some mythology and magic thrown in for good measure. In short, you're in for a thrilling ride!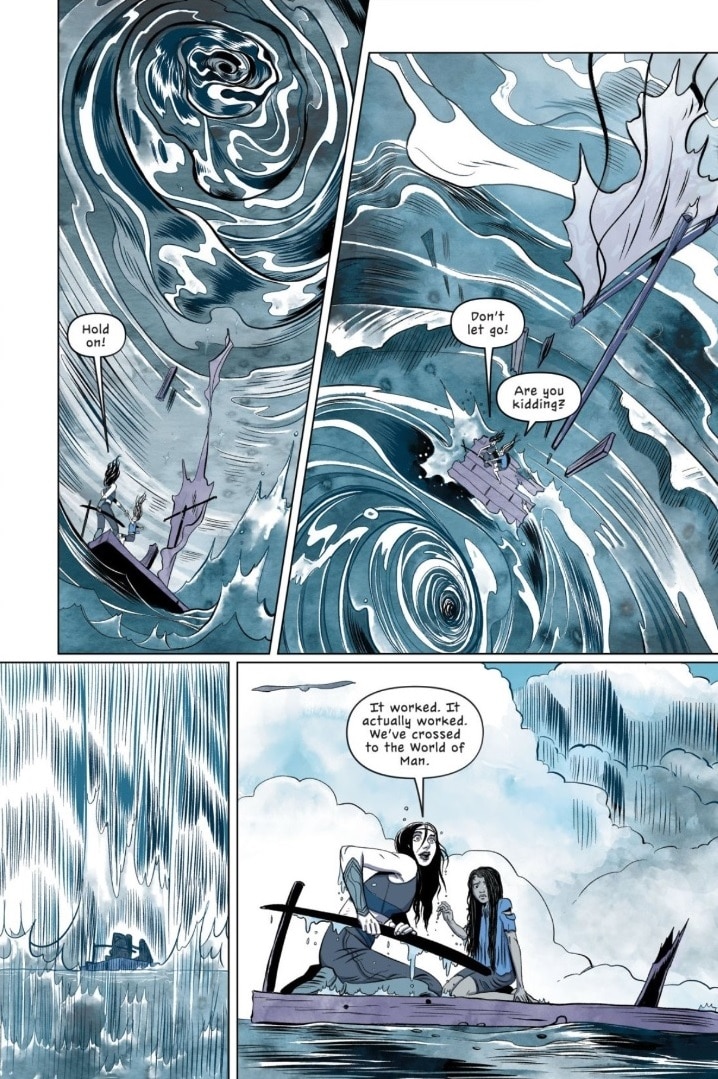 Let's Talk Art:
The art in this graphic novel is just as excellent as the story and adaptation itself. What is so interesting about Seaton's art is that some panels are so simple and streamlined, while others can be so detailed and so in-depth that it is hard to imagine it came from the same artist. Seaton also draws all of her characters, especially Diana and Alia, with very expressive eyes, something that so important to show the emotions and nuances of the story.
Dialog Discussion:
The dialogue of the book flows well. You really get a sense of the relationship that is building between Diana and Alia, as well as the relationships already formed between Alia and her New York friends and family. Each character has their own clear personality. Alia and Diana are both equally strong-headed and confident. Alia's best friend Nim is confident as well, but she falls more on the louder side of displaying it, while her other friend Theo is more of an awkward, comedic type. In short, there is a character likely to resonate with every type of reader and they're each given the juicy dialog to match!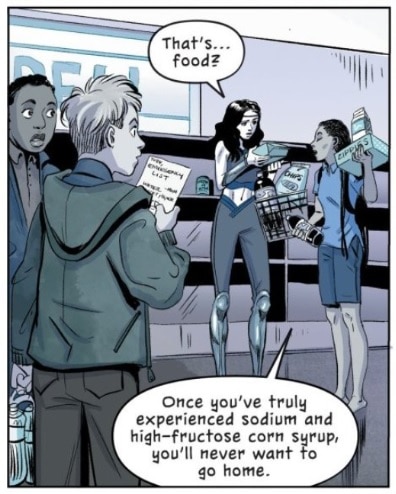 Perfect Food Pairing:
Well, this graphic novel is just perfect for a wide variety of foods. New York and Greece are the two of the main locations in this book, so I'll give you a choice. You could easily pair this delectable graphic novel with some classic New York City favorites like hot dogs, soft pretzels and pizza. Or alternatively, if you want to go a healthier route, you could try some Greek and Mediterranean style foods. I, myself, could go for some delicious tzatziki sauce-smothered chicken or beef with a side of quinoa and kalamata olives.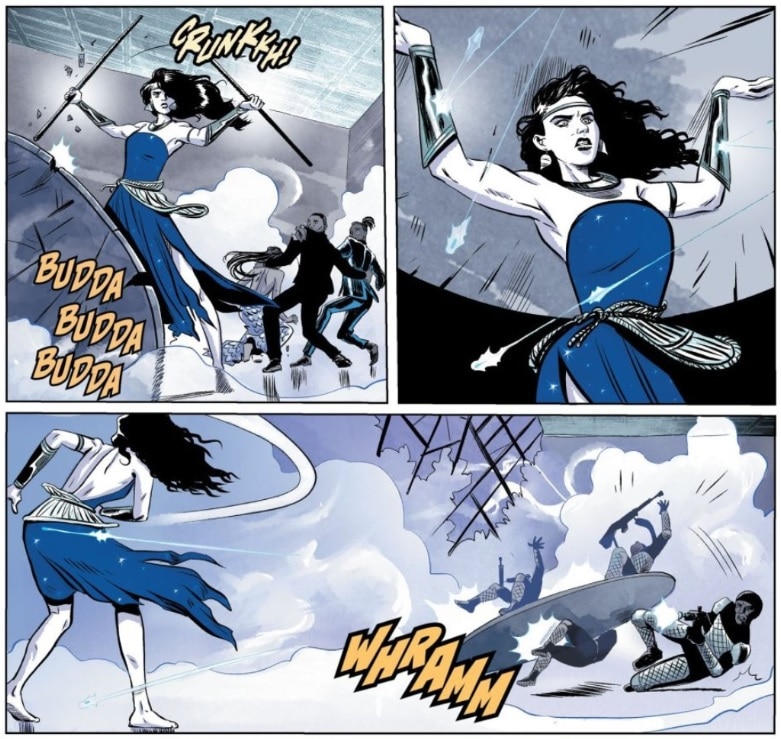 What Would You Most Like to Ask?
What I wouldn't give to actually be able to have a conversation with Wonder Woman herself! I would love to ask her many things, however relating to this story, I would like to ask her if she felt it was all worth it to leave her island of Themyscira and her beloved sisters, the Amazons, with the risk of being banished forever, all for the sake of a stranger she had never met before. However, I know without a doubt her answer would absolutely and undeniably be yes. She is one of the world's greatest heroes after all.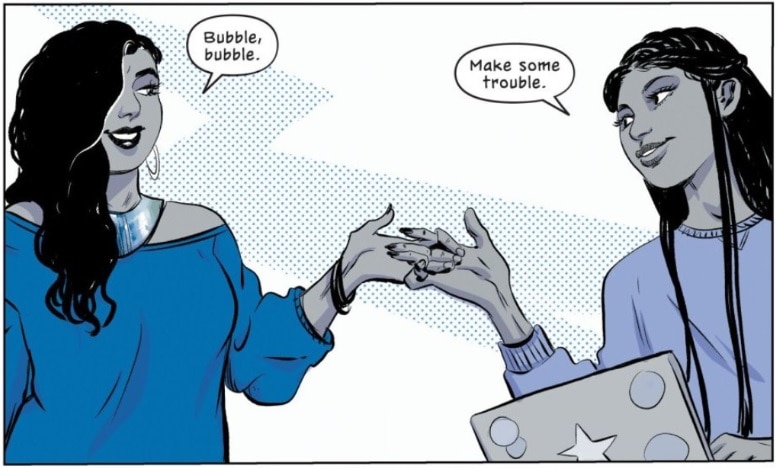 The Final Word:
I truly believe that there is something in this graphic novel for everyone. From the empowering story to the enjoyable art to the action-packed moments of adventure, the keys to a great comic are all there. Plus, with the magic and mythology and above all, the themes of friendship, determination and doing what is right even if it is hard, everyone can find moments that are likely to resonate strongly with them. There's plenty for everyone in Wonder Woman: Warbringer.

Wonder Woman: Warbringer by Leigh Bardugo, Louise Simonson and Kit Seaton is now available in bookstores, comic shops and as a digital download.
Amanda Levine loves everything DC, especially Harley Quinn, whom she often cosplays. Her favorite Young Adult books have always been Harry Potter and the amazing world that J.K. Rowling created. You can find Amanda and her cosplay adventures on Instagram or on Twitter.
Not sure what you just read? Click here for the skinny on our Book Breakdowns.