DC's latest Young Adult graphic novel to hit the shelves is Teen Titans: Raven, a gorgeous and evocative new story about a character DC fans know and love from TV shows like Titans or the animated Teen Titans, or classic comics like Marv Wolfman and George Perez's influential New Teen Titans.
In Teen Titans: Raven, Rachel Roth AKA Raven is reimagined as an amnesiac high school student trying to regain her past, grieve the mother she can't remember and find love and acceptance in her new life. That's not easy, especially when your demon father is trying to control you and your developing powers. Written by Kami Garcia, the NY Times bestselling co-author of YA megahits Beautiful Creatures and Dangerous Creatures, with artwork by Gabriel Picolo, Teen Titans: Raven is now available in bookstores and comic shops. For an idea of what to expect from the new DC YA graphic novel, read on!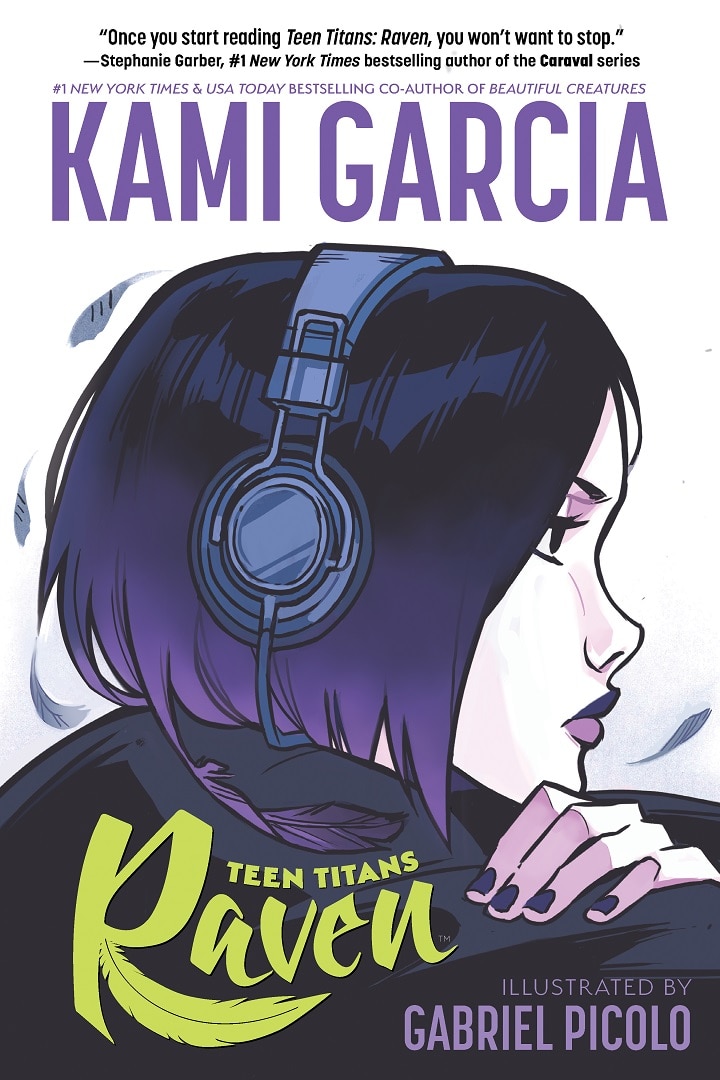 Cover Crackdown
Illustrator Picolo knew exactly what he was doing with the cover for Teen Titans: Raven. Using a color palette of only black, purple and white to show Raven in profile, with only the lime green of the title offering a pop of a different color, you're instantly drawn into not only Raven's world but also her emotions. She's hugging her shoulders, looking off in the distance, lost in her thoughts and wearing headphones to block out the world. You can tell she's troubled, but the feathers coming out of her hair hint that she's not as alone as she might think. For only one image, the cover does an incredible job of conveying so much about the story contained in the pages underneath. If you see this graphic novel on the shelf in a store, it'd be hard to deny the pull to read it immediately.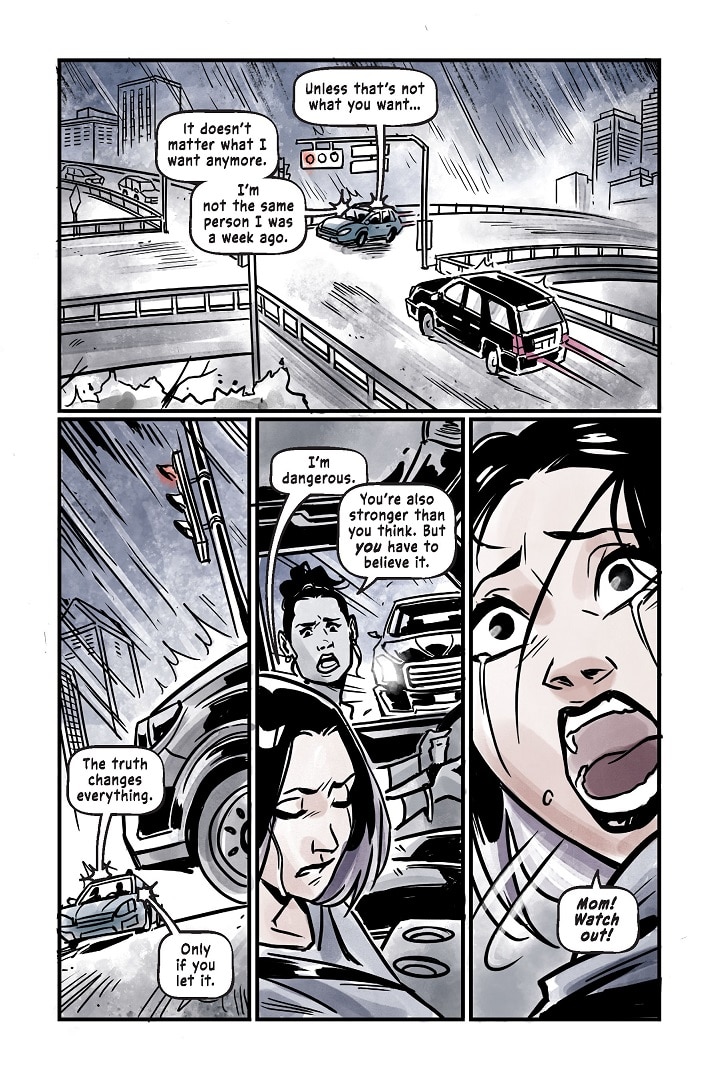 Tell Me a Story
For a story about a girl who is half demon and struggling with her demon father trying to control her, it's no surprise that Teen Titans: Raven is one of DC's darker YA offerings to date. But as you watch Raven come into her own power and take control of her life, that darkness turns into a kind of strength that instantly becomes iconic. You may think you know Raven from all the Teen Titans comics and movies and shows, but this is a total reintroduction that will give you not only a better understanding of the character, but also a new appreciation for her as well. Teen Titans: Raven begins with a violent and traumatic car accident—a split second before, Raven and her foster mother share a moment of peace that highlights just how much she loses when her foster mother dies in the wreck. To make things even worse, Raven gets amnesia and can't remember anything about her life before the accident.
That makes it all the more confusing when her empathy powers start to develop in her new home and school, all while grieving a mother she can't remember and dealing with a crush who may not be telling the full truth. And when she starts hearing terrifying voices and seeing things, it all becomes too much for one young girl to handle. No spoilers, but throughout the story, it's empowering to see Raven begin to own her new reality and take control of her life. Plus, any character that understands how emotions are a strength and not a weakness is an instant favorite. Who would have thought a goth girl with demon DNA would make such a great role model?!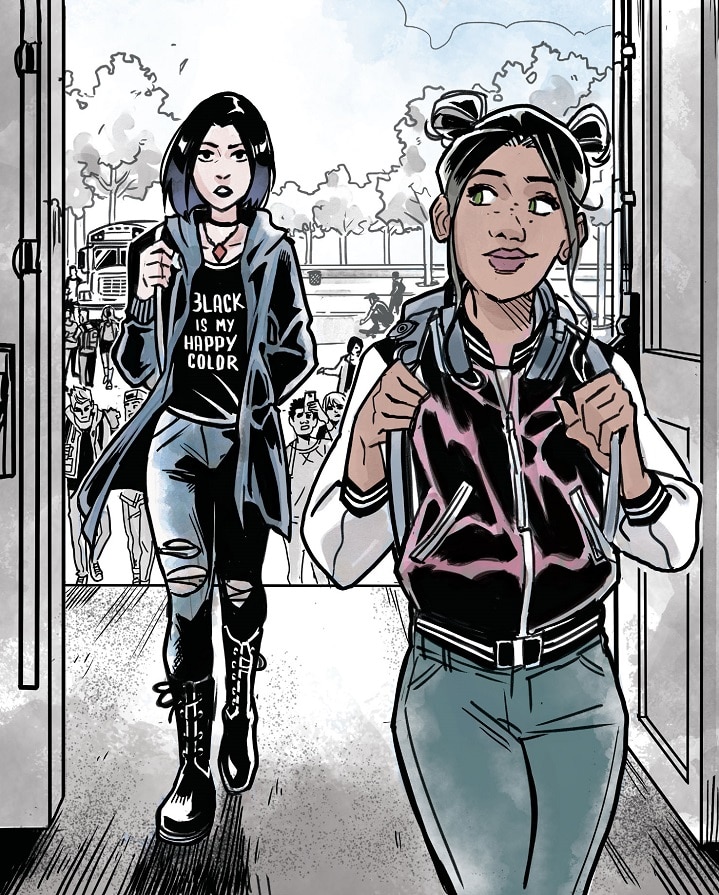 Let's Talk Art
Just like how he did with the cover, Picolo absolutely nails the tone and emotion of the book in the artwork for the story. It's almost like Teen Titans: Raven was born out of Raven's own head. It's all blacks, whites, greys and purples, a total goth kid's dream. Plus the fashion! The hair! I'm in awe of how each character has his or her own specific look. And honestly, I want to go on a shopping spree for all of Raven's clothes. Her jacket collection alone is something to covet! Where is she shopping?
Dialog Discussion
While all the characters' dialog is great, I have to shine the spotlight on Raven's new foster sister/BFF Max. She says what everyone is thinking, calls out any BS and doesn't filter her thoughts at all. That's the kind of best friend we all deserve and Garcia wrote her beautifully. I kept wanting to high five or hug Max anytime she dropped the perfect zinger.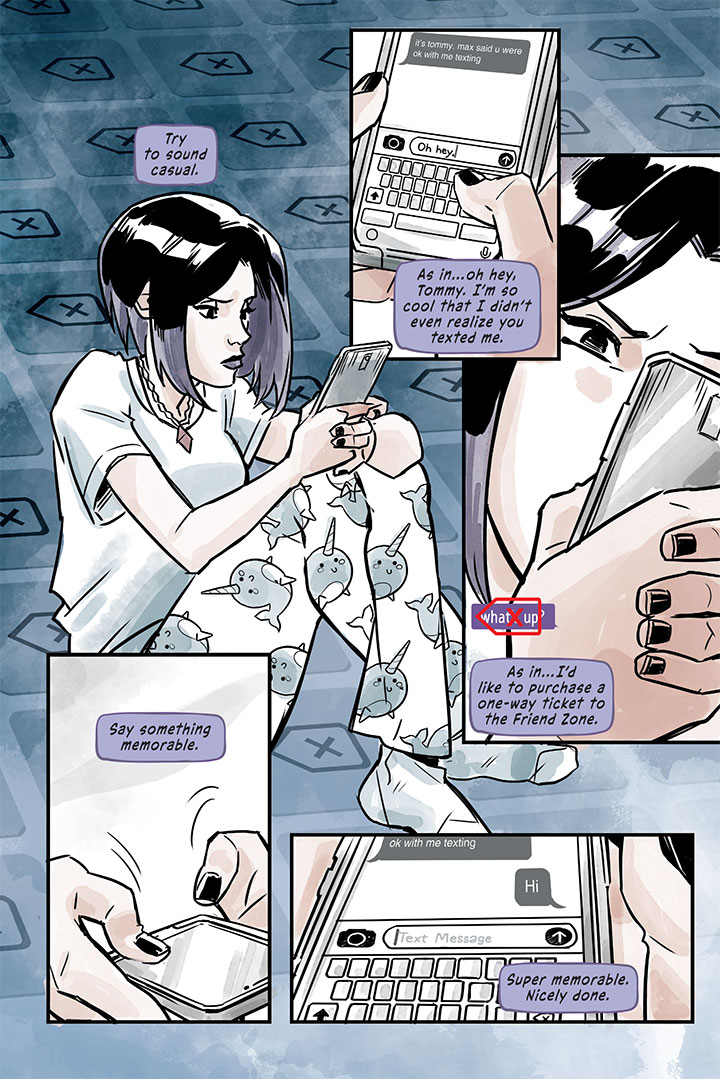 Most Embarrassing Moment
Raise your hand if you've ever agonized over crafting the perfect text message to a crush, only to delete every possible iteration to go with a simple "hi?" Everyone's hands should be raised! I could not stop cringing during the scene in which Raven has her first text convo with her crush Tommy. It brought all those insecure feelings rushing back to me. All of a sudden, I felt like I was Raven, embarrassed by my lame text response. I was so drawn into the story that when Tommy continued the texts as if nothing embarrassing had happened, I felt such a sigh of relief. This wasn't even my crush and I was emotionally invested!
Perfect Food Pairing
The New Orleans setting of Teen Titans: Raven made me crave all the delicious foods that are a staple to the incredibly cultured city. I could almost smell the baking dough in the air when Raven and Tommy had their first date at the café, eating beignets. I could almost taste the chicory when Max and Raven had their morning coffee. Even as Raven strolled the streets of Nola, I wanted a big meal of crawfish. The solution? Go out to a Nola-themed restaurant and finish reading the graphic novel while indulging in the perfect food pairing for the story!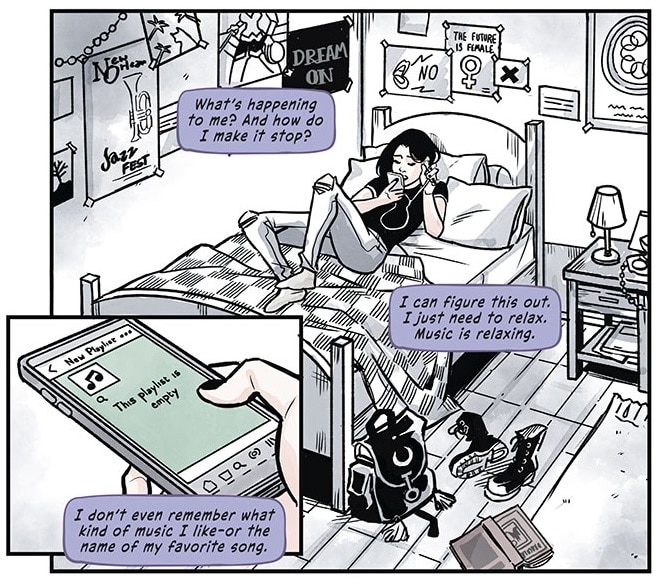 What Would You Most Like to Ask?
When I finished reading Teen Titans: Raven, I was left with so many questions. Again, no spoilers, but be prepared to end on a pretty massive cliffhanger. I need sequels, stat! But if I could ask Raven only one burning question now that the book's done, it would be…what did she decide would be on her playlist? While struggling with her amnesia, one moment that truly struck a chord with me was when she didn't know what kind of music or songs she liked. I always turn to music whenever I'm feeling happy, sad, lonely, excited…any moment of my life, there's the perfect soundtrack playing. Without music, life wouldn't feel as epic or full. My heart hurt for Raven knowing that she was missing such a vital part of life. I hope she gets it back and creates a killer playlist soon.

Teen Titans: Raven by Kami Garcia and Gabriel Picolo is now available in bookstores, comic shops and as a digital graphic novel.
Sydney Bucksbaum has a thirst for good TV, YA books and for...um, Robin. You can find her writing about movies, TV and comics here on DCComics.com and on Twitter at @SydneyBucksbaum.
Not sure what you just read? Click here for the skinny on our Book Breakdowns.