In Courtney Whitmore's household, superheroics are a family affair!
As fans of the character know, Courtney becomes Stargirl after she inadvertently discovers her stepfather's old superhero gear. That stepfather, Pat Dugan, then goes on to become her mentor and something of a sidekick as she gets started in the superhero game.
In other words, Pat Dugan is a pretty important role in the series, so it's good to know it's in solid hands now that we've learned Luke Wilson will be playing the role in the upcoming Stargirl TV series. Wilson's casting was announced earlier today, and if the description of the character is any indication, it sounds like the show will stay pretty close to the source material.
PAT DUGAN once went by the less-than-inspired superhero name of STRIPESY, sidekick to a young hero known as THE STAR-SPANGLED KID and later STARMAN of the legendary JUSTICE SOCIETY OF AMERICA. Today, Pat has left his sidekick life behind him. But when his new stepdaughter, COURTNEY WHITMORE, discovers Pat's secret past and takes on Starman's legacy to become STARGIRL, Pat is forced to come out of retirement and once again become a sidekick—to his stepdaughter—this time piloting a 15-foot robot called STRIPE.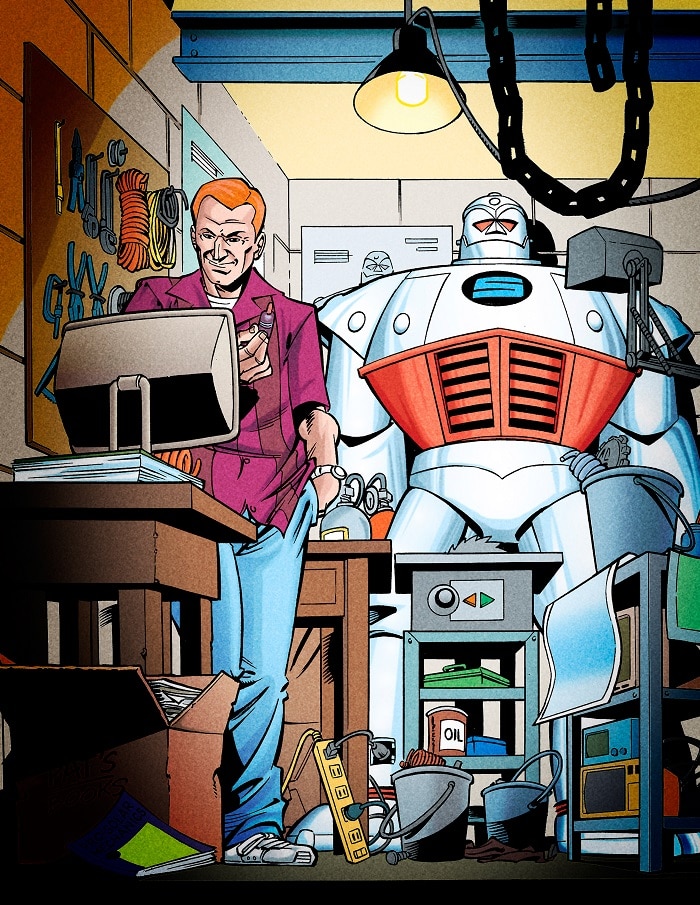 Courtney's partnership with her stepfather was first covered in the 14-issue Geoff Johns comic series, STARS AND S.T.R.I.P.E., in which the character of Stargirl made her debut. Pat Dugan, on the other hand, first appeared in 1941's ACTION COMICS #40, where he fought alongside Sylvester Pemberton (who will be played by Joel McHale on Stargirl). As Stripesy and later as S.T.R.I.P.E., Pat is one of the few adult sidekicks to support a child or teen superhero. A gifted mechanic capable of assembling high-tech suits, gear and vehicles, Dugan is a pretty great guy for a hero to have in his or her corner, and his evolving relationship with Courtney was one of the highlights of Stargirl's earlier stories.
The youngest of the three Wilson brothers, Luke Wilson has held prominent roles in both TV and film. In the late '90s and early 2000s, he stole the screen in movies as varied as Rushmore, Old School, Legally Blonde, Charlie's Angels, The Royal Tennenbaums and Anchorman. While continuing to appear in movies, he's more recently had some prominent roles in TV, including appearing as Casey Kelso on That '70s Show and Levi Callow on HBO's Enlightened. Stargirl will mark his first role in a superhero project.
"When I first moved to Los Angeles in 1996 and saw Bottle Rocket, I became a huge fan and admirer of Luke's," Johns, who's an executive producer of Stargirl, said. "And I literally wrote this part for Luke, hoping that someday and somehow he'd play Pat Dugan. I only envisioned him. And now I feel like I won the lottery! Luke's talent, humor, compassion—his presence and professionalism—and his creative collaboration, his ideas—we're so lucky to have him alongside Brec in Stargirl."
Wilson will appear alongside Brec Bassinger as Courtney, as well as a full team of likely retired or retired superheroes, the "Golden Age" JSA, including McHale as Pemberton (who's Starman on the series), Lou Ferrigno Jr. as Hourman, Brian Stapf as Wildcat and Henry Thomas as Doctor Mid-Nite.
Stargirl will debut later this year exclusively on DC Universe, so if Luke Wilson piloting a giant, patriotic robot sounds like something you want to see (and if it's not, we're not sure why you're here), you might want to subscribe right now.