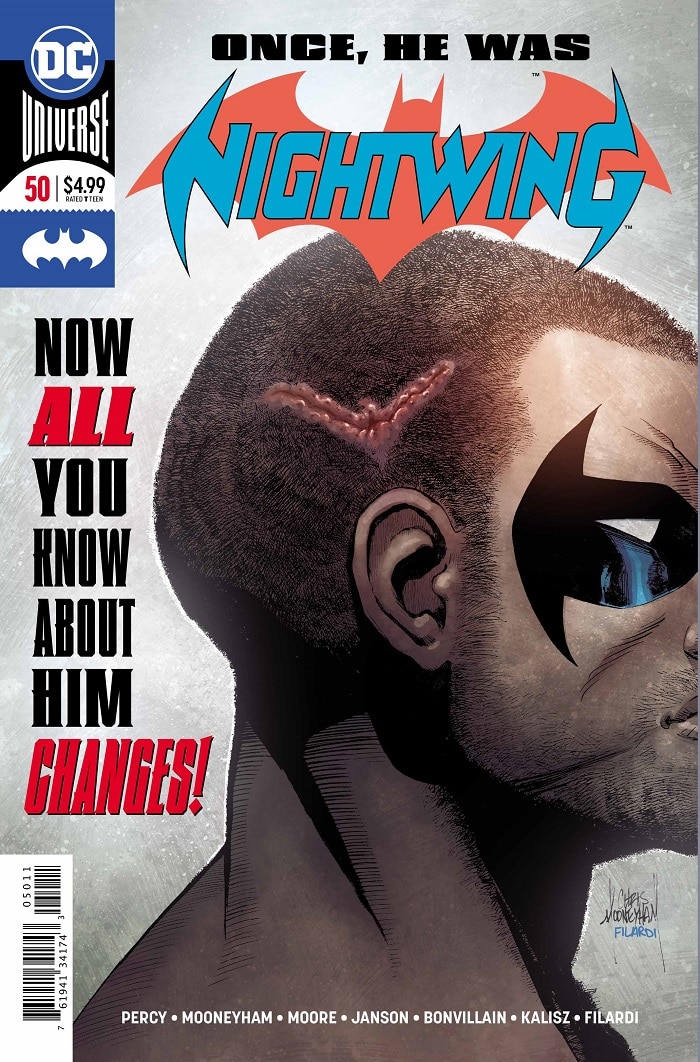 Things haven't been easy for the Bat-Family lately, but things took a turn for the truly chilling two weeks ago when Nightwing was shot in the head by KGBeast in the pages of BATMAN #55. Why? We don't know. But we do have our first idea of what life after the gunshot is like for Dick Grayson thanks to our exclusive first look at this week's extra-sized NIGHTWING #50. Sporting a newly shaved head and brutal-looking scar, Dick Grayson survived the shot, but not without some serious brain trauma. It's clear Dick remembers how to fight and still harbors his thirst for justice, but will he ever be Nightwing again? Can he ever be Nightwing again?
Nightwing #50 also marks writer Ben Percy's final issue on the book, and he's certainly leaving things in an exciting place. While our preview doesn't answer burning questions about how things are between Dick and his allies like Bruce, Babs and the Titans, let alone what's going to happen with the Dark Web, it shows us that Percy certainly knows how to leave with us wanting more!
NIGHTWING #50 by Benjamin Percy, Travis Moore, Chris Mooneyham, Klaus Janson, Tamra Bonvillain, Nick Filardi and John Kalisz is in stores this Wednesday.