Ah, the holidays are here. Kids are running in excitement. Colorful lights are in the air. The world has become a mosaic of candy canes, eggnog, Santa Claus and his reindeer, holiday carols, gifts, mushroom clouds, menorahs—
Wait a minute…mushroom clouds? And those kids, are they running in excitement…or something else? Also, about those lights in the air... Is it just me, or are they getting closer?
What can we say? It's been a crazy year, so why not finish it off with some "fa-la-la-la-las" in the fallout shelter and a copy of this year's holiday anthology special, DC NUCLEAR WINTER SPECIAL #1? Featuring the work of some of your favorite writers and artists, like Paul Dini, Mark Russell, Cully Hamner, Phil Hester, Steve Orlando and more, it promises to reveal how your favorite holiday-loving DC heroes celebrate the big day…after the big one drops.
This prestige format collection hits shops on November 28, 2018, just in time for the holiday season. So, get to your comic shop (surviving Black Friday is nothing after you've survived a nuclear blast), and get that mistletoe up before the missiles hit. We're ending the year with a bang!
Are you glowing in anticipation? You should probably get your radiation levels checked, but in the meantime feel free to absorb Yanick Paquette's holidays-meets-holocaust cover along with full solicit information below.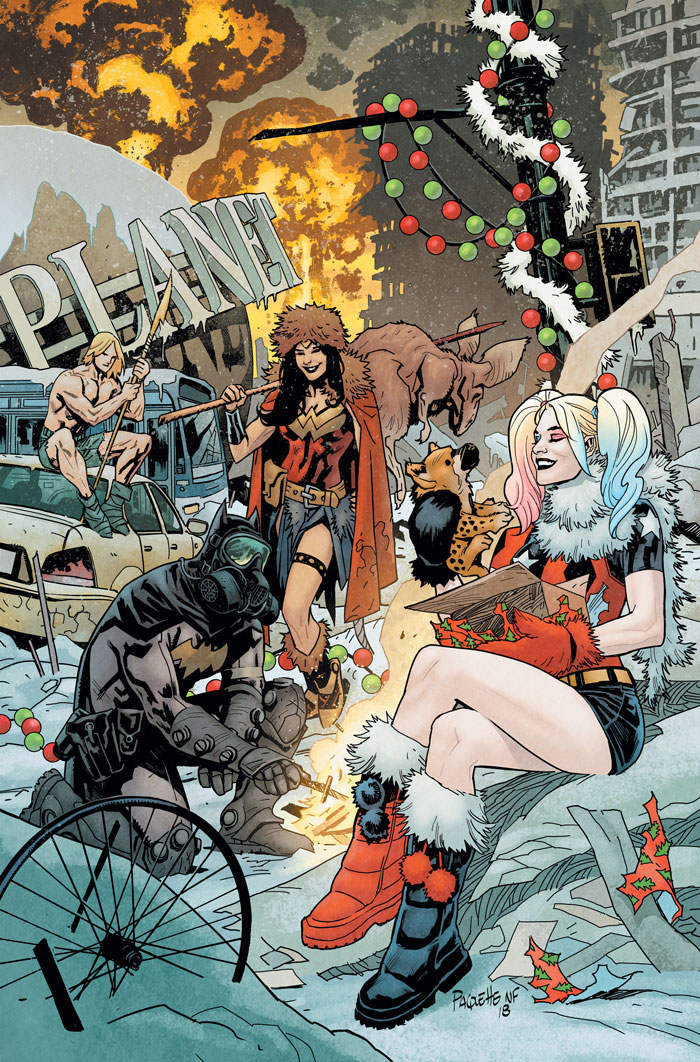 DC NUCLEAR WINTER SPECIAL #1
Written by PAUL DINI, STEVE ORLANDO, PHIL HESTER, MARK RUSSELL, MAIRGHREAD SCOTT and others
Art by CULLY HAMNER, PHIL HESTER, GIUSEPPE CAMUNCOLI, YASMINE PUTRI and others
Cover by YANICK PAQUETTE
The holidays are tough enough as it is, but when you're living in a post-apocalyptic wasteland (or, you know, 2018) the world can seem bleaker than ever. So do yourself a favor this holiday season, break out your best eggnog and enjoy 10 all-new stories featuring the World's Greatest Heroes, including looks at the futures of Batman, Superman and the Flash, as well as many more denizens of the DC Universe. 
PRESTIGE FORMAT
ON SALE 11.28.18
$9.99 US | 80 PAGES
FC | RATED T