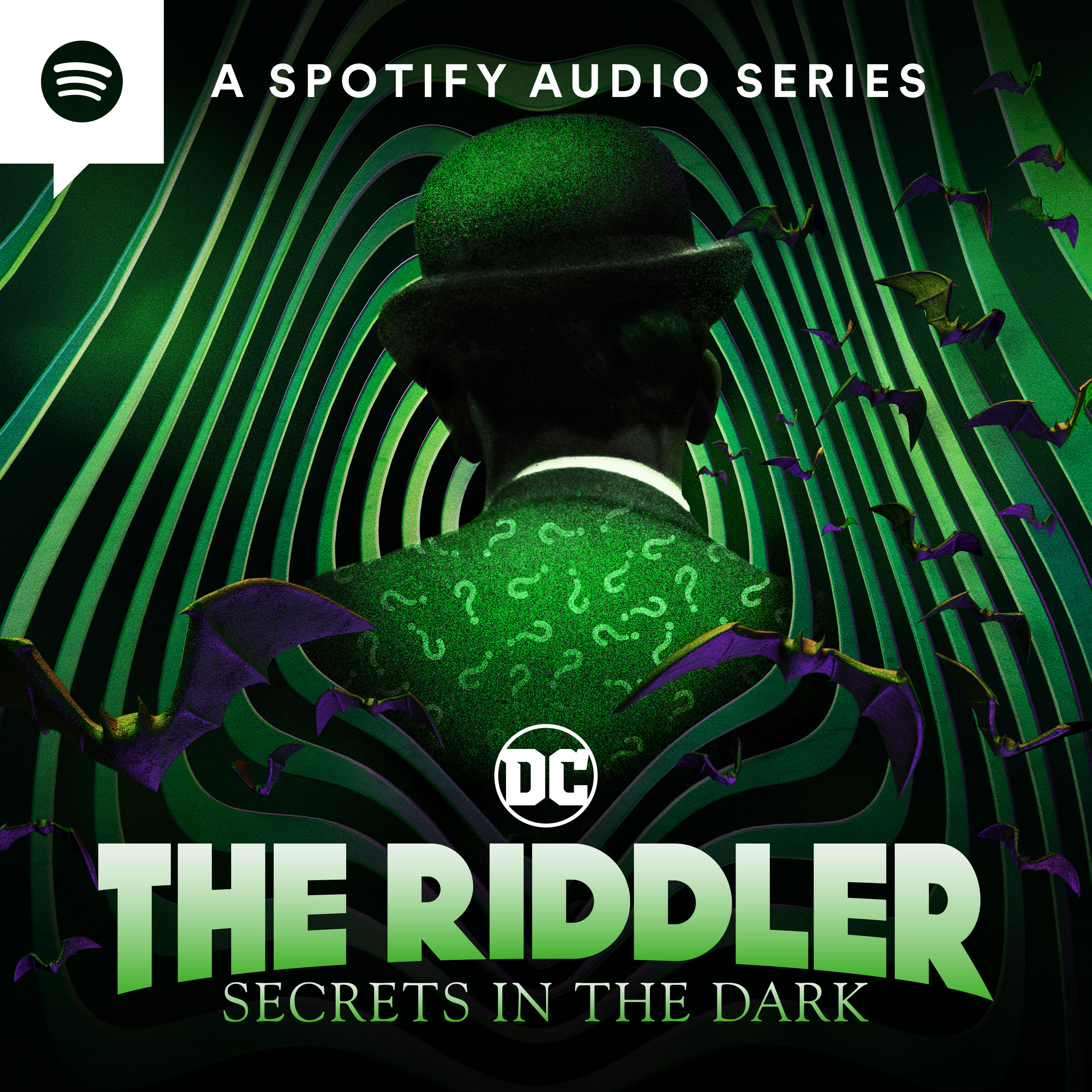 Colman Domingo Joins Hasan Minhaj in
"The Riddler: Secrets in The Dark"
Audio Series from Spotify, Warner Bros., and DC, Premiering October 10
Today, Spotify, in partnership with Warner Bros. and DC, announced The Riddler: Secrets in the Dark will premiere on Tuesday, October 10 with all 8 episodes available exclusively on Spotify. The series will follow an unexpected adventure from the perspective of one of the most cunning DC Super-Villains in Gotham City, Edward Nygma voiced by Hasan Minhaj (The King's Jester, Homecoming King, The Daily Show). Minhaj leads the cast, reprising his role from last year's global sensation, Batman Unburied. You can check out a special video message from Hasan here.
Colman Domingo (Fear The Walking Dead, Euphoria) joins the cast as Batman,  who begrudgingly teams up with Minhaj's Riddler to track down a masked vigilante on the loose in Gotham City. The mysterious character is murdering notorious DC Super-Villains all over Gotham City, and all clues point to the suspect being the Caped Crusader himself. Now, with a target on his head, The Riddler is forced to break out of Arkham Asylum and team up with Batman. The unlikely duo must solve the mystery before they too, become victims.
When fans tune in this Fall for another exhilarating chapter in the story, they'll hear from new and familiar voices joining the adventure. Listeners will be introduced to Nadira Newmar, voiced by Hannah Simone (New Girl, Not Dead Yet), and The Messenger, voiced by Calum Worthy (Reboot, The Act). Gina Rodriguez (Not Dead Yet, Jane The Virgin) will be back as Barbara Gordon, the daughter of former police commissioner Jim Gordon and star detective for Gotham City PD. Jason Isaacs (Harry Potter), Ashly Burch (Mythic Quest), and Jim Pirri (Penguins of Madagascar) will also reprise their roles as Alfred, Vicki Vale, and Arnold Flass, respectively. You can check out some behind-the-scenes photos, HERE.
The Riddler: Secrets in the Dark is Executive Produced by David S. Goyer (Foundation, The Dark Knight trilogy), Keith Levine (Hellraiser, The Night House), and Gracie Wheelan (Batman Unburied) for Phantom Four. This is the latest release from the Spotify, Warner Bros./DC partnership, following Batman Unburied and Harley Quinn and The Joker: Sound Mind. Batman Unburied premiered in May 2022 to global success, topping the charts in 35 markets across the 9 language adaptations globally. Eearlier this year, on January 31, 2023, Harley Quinn and The Joker: Sound Mind binge-dropped all seven episodes, successfully reaching the top of the charts in 6 markets.