YEHUDI MERCADO UNLEASHES GOTHAM'S FURRY FIENDS IN DC GRAPHIC NOVEL 'BARKHAM ASYLUM'
The New Middle-Grade Book Begs the Question: "Is The Joker's Dog Jester a Good Boy?"
Don't make these pets paw for your attention! The mischievous pets of Gotham's Super-Villains are uniting for an escape adventure in the new DC middle-grade graphic novel Barkham Asylum, created by writer and artist Yehudi Mercado (Shazam! Thundercrack), available wherever books are sold on February 6, 2024.

Barkham Asylum lineup art by Yehudi Mercado
When the Super-Villains of Gotham get thrown into Arkham Asylum, their henchpets go to the maximum-security pound known as Barkham Asylum. Fur flies when Jester, The Joker's dog, gets a tough-talking stray cat named Penny tossed into lockup with him. But they'll have to work together to figure out what the evil Dr. Hugo Mange is up to. And the only way to stop this terrifying team-up is to win the talent show and get visitation with their masters at Arkham on the hill. Because the Joker is sure to help! What could go wrong with that plan?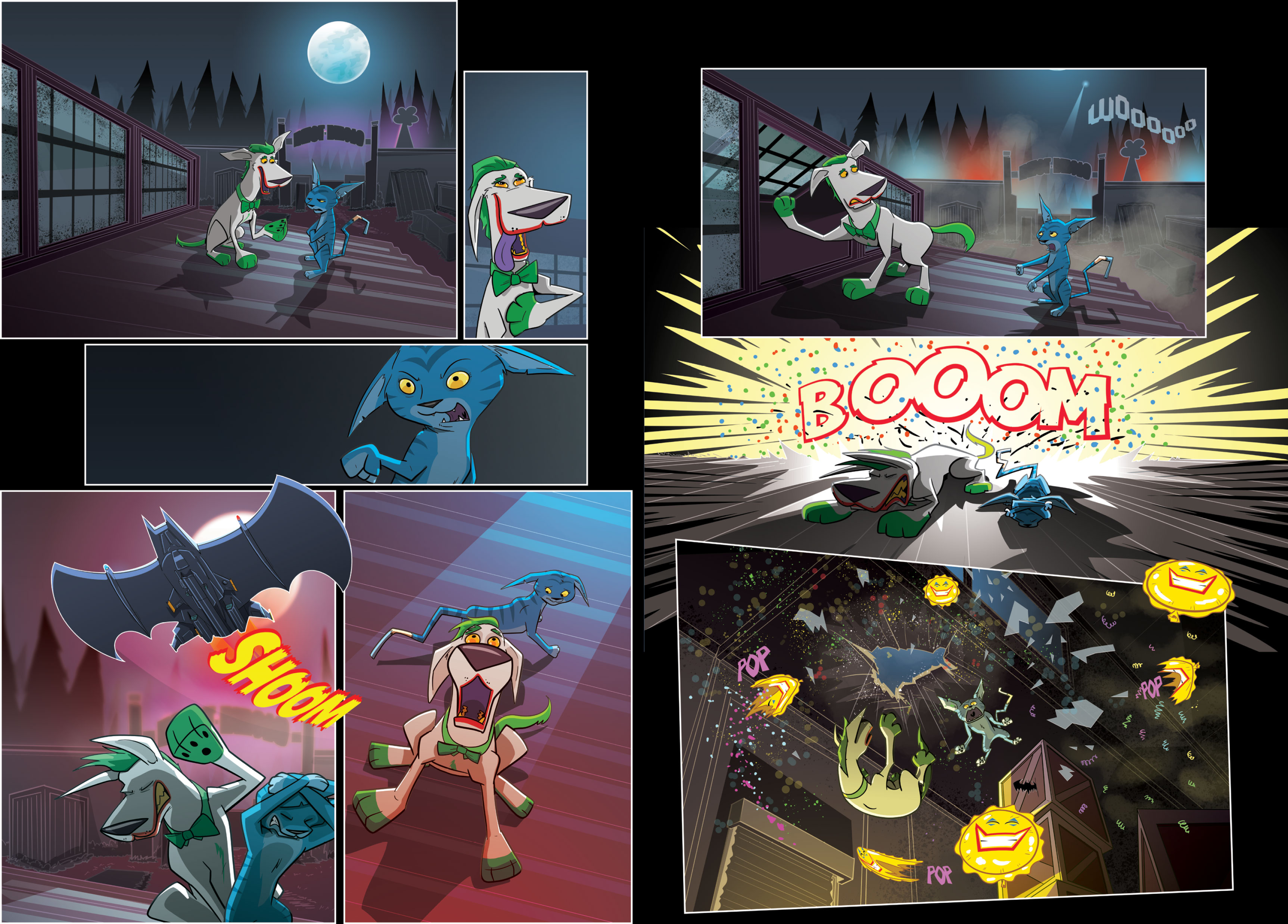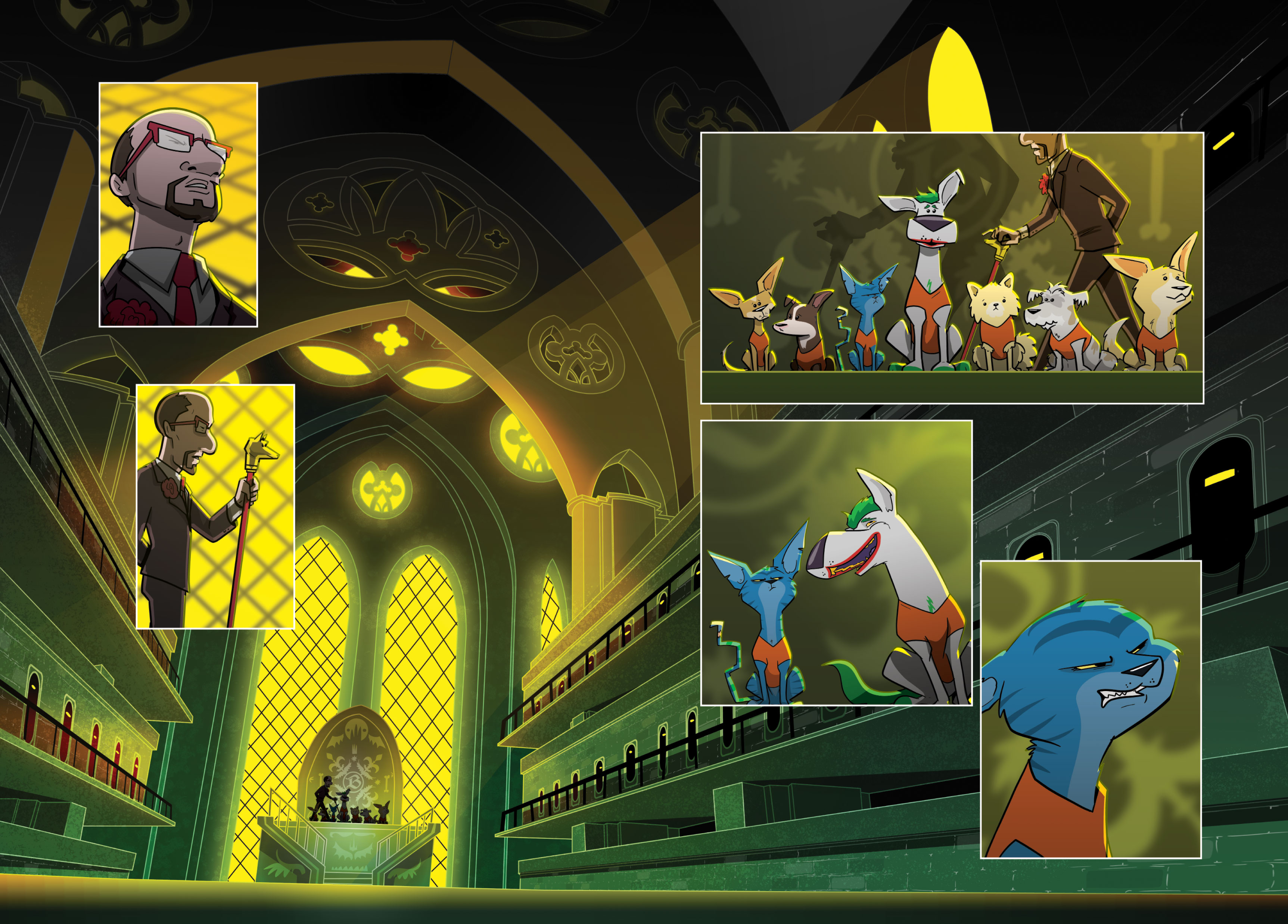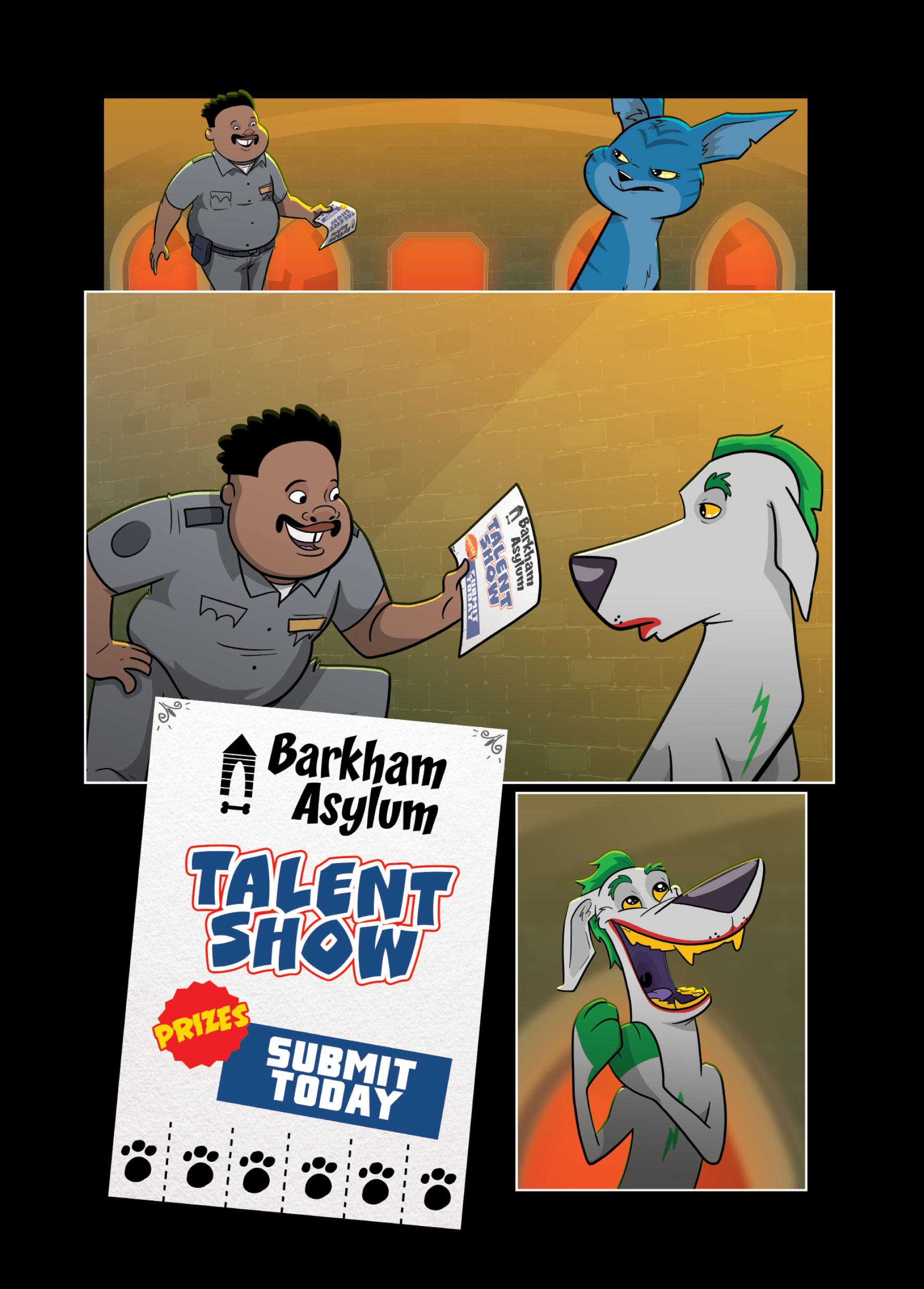 Preview pages from Barkham Asylum; art by Yehudi Mercado
"When crafting this graphic novel, I pulled some inspiration from my own experience growing up," said creator Yehudi Mercado. "I was a class clown in school and as a result of that, I spent a lot of time in detention. So I can kind of relate to the lead dog, Jester, in my own way. 
"All Jester wants is to make people laugh, so in his mind, his master isn't such a bad guy. Locked up with him is an innocent stray cat named Penny, a loner who rejects Jester's request to join his pack. But if they're going to get out of this mess, they will have to team up. And if a stray cat and The Joker's dog can get along, then maybe there's hope for all of us!"
DC's Barkham Asylum, a middle grade book for readers ages 8-12 by writer and artist Yehudi Mercado, will be released on February 6, 2024 wherever books are sold.
Fans can catch up on DC's middle-grade titles with a DC UNIVERSE INFINITE ULTRA subscription. DC UNIVERSE INFINITE subscribers can download comics for unlimited offline reading on their favorite iOS and Android devices. For more information on DC UNIVERSE INFINITE Ultra, download the app from the Apple App and Google Play stores. DC UNIVERSE INFINITE is not intended for children. 
For the latest information on everything DC, visit www.DC.com and follow @DCOfficial  and @TheDCNation on social media.
####
Barkham Asylum / 9781779505002 / $9.99 US / $13.50 CAN / 144 pages

About Yehudi Mercado:
Yehudi Mercado was born in Mexico City and grew up in Houston, Texas. He spent high school in the theater department putting on plays. After college he worked in video games and eventually became an art director for Disney Interactive where he co-wrote and art directed the Guardians of the Galaxy mobile game. His graphic novels include Shazam! Thundercrack, Chunky, Hero Hotel, Rocket Salvage, Fun Fun Fun World and Sci-Fu, and he was the artist on the Epic Original graphic novel Cat Ninja. Yehudi created a narrative podcast based on his graphic novel Hero Hotel for the Pinna Network. He has adorable dogs named Bucky and Bosco and usually sneaks one of his pets into his books.