In Teen Titans: Beast Boy Loves Raven, extraordinary teenagers Raven Roth and Garfield Logan have each struck out on their own to find out more about their abilities after receiving a note from an enigmatic person called "Slade." The two teens head to Nashville, Tennessee to meet him, but they're not at all prepared for what they're about to find there.
The third YA graphic novel from the dream creative team of Kami Garcia and Gabriel Picolo finally brings together some of your favorite DC characters in their retelling of the Teen Titans' origin stories. Connections are made and sparks fly as the young heroes' paths converge in Music City.
Want to know more? Read on for a breakdown of this absolutely adorable new book!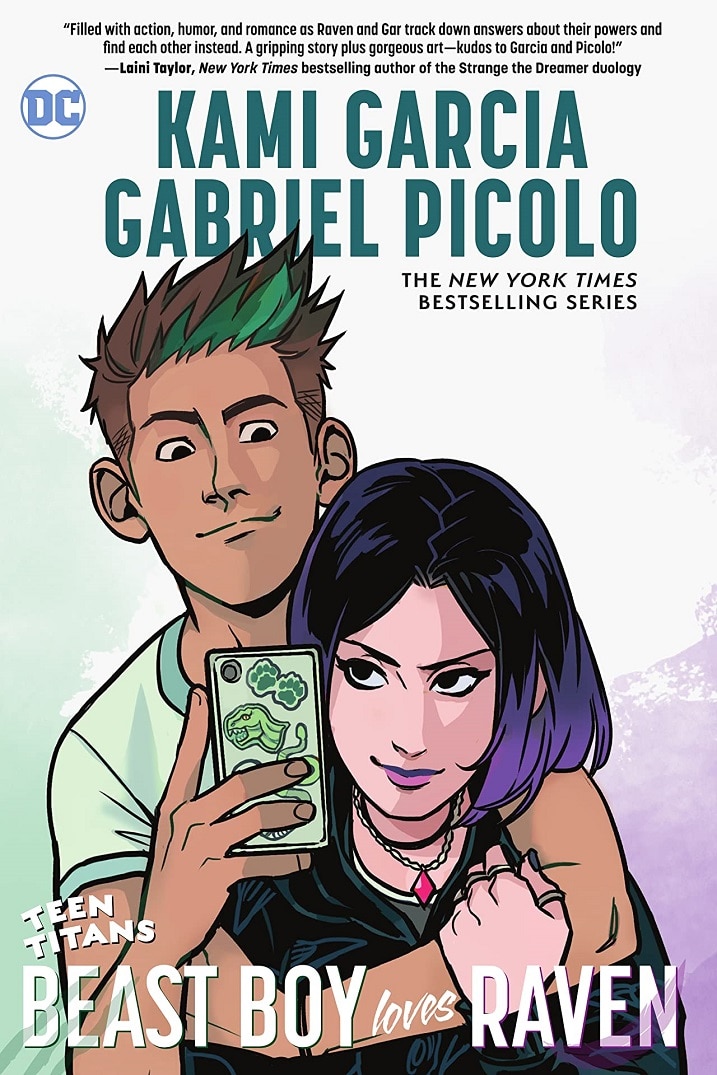 Cover Crackdown:
Can the swooning start with just the cover? Absolutely, and with this series, it usually does. Picolo captures Gar and Raven's potential relationship not only with a cozy selfie, but with gentle smiles that reach their eyes as well. The use of color is just as understated. Not only are Beast Boy and Raven recognizable by their signature colors, it happens that those colors—green and purple—also complement each other delightfully. Just like the two teens.
And we have to give a quick shoutout to the animal stickers on Gar's phone. So. Adorable.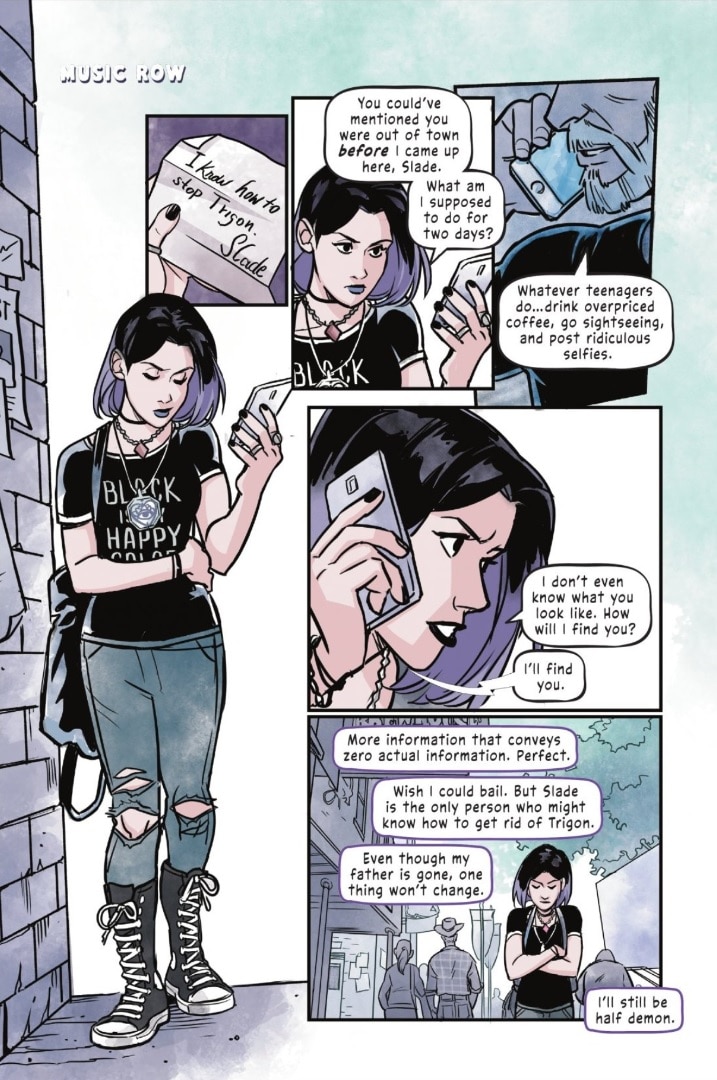 Tell Me a Story:
Raven and Gar each head to Nashville after a mysterious message from Slade Wilson promises to teach them more about their abilities. We all know anything to do with Slade is a Very Bad Idea, but they don't know that yet. Raven's best friend and foster sister, Max, can't help following her to make sure she doesn't get into trouble. Which Raven does…but more on that later.
Slade is a no-show but promises to be there in a few days. In the meantime, Raven goes out to explore the city, where she crosses paths with Gar. The two quickly become friends and find themselves attacked by masked thugs. Just what have they gotten into?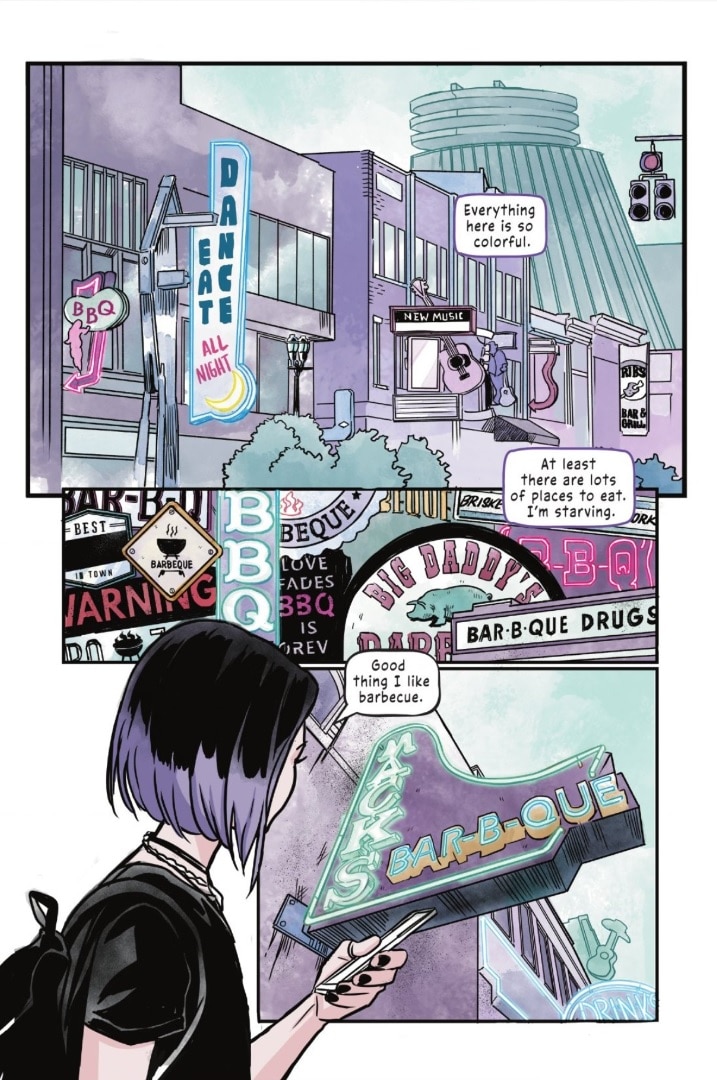 Let's Talk Art:
I can't help but admire Gabriel Picolo's art and his fresh designs of Raven, Max and Gar. Their personalities often peek through their expressions, especially Raven's wry half-smiles and Gar's huge grins. Picolo also hides a million little details in each panel, particularly in the characters' outfits and in the background. From the subtle raven print on Raven's black hoodie to the recognizable landmarks of Nashville, it's obvious that Picolo puts a lot of thought into every pencil line he draws.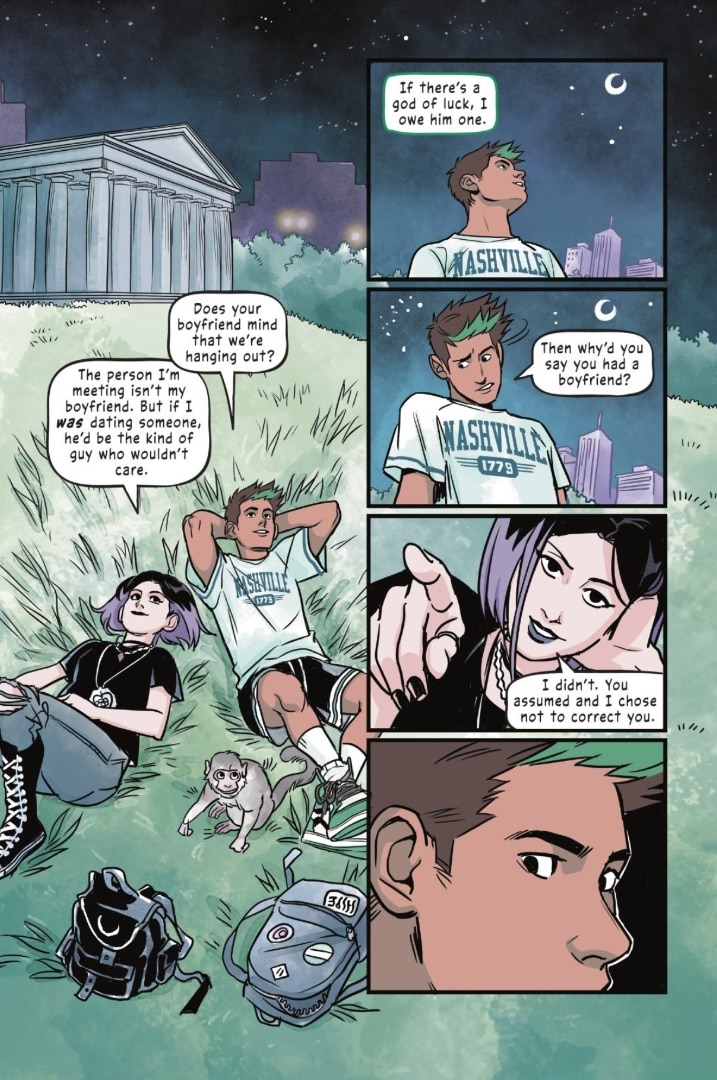 Dialog Discussion:
Gar and Raven chat with relative ease throughout the graphic novel, highlighting their natural connection. And when Max meets one Damian Wayne, the dialogue ratchets up another notch. The back and forth between those two is energetic and snarky and just plain entertaining. I'd like to request a "Damian Loves Max" sequel, please.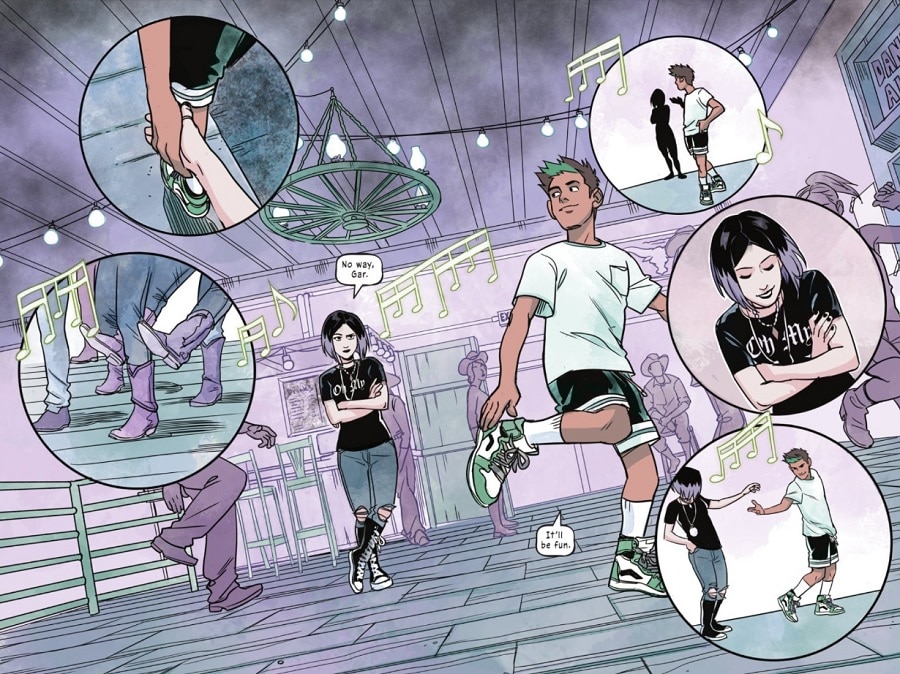 Voted Most Likely:
All of the teenagers in this book could be voted "Most Dependable" in their high school class and it would apply. Yes, even Damian Wayne. Gar and Raven are there for each other when they need each other most. Max followed her foster sister all the way to another state just to watch over her, for goodness' sake! And Damian runs after Gar and Raven when he sees them kidnapped, and he hasn't even met them yet. These teens need to be a team ASAP.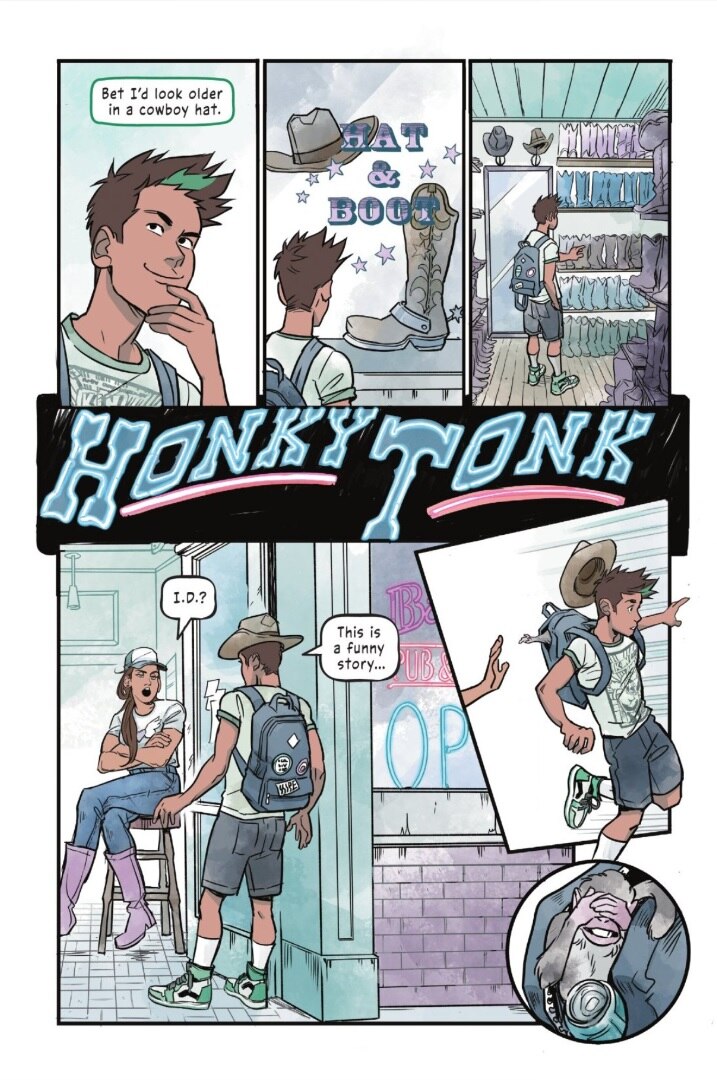 By the Numbers:
Total number of pages in the book: 192
Cowboy hats: 14
Cool T-shirt designs we would totally buy: 7
Smooches: … We're not telling. You'll have to read it to find out!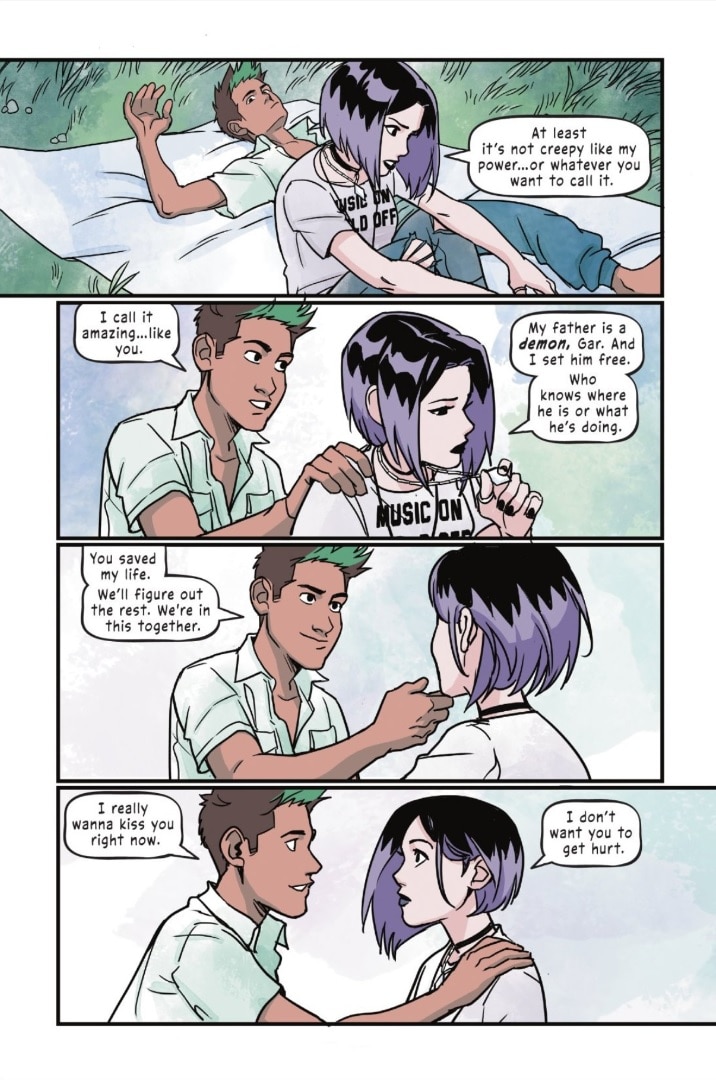 Most Crushworthy Character:
I mentioned swooning over the cover, but there's so much more to smile about inside. The blossoming friendship between Gar and Raven feels natural and sweet. Both are respectful of each other's feelings—and their secrets—and I can't help but love the two of them together. Is it possible to have a crush on their mutual crush? Because I am here for Beast Boy and Raven.
 
Teen Titans: Beast Boy Loves Raven by Kami Garcia and Gabriel Picolo is now available in bookstores, comic shops, libraries and as a digital graphic novel.
Kelly Knox swoons over Superman and adores every story told about the first meeting of the World's Finest. When she's not reading comics, she's waiting impatiently for the next books by Tracy Deonn and Kalynn Bayron. Find her on Twitter at @kelly_knox.
Not sure what you just read? Click here for the skinny on our Book Breakdowns.
NOTE: The views and opinions expressed in this feature are solely those of Kelly Knox and do not necessarily reflect those of DC Entertainment or Warner Bros.