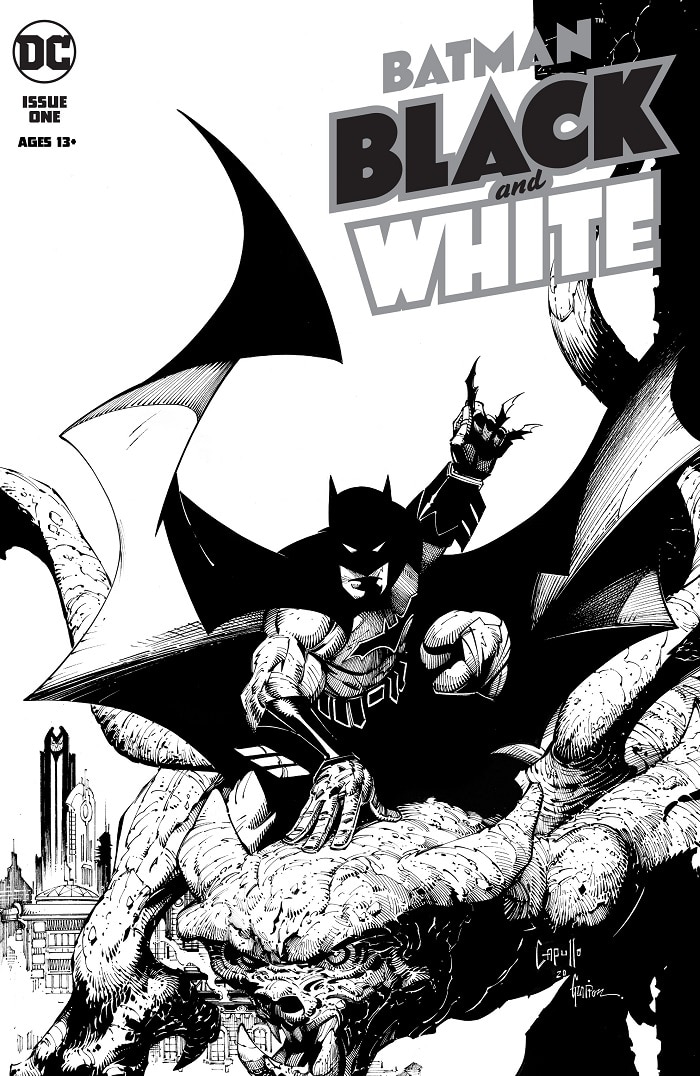 It's amazing how much different the world can look when you see it in black and white. That's true for our lives as well as the grime-soaked streets of Gotham City, which will take shape like never before next week when the groundbreaking Batman Black and White anthology comic returns for a spectacular new run.
The original Batman Black & White debuted as a four-issue miniseries back in 1996. The idea, then as well as now, was simple: set some of the best and most unique artists working in comics today loose on an out-of-continuity black and white Batman story and see what happens. Artists the likes of Bruce Timm, Walt Simonson, Joe Kubert, Alex Ross, Brian Bolland, John Byrne, Paul Pope, Tim Sale, John Buscema, Dave Gibbons and Darwyn Cooke all contributed stories to Batman Black and White's original run, sometimes paired with writers, other times working entirely on their own.
Next week, this iconic Bat-title returns for a new, six-issue prestige format miniseries that will give a new generation of artists a crack at bringing Batman's world to life sans color and free of any restraint. Tuesday's issue #1 includes artists J.H. Williams III, Andy Kubert, Tradd Moore, Emma Rios and Greg Smallwood, plus writers James Tynion IV, G. Willow Wilson and Paul Dini in a collection that can only be described as a must-have for Batman fans and fans of the comic medium as a whole. But how does it read? As our exclusive first look at Tynion and Moore's wonderfully surreal Ra's al Ghul story reveals, the answer is unlike anything else on the comic stands right now.
Batman Black and White #1 by James Tynion IV, Tradd Moore, J.H. Williams III, G. Willow Wilson, Greg Smallwood, Emma Rios, Paul Dini and Andy Kubert is in stores and available digitally on Tuesday, December 8.