Now, more than ever, our world needs a hero, and the hero we can always count on to be there in the darkest of times is, of course, the Dark Knight himself, Batman. Detective Comics #1027 offers readers a complete celebration of all things Batman and a tribute to the beloved hero who's consistently overcome his own darkness to take on the darkness of others and the world around him.
Whether you are loyally following Detective Comics or not, this extra-sized anthology offers up a Batman story for everyone and really captures all the best aspects of not only Batman himself, but the quintessential characters and world around him.
The twelve stories contained within are all packed with mesmerizing adventures, and although some of the short stories are tied in with bigger events such as "The Joker War," one doesn't have to be invested in any other Batman storyline to appreciate the way these tales all proudly represent Batman as the iconic and amazing character that he is.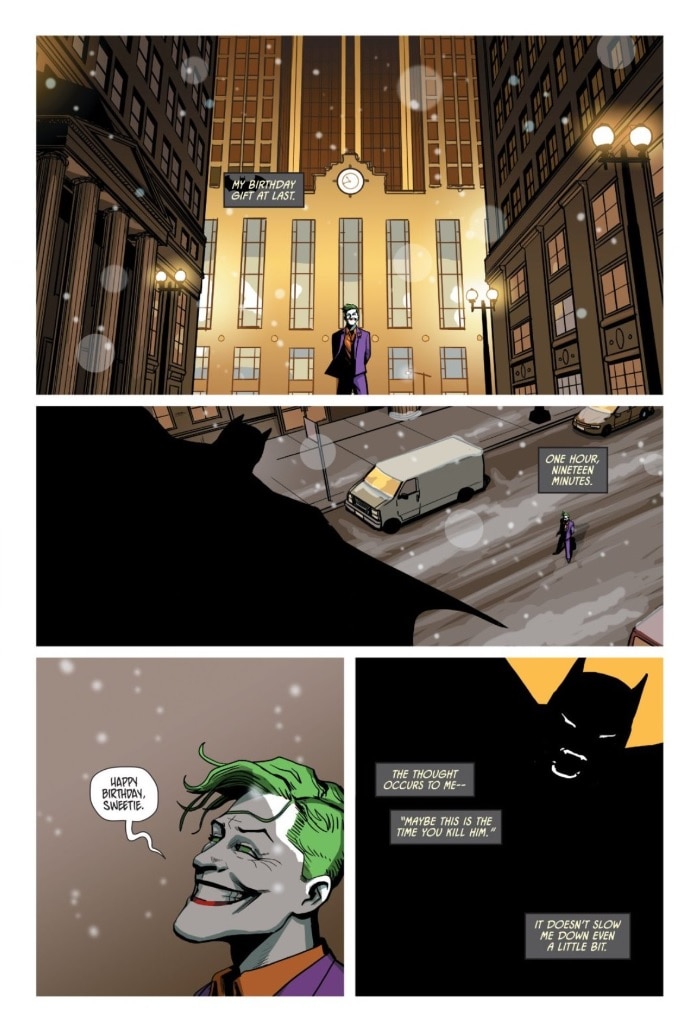 One of the most enthralling aspects of this anniversary celebration is that it really does show Batman through the ages. One of my favorite contributions, "Many Happy Returns," written by Matt Fraction and drawn by Chip Zdarksy, features the classic pairing of Batman and the Joker and skillfully illustrates the depth of their relationship as hero and villain. Fraction and Zdarsky show us Year One Batman all the way through Year Twenty-Two Batman and his never-ending dance of cat and mouse with the Joker as the Clown Prince of Crime celebrates Batman's birthday every month with a scary surprise of villainy. On their 22nd year of this back and forth, the Joker doesn't show up for his surprise, causing Batman to practically lose it—he desperately needs to know what scheme the Joker is going to pull next. However, the Joker simply presents himself to Batman saying, "It's me. It's you and me. We'll never get away and we're gonna be doing this…forever."
The ending of that story definitely gave me chills as not only a reader, but as a fan of these two classic characters. Over eighty years in and it still doesn't get any better than the Batman and the Joker (as both "Joker War" and the also in-progress Batman: Three Jokers will attest!).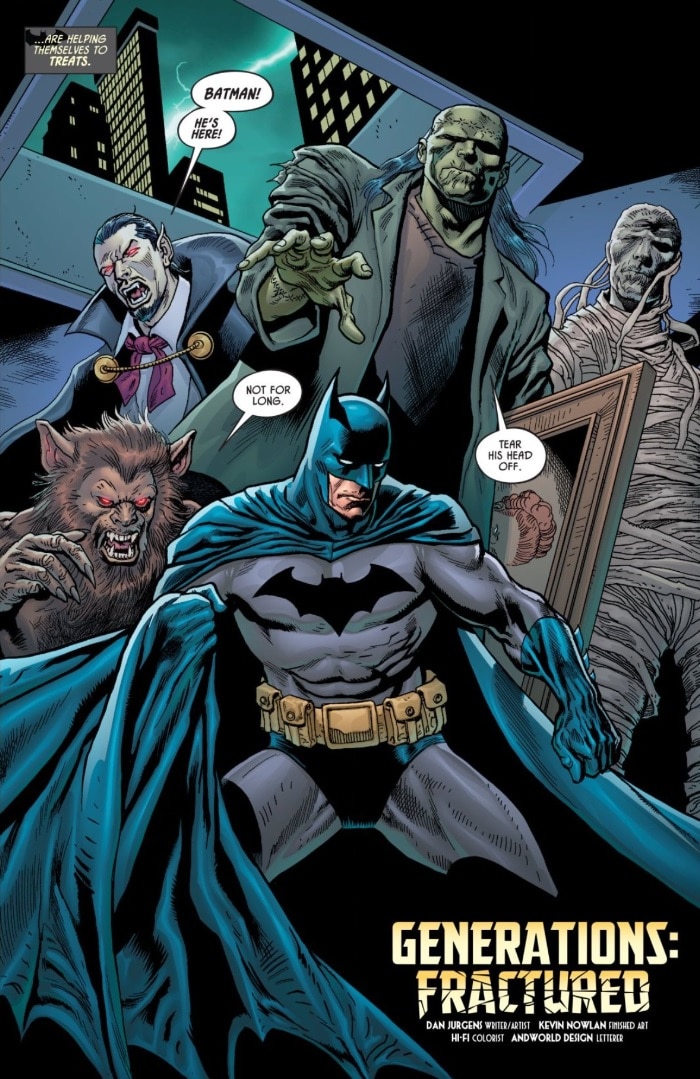 Another story in Detective Comics #1027 to incorporate the Dark Knight's different eras in a creative way is "Generations: Fractured," written and drawn by Dan Jurgens with finished art by Kevin Nowlan. In a museum showdown with the Calendar Man, the Dark Knight gets sent from our modern world back to his first-appearance world of the 1930s where he runs into an unexpected hero looking for his help. I won't spoil it for you, but the way that the art style seamlessly blends from modern day to the Golden Age is quite impressive to see.
These different eras and art styles of Batman are not only exciting inclusions, but make perfect sense in a comic paying tribute to its hero's long-spanning legacy. Something that also got me giddy as a reader and fan was seeing all of my other favorite DC characters making special appearances. Of course, some would say there is no Batman without his loyal Bat-Family, the group of heroes who join the Dark Knight in his mission to bring justice and light to the broken city of Gotham. Along those lines, "The Master Class," written by Brian Michael Bendis and featuring art by David Marquez, is a captivating murder mystery boasting a mighty group of characters—Batman, Robin, Nightwing, Batgirl, Red Robin, Spoiler and Red Hood—as they try to figure out who murdered one of the GCPD's dirty cops.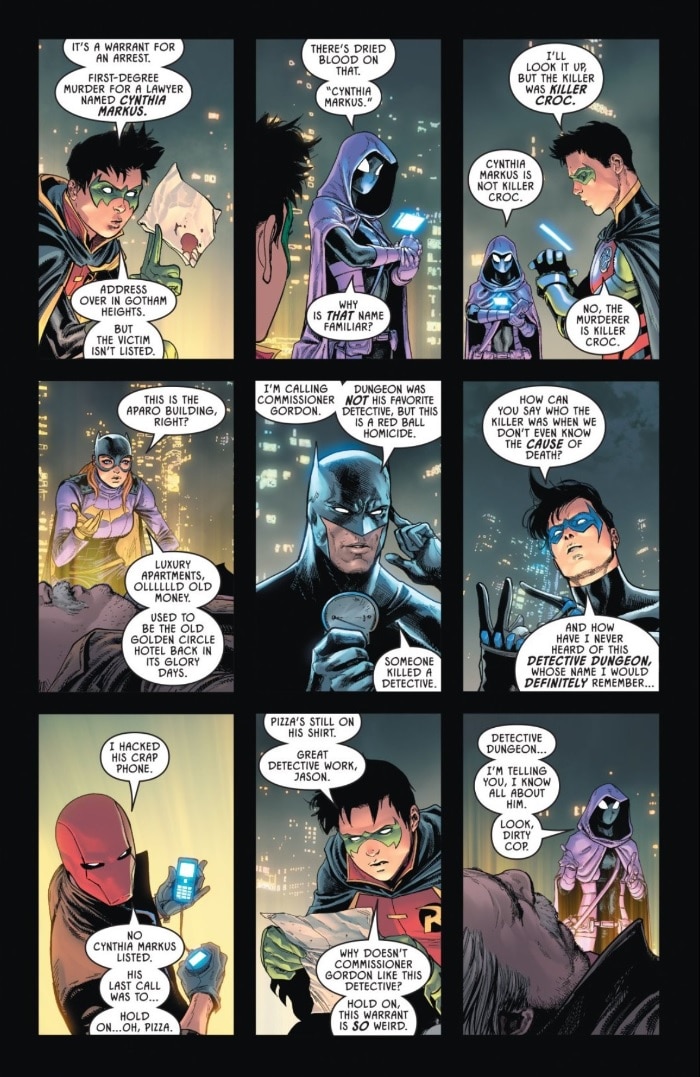 The ending is quite a surprise as to who is actually behind the murder, but the best part of the whole thing for me was seeing so many of the Bat-Family characters together in one story, interacting with each other and with their mentor, Batman. Plus, you get to see a more tenderhearted side of Batman as he looks upon his group of protégées at the end after a job well done and says, "You're a fine bunch of detectives. Each and every one of you." Aw!
One of the sure-to-be more popular stories in Detective Comics #1027 is "As Always" by Scott Snyder and Ivan Reis. Lately, Snyder and Reis have had an eye for the epic and this short tale continues in that tradition by featuring not only Batman and Jim Gordon, but the entire Justice League as they work together to save the world after the sun disappears. Reis doesn't skimp on the gorgeous, detailed action as Batman joins Wonder Woman, Aquaman, Superman, the Flash, Cyborg and so many more characters in this tautly written story. Plus, I think my favorite piece of art of the entire collection is the last page of "As Always," so be on the lookout for that as it is sure to become a classic by Reis.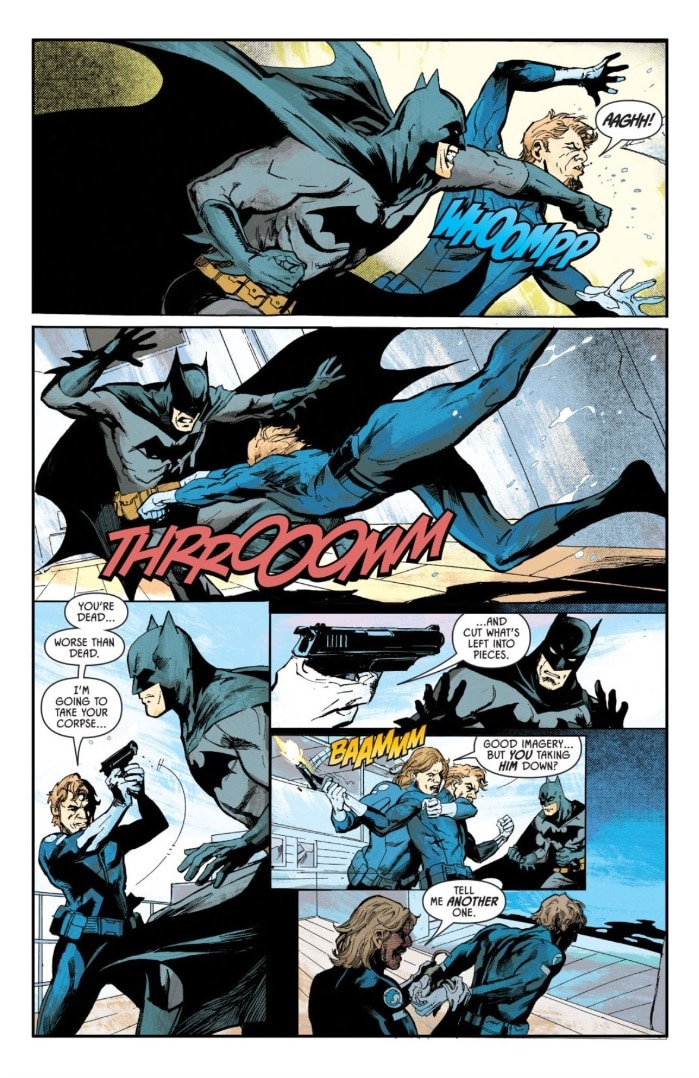 I can't wrap up this way-too-brief breakdown without also mentioning "Odyssey" by the legendary Marv Wolfman and the immensely talented artists Emanuela Lupacchino (on pencils) and Bill Sienkiewicz (on inks). I have always been a huge fan of Lupacchino and Sienkiewicz so I may be biased when it comes to the art, but the plot of the story itself is really original and quite different from the other stories in the issue. Half Titanic-esque nautical adventure, half spy thriller, this story excels in terms of entertainment and plot twists and really is a standout—and considering the stories here, standing out isn't easy to do!
As a lifelong fan of Batman, this anthology of stories really made me feel so proud to be a loyal supporter of the Dark Knight. Reading Detective Comics #1027 from beginning to end made me feel hopeful, something that is greatly needed during these trying times. So many of the stories are inspirational, and as I read them, I realized that we should all strive to be like Batman in a way. No, we shouldn't dress up like a Bat and fight criminals, but we should try to help others and make this world a better place for everyone in it. At his most pure, that's always been what Batman's about. So, as Batman Day approaches, I think it's worth remembering that we have a bit of hero in all of us—we can all be Batman.

Detective Comics #1027, a 144-page tribute commemorating the series' 1000th issue to feature Batman, is now available to read on DC Universe Infinite.
Amanda Levine covers collectibles, cosplay and pop culture for DCComics.com and is a regular contributor to Ink Spots, our corner of the site devoted to Young Adult comics and graphic novels. Follow her on Twitter at @pixiedust0623 and Instagram at @pixiequinncosplay.