DC Direct's Batman: Black & White line is one of the longest running collectible lines of all time and with the new Todd McFarlane statue now in stores, it's clear the popular line isn't going anywhere. So, to pay tribute to all of the artists and fans who have worked on or supported the line, let's look back on Batman: Black & White's start and all of the other amazing statues which have led up to this moment.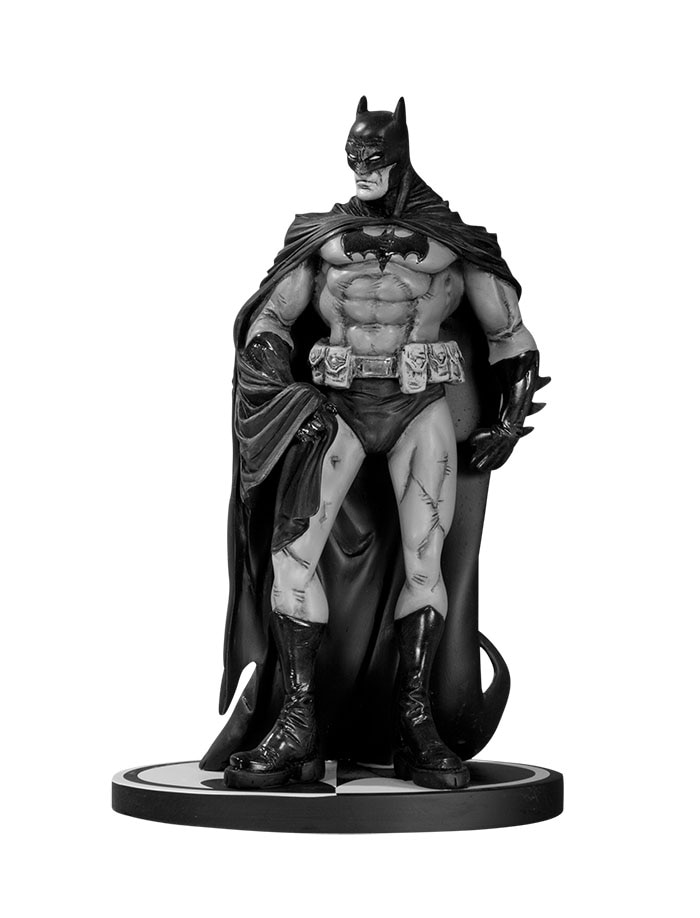 The first statue in the line arrived in 2005, Batman by Eduardo Risso (above), and would set the tone for what the line was to become—a collector's line which combines DC's most popular superhero with individual artists' interpretations. This idea is the basis of what DC Direct was and is all about—melding classic characters with unique art designs.
Fast forward a bit now to 2009. It was a big year for the line, as 2009 saw not only Batman: Black & White's 25th statue hit stores, Batman by David Mazzucchelli, but it was also the first year a character other than Batman appeared in the line. This was The Joker by Jim Lee (below). Ironically, this character proved to be even more popular in sales than Batman himself, and opened the door for other characters from Gotham to make their debut in the line, such as Brian Bolland's Penguin, Steve Rude's Catwoman and Kelley Jones' Bane.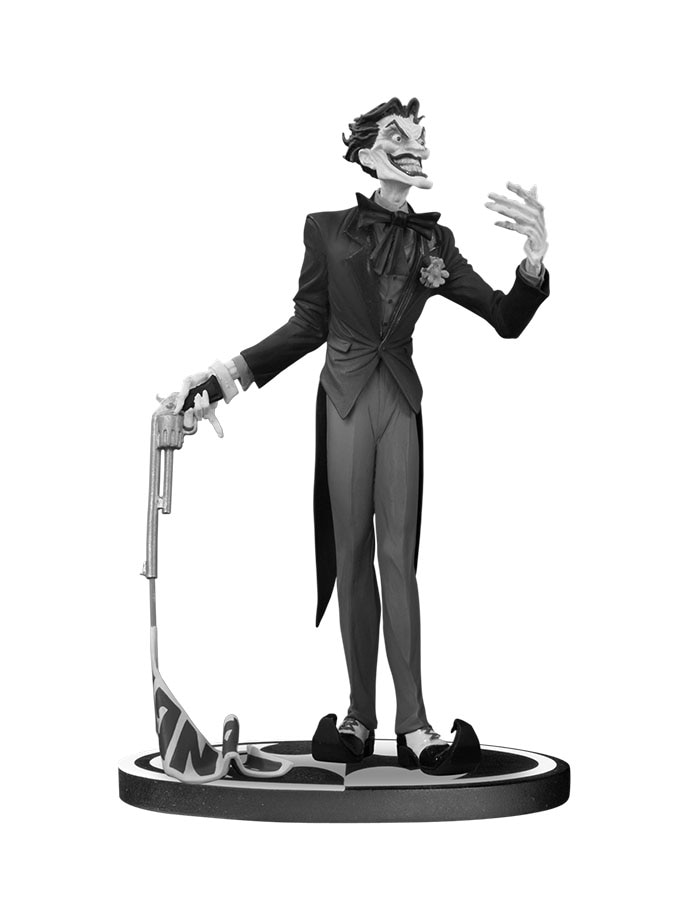 The 50th statue in 2013 was a gravity-defying piece by Sean Murphy. Murphy would go on to create two more statues for the line in 2019. One year later, in 2014, the line's most popular statue in history would be revealed, and ironically it was not Batman! Bruce Timm's Harley Quinn is the best-selling statue in the line so far. Since the original statue's release, this piece has not only been turned into a 12-inch Designer Series Statue, but also a life-sized 1:1 scale statue.
The Joker appeared again as statue #75, based on the art of popular artist, Frank Miller, continuing the character's popularity within the line.
Other heroes from Gotham eventually joined the ranks of Batman: Black & White as well such as Batgirl with designs by Babs Tarr and Bruce Timm. Robin appeared with designs by Carmine Infantino and Frank Quitely. Perhaps one of the most popular of these heroes, however, is Nightwing by Jim Lee, based on his designs from Hush. This statue also got turned into a 12-inch DC Designer Series Statue.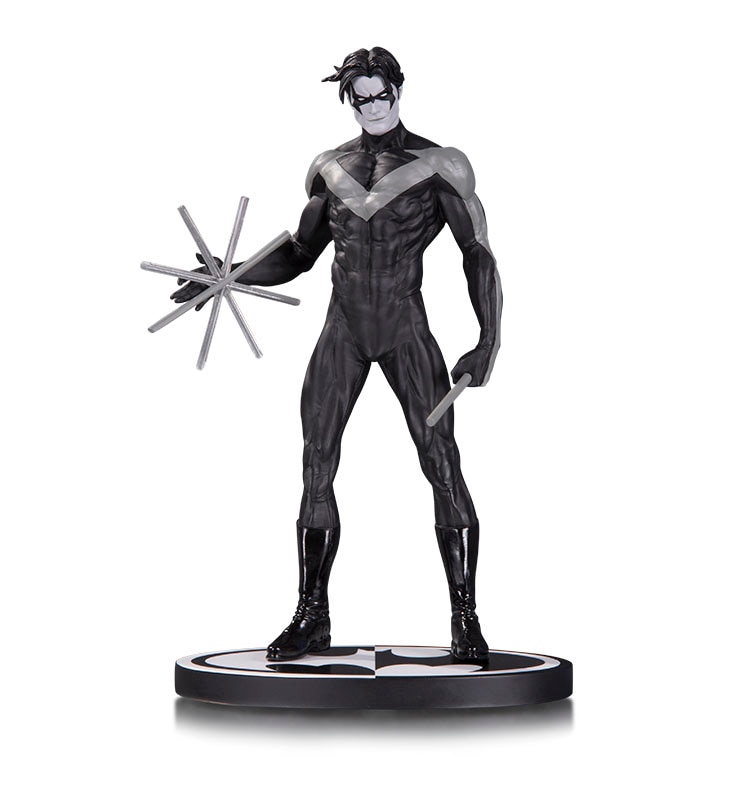 Over the past 15 years, the Batman: Black & White line has endured because of its breadth and variety of art styles and the enduring popularity of its subject and his world. The line celebrates all manner of artists and artistic interpretations, from the cartoonish Sergio Aragones at #39 to the unique roller-blading Batman by Kim Jung Gi. Recently announced are a new Armored Batman by Frank Miller, a Hush Batman by Jim Lee and a fearsome Batmonster by Greg Capullo, making it clear that the line shows no signs of stopping at 100 statues.
The Batman: Black & White line has proven that something as simple as two colors and one character can inspire almost two decades worth of collectibles. It's a line that continues to endure and will hold a special place in display cases for Batman fans for many more years to come. We invite you now to take a look at the full collection of Batman: Black & White statues from one to 100 in a special graphic display below. Which ones do you own?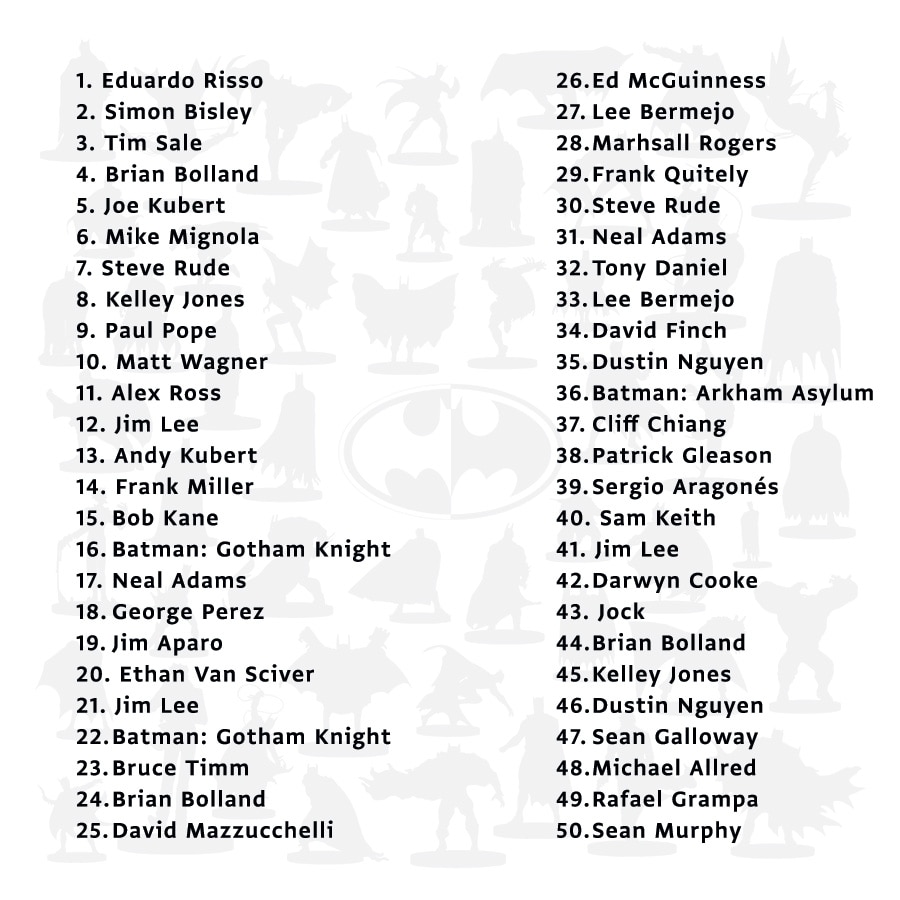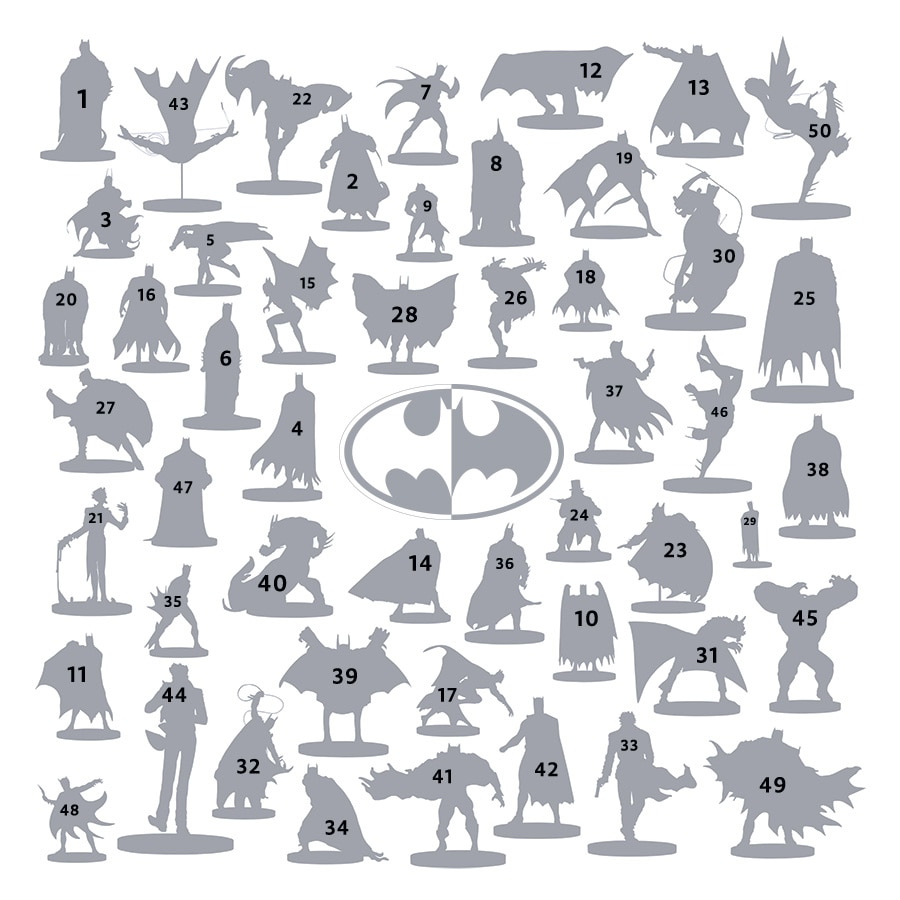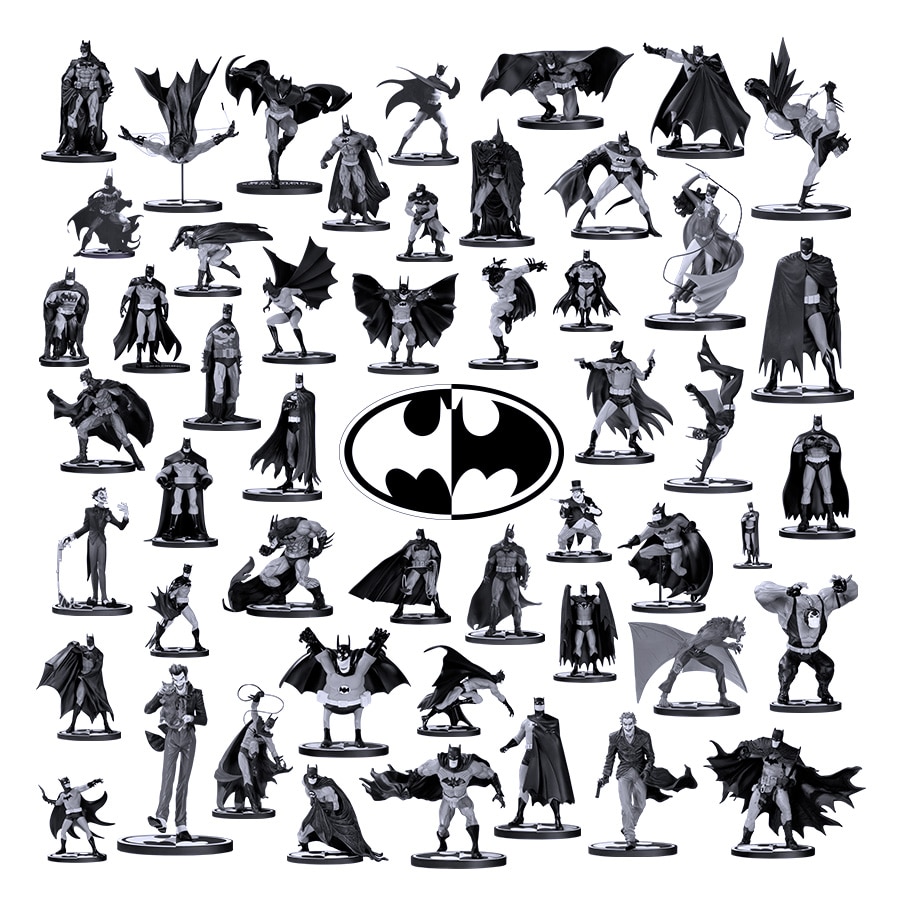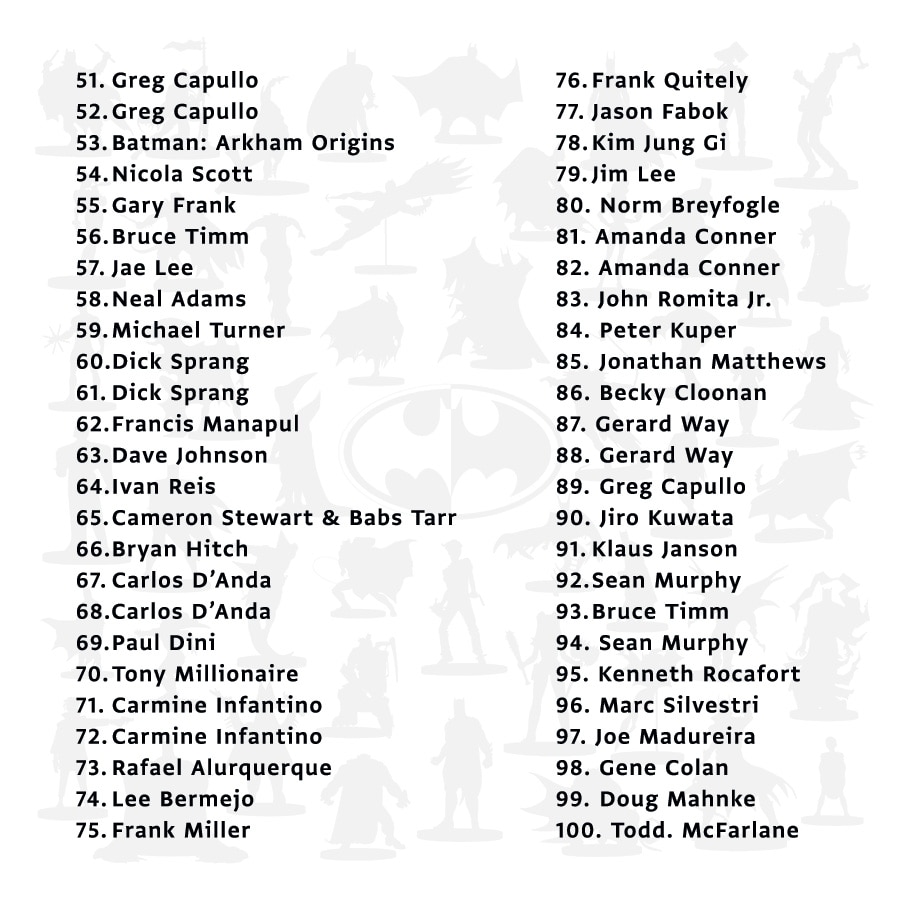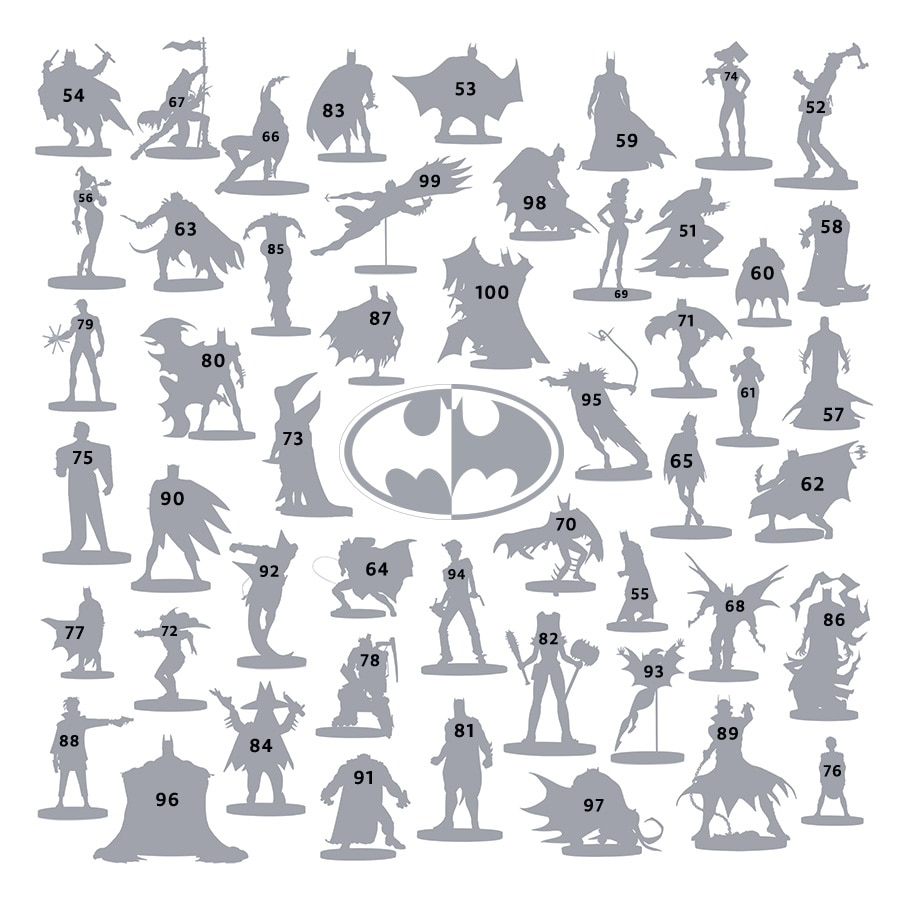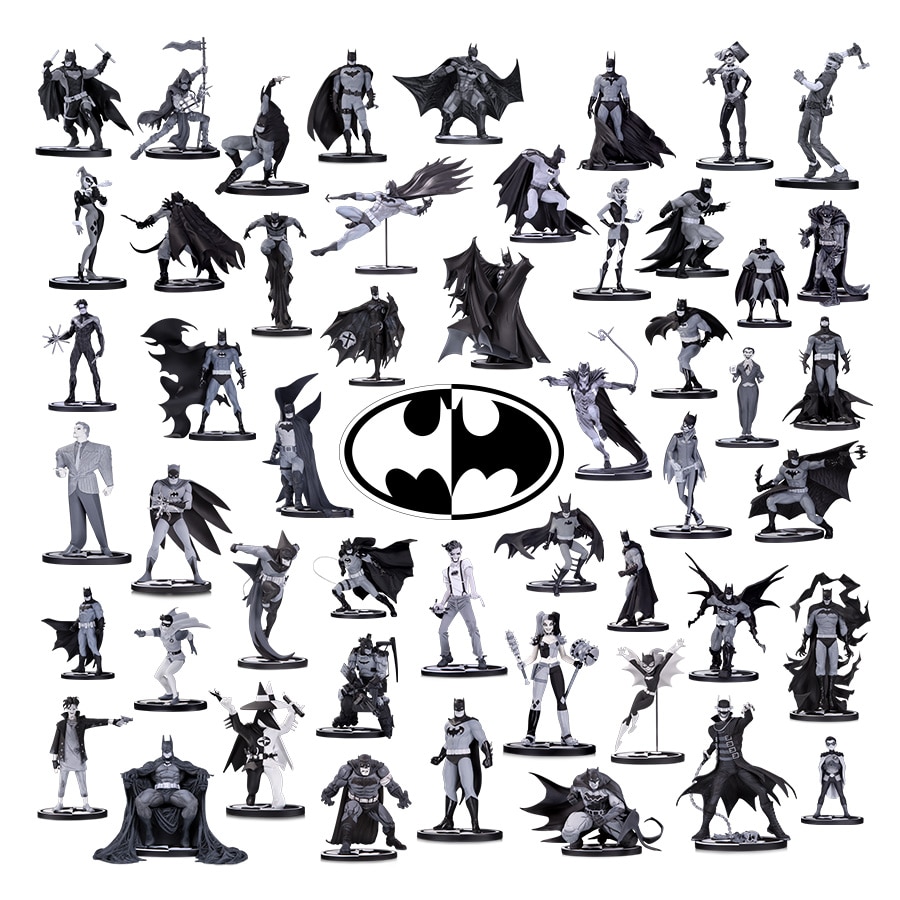 To discover how Todd McFarlane's Batman: Black & White Deluxe Statue came together, click here.
Amanda Levine writes about DC Direct, Young Adult comics, cosplay and the DC Universe in general for DCComics.com.