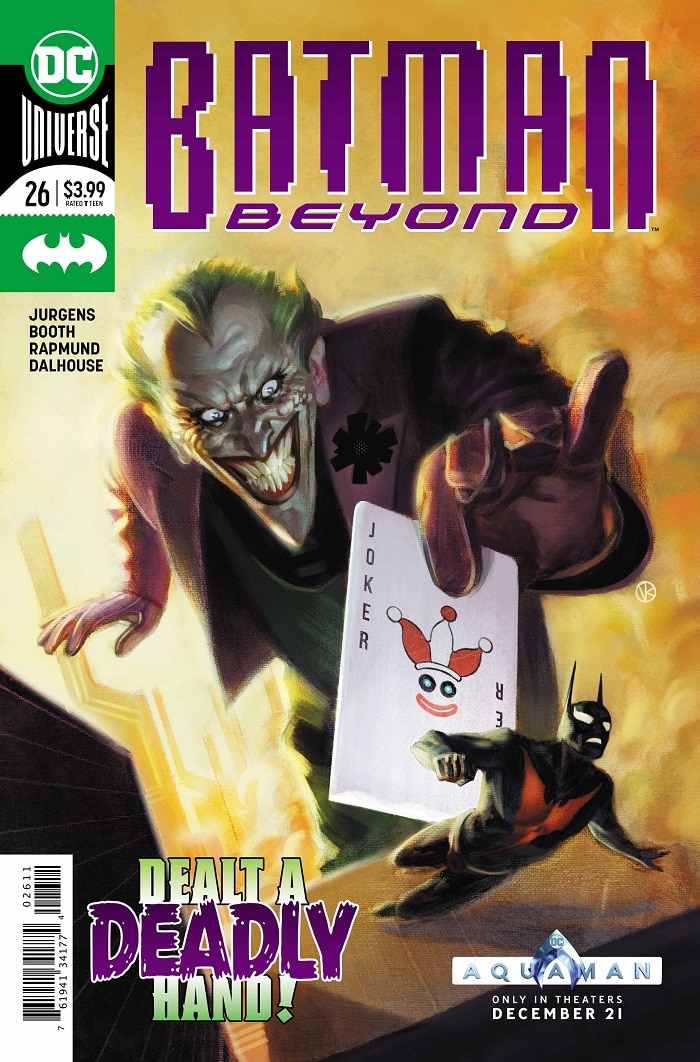 It was supposed to be a tribute to Bruce Wayne and his family legacy, but instead the dedication of the new, cutting edge Wayne Building turned into a nightmare as a rigged train derailed and exploded, destroying the building as well as other nearby structures. That's pretty typical for Gotham—even Neo Gotham, the upgraded version of the city in which Terry McGuinness, the Batman of the future operates. Even more terrifying, the whole thing seems to be orchestrated by the Joker. Unfortunately, that's pretty typical for Gotham, as well.
Terry, Bruce and everyone else who fights crime in Neo Gotham believed the Joker was dead. Last month, we learned that he isn't, and in this week's BATMAN BEYOND #26, we get our first glimpse of his nefarious plans. They start with a merciless attack on Barbara Gordon, the current commissioner of the GCPD. Of course, Babs and the Joker share a dark history—an incident that also began with the grinning psychopath pointing a gun at her. But a lot has changed since those days, and as we see in this exclusive preview of the issue, Barbara's not about to go down without a fight. In fact, she's not planning on going down at all…
BATMAN BEYOND #26 by Dan Jurgens, Brett Booth, Norm Rapmund and Andrew Dalhouse is in stores this Wednesday.