Some comic book covers and stories stay with you long after you've put them aside. These are the books that you remember for much of your life, reminiscing about them with fellow fans and introducing them to new readers…who then go on and do the same. In short, these comics last a lifetime.
Perhaps one of the most notable of these is George Pérez and Marv Wolfman's THE NEW TEEN TITANS. First published in 1980 and continuing for many years, it didn't introduce the Teen Titans as a concept, but it did come to define it. Robin, Beast Boy (or Changeling, as he was better known then), Kid Flash, Cyborg, Starfire, Raven and Wonder Girl all joined forces to create this one-of-a-kind team.
It's a comic that many artists, writers and fans have paid tribute to, and this year, DC Collectibles is doing the same by bringing the classic issue #1 cover to life with an all new line of multi-part statues. This collection of 6-inch scale statues are sold individually and are perfect for displaying alone or combined together to recreate the classic Pérez cover.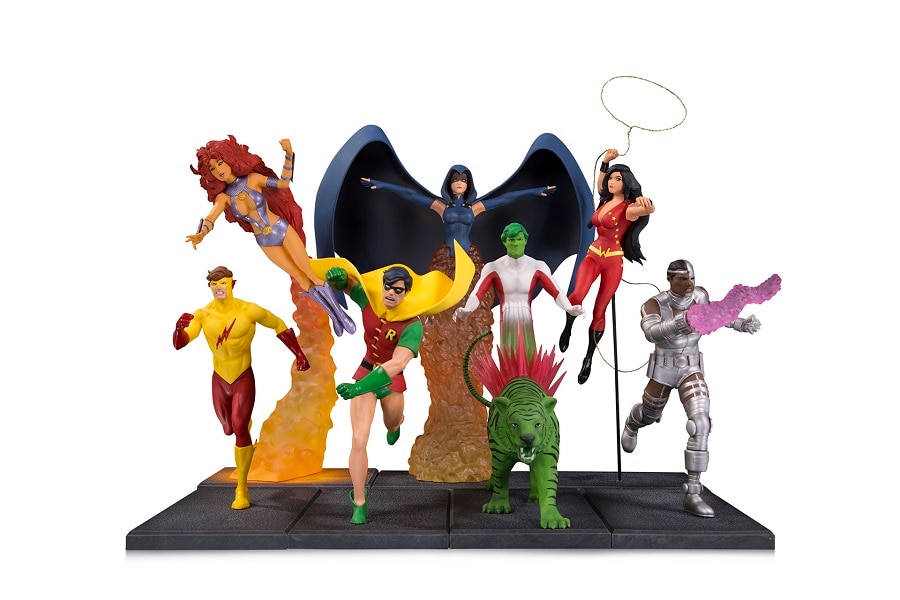 The idea of a "multi-part" statue is a new venture for DC Collectibles, and it's one that is really all about giving collectors the chance to recreate an iconic comic book moment featuring a beloved group of characters. However, one of the best parts about this statue line is that you don't necessarily have to be loyal to the original art.
"Since this is a build statue, you can put them anywhere you want!" explained DC Collectibles creative executive director, Jim Fletcher.
Recently, DC Collectibles was lucky enough to chat with Pérez and Wolfman, who dropped in to shoot an unboxing video with us and gave this multi-part statue their stamp of approval.
"I love the attention to detail and the fidelity to the original cover," praised Pérez.
Perez's favorite piece from the statue set was most definitely Beast Boy. "To do a mid-transformation in 3D… Wow, that is incredible!" said Pérez.
This multi-part statue set is the latest release from DC Collectibles that pushes the envelope of what collecting is, and offers fans something new and different to display on their shelves.
"We've done a couple of lines of Titans figures throughout the years, but never really all of them together in a big group," said Fletcher.
Each statue comes in at an MSRP price of $80. The first two pieces, Robin and Starfire, are on sale now. Cyborg, Beast Boy, Kid Flash and Wonder Girl hit shelves this month in October, with Raven landing in stores in November. As for next year, collectors can look forward to a Bat-Family multi-part statue beginning in March with Batman.
With this week's debut of the hotly anticipated DC Universe series, Titans, the timing couldn't be better to own a statue set like this. While the show's take on Robin, Raven, Beast Boy and Starfire look pretty different from Pérez's '80s-era designs, it's easy to imagine the show leading new fans to check out the comics…and eventually, the statues.
Regardless of whether you're a new or longtime fan of the Teen Titans, these new statues are a must-have. After all, everyone knows the Titans are best displayed…well, together!

Amanda Levine writes about DC Collectibles and the DC Universe in general for DCComics.com.