High school's a pretty crazy time for most of us, but Amelia Bloomer High's newest student is taking the insanity of youth to trippy new levels. SHADE, THE CHANGING GIRL debuted last month with a first issue soaked through with colorful, surreal visuals and peppered with extraterrestrial poetry, care of classic DC and Vertigo character Rac Shade. But Shade, the Changing Girl isn't Rac's story. This spiritual successor to his tale tells the story of Loma, an alien from the planet Meta who steals Rac's Madness Vest and escapes to Earth, where she inhabits the body of a teenage bully named Megan.
Shade is also part of DC's Young Animal imprint, the line of intelligent and bizarre-by-design books overseen by Umbrella Academy creator and former My Chemical Romance frontman Gerard Way. With Way's oversight of the comic's launch, Cecil Castellucci's lyrical writing and Marley Zarcone's flowing, imaginative art, it's a uniquely different sort of comic that gives the reader a taste of madness and leaves them wanting more.
We recently spoke with both Castellucci and Zarcone about how they've managed to make madness so enticing, how much this new Shade will tie into the older one, and what they suspect they'd see if either of them were to wear the Madness Vest.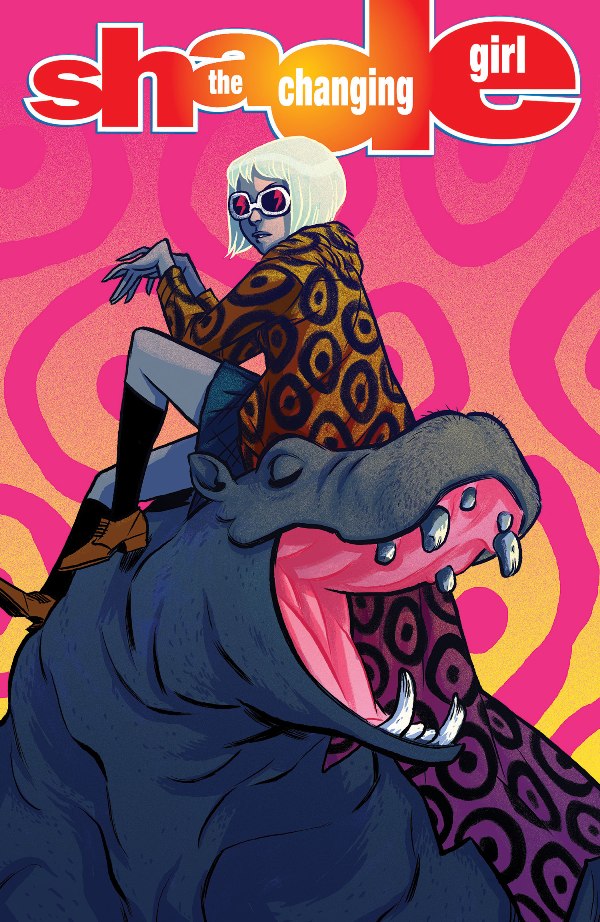 What words would you use to describe SHADE, THE CHANGING GIRL?
Cecil: Alien. Lost. Hmm…
Marley: Confusion? I would say "confusion."
Cecil: Mad. Raw. Yeah, I would use the word "raw."
Marley: That's a good one.
I think one of the words I would use is "poetic." The narrative is literally poetry at times, and the images often have this amazing, almost concentric flow to them at times. Can you talk a bit about that?
Marley: The flow of the pages… It really depends on the scenario. It's definitely more emotional—that's a word I'd use for a fair amount of the book. Trying to illustrate the madness is trying to figure out how you want to display the extremes of emotion and what triggers that. The swimming scene in the first issue, it changes over to the madness in that last panel because they're reliving trauma. It's trying to visualize things like that.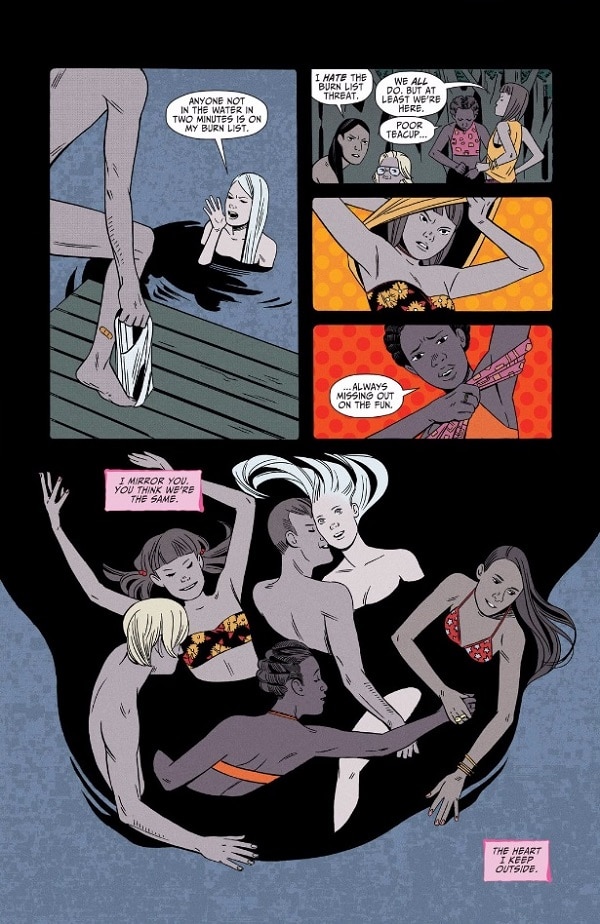 Cecil: When you're trying to examine the human condition, regular dialog doesn't really cut it. You have to take it up a new level. Poetry and that sort of poetic feeling is the thing that I think gets us closest to what it means to be human. Here you're dealing with an alien who is basically considering the human condition by inhabiting this girl's body and sort of exploring that. You can't do that without some kind of sense of poetry.
Is Shade Loma's story or Megan's? Or both?
Cecil: Hmm… I think it's both.
Marley: Yeah.
Rac Shade comes up quite a few times in the first issue. How much will this series tie in with the classic Peter Milligan Vertigo series?
Cecil: It's not a direct sequel in any way. My intention was to have echoes from the Milligan and Ditko runs. I wanted to pull things in from those series that are familiar, but to make it a wholly new thing. So while we have Rac Shade, it's our Rac Shade. He has echoes of the Rac from the Vertigo series, but we're not 100% beholden to it.
Marley: It's a whole host of new characters, new problems and new emotions. It's a whole new human experience with a whole new cast of characters. There are echoes because he's got the coat and Loma loves Rac and his poetry, but it's a different experience.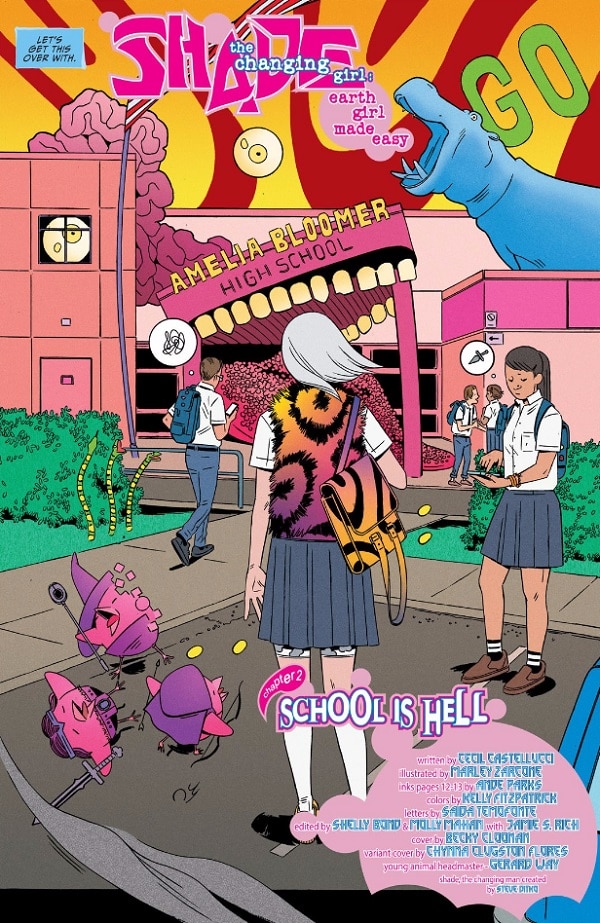 This is a far more complex series than it may seem at first pass. You're juggling quite a few elements. You have Loma's journey to Earth along with Megan's history and the fallout from that. You also have Megan's murder, the situation on Meta with LePuck and Mellu, and behind all of it the Madness, which seems like it's threatening to take control. How difficult is it juggling all of that, Cecil?
Cecil: It's really difficult, but one thing that I was really excited about is that this is my first ongoing series, and it really seemed like a nice opportunity to start stitching in a bunch of different things—that seemed like a really interesting challenge for me. It's definitely challenging to thread in all of those things, but I think things gain gravitas when they're complex and not just surface. When you're dealing with madness, you want to get down deep in there.
Marley, I'm curious about how these amazing, surreal images come together. Does Cecil specify any of it in her script, or does she leave that up to you? Or is it a combination of the two?
Marley: It's a combination. We share a Pinterest group where we pull things that we find visually interesting. I usually take what Cecil says and see what I want to do with it. I get what she writes and I see what I can pull from it. I send in the roughs for each page and see if everything translates right and if the page incorporates everything that Cecil wants. It's a collaborative effort.
Is it difficult drawing hallucinatory sequences for you? Or are you enjoying the chance to get away from everyday reality?
Marley: I love it. I love everything about it. It's everything that I've wanted to work on. When I'm doing the layouts for this, it just comes really naturally.
I just love what Cecil's written. Everything in it. It's kind of my favorite book that I've worked on.
Cecil: Me too!
Marley: The concept of using the madness visually is so cool. I just want to see how far I can take it because this really is a unique challenge for me. Forgetless was grounded in New York. Effigy was pretty grounded as well. I suppose the MADAME XANADU issue that I did was a little bit out there. She saw horror through her strange visions. I got to explore a bit there. But most everything I've done is very grounded, so this has been a real treat.
Much like in the previous Shade series, there's some amazing color work in this series. What's your working relationship with colorist Kelly Fitzpatrick? Do either of you specify what sort of color palette you're looking for? Or do you leave that up to her?
Marley: With the first issue, you're always kind of hashing it out. We figured it all out together to see what looked the best. Kelly had great ideas, and I had some input at the beginning. But really, after the first issue she's just taken off. She has really good direction, and her choices are really good. She uses really cool textures. Now it's just a question of where we can go with it all.
Cecil: We had to talk about things like what color the aliens were—"Remember, we're on an alien planet so smoke doesn't have to be grey." Things like that. Actually, Kelly is in our little secret Pinterest group as well.
Marley: And it's ours and ours alone!
Cecil: Yeah, only for us!
How much madness do you suspect you'd see around you if you were to put on the Madness Vest? Cecil, you live in LA, so I'm thinking you would see a lot.
Cecil: I think if you put the Madness Vest on, it's just flowing off of you. If you have the Madness Vest on, you're riding that wave. It's there. So I'd say that I'd see 100% of it because it would be flowing off of me. It's more like what do other people think, and do they believe what they're seeing or not.
Marley: I live in the mountains of British Columbia, so I might have a different experience. I live a pretty quiet existence up here. My husband's a comic artist as well. So maybe it would trigger if he like needs snacks or something. The Madness Vest is acting up, we must be low on coffee!

SHADE, THE CHANGING GIRL #2 by Cecil Castellucci, Marley Zarcone and Kelly Fitzpatrick is now available in print and as a digital download.
You can meet Marley Zarcone and other Young Animal creators this weekend at North Carolina Comicon, but if you can't go, you can still take home a great Young Animal prize pack in our new sweepstakes.