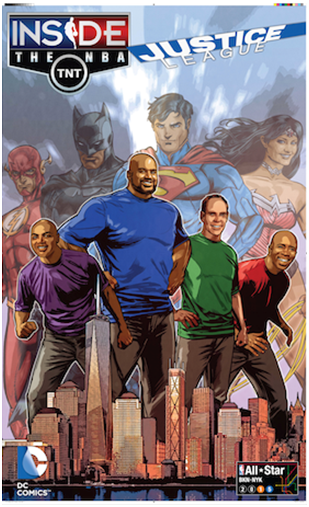 TNT's Popular Inside the NBA Studio Show Races Through the Big Apple with Help from DC Comics' Justice League Super Heroes
Turner Sports and DC Entertainment today unveiled the release of The Justice League Goes Inside the NBA All Star 2015, a special edition comic book that pairs TNT's Sports Emmy® Award-winning Inside the NBA studio team – host Ernie Johnson and analysts Charles Barkley, Kenny Smith and Shaquille O'Neal – with The Justice League from DC Comics.
Written by Brian Buccellato and drawn by Beni Lobel and Tony Shasteen, the 16-page, limited edition comic book will be available for the first time at comic book stores free of charge, throughout the U.S, throughout New York and to fans at the NBA Store (590 Fifth Avenue in Manhattan) starting Wednesday, Jan. 21.  It is also available in a digital format via nba.com.
In The Justice League Goes Inside the NBA All Star 2015, the NBA on TNT team prepares for a rematch of their big race Johnson, Barkley, Smith and O'Neal are paired with Justice League members Superman, Batman, Wonder Woman and The Flash to see who can make it from Barclays to Madison Square Garden first. Those plans are thwarted by unexpected occurrences that happen throughout the city in which the teams are forced to work together to save the day.
This issue also features special appearances by TNT commentators Marv Albert, Reggie Miller, Chris Webber and Kristen Ledlow.
TNT is the exclusive home of extensive live NBA All-Star coverage including all of the marquee events from New York. Programming highlights include the BBVA Compass Rising Stars Challenge on Friday, Feb. 13; State Farm All-Star Saturday Night, featuring the Sears Shooting Stars, Taco Bell Skills Challenge, Foot Locker Three-Point Contest and Sprite Slam Dunk on Saturday, Feb 14; and the 2015 NBA All-Star Game on Sunday, Feb. 15.