Hey there, DC Collectors! Hope everyone had a great three-day weekend. We sure did. While many of you were relaxing with your family and friends, we were braving the electrifying floor of Toy Fair in New York, showing off some of our newest action figures, statues and collectibles. We arrived at the Big Apple with a booth full of fantastic stuff to show off, but it was our new line of six-inch action figures based on Batman: The Animated Series that really seemed to steal the show.
While we can't wait until you're able to get your hands on these high quality—and highly anticipated—new action figures, they won't be arriving until November.
We know, we know! That's an awfully long time to wait. So we thought we'd help ease the suspense a little bit by giving you an in-depth look at the line and the two figures that have been shown so far: Batman (from The New Batman Adventures) and Catwoman (from Batman: The Animated Series).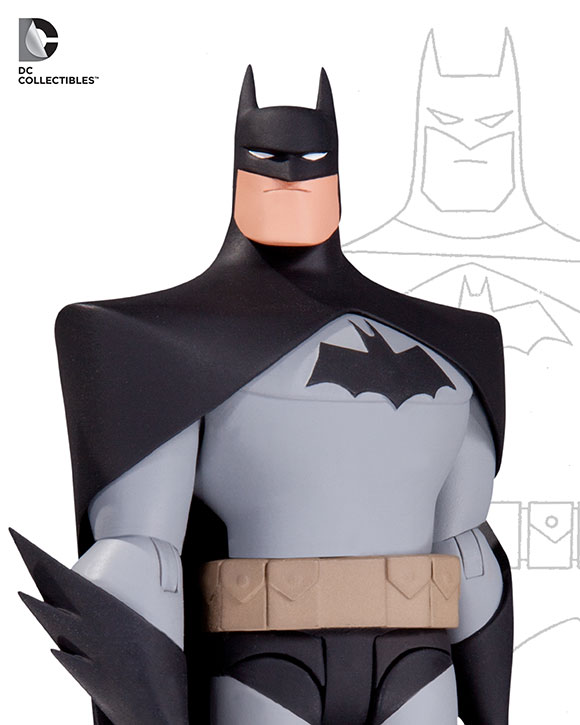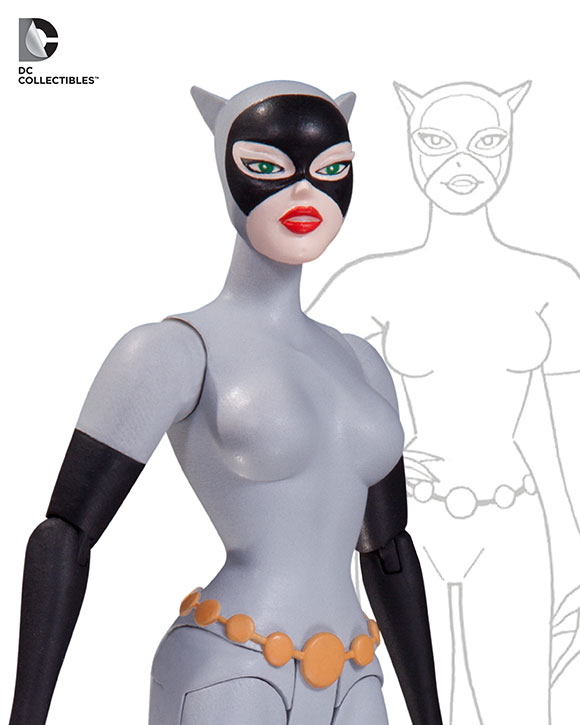 Let's start with Batman. As long-time fans of the show know, when we say Batman: The Animated Series, we're really talking about two different shows—the original Batman: The Animated Series which debuted in 1992 and ran through 1995, and 1997's The New Batman Adventures, which featured a redesign of the characters and a greater emphasis on Batman's support team, but for all accounts and purposes was a continuation of the 1992 show. We love both series equally, but since the characters did get a redesign, we wanted to reflect that with this line. Therefore, some of the action figures released will be based on the 1992 designs while others, like this first Batman figure, will be based on the 1997 redesign.
All of these figures are true 1/12th, six-inch scale and all of the figures will be in scale with Batman. We're using the original character lineup sheets that were used by the animators to ensure that all characters are in scale with one another. We're also using the original animation turn art during the art direction process to make sure the figures (and our turn art) are as authentic as possible.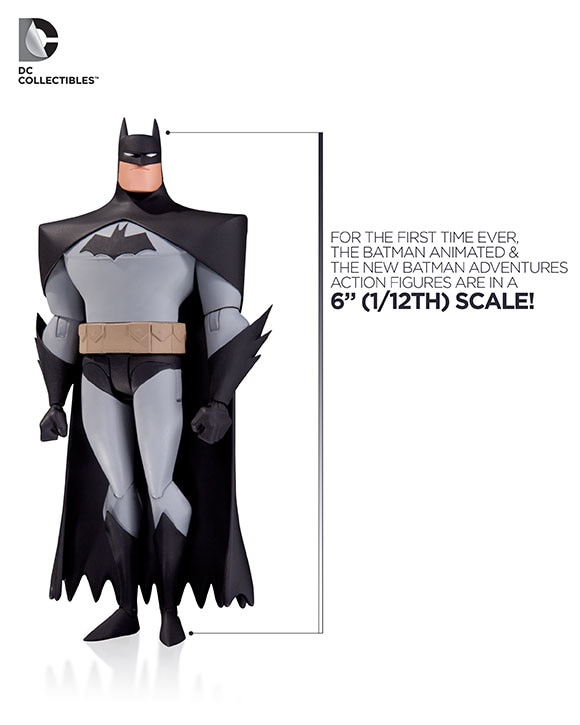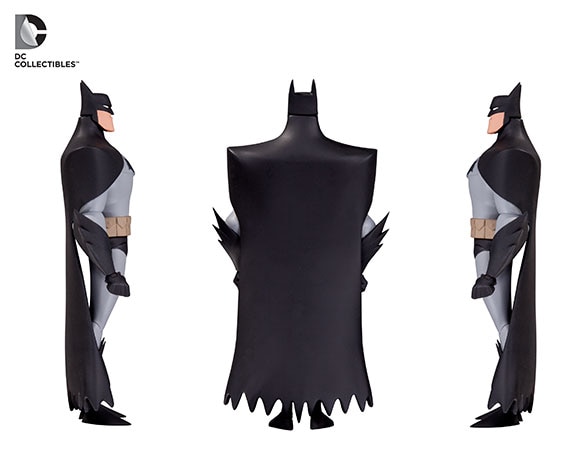 All of the figures will feature multiple points of articulation. We're trying to pack as much articulation into these guys as possible without compromising the look of the figure. Batman will feature 24 points of articulation.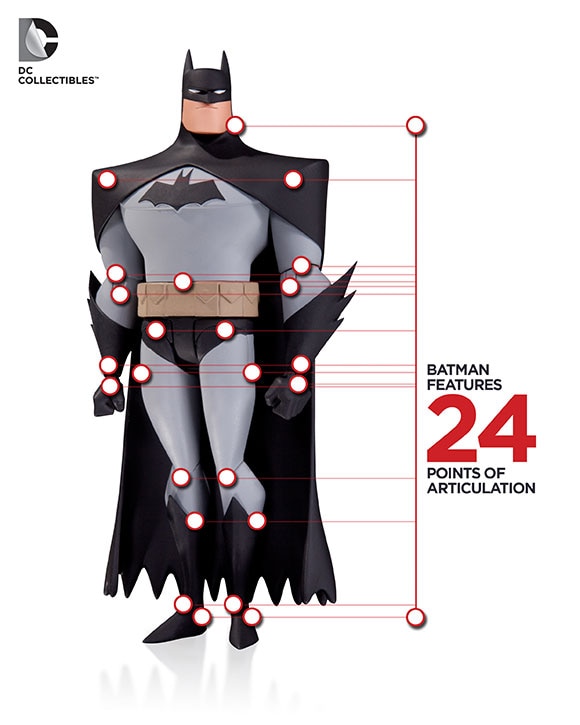 As mentioned on the latest episode of DC All Access, this first wave is made up of four figures, and three of them are based on the 1997 designs. The only figure so far that's based on the 1992 original design is our favorite ferocious fatale, Catwoman.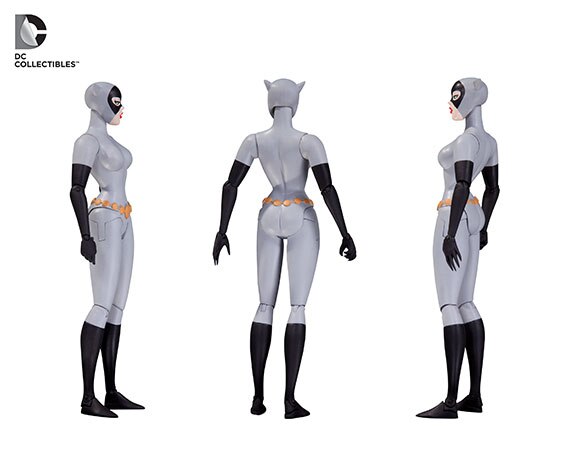 All of the figures will come with multiple accessories and Catwoman's certainly no exception. She'll arrive with all of the weapons and devices that are featured in the two-part episode, "The Cat and the Claw"—whip, cat stars, camera and necklace. As far as articulation goes, Catwoman features 25 unique points.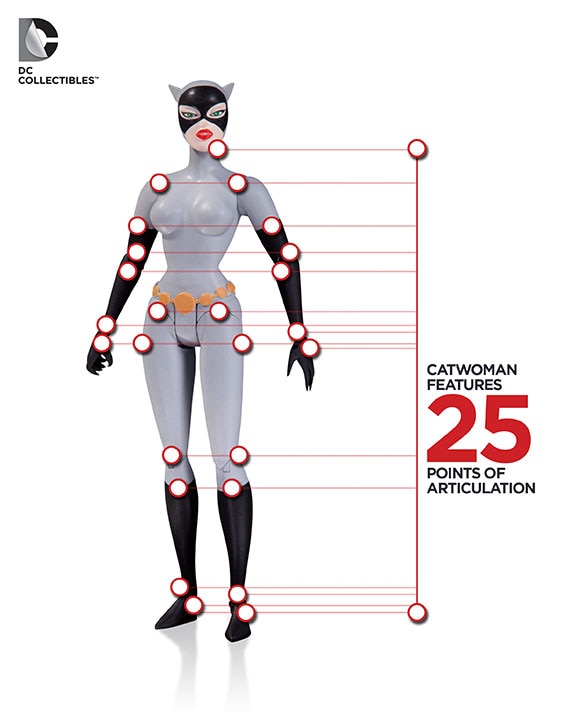 And what are the second two first-wave figures? Well, if you missed the reveal on DC All Access, they're Mr. Freeze and Two-Face! Look for us to release images of them a bit later on. As for future figures, we don't want to give too much away, but you can expect figures of multiple characters from both animated runs. The second wave will feature three action figures based on the 1992 designs and one based on the later redesign. In other words, the opposite of the first wave!
We look forward to showing you more from this great new line soon. But in the meantime, if you're looking for more on Batman: The Animated Series, be sure to check DCComics.com tomorrow and Friday as "Batman: An Animated Celebration" continues. See you next week!