You guys are sure having some fun with those die-cut covers, aren't you? Last Wednesday, we offered you a chance to win a couple of LEGO Batman prize packages by tweeting us your DC comics photos, and many of you put those Joker faces to good use. However, our winning photos took a different approach, as you can see below:
My cat reads faster than my boyfriend.
The above photo and caption were both submitted by @rcknjess on Twitter. (Hopefully, her boyfriend has finished reading BATMAN, INCORPORATED #0 by now!)
 Jason Todd, keeping up on "current events."
Our second winning photo and caption were submitted by @drewtos, who apparently took a break from the Outlaws to read BATMAN #13. Both winners will be receiving a great LEGO Batman prize package that includes a copy of both LEGO Batman 2: DC Super Heroes and the LEGO Batman Visual Dictionary, which aside from being a fun reference for LEGO Batman fans, also features an exclusive minifigure.
We're big fans of LEGO Batman around here, but if you prefer your comics and your heroes to be a little edgier, then you'll be happy to know that for this week's giveaway, we're moving to the opposite end of the age spectrum.
Today marks the release of BEFORE WATCHMEN: MINUTEMEN #4, which continues the dramatic story of the Minutemen—the forebears Rorschach, Ozymandias, Dr. Manhattan and the rest of the team at the center of the classic graphic novel and its film adaptation. It's a dark, relentless story of Golden Age heroics, drawn and written by Darwyn Cooke. So to celebrate this great Before Watchmen comic, we're giving you all a chance to win a Minutemen card signed by Darwyn.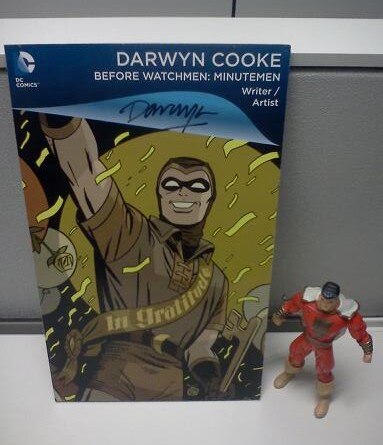 As usual, the card is 11" by 14" and is made of heavy card stock. Many of you fans will recognize it as the cover of BEFORE WATCHMEN: MINUTEMEN #1, which was actually the very first Before Watchmen comic released! If you're a fan of either the Watchmen or of Darwyn's work, you're going to want this up on your wall. But, as usual, you'll need to do a few things if you'd like to get your hands on it.
1) If you're not already doing so, be sure to follow @DCComics on Twitter and Instagram.
2) Pick up some of your favorite new DC comics on Wednesday and take a photograph of you reading them. (If you can't make it to a comic shop on Wednesday, a photo of you reading any DC comic will do.)
3) Share your picture with us via Instagram and tag @DCComics and #DCComicscontest.

That's all there is to it! At 5 pm PST on Monday, October 22, 2012, one winner will be chosen at random and direct messaged for his/her mailing address. The winner will be featured on Twitter and if possible, here on DCComics.com. DC Comics will tweet the winner's photo and a fan shout out on or around Tuesday, October 23, 2012.

Giveaway Details

NO PURCHASE NECESSARY. A purchase of any kind will not increase your chances of winning.

This Sweepstakes is open only to legal residents of the 50 United States or the District of Columbia who are at least 18 years old as of the date of their entry. Employees of DC Entertainment and any of DC Entertainment's affiliates, parents, subsidiary companies, or advertising and promotion agencies and members of their immediate families are not eligible to enter or win the Sweepstakes. Void where prohibited. By entering the Sweepstakes, entrants agree to these Official Rules and DC Entertainment's Privacy Policy. The decisions of Sponsor are final and binding on all matters relating to this Sweepstakes. Odds of winning depend on the total number of eligible entries received.

One entry per person. All entries must comply with these Official Rules and meet the submission guidelines detailed herein. Each entrant is solely responsible for any and all uses of his/her registered Twitter account.
By submitting a picture, entrant warrants, represents and agrees that: (i) entrant is the person appearing in the picture; (ii) the reproduction, distribution and display of the picture does not violate the rights of any persons or entities; (iii) the entrant has the right to submit the picture to Sponsor; and (iv) Sponsor may reproduce and display the picture on ­­­­­­­­­­­DCComics.com and all DC Comics-operated Twitter and Facebook pages. Sponsor reserves the right to condition the award of prizes upon the execution by the winner(s) of a publicity release. Notwithstanding this reserved right, entry is conclusively deemed to be permission by the entrant for Sponsor to use the entrant's name and the picture (without compensation to the entrant) if the entrant is a winner to publicize the Contest and otherwise, as determined by Sponsor, unless prohibited by law. Sponsor reserves the right to require the winner to execute an affidavit of eligibility as a sworn document and provide other proof of eligibility as a condition of receipt of the prize or award.

The random selection will be held on 5 p.m. PST on Monday, October 22, 2012 from all eligible entries received. We will then Direct Message the winners on Twitter to get mailing address and other information. If a selected winner does not comply with these rules or respond to the request to claim their prize within 24 hours, an alternative winner will be selected from the remaining eligible entries. Total value of prize is $50.00.

Sponsor not responsible for late, lost, stolen, incomplete, misdirected, garbled, damaged, delayed or undelivered entries.
Winners' List: For the name of the winner, available after Monday, October 22, 2012, send a stamped, self-addressed envelope, to be received by DC Entertainment to: Gerard Maté 4000 Warner Blvd. Burbank, CA  91522.

The Sponsor of the Sweepstakes is DC Entertainment, 1700 Broadway, New York, NY 10019.