ACTION COMICS #12
Written by GRANT MORRISON
Backup story written by SHOLLY FISCH
Art by RAGS MORALES, BRAD WALKER and RICK BRYANT
Backup story art by CAFU
Cover by RAGS MORALES
Variant cover by CLIFF CHIANG
1:100 B&W Variant cover by RAGS MORALES
On sale AUGUST 1 • 40 pg, FC, $3.99 US • RATED T
Combo pack edition: $4.99 US
• What is the horrific secret behind "THE FORGOTTEN SUPERMAN"?
• What happens when Superman is too late to save LOIS LANE?
• And what is the staggering new threat The Man of Steel is about to face?
• Plus in the backup, Perry White's brush with death leads to startling consequences for Superman!
This issue is also offered as a combo pack edition with a redemption code for a digital download of this issue.
SUPERMAN #12
Written by DAN JURGENS
Art by DAN JURGENS and JESUS MERINO
Cover by DAN JURGENS and NORM RAPMUND
1:25 B&W Variant cover by DAN JURGENS and NORM RAPMUND
On sale AUGUST 22 • 32 pg, FC, $2.99 US • RATED T
• The entity that came from the bottom of the ocean in issue #9 is back – and it's trying to create a dimensional gateway for his army!
• Earth is in peril, and Superman is the only one who can prevent mass death and destruction.
SUPERMAN ANNUAL #1
Written by KEITH GIFFEN
Art by SCOTT KOLINS
Cover by TYLER KIRKHAM and BATT
On sale AUGUST 29 • 48 pg, FC, $4.99 US • RATED T
• Abducted by a group of mysterious aliens, Superman is dragged to a remote alien galaxy to take part in THE GAMES, a world hopping game of cat-and-mouse where players are hunted for sport.
• Can even the help of a mysterious new GREEN LANTERN overcome the might of an alien empire?
SUPERBOY #12
Written by TOM DeFALCO
Art by R.B. SILVA and ROB LEAN
Cover by STEVE LIGHTLE
On sale AUGUST 8 • 32 pg, FC, $2.99 US • RATED T
• There's a monster hiding in the shadows of New York after dark, and she's set her sights on Superboy. But her interest in him is more complicated than it seems!
• Superboy's just starting to figure out what it means to have friends – does he have the good judgment to pick the right ones? Or is he destined to run with the wrong crowd?
SUPERGIRL #12
Written by MICHAEL GREEN and MIKE JOHNSON
Art and cover by MAHMUD ASRAR
On sale AUGUST 15 • 32 pg, FC, $2.99 US • RATED T
• SUPERGIRL confronts SUPERMAN in his Fortress of Solitude about the Bottle City of Kandor.
• What mysterious connection does this have to a piece of Kryptonian debris that crashed with her ship?
Click here to see a gallery of all SUPERMAN group cover artwork.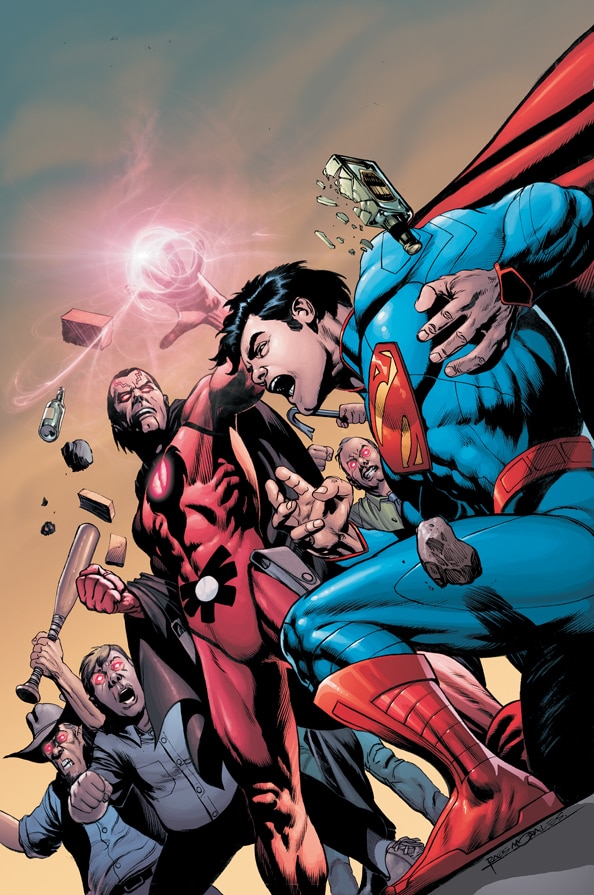 (The cover for ACTION COMICS #12 by Rags Morales)