Everyone has to start somewhere—even the MVP of DC Universe. No, I don't mean Superman, Wonder Woman or Batman. They're amazing, of course, but I'm talking about Alfred Pennyworth, butler extraordinaire, caring father figure and star of the new graphic novel Young Alfred: Pain in the Butler!
Young Alfred, an all-ages graphic novel by Michael Northrop (Dear Justice League) and Sam Lotfi, takes us across the years to tell two enchanting stories of past and present Pennyworth. Before Alfred raised young Bruce Wayne, he was a boy himself who made the long journey to Gotham City to study how to be the best butler he can be. This charming book is a reminder that heroes, even fictional ones, can still fail. They're people just like us who repeatedly mess up, learn and grow in order to reach their full potential.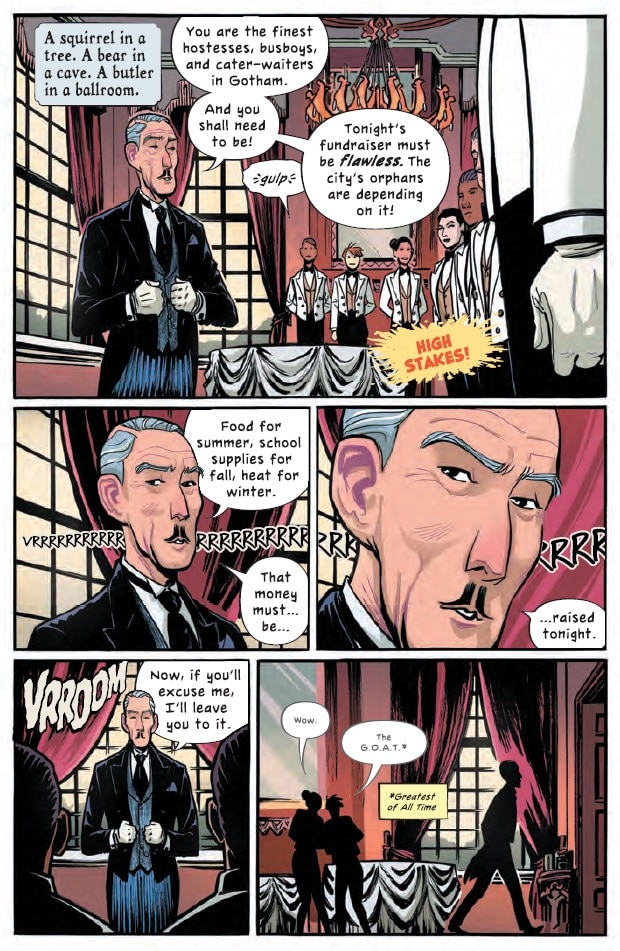 In the present, Alfred is organizing two wildly different fundraiser events at Wayne Manor to be held on the same day. He looks over every little detail, from the amount of air in the bouncy houses for the kids to a rousing pep talk for the event catering staff. We learn that DC fans aren't the only ones who think Alfred is a legend—the people inside the DC Universe are also in awe of the G.O.A.T.
But Alfred recalls the days when he was probably the worst butler of all time, not the greatest. Fifty years ago, Alfred traveled all by himself to a new country to enroll in Gotham Servants School. While Alfred's dream was to become an actor, he chose to honor his father's last wishes for his son to follow in his footsteps as a respected butler. Unfortunately, with scuffed shoes and a late arrival on his very first day, Alfred's future career is off to a rocky start.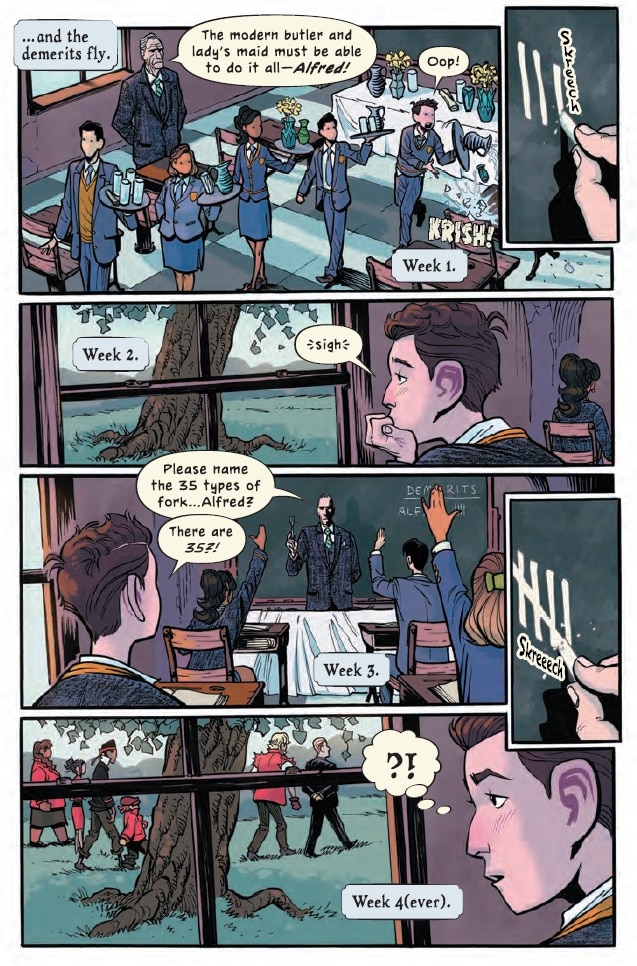 He quickly makes friends with the other students, particularly Penny Spiffer. As the days pass, Penny and Alfred grow closer and get into harmless shenanigans. And when an adept and attentive teacher takes over the class, Alfred finally starts to get into his groove. But he has lingering questions about strange things happening at the school. Why doesn't the head teacher ever teach? And why are there Arkham Asylum orderlies-in-training in their class?
Speaking of Arkham, as Alfred remembers investigating the mystery in the past, in the present, a very familiar duo arrives at Wayne Manor to crash the event. But Alfred isn't fazed by anything, not even the likes of the Joker and Harley Quinn. He finds ways to thwart their plans with aplomb—and without a Batman in sight.
Young Alfred is a lighthearted coming-of-age tale about turning mistakes into wisdom. Everyone knows that Alfred is Batman's unofficial partner-in-crimefighting, but the butler wasn't born the perfect organizer and planner. It took study and practice. Kids can see the young Pennyworth put those lessons he learns to use, whether it's which utensil to use or how to face bullies.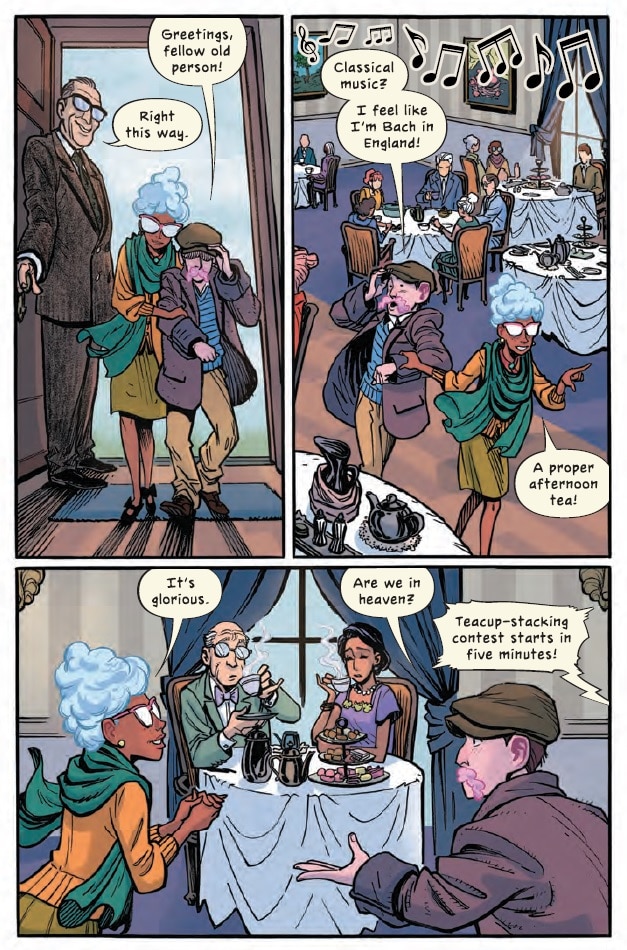 The end result is a timeless adventure for the young and the young at heart, complete with a beautifully drawn boarding school filled with cobwebs and secrets, some old-fashioned snooping and tongue-in-cheek humor that gives the book a personality that's all its own. In fact, if you couldn't tell by the subtitle, Young Alfred: Pain in the Butler has some phenomenal puns that are (Penny)worth the price of admission alone. Among his many skills, Alfred is quite the connoisseur of the dad joke. (Something I admittedly know a bit about.)
Young Alfred is a tantalizing taste of what the indispensable butler was like as a kid, giving us a glimpse of his dreams, his childhood best friends and the rousing adventures he had before meeting Bruce Wayne. Michael Northrop and Sam Lotfi delightfully prove what every Bat-fan should already know: Alfred Pennyworth is a hero all his own.
 
Young Alfred: Pain in the Butler by Michael Northrop and Sam Lotfi is available in bookstores, comic shops, libraries and digital retailers in print and as an e-book.
Kelly Knox writes about all-ages comics and animation for DC.com and her writing can also be seen on IGN, Nerdist and more. Follow her on Twitter at @kelly_knox to talk superheroes, comics and pop culture.
NOTE: The views and opinions expressed in this feature are solely those of Kelly Knox and do not necessarily reflect those of DC Entertainment or Warner Bros., nor should they be read as confirmation or denial of future DC plans.