Harley enters the Dawn of DC era in the just-released Harley Quinn #28 from the incoming creative team of Catwoman and Punchline: The Gotham Game writer Tini Howard and The Joker artist Sweeney Boo, ushering in a new status quo for the title character when Harley, distraught over Ivy leaving town on a road trip (read the always-excellent Poison Ivy series for much more on that), gets in a fight with Two-Face, leading to a new, legally mandated gig.
Plus, each issue features a back-up story, as a revolving cast of all-star talent presents Harley's wild—and in-continuity—dreams. In issue #28, Eisner Award-winning writer and artist Erica Henderson gives her take on Harley in the magical girl anime genre, and future installments see Adam Warren, Nicole Maines, Mindy Lee, Heather Anne Campbell and Filya Bratukhin among the talent getting in on the fun.
To help navigate this wild new world of Harley Quinn, we spoke with Howard about what she wanted to bring to the character, Harley's surprising relatability and what it's like to write three of Gotham's most notorious residents at the same time.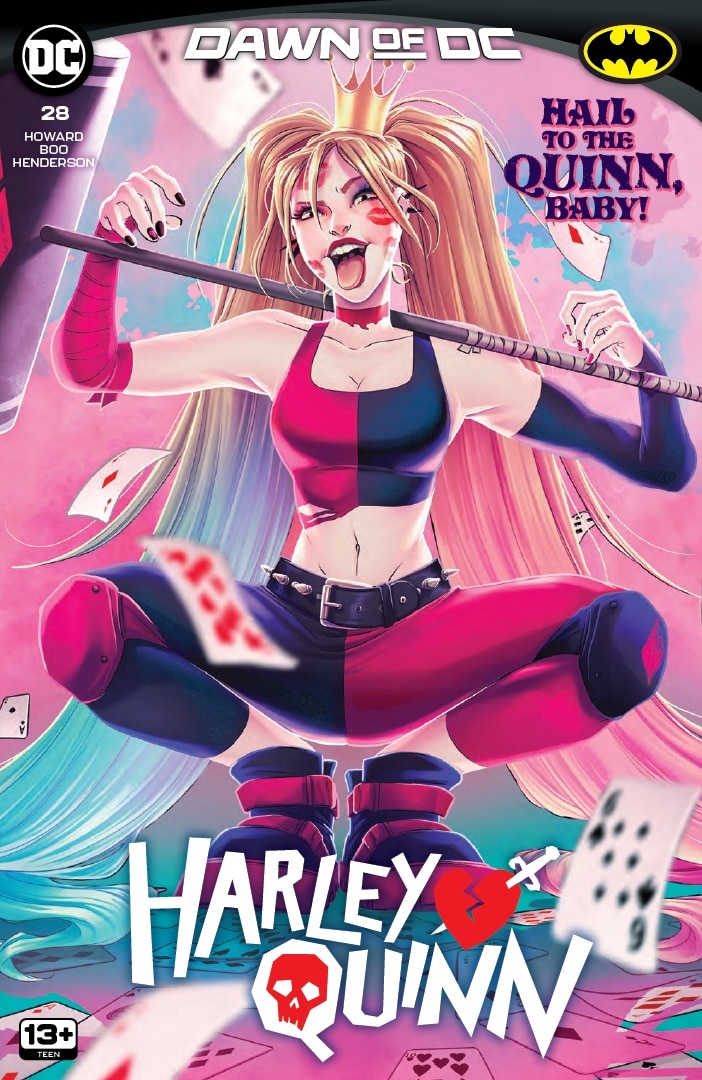 How is this new era of Harley Quinn different from what we've seen from the character in the past?    
This is going to be—at least at the start—a character piece first and foremost. We'll be exploring a bit of Harley's rich…inner life, let's say. We're trying to see how she approaches the kind of lovely normalcy lots of heroes aspire to: an apartment with her girlfriend Ivy, her pets, a (court-ordered) job…more on that later. (laughs)
Which aspects of Harley are you looking to explore at the start? Just by the very nature of the character, she lends herself to a wide variety of stories and storytelling methods.
When you're mentally ill like Harley (or me, let's get that out of the way), there's a level of self-sabotage that can feel cosmically hard to overcome.
It's a struggle that I've always wanted to write about, and Harley just reminds me of one of my favorite ways to overcome a struggle—by laughing about it. I think a Harley book should be laugh-out-loud funny in way that maybe sometimes makes you say "ow."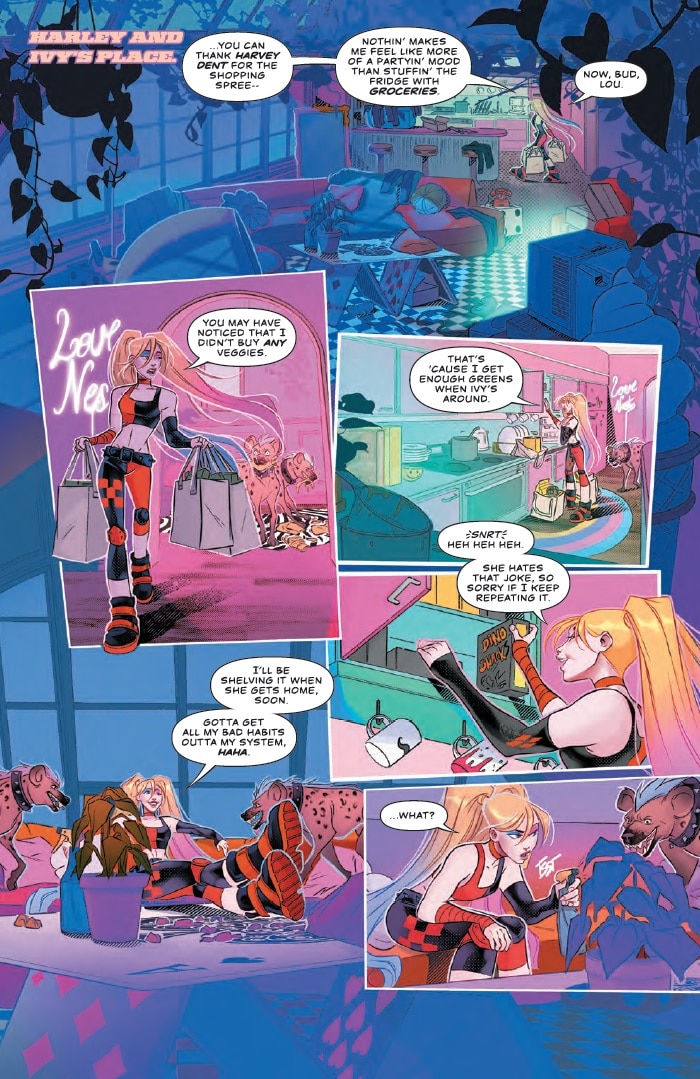 What kind of journey is Harley on in this opening arc?    
Well, when I landed on "Girl in a Crisis" as a title, it sort of wrapped it in a bow for us. She's trying to find what normalcy is for her, and what it'll take to get there.
What's most exciting about collaborating with Sweeney Boo on this series?     
Oh my god, what's not? Sweeney is turning in truly beautiful pages. There's something so confident and fully realized in all of her panels, it really gives me the chance to go nuts. I don't know how else to describe it other than confidence, her work is just so, so solid. Bright, beautiful, kinetic, real, but also just leaning into the Looney Tunes madness of a Harley Quinn comic. I'm having the best time with Sweeney!
I gotta also tease—the backups for this book are also incredible. Some real modern legends in the mix, doing super cool work.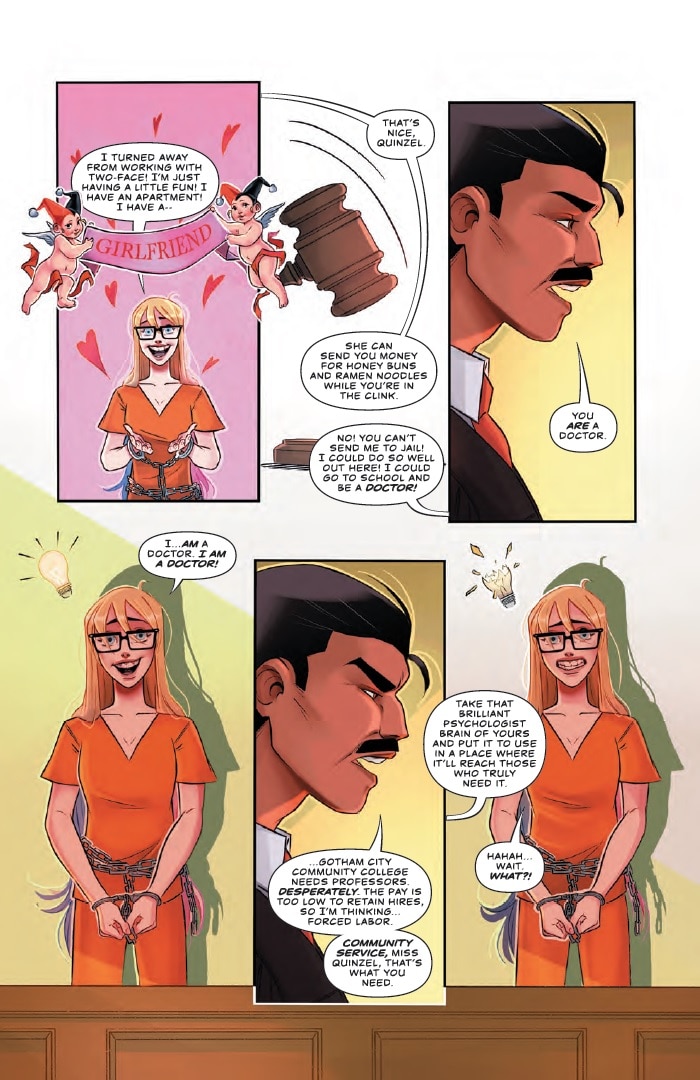 You're writing three fan-favorites in the Gotham world—Punchline, Catwoman and now Harley. What's it like for you as a writer to work on these very different, yet connected, characters?
Honestly, it's great! There's like an Id, Super-Ego, Ego thing there, right? And they feed me in different ways. Punchline is bad, like she's bad bad, and you root for her because she's bad, so when I'm working with her, that's my mindset. My inner evil goblin.
Catwoman is very idealized. Sure, she takes hits and Ls (I mean, if you're reading right now, you're definitely seeing that) but she's a hero at her core. You don't doubt that she'll win, you know, like you trust Batman will. She'll get her ass kicked, but in the end, Selina wins.
And Harley's probably the realest, at least to a lot of my experiences, which will be a funny thing to reflect on once that book's come out. (laughs) That book can get personal, strangely enough. Harley is the weirdest book of the three, but also the most relatable, I think.
Last thing, I'd be remiss if I didn't say that one of the biggest gifts of writing Punchline has been co-writing it with Blake Howard. The only way to make an idea sicker is to have another creative person bouncing it around with you, and we have a lot of fun doing that with Alexis. So, if you're enjoying that book, you owe a lot to Blake's work on that character too. Had to say that!
 
Harley Quinn #28 by Tini Howard, Sweeney Boo and Steve Wands, with a back-up story by Erica Henderson and Hassan Otsmane-Elhaou, is on sale now in print and as a digital comic book.