Batman is dead. How's that for an opening line? The Dark Knight has been murdered and his teenage son is the number one suspect.
Gotham Knights is the latest superhero drama from The CW, and it comes out the gate swinging. The series follows Turner Hayes, the adopted son of Bruce Wayne, as his life is turned upside down.
"His biological parents were killed not ten years ago, and now it's unimaginable that it's happening again," notes Oscar Morgan, the actor who plays Turner. "And not only that, in the very same day, he finds out that his dad was Batman, and then many hours later, he finds out that he's being framed for the murder of him."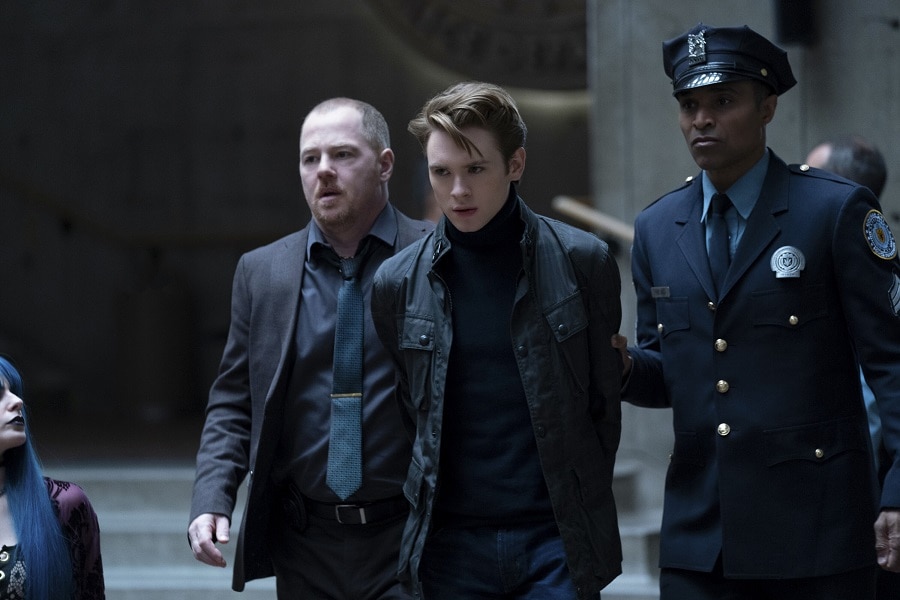 If you're a fan of Batman comics, then you know that Bruce Wayne collects orphans like baseball cards. However, Turner is different from characters like Dick Grayson or Jason Todd.
"When I was first having my auditions for this, Tanner was described as a muscled jock," Morgan reveals "And thankfully that's not the case whatsoever. Turner wasn't aware that his dad was Batman. He didn't have any of that training. Not directly, anyway. I think Bruce was doing his best to raise him as an ordinary kid, or so it seems. I just wanted to make sure that he was as real as possible. I put a lot of myself in it and I drew from various sources."
Pulling from over eighty years of Batman lore, Gotham Knights also features Carrie Kelley, the girl who became Robin in the critically acclaimed limited series The Dark Knight Returns. Like her comic book counterpart, Carrie secretly worked with Batman before his untimely death, which complicates things for Turner, who sees that Carrie got to know a side of his father that he never could.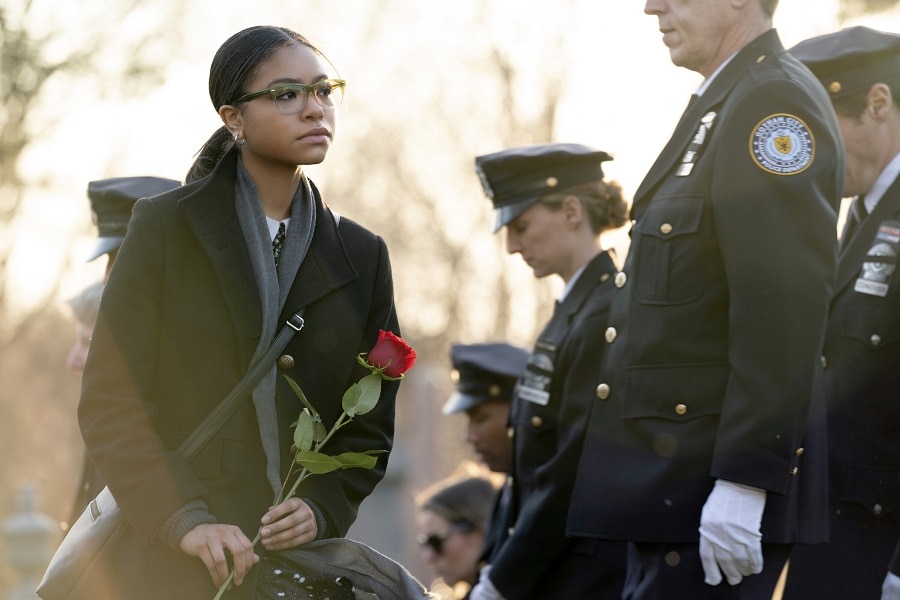 "Turner obviously got to have the dad part of Bruce, and he got to go on camping trips and things like that, just normal father and son things," Morgan says. "Whereas Carrie obviously saw the side that Turner never saw. There's jealousy on both parts there. Carrie lost her father at a very young age. She envies Turner that he got the dad. They're kind of a mirror to each other in that way."
Carrie's just the beginning, though. Turner and Carrie are also joined by Duela, Harper Row and her brother Cullen—three street kids who have also been falsely implicated in Bruce Wayne's murder. And to complicate matters further, the District Attorney in charge of their case is Harvey Dent, one of Bruce Wayne's oldest friends. (This is a pre-Two Face version of Harvey, in case you were wondering.)
Harvey Dent is played by Misha Collins, who enjoyed getting to play in the Gotham sandbox.
"'The Batman universe' is an iconic phrase that we use to talk about Gotham and this entire world," he explains. "And now we're starting our show by stripping out the Batman from the Batman universe. We're taking the black hole out of our universe. That's one bad day. That's one big incident."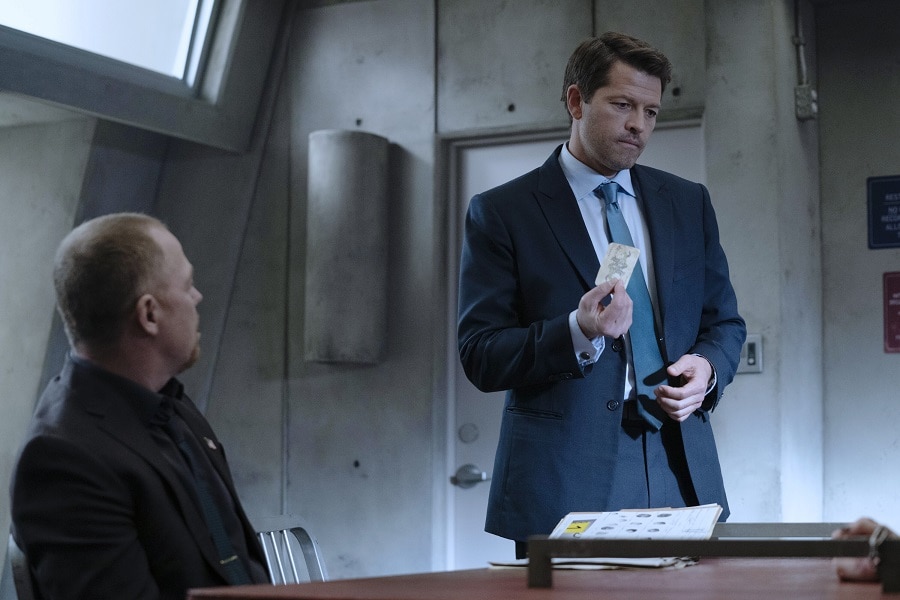 For Harvey, the situation is complicated. Like Turner, he was unaware that Bruce was Batman, and that revelation has complicated his feelings of grief.
"It was a filter, the death of Batman," Collins recalls. "It was a filter that I applied for probably the first half of the season on pretty much every scene. Your best friend died. Batman was actually a close work ally, like Batman helped the district attorney solve crimes. But Bruce Wayne was my good friend and Turner was my surrogate nephew. To find out that Batman died, but that he was also Bruce Wayne. My character discovers those things at the moment that he discovers the body. So, there's also this layer of betrayal. My best friend didn't tell me that he was also Batman, which is a little destabilizing."
While DC fans shouldn't expect to see Harvey Dent become Two-Face anytime real soon, Gotham Knights could ultimately serve as an origin story for the iconic villain Harvey's destined to become."The transition from Harvey Dent to Two-Face is, in our version, not at all about one bad day," teases Collins. "It's about one very difficult life and one bad batch of genes."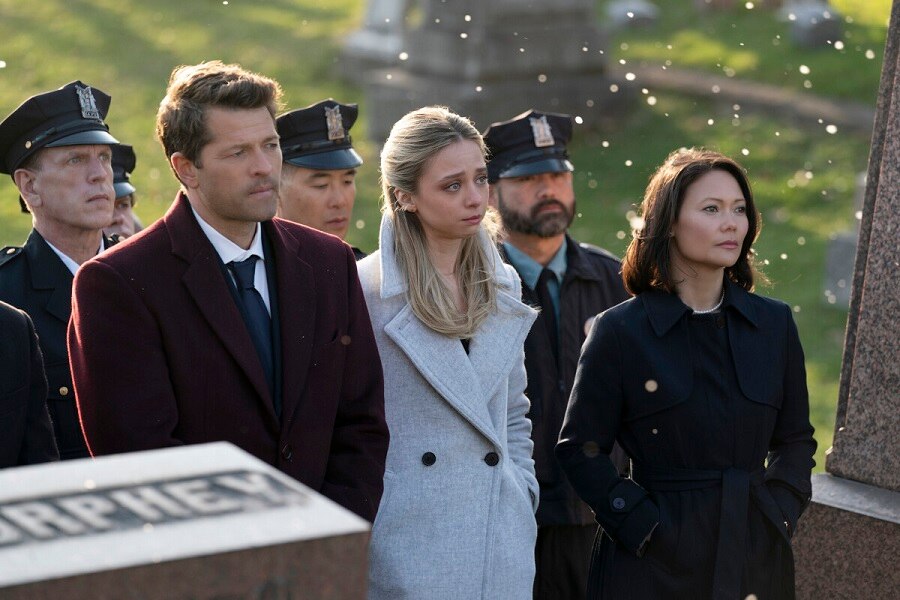 The pilot episode is directed by Danny Cannon, a name that might be familiar to DCTV fans. Cannon previously served as showrunner for Gotham and Pennyworth, two series with strong Batman ties.
"Danny Cannon really established the look and feel of our Gotham universe," Collins shares. "I think it's kind of beautiful and epic. We're not a huge budget TV show, but it looks like we are! The city skyline rivals any Warner Bros. feature version of Gotham. It's pretty epic and that's owing to the savvy of Danny and the producers who have a lot of experience under their belt."
The character of Duela, who is inspired by former Teen Titan Duela Dent, is played by Olivia Rose Keegan. Duela is known best for her claim to be the Joker's daughter, but at one point in continuity, she was revealed to actually be the daughter of Harvey Dent. While Gotham Knights won't be going with that origin, their connection will be explored.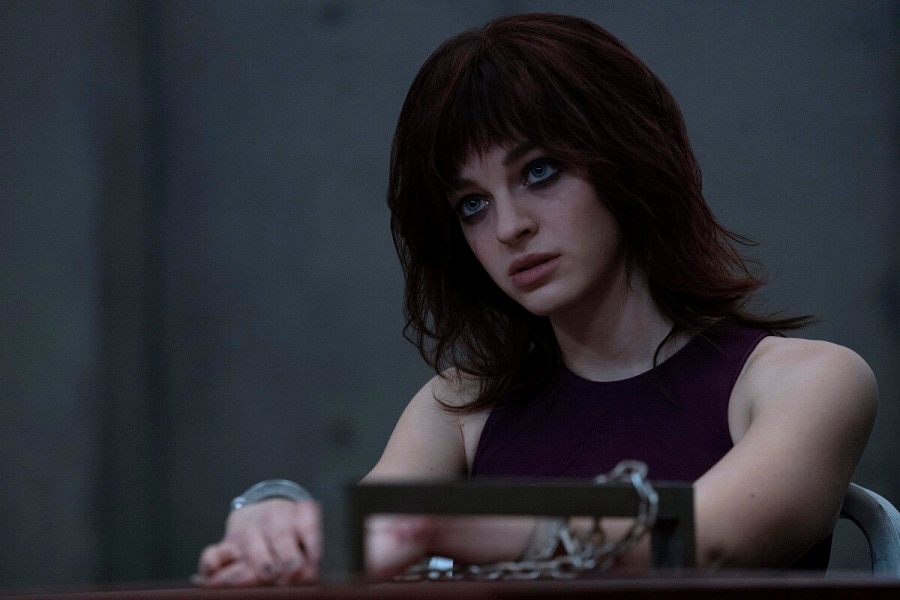 "Harvey and Duela end up having a lot of good interactions," Collins reveals. "Olivia Rose Keegan is an amazing actress. I think she takes the seed of being the Joker's daughter and feathers that into her character so seamlessly. You can see the Joker in her performance. It's really quite remarkable. I think that in some respects, Harvey does take on a somewhat paternal role with Duela further down the road in the season. I think the writers were certainly cognizant of that one facet of the mythology."
Although the show focuses on teenage characters, Collins believes it will appeal to everyone.
"I'm watching the show," he shares. "Even though the majority of the cast is half my age, it's a show that I love watching and I feel like it resonates with me."
 
Gotham Knights premieres tonight at 9 p.m. (8 p.m. CT) on The CW.
Joshua Lapin-Bertone writes about TV, movies and comics for DC.com, is a regular contributor to the Couch Club and writes our monthly Batman column, "Gotham Gazette." Follow him on Twitter at @TBUJosh.