Superheroes might come in all shapes and sizes, but they have a few things in common: amazing abilities or cutting-edge equipment. Eye-catching costumes. A strong sense of justice. And, most importantly, a found family of friends and loved ones who help the beloved heroes get through just about any obstacle in their way.
But what if they don't want that family?
In Shannon and Dean Hale's Diana and Nubia: Princesses of the Amazons, a follow-up to their earlier Diana: Princess of the Amazons, the young Themyscirans find themselves part of a new family literally overnight. The Hales are masters at capturing exactly what it's like to be a kid, and once again they've teamed up with the brilliant artist Victoria Ying to craft a magical graphic novel about what it means to become a family—even when you least expect it.
Meet Nubia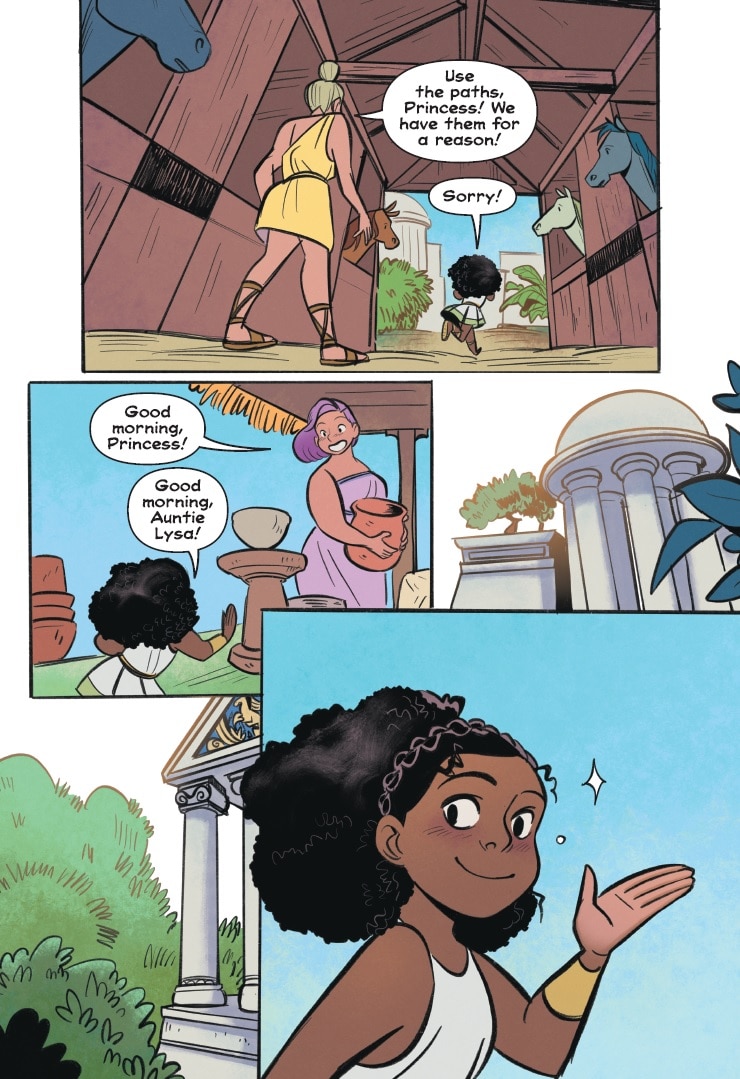 Nubia is the only kid in Themyscira. The plucky princess can't help being lonely without anyone else her age around, but she thrives under the love her moms Hippolyta and Philippus shower on her. She's surrounded by Amazon aunties for training, tutelage and more. Plus, it's Themyscira. The gorgeous island has more than its fair share of lush forests, glittering beaches, bright blue waters and…secrets.
A mysterious cave known only as Hera's Ear is carved into a nearby mountainside. Legend says that if you whisper your wish into the cavern on Solstice Eve, the goddess will grant it. Nubia gathers her strength and courage and climbs to the dark cave. She makes her wish and returns home, disappointed after nothing happens. But when Nubia wakes in the morning, she finds a strange girl in her bedroom. Who is that?
Diana of Themyscira blinks the sleep away to see a strange girl in her bedroom. What is going on?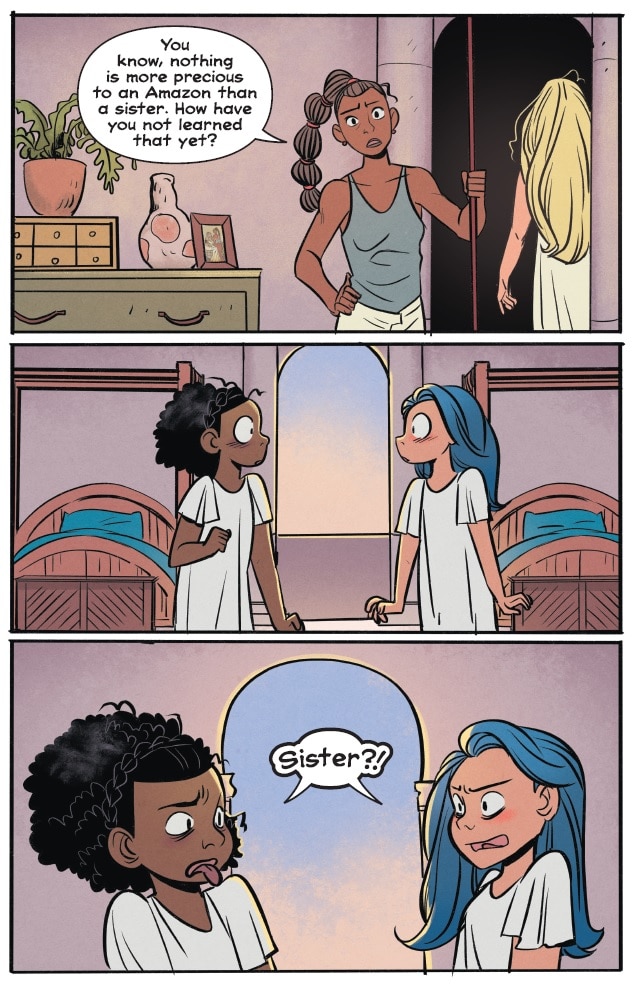 Hippolyta and Philippus have no idea why the bickering girls insist they don't have a sister. Their arguing intensifies until Philippus reminds them, "Nothing is more precious to an Amazon than a sister." The girls are shocked into silence. Only Nubia and Diana are aware that something has changed, and there are now two princesses on Themyscira.
Nubia's and Diana's worlds have been brought together by the goddess Hera and not everything is the same in this new reality. It turns out Hippolyta had shaped not one, but two babies from the magical clay, and the twin sisters were born. Determined to discover why this has happened, Nubia and Diana set aside their differences long enough to return to Hera's Ear for some answers.
Family Found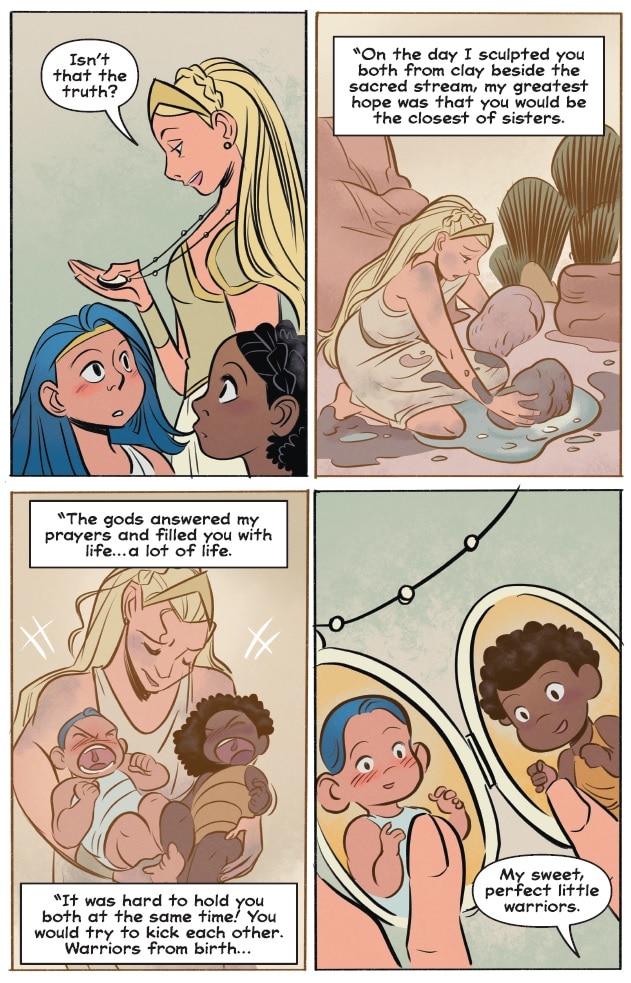 Eager to go back to how things were, the two begrudgingly agree to work together to reverse the wish that brought them together. But what if…they don't really want things to go back how they were?
It turns out that Nubia and Diana have a lot more common than they first thought, including stuffed animals with the best names ever bestowed on stuffed animals. (I need a Princess Flopsy-Clops in my life.) They also share the love of their mothers and a feeling of loneliness from being the only kid on the island. Diana and Nubia even share the same dream for the future. Does that mean they can share their lives together after all?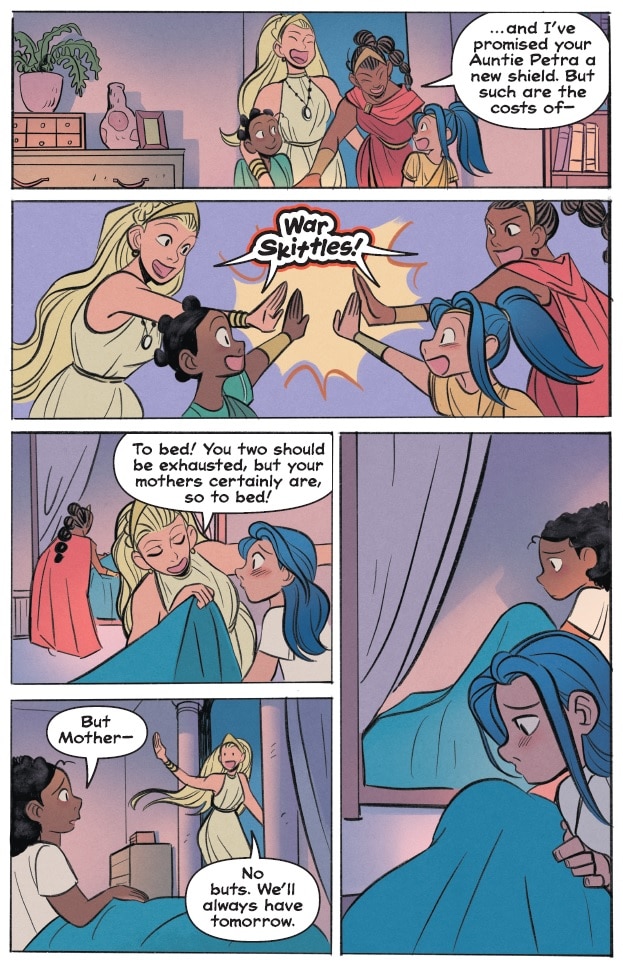 "Family can start any time," Nubia tells Diana just as the pair realizes they don't want to go their separate ways after all. It's a fantastic reminder for young readers who might be finding themselves feeling at odds with a new stepparent, in-law or other new family member. Diana and Nubia: Princesses of the Amazons also reminds readers of all ages not to make snap judgements of strangers—you might be more alike than you expect. (But if someone mysteriously appears in your bedroom in a burst of light, you have my permission to be suspicious.)
If your kids are looking for more super stories of young heroes making new friends and finding new families in the DC Universe, be sure to check out Green Lantern: Alliance, Galaxy: The Prettiest Star and of course, Diana: Princess of the Amazons! All of them are lively, imaginative adventures about finding new allies and discovering your true self on the road to becoming a superhero. Just don't be surprised if they start asking for power rings and golden lassos for holiday gifts!

Diana and Nubia: Princesses of the Amazons by Shannon Hale, Dean Hale and Victoria Ying is now available in bookstores, comic shops, libraries and as a digital graphic novel.
Kelly Knox writes about all-ages comics and animation for DC.com and her writing can also be seen on IGN, Nerdist and more. Follow her on Twitter at @kelly_knox to talk superheroes, comics and pop culture.
NOTE: The views and opinions expressed in this feature are solely those of Kelly Knox and do not necessarily reflect those of DC Entertainment or Warner Bros.