A passionate kiss between heroes? Villains? Heroes and villains? We don't care—a good smooch is a good smooch. It's Valentine's Day, DC fans, so to get us all in the mood for love, let's take a trip through recent and not-so-recent DC history to revisit ten kisses that have made us swoon…and on some occasions, cringe. Then, after reading our list, head on over to the DC Community to vote on your favorite!
 
Batman and Catwoman, Batman Returns (1992)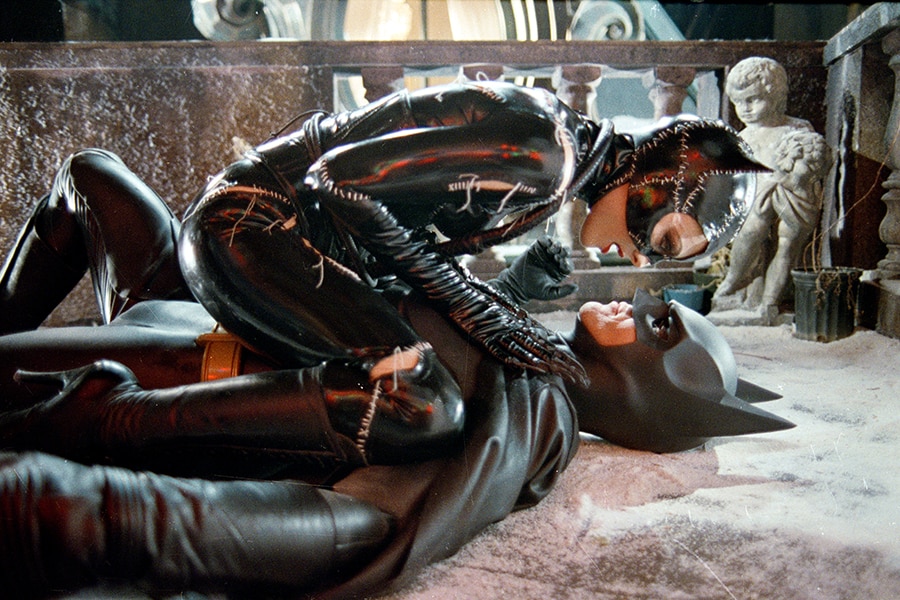 As the action heats up in Batman Returns, Batman's on the run after the Penguin frames him for murder…and falls right into Catwoman's lap. Her eyes linger on Batman's face once she's got him right where she wants him. (Batman isn't putting up much of a fight, though, let's be honest.) As the Dark Knight takes note of the mistletoe above them, he remarks, "Mistletoe can be deadly if you eat it."
Catwoman purrs in response, "Mmm, but a kiss can be even deadlier if you mean it," and grazes her tongue across his face. Instantly iconic.
 
Harley Quinn and Poison Ivy, Harley Quinn (2020)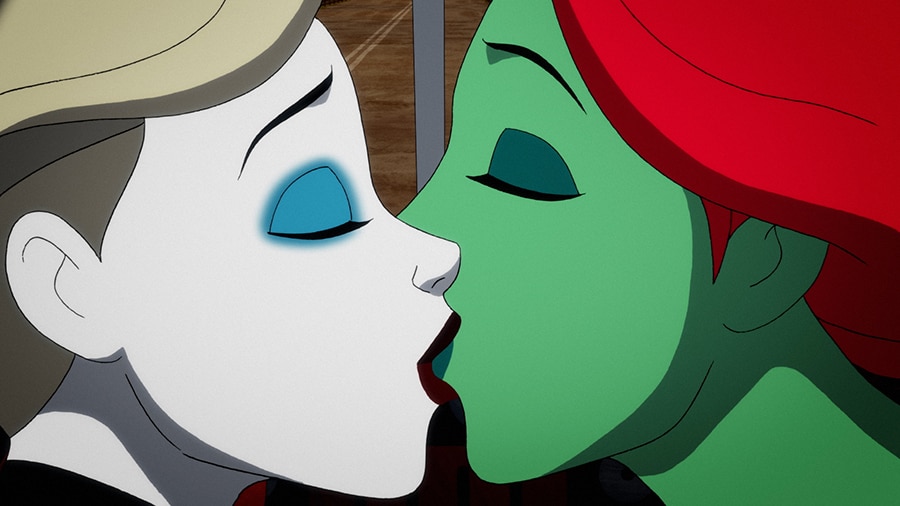 Harley and Ivy bring their romance from the pages of the comics to the screen in the acclaimed animated series Harley Quinn. In the show's second season, Gotham City is under Two-Face's control, and the scheming super-villain puts the pair on trial. The two antiheroes are thrown (literally) into prison after being found guilty of the murder of Oswald Cobblepot and "other stuff."
Even though she's engaged to Kite Man, Poison Ivy can't resist her growing feelings for Harley. After a dramatic escape from their prison pit, the two embrace—and passionately kiss. And then things get awkward.
 
Jon Kent and Jay Nakamura, Superman: Son of Kal-El #5 (2021)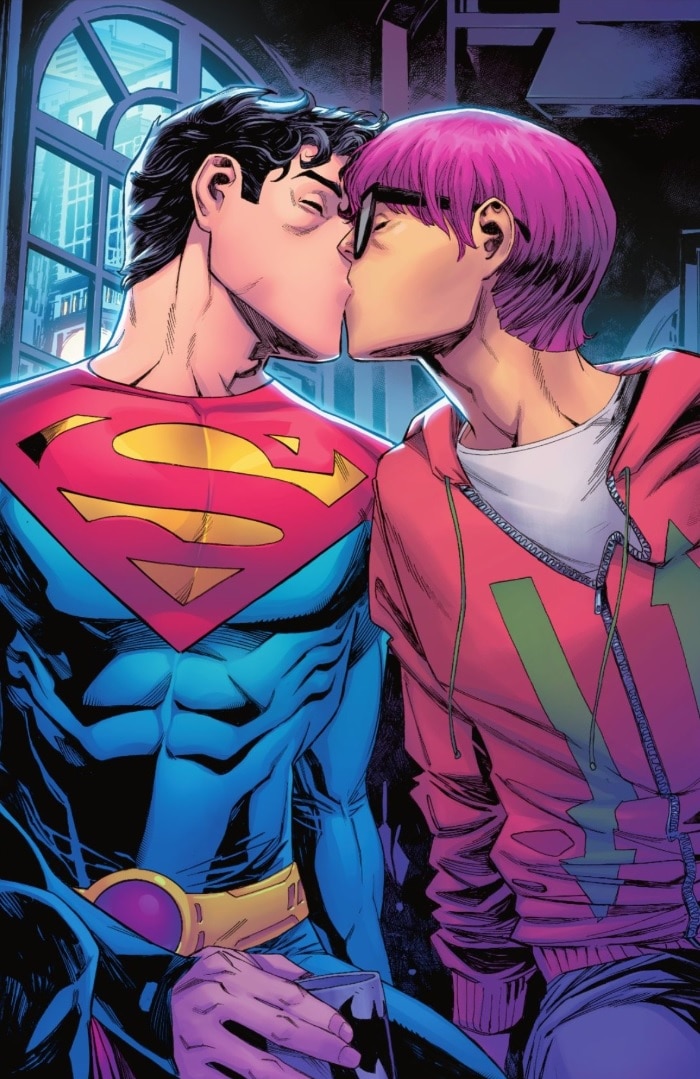 Before you can be the superhero you want to be, you must be true to who you are as a person. Jon Kent, Metropolis's new Superman, faced this head-on in the fifth issue of Tom Taylor and John Timms' Superman: Son of Kal-El. After the stress of trying to be there for everyone else in need caused the young Man of Steel to collapse, he was forced to acknowledge that sometimes he needs help as well…and that there's no reason he needs to face the pressures of being Superman alone. After all, his iconic father sure didn't.
For Jon, though, that support came from somewhere he might not have expected—the pink-haired, independent journalist Jay Nakamura. There had been an undeniable spark between the two young men from the start, but it wasn't until Jon allowed himself a moment of honesty and vulnerability, admitting that even a person with his abilities can't save everyone all the time, that things got romantic and the two shared an intimate kiss. While it remains to be seen if Jon and Jay will have the longevity of our original Super-couple, Jon realizing his feelings for Jay—along with his bisexuality—is a jubilant first step to finding out.
 
Beast Boy and Raven, Teen Titans GO! (2017)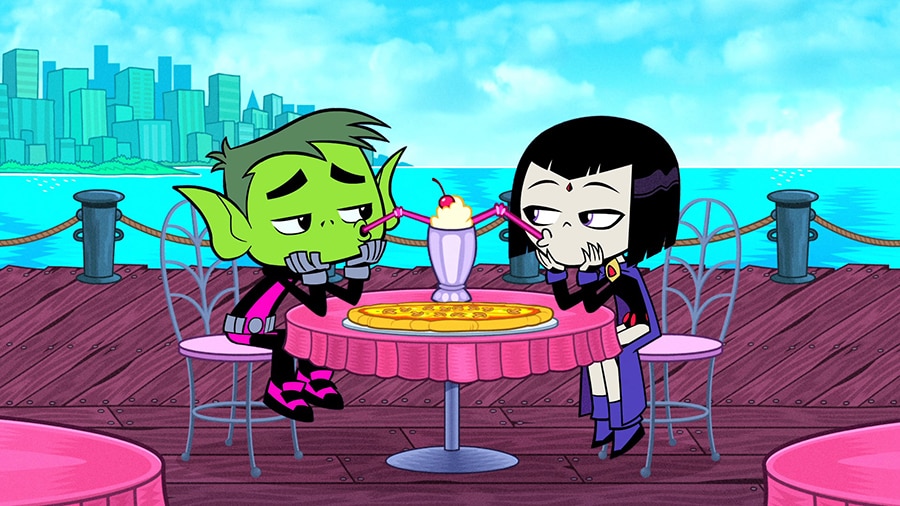 Beast Boy and Raven might be the unlikeliest couple on this list, but the two make magic together. Teen Titans GO! has been bringing the belly laughs for almost nine years, and the zany animated series has also given us a delightful romantic moment or two.
Beast Boy, never one to beat about the bush, declares his love for Raven. A lot. And often. In the fourth season episode "BBRAE," Beast Boy puts his feelings to song and finally gets Raven to agree to a date. They share their first kiss on the beach under a gorgeous sunset. That's what's up!
 
Diana and Steve Trevor, Wonder Woman (2017)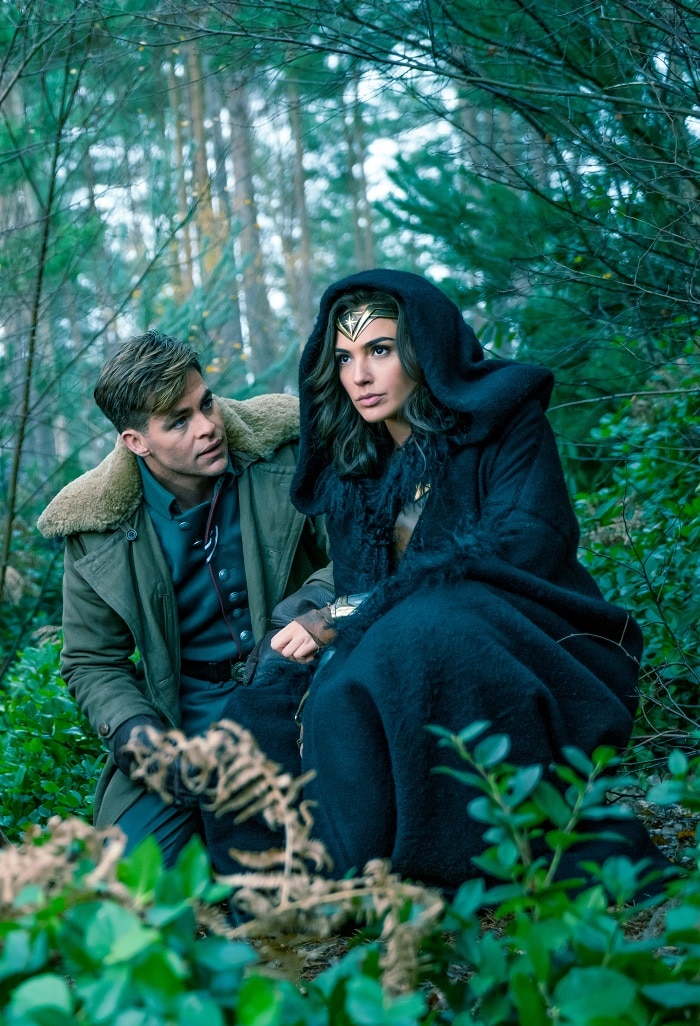 In 2017's blockbuster Wonder Woman, fate brings Steve Trevor and Diana together on Themiscyra—and then takes them back to a world at war. In a rare moment of peace, Diana and Steve share a slow dance under the stars. The storied couple exchange smiles and longing gazes as a soft snowfall begins.
When they're finally alone together, they share their first kiss in the glow of a warm fireplace. We'll let them have their privacy after that.
 
Dick Grayson and Barbara Gordon, Nightwing #83 (2021)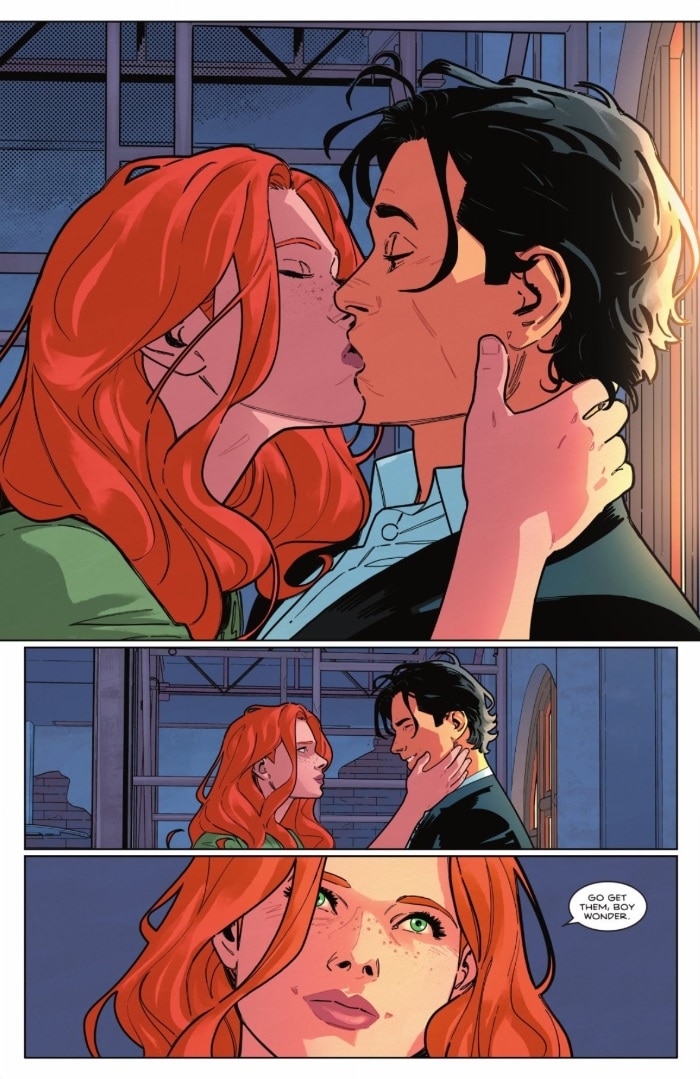 If soulmates exist, it's hard to think of a better example than Dick Grayson and Barbara Gordon. But that doesn't mean they've had an easy time of it.
The two heroes have been romantically involved on and off in the past, but it's been a long time since they've last been on. As in over ten years. That hasn't stopped their fans from hoping, though, and so Nightwing readers worldwide were utterly delighted when the increased flirtation between the two was consummated with a perfectly timed kiss in Nightwing #83. Good things are always worth waiting for (though let's hope we won't have to wait another ten years for their next one).
 
Arthur Curry and Mera, Aquaman (2018)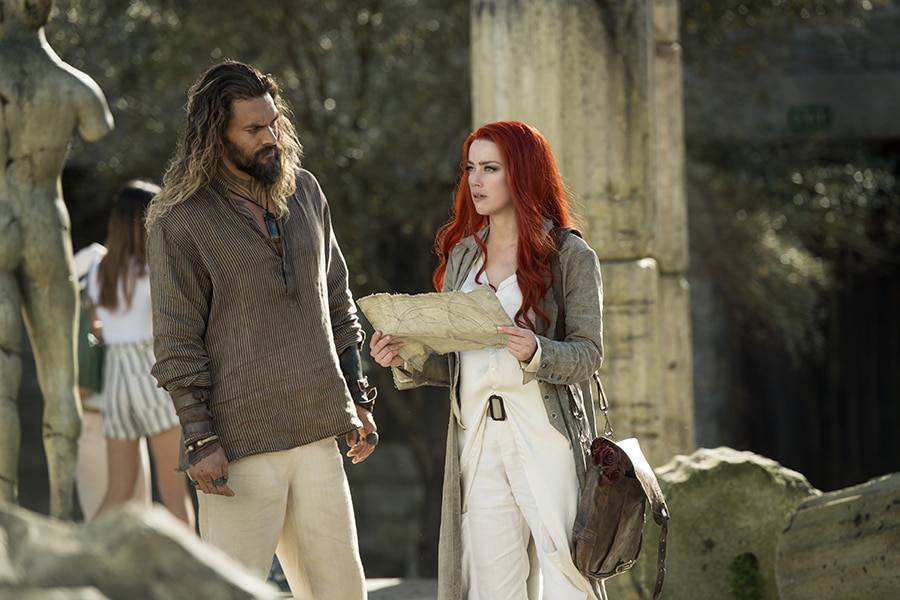 Arthur Curry and Mera may be one of DC's best power couples, but their first meeting in 2018's Aquaman doesn't quite go smoothly. Still, their connection is undeniable, and with Mera's help, Arthur learns more about who he really is, ultimately embracing his destiny as the true king of Atlantis.
The two take up arms against the power-hungry Ocean Master and his forces. In the midst of battle, Mera implores Arthur to find and defeat his half-brother one-on-one to end the unnecessary loss of life. Mera passionately kisses Arthur as the underwater battle rages around them. Then the Atlantean princess returns to the fray without missing a beat.
 
Clark Kent and Lois Lane, Superman II (1981)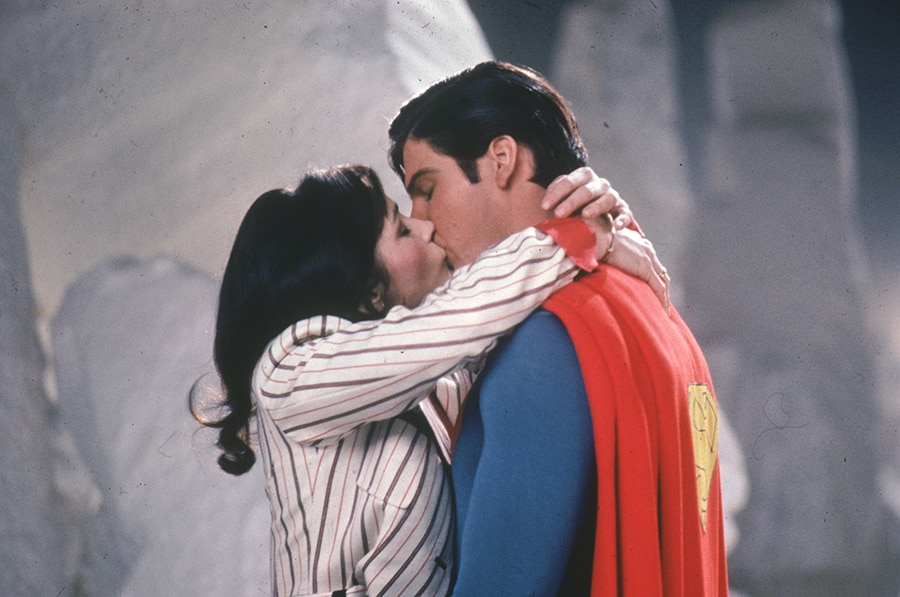 Which romance in the DC Universe is the greatest? It's hard to pick just one, but it would be easy to argue that it's Clark Kent and Lois Lane. In Superman II, they go through a lot together: the big reveal of Superman's secret identity, the loss of Clark's powers and the havoc wrought by a criminal trio from Krypton. Clark and Lois stay at each other's side through it all with unwavering devotion.
But Clark knows that Lois is in more danger when she knows his secret, so he makes a difficult decision. He kisses Lois, and the smooch is so meaningful and momentous that Clark puts a little whammy on her. Lois forgets that Clark is Superman, but we'll remember that kiss forever.
 
Starfire and Dick Grayson, Titans (2018)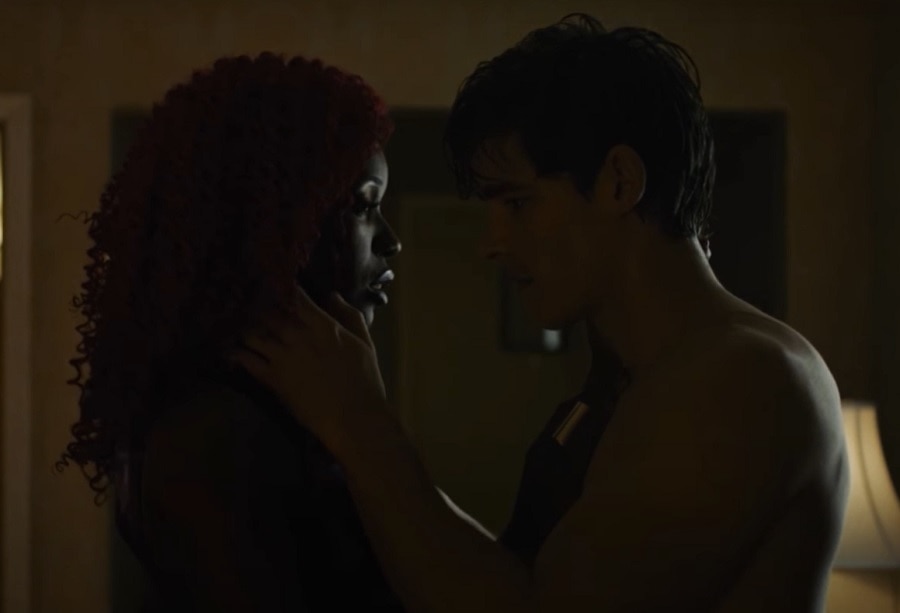 The world of Titans might be dark and gritty, but that doesn't mean there aren't any sparks of romance flying. After Rachel Roth, Garfield Logan, Kory Anders and Dick Grayson team up and start training to fight the threat at hand, they all take a well-deserved night off.
Kory visits Dick in his hotel room…and things between them start to heat up from there. One exploratory kiss leads to another as the pair act on their mutual attraction.
 
John Constantine and Satan, Hellblazer: Rise and Fall #3 (2021)
There are those kisses that we remember for the rest of our lives. That make us swoon at the recollection, our hearts racing ever so gently. And then there are those that you'd probably like to forget. Or at least just chalk up to the alcohol and the hard week you just had.
It's in this latter category in which we'd place this last one—but hey, if you've read Tom Taylor and Darick Robertson's Hellblazer: Rise and Fall, you can't say it's not memorable. Constantine has always had a complicated relationship with Old Scratch, built around the understanding that like it or not, they're eventually going to end up in each other's company for all eternity. So, why not complicate it just a bit more, and have a bit of drunken fun while you're at it? After all, romance is wonderful and all that, but we suspect that there are more than a few people with a Valentine's Day kiss a lot like Constantine's, even if they'll never admit it.
 
Which of these superhero smooches is the most swoon-worthy? You tell us! Make your voice heard and pick your favorite of these ten kisses in our special DC Community poll.
Want to relive these romantic moments for yourself? All of the movies and TV shows mentioned above are available on HBO Max, while the comics are available in your local comic shop or on DC UNIVERSE INFINITE.
Kelly Knox writes about all-ages comics and animation for DCComics.com and her writing can also be seen on IGN, Nerdist and more. Follow her on Twitter at @kelly_knox to talk superheroes, comics and pop culture.