How can just one book hold the secrets of the entire DC Universe? With over 200 pages of facts, character summaries, timelines, maps and more, The DC Book, written by Stephen "Win" Wiacek and published by DK Books, is packed with everything you've ever wanted to know about the world(s) Superman and friends inhabit.
From the first moments of the Omniverse's creation to the end of time, there's a lot of history between the colorful covers of this book. There's even a quick rundown of the real-world events that led to the creation of DC Comics over eighty years ago.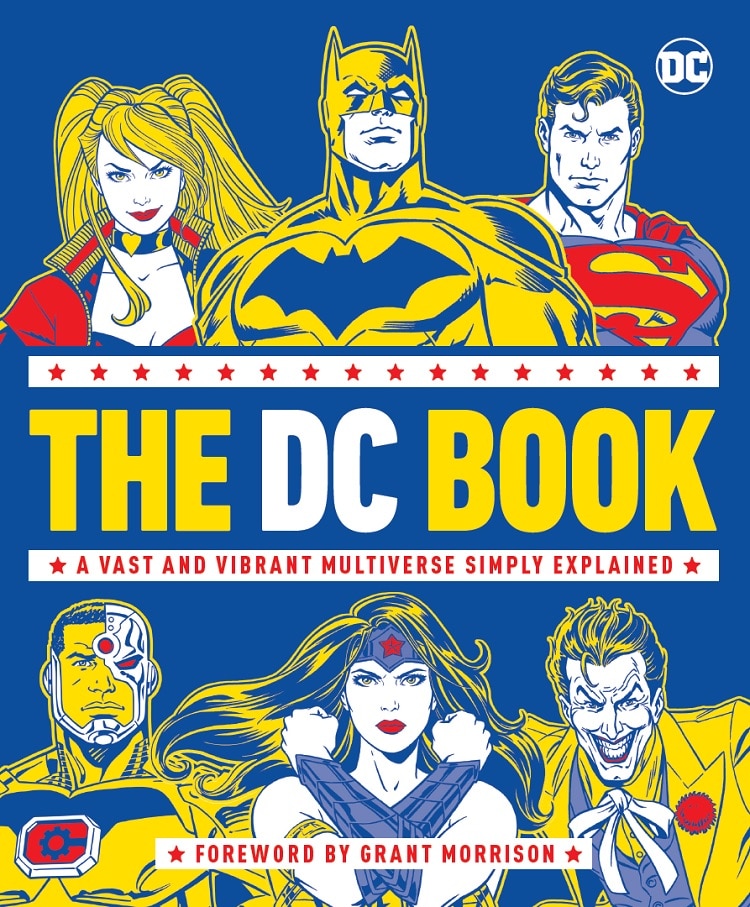 The DC Book contains so much info that I guarantee* you'll find out something about your favorite superheroes that you didn't know before.
Yes, I know who it is I'm talking to (writing to?) and that you're all DC megafans. It doesn't matter! You're going to learn something new. In fact, here are five things—out of what feels like thousands—that you'll only find in the extraordinary pages of The DC Book.
*Guarantee not legally binding in any multiverse.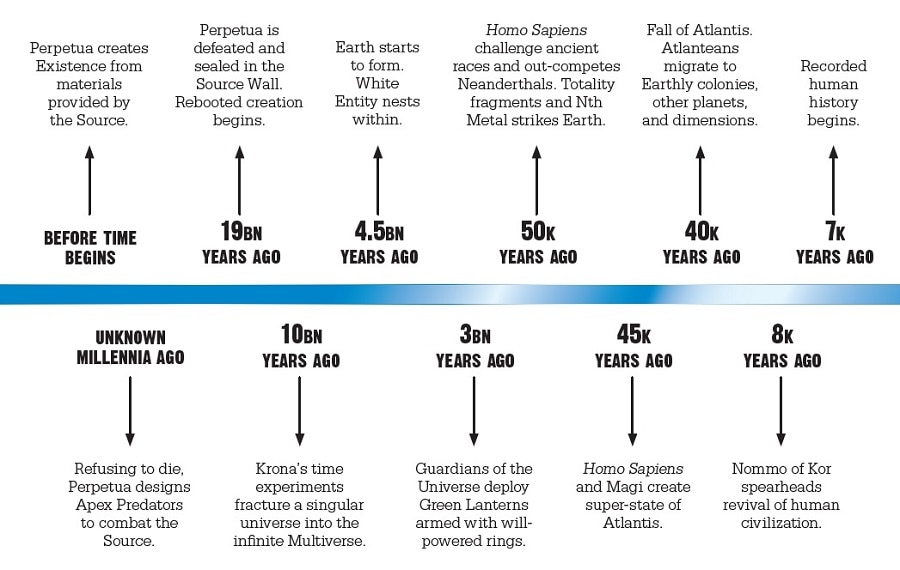 A Timeline of the Omniverse
When did the Guardians first deploy the Green Lanterns? When did Atlantis fall? The answers to these queries and more can be found in The DC Book's concise timeline detailing the history of the Omniverse. (The answers are three billion years ago and 40,000 years ago, respectively.)
The Omniverse is a collection of all the Multiverses that are home to our favorite heroes and villains. You've heard of Perpetua? Well, she was the creator of just one Multiverse. Nineteen billion years ago, Perpetua rebelled, was defeated and imprisoned. Her Multiverse was then cut off from the Omniverse and she continued her struggle unseen…at least until the events of Justice League and Dark Knights: Death Metal in 2018-2020.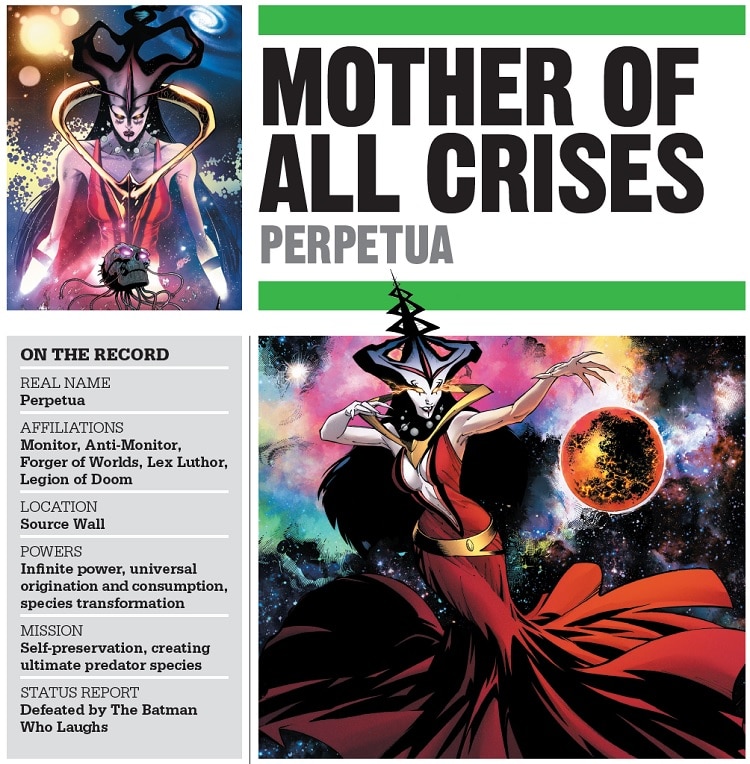 A Brief History of Perpetua
But who is Perpetua, you might ask? The complex answer to that simple question is in this book's pages as well. Perpetua is the Mother of Multiverses. Not only did she create her own Multiverse, but she has also been the cause of multiple Crises that later plagued its realities. Perpetua engineered Crisis after Crisis, using the energies they generated to gather power even while imprisoned in the Source Wall.
Want to know more about what happens next, and how it leads to the events of Scott Snyder's recent DC blockbusters? Pick up The DC Book to find out.

A Cross-Section of Stargirl's Cosmic Staff
Fans who like see the nuts and bolts that make a superhero work will find a lot to explore in these pages. My favorite has to be the detailed cross-section of Stargirl's Cosmic Staff. (The diagram literally shows its nuts and bolts.) An updated version of Ted Knight's original invention, Courtney Whitmore's Cosmic Staff has a CPU, cooling vents, ID interface and more. Want to know where those parts are found on the staff? You can only find out in The DC Book.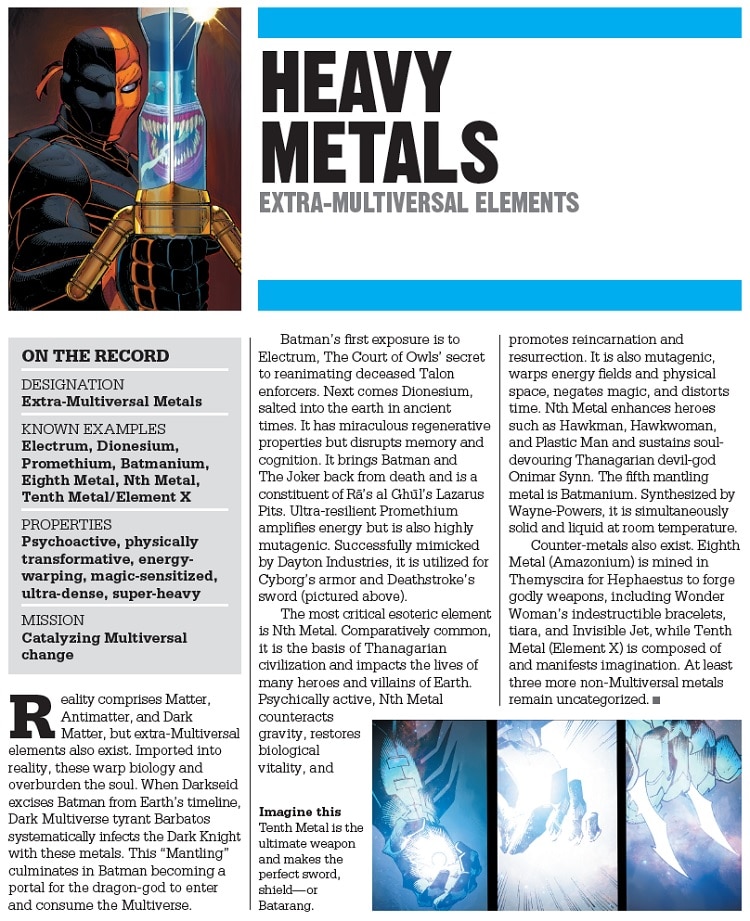 A Guide to the Metals of the Multiverse
Amazonium? Batmanium? These are very real elementals and metals—well, real in the DC Universe, anyway. In The DC Book you'll find out more about the strange elements that wreak havoc on multiple universes. For example, Cyborg's armor and Deathstroke's sword both use the same element as a basis, Promethium. Wonder Woman's bracelets? You guessed it, Amazonium.
And, of course, there's Nth Metal, the source of Hawkman and Hawkwoman's gravity-defying abilities. Find out more about it in the book's extra-multiversal element exploration.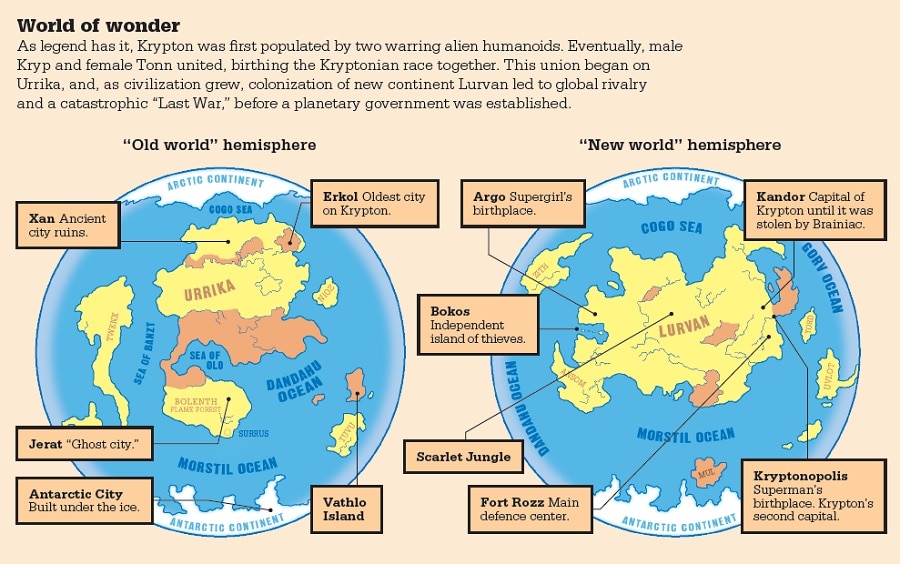 An Annotated Atlas of Krypton
Everyone knows that Superman is from Krypton. But can you name the city Kal-El was born in shortly before disaster struck? With the expanded atlas of his home planet in The DC Book, you can find out the answer to that bit of trivia and more. Where's Argo? Kandor, before it was bottled by Brainiac? Fort Rozz? You'll be able to pick out these places and more on the map, along with a brief history of the planet.
These fun facts are just the tip of the Omniverse-berg. If you've ever had a question about the DC Universe, the answer is in the pages of The DC Book. (And yes, the Question is in there, too.) Find it now at your favorite booksellers in print and digital formats.
 
The DC Book by Stephen "Win" Wiacek and published by DK Books is now available in bookstores and digital retailers everywhere.
Kelly Knox writes about all-ages comics and animation for DCComics.com and her writing can also be seen on IGN, Nerdist and more. Follow her on Twitter at @kelly_knox to talk superheroes, comics and pop culture.