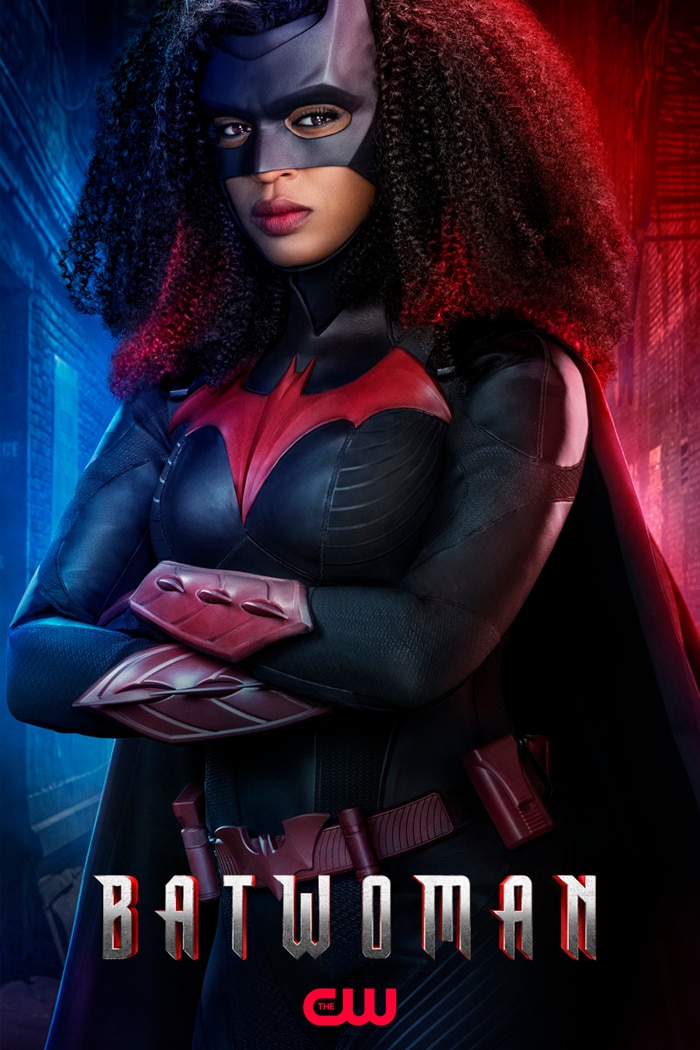 Who is Batwoman?
Real Name: Ryan Wilder
Appears on: Batwoman
Played by: Javicia Leslie
Ryan Wilder is a proud lesbian who inherited the mantle of Batwoman from Kate Kane. As an orphan, Ryan struggled to find a loving, stable home in Gotham City until she was adopted by a woman named Cora. But that stability was shattered when Alice and the Wonderland Gang killed Cora in a random act of violence. Reeling, Ryan used martial arts as an outlet to release her frustrations and stay on the right path, but when she was unjustly arrested for a crime she didn't commit, her criminal record kept her from reintegrating back into society. However, when Ryan discovers the Batwoman suit in a the wake of Kate's supposed death, she becomes a larger-than-life symbol who fights to protect those who have been denied justice.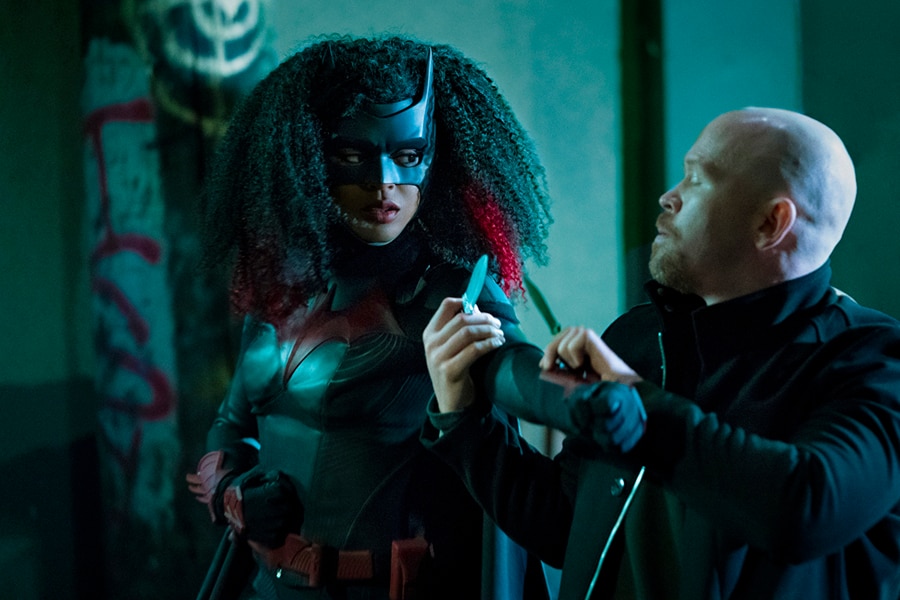 Essential Episodes
Season 2, Episode 1: "What Happened to Kate Kane?"
Season 2, Episode 3: "Bat Girl Magic!" (above)
Season 2, Episode 7: "It's Best You Stop Digging"
Powers and Abilities
Excellent Deductive Reasoning
Tactical Expertise
Martial Arts Mastery
Stealth
Intimate Knowledge of the Broken System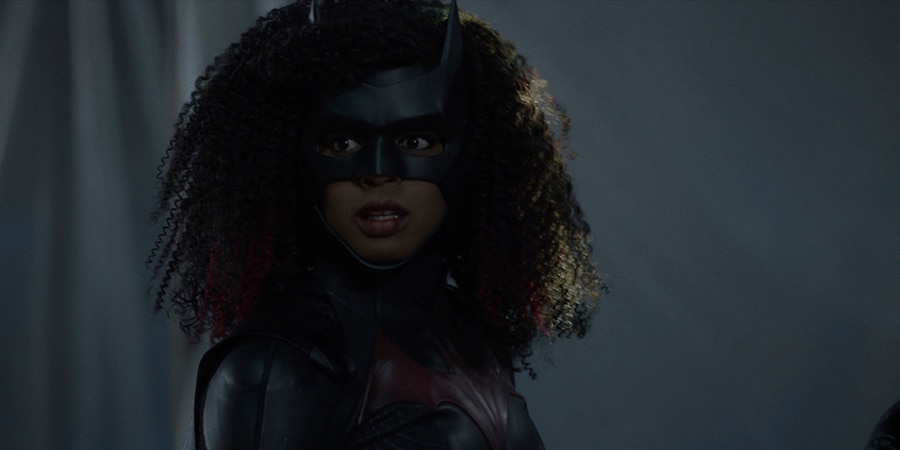 Inside the Character with Javicia Leslie
What excites you about playing Batwoman? 
I'm a huge Batman fan. I've been a Batman fan my entire life. I feel like this iteration—I never could have imagined a Black person wearing the cape and cowl when it comes to Batman or Batwoman. So then to not only imagine it, but to also be it, is very surreal. As actors, we get the opportunity to play all kinds of things. But very far and few (in between) do we get an opportunity to play a superhero. No matter what happens in my life, I can always say that I was Batwoman. And I think that is such an accomplishment for myself, but also something super cool for my grandkids to be able to say one day. I love the stunts, and I love being part of the Bat Team! 
What's your favorite moment your character has had in Batwoman so far? 
One of my favorite moments has been when Ryan finds her version of Batwoman. Especially in Episode 203 ("Bat Girl Magic!") when she drops in on Victor Zsasz and he says, "New look?" and she says, "New Batwoman." It is really cool that from that moment on, she's owning this look, she's owning her position in the city of Gotham and her position in the legacy of the Bat. That was such an epic moment not only for the character, but also for me to watch with the world, and (for) the world to feel empowered by.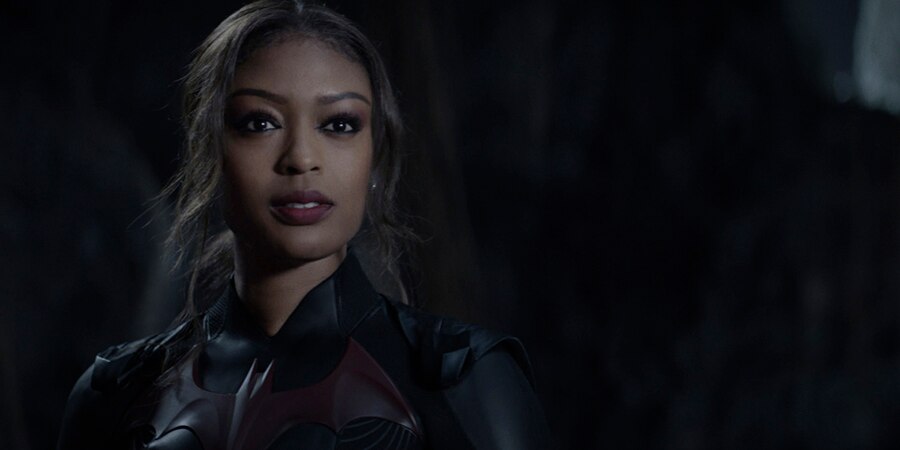 Do you find you identify with Ryan Wilder? 
Ryan is trying to figure out how to be a superhero just like I'm trying to figure out how to be a superhero—what that means and what that represents and having to put your personal fears aside for the greater good because there is a bigger picture.  
Can you tell us about some of the positive feedback you've received in portraying a queer superhero onscreen? 
I get a lot of comments from people on Twitter who feel so represented by Ryan. I think what makes Ryan unique in this story is that she doesn't have to come in and explain herself; she just already exists and you're able to just jump into her world without having to go through her journey of getting everyone around her to accept her for who she is. For people who want to just watch a story with queer characters that doesn't have to center around the trauma of coming out as a queer character, which can be triggering for some people, I believe that Ryan gives you that chance. It gives you a step away from that.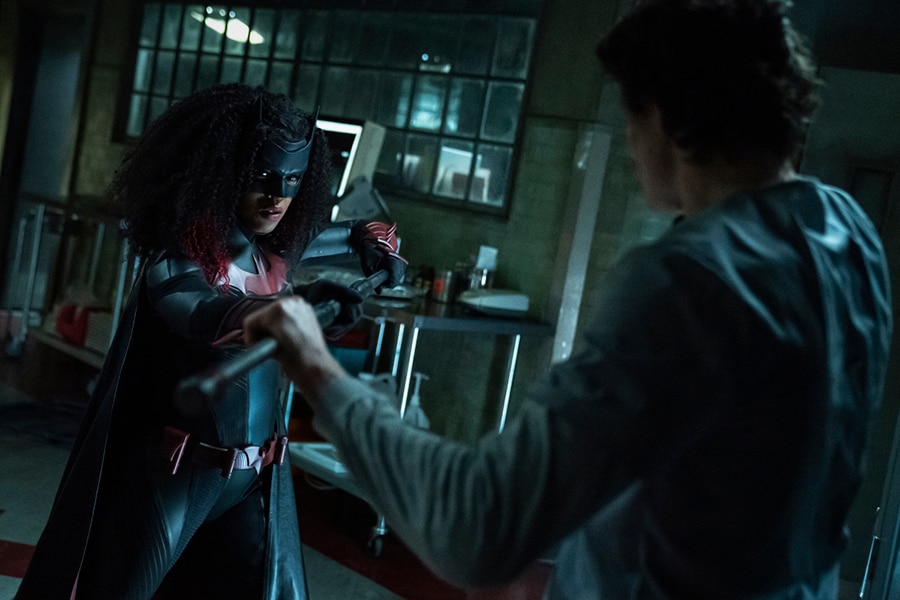 Is there a moment from a DC comic that has inspired an aspect of your character? 
Ryan is a combination of a lot of things that I'm inspired by. Watching all the different iterations of Batman taught me personally that I didn't have to fit one specific image of Batwoman, because we've seen so many different versions of Batman and they all have something unique to them. Some people are huge Michael Keaton Batman fans, some people are huge Christian Bale Batman fans, some people are huge Adam West Batman fans, and they stay in their own separate versions of who they love as Batman. It gives me as an artist the strength to know that regardless of the decisions I make, there's going to be a community that feels represented by my portrayal.
I'm super influenced by the idea that I don't have to be one specific kind of Batwoman. I can just be Ryan's Batwoman and that's enough. When I first started really getting into DC's TV shows, I fell in love with the Flash because he was just this kid next door. He's goofy, I'm goofy—he's the type of kid who will trip over his foot but means well. It did help me feel comfortable with allowing Ryan not to be perfect, allowing Ryan to be completely flawed, and it shows. I love Black Lightning's Thunder because that was my first time seeing a Black lesbian superhero on TV and how empowering that was. And watching Nafessa (Williams) be such a voice for that community really showed me what can happen with this type of role.
 
Batwoman airs Sundays at 9 p.m. (8 p.m. CST) on The CW. Stream all of Season 1 on HBO Max!
Look for more DCTV Pride Profiles in DC Pride and all throughout the month on DCComics.com.