To celebrate Asian American and Pacific Islander Heritage Month, we're shining the spotlight on a few of the talented AAPI writers and artists working for DC today. This week, the series concludes with a conversation with Mariko Tamaki, the Eisner Award-winning writer distinguished both for insightful Young Adult novels including This One Summer and Laura Dean Keeps Breaking Up with Me, along with her work on DC superheroes such as Supergirl: Being Super, Harley Quinn: Breaking Glass, the current run of Detective Comics and the upcoming graphic novel I Am Not Starfire.
 
Mariko Tamaki was already an acclaimed author by the time her first DC work, Supergirl: Being Super #1, was released in December 2016. Skim and This One Summer, her collaborations with her cousin Jillian Tamaki, received widespread praise, with the latter becoming the first, and still only, graphic novel to receive the Caldecott Honor in the award's 80-plus year history.
In the four-and-a-half years since then, Tamaki has continued to be one of the most celebrated names in grounded, "slice-of-life" graphic novels—Laura Dean Keeps Breaking Up with Me, written by Tamaki and illustrated by Rosemary Valero-O'Connell, won three Eisner Awards in 2020. She's also become one of DC's biggest stars, telling superhero stories in a pair of graphic novels (2019's Harley Quinn: Breaking Glass and the upcoming I Am Not Starfire), as well as monthly comics including a recent arc on Wonder Woman, the current run of Detective Comics, and the upcoming eight-issue series Crush & Lobo.
She's also contributed to DC's two most recent anthologies, starting with the recently released DC Festival of Heroes: The Asian Superhero Celebration, collaborating with artist Marcus To on the book's lead story starring former Batgirl Cassandra Cain. And in next month's DC Pride, Tamaki and artist Amy Reeder teamed for a Harley Quinn and Poison Ivy story, with the hard-to-miss title of "Another Word for a Truck to Move Your Furniture."
As part of DC's ongoing recognition of AAPI Heritage Month, we talked with Tamaki about her experience contributing to DC Festival of Heroes, what it means to her to be writing a ubiquitous pop culture icon like Batman, the significance of introducing new Asian-American characters like Mayor Nakano in Detective Comics, and the undeniable appeal of artificial banana-flavored boba tea.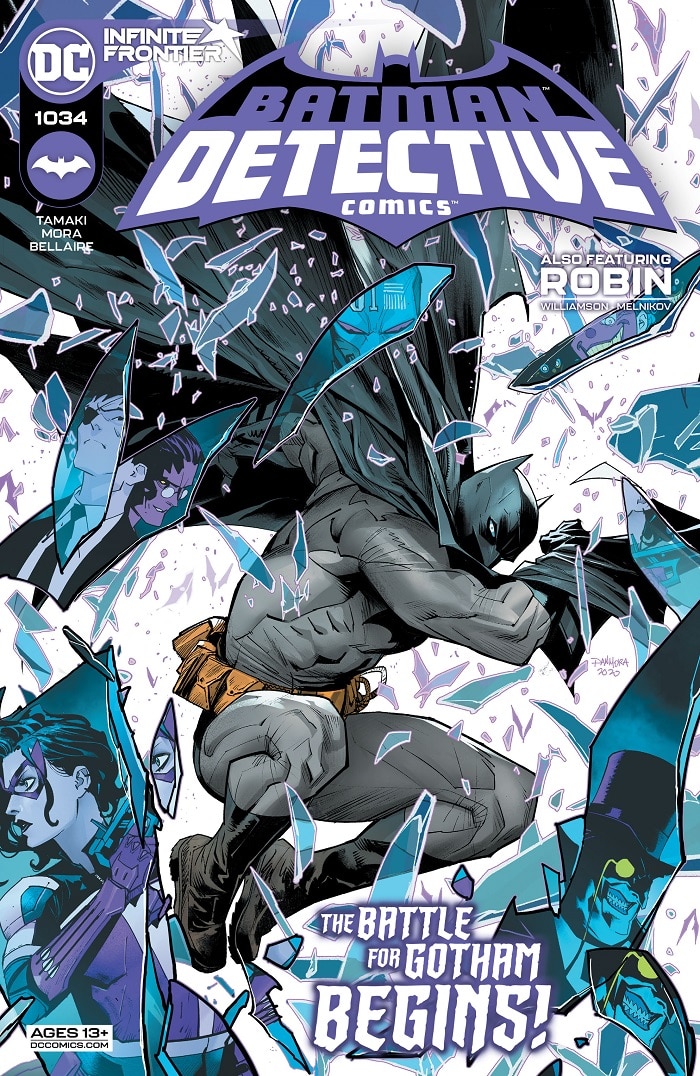 The DC Festival of Heroes one-shot is out now, and personally, I never really thought we'd see a book like that. For lack of a better word, Asian-American representation has never truly felt that valued by entertainment companies. What does it mean to you as a comics fan and a creator to contribute to a book like this?
I didn't start in comics publishing. As a writer, and just as an artist overall, I started off working in a lot of queer arts community spaces. I worked in feminist publishing, independent publishing. My experiences as a Japanese-Canadian person were an important part of my writing when I started out, because in those spaces writing was a very personal thing. The focus was really on building out those stories, writing mirrors rather than doors.
When I started working in (mainstream) comics, I didn't really see that as a place where I should be connecting with my personal experiences. I've described it more as, like, somebody gives you their Batman figurine, and they're like, "You get to play with Batman today." That doesn't mean they're not personal, just not my personal. Any opportunity I got in those stories  to connect to something that feels more subjective was a bonus. So it was really interesting to get a chance with this anthology and getting to do something for an explicitly Asian anthology, to work on an Asian character. Like Cass is not me, obviously, but it does feel…personal.
Speaking of that story and Cass Cain, what drew you to that character? For a lot of fans, she represents something very important, given that she was introduced back in 2000 when there were even fewer Asian characters in superhero comics than there are now.
The thing that I like about Cass Cain is that she is a fighter of such a high caliber. In terms of her skill and ability, she's so above and beyond. There's no, "Can Cass do it?" It's like, yes, obviously she can. Her physical abilities are so established. It felt like there was space to get into something emotional—like when you spend so much time working on one part of your life, what gets left behind? (Not that Cass had a choice, obviously!)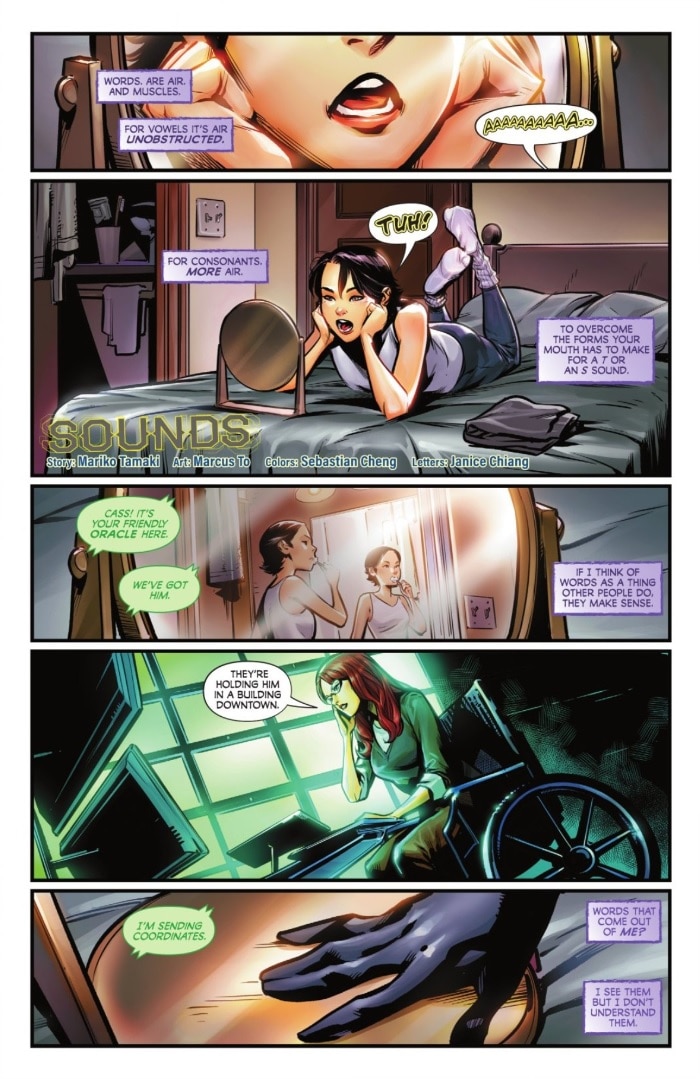 Right! Given the character's background, you don't see the more emotional side that you see in this story, where she's struggling with her feelings.
Yeah! That to me is the cool thing about writing superheroes. They're all characters who are so incredibly adept at one part of their lives. Like there's no way a superhero is going to be well rounded, just by nature of how many hours there are in a day. If you're saving the world, for how long that takes, your party small talk skills are going to be lacking. Or something is going to be left out. That's been the interesting thing for me in writing Bruce Wayne and Batman, so it was definitely something I was into looking at for Cass.
It's pulled off very nicely and best of all, it ends with boba.
Yes! That was like my favorite thing. (Laughs) We were talking about the different flavors, and just selfishly, I want her to have my favorite flavor of boba.
Banana?
Yeah. Artificial banana is just like, the best. I just love it. I love a jasmine tea, but I'm a big fan of all things artificially banana.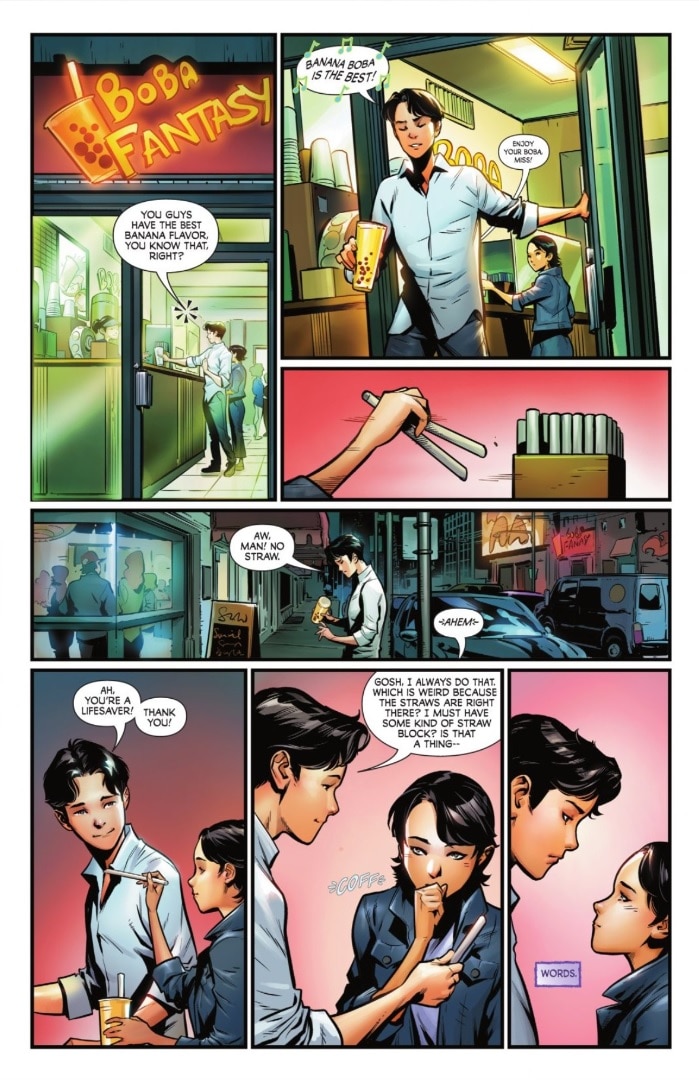 What was it like working with the team to bring this short story to life?
It was amazing. First of all, working with (DC editors) Andrea (Shea) and Jessica (Chen) was amazing. I adore both of them so much. I think people can underestimate how much of writing comics is a team effort. I definitely rely on the expertise of my editors, and I think that they are always sort of doing double duty as being the guardians of the universe. They are the ones who will always make sure that you're being grounded in the big picture of who the character is, who they have been, the superhero universe at large. Because it's not just knowing one person, any character is like twenty people. So they do that work and just as story editors, they're incredible. Such an amazing support system.
I was so excited about this project for them, and so thrilled to be asked to be part of it. It just really felt like we were all so excited—it had such a birthday party vibe to the whole thing. (Laughs)
To talk a bit broader and look at the industry as a whole—there is a lot of Asian representation both behind the scenes in comics and on the page, but also certainly a lot of room to grow. How do you see it from your perspective, especially as someone who came from a different background, making your name in a more literary space and then working on superheroes?
I feel like whenever you can still count the numbers of Asian creators on one hand, or if you walk into a space and see that you are the minority in the crowd, there's room to grow. I do think that the comic book world is always getting bigger and more diverse—or at least I will say since I've been a part of it, I've noticed it growing.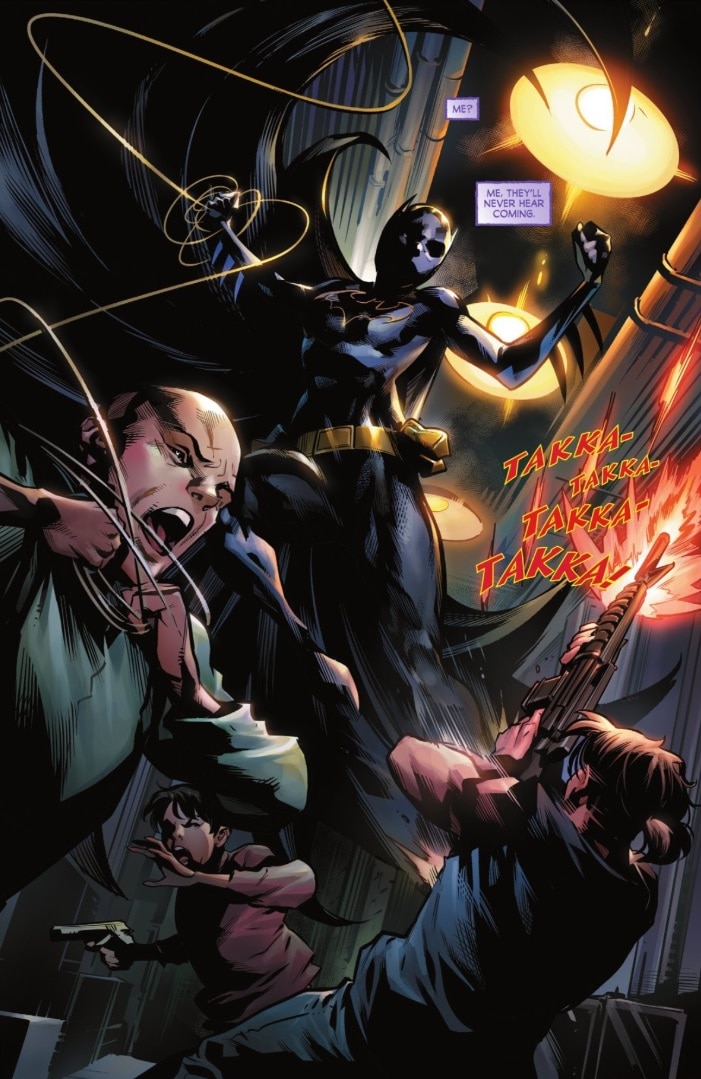 I was so thrilled to see Sarah Kuhn working on Shadow of the Batgirl with Nicole Goux. It's always cool to see people coming to comics from different parts of the literary world. I think there can be this notion that if you haven't been a part of something your whole life or your whole career, that you shouldn't be able to become a part of it. The ability to step into comics as a writer, as an artist, or step into superhero comics as a writer or an artist, at whatever stage in your career, it's really awesome to see that happening. There are so many amazing storytellers in all parts of the literary world who can bring amazing things to comics.
Or someone like Minh Lê, whose Green Lantern: Legacy illustrated by Andy Tong, was amazing. Lê came from picture books. That's always really exciting for me to see stuff like that. I think it could go the other way, too, for people who have done more mainstream comics to do graphic novels or prose. If there's a back and forth between all of these different parts of the arts world, than everybody's bringing their experiences, their community, their storytelling, to this world.
For years in mainstream comics, there were a lot of prominent Asian artists, but not so much writers. There have never been a lot of prominent women writers in mainstream superhero comics. Given that, how has the experience been for you writing a comic like Detective Comics? It's one of the longest-running comics of all time, starring basically the biggest character.
I love it. It's been a huge challenge. It's not necessarily the character that's challenging—the format is really challenging, to write an arc that spans eight to twelve issues that's divided up into sufficiently cliffhanger-y twenty-page segments. Not easy. I really love all the artists I've been able to work with. Working with Dan Mora has been such a thrill. I gasp every time I see what he's doing. Working with (DC editors) Paul Kaminski and Dave Weilgosz is a joy. Also our colorist Jordie Bellaire and our letterer Aditya Bidikar. Even just being on something called "the Bat-team"—we have Bat-team meetings all the time—is very cool.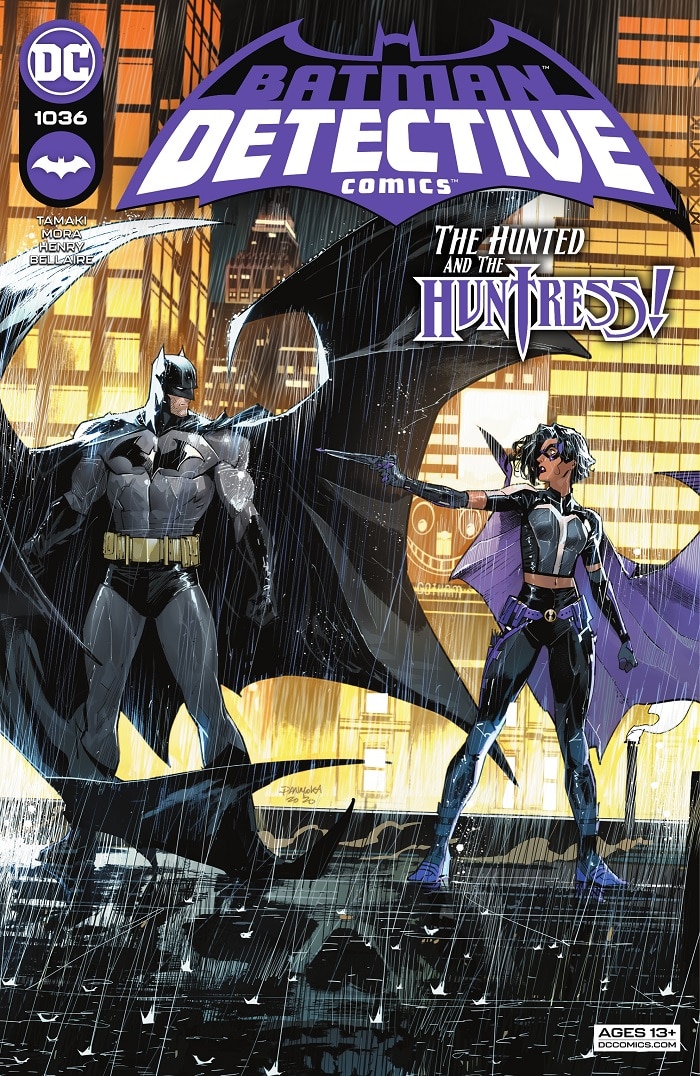 It's like writing for television. The complexity involved in having all of these interconnected stories has been a great challenge. I love the part of the job that's taking something you know how to do and translating that into something you're less familiar with.
It's cool to watch unfold as a reader and it's notable that one of the characters introduced during this run is Mayor Nakano, an Asian-American character.
That's the interesting thing about comics. You know? He was a very small part of a short story I wrote (in Detective Comics #1027). Now he's the mayor. You're setting a mound of clay on someone else's turntable—"this is the start." Then you really don't know what's going to happen from there. I feel like he's come back to me. Now I get to write him again.
I like thinking of Gotham as a city, with civil servants, all that stuff, is really interesting. It's fun to get to write somebody who is in political office in this story that is also monsters and epic punches.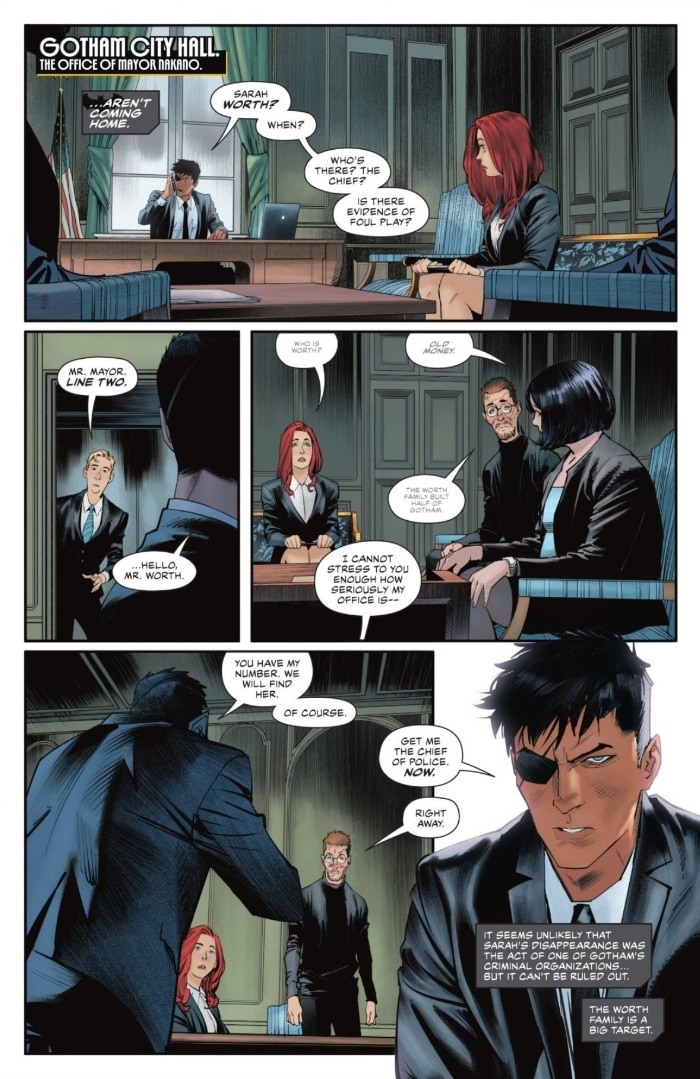 It's always refreshing to see characters who are Asians, and…they're Asians. It's not something that's characterized as unusual.
For my experience of being Asian, from a family that has lived in Canada for a really long time, the idea of what makes me an Asian person has always been very complex. I love all the different forms that takes, and I think it's always expanding. To have a character like Nakano, who is Japanese-American, but he's not somebody who has any specific skills that are "Japanese skills." I like that.
I think that I've put somebody who is Asian or half-Asian in almost every story that I've ever written. They're not there to be "the Asian character." They're just there as a character. If it's a modern metropolis, that includes all kinds of different people.
 
Be sure to browse DCComics.com for more of our AAPI creator interviews. And don't forget to check out Mariko Tamaki and Marcus To's story, "Sounds," in DC Festival of Heroes: The Asian Superhero Celebration, now available in stores and as a digital comic book.