During his four-plus years as the writer of Batman, Tom King brought new emotion and depth to the decades-old "will they or won't they?" romance between Batman and Catwoman. He explored the eighty years of history between the characters along with taking them in unexpected directions—including a wedding that ultimately wasn't meant to be.
In Batman/Catwoman, a new 12-issue DC Black Label series, King re-teams with his frequent collaborator Clay Mann—illustrator of several of Batman's key Bat/Cat moments—for a story that takes place in the couple's past, present and future. In the past, Batman and Catwoman fall in love for the first time. In the future, after a long marriage, Bruce Wayne passes away and Catwoman seeks to settle a score.
In the present, their romance in threatened by…Andrea Beaumont, better known as the Phantasm, the antagonist of the beloved animated film Batman: Mask of the Phantasm, making a much-anticipated debut in DC's main comics line.
First announced in 2019, Batman/Catwoman #1 is in stores today, and Tom King and Clay Mann both discussed the series and their artistic partnership with DC Nation—along with dropping a rather succinct quote about the role the Joker is set to play in the series.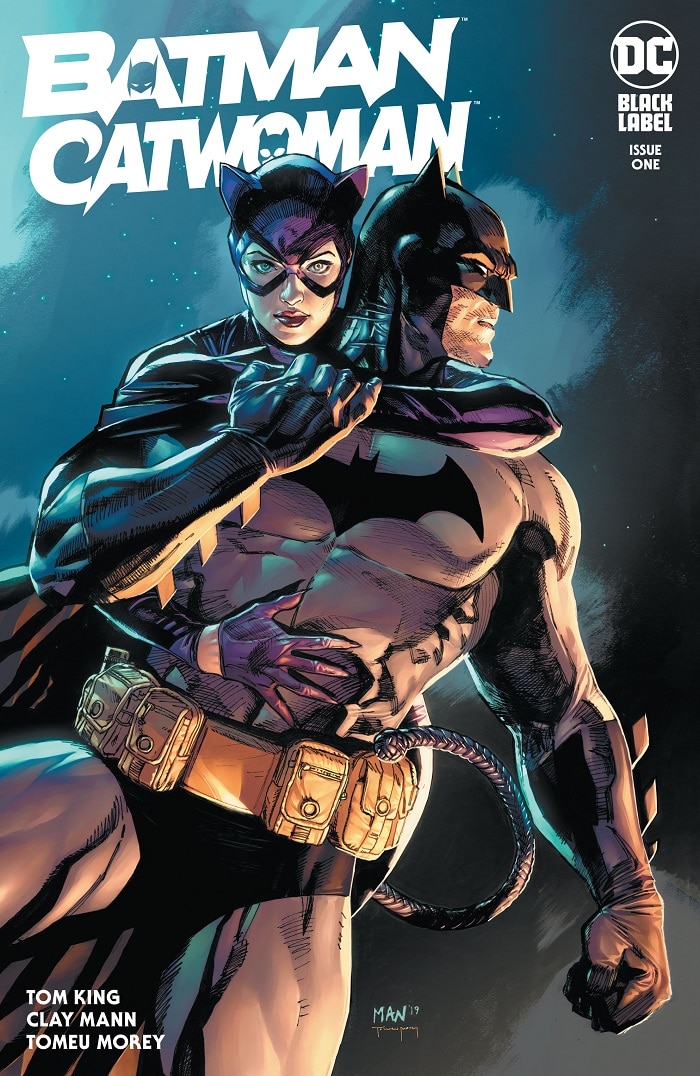 This is a series fans have been waiting for since last year. How does it feel to finally bring it into the world and bring an era of Batman to conclusion? 
Clay Mann: It feels really nice. I can't wait for the fans to see what we have been doing. 
For me, it's really an honor to be wrapping up Tom's plan for Batman. So many great artists on his run and it was great to be a part of it.
While this feels like an extension of your time on Batman, it also seems very different, as both a DC Black Label series and a finite, 12-issue series. In what ways is this a continuation of your work on Batman, and in what ways is it something we wouldn't have seen in that book? 
Tom King: So this story is hopefully two things at the same time. It's the end of something, it's the end I always wanted to write for Batman and Catwoman, the culmination of not only what we did leading up to the wedding and afterwards, but of eighty years and counting of this relationship between a hero and a criminal.
But it's also the beginning of something: it's a standalone series, which is much more ambitious than anything I tried in Batman—my attempt to tell one story that says everything I have to say about these characters and how they affect each other and us.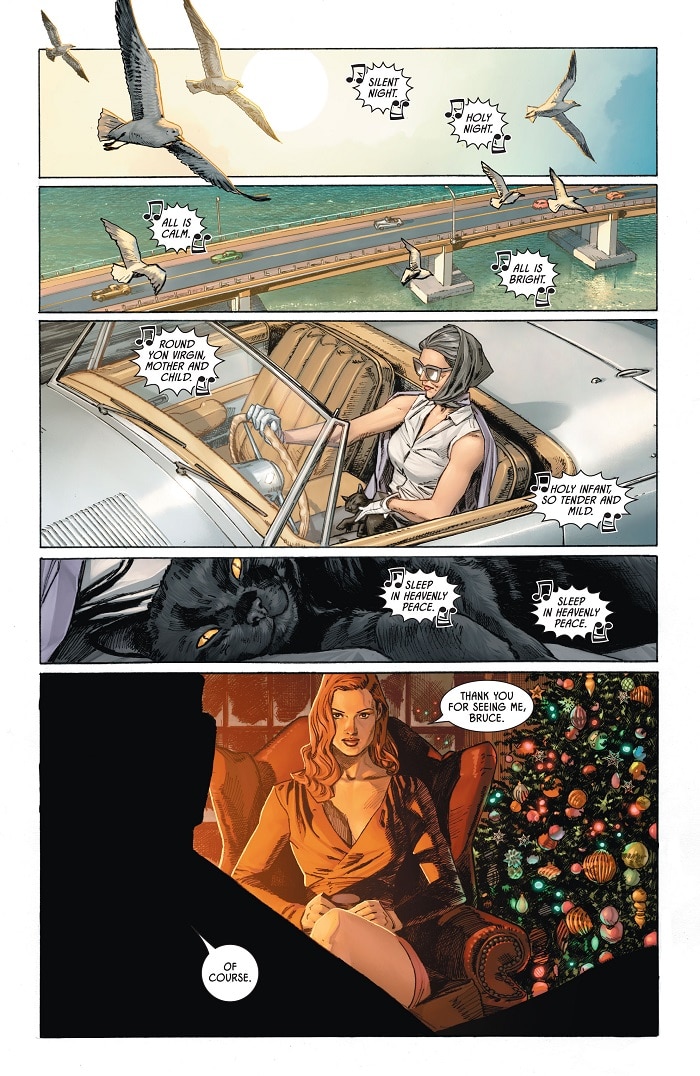 How has the collaboration between the two of you evolved since we last saw you together on Batman? 
Mann: I'm not sure it's evolved since last time. We see less of each other, but are part of a group chat, so we all talk every day. 
When it comes to actual work, well, I make some small changes here or there, and Tom always rolls with them. That's not really new, though. I guess I do feel more confident in doing so now. 
King: Clay and I have been working together for years. I think the only thing that changes is Clay keeps getting better and better and I keep trying to learn to stay out of his way.
The pages Clay is turning in are some of the best comic pages since I've started reading comics. When we first started working together, I was like, "Damn this guy is good." Now, I see he's a damn genius.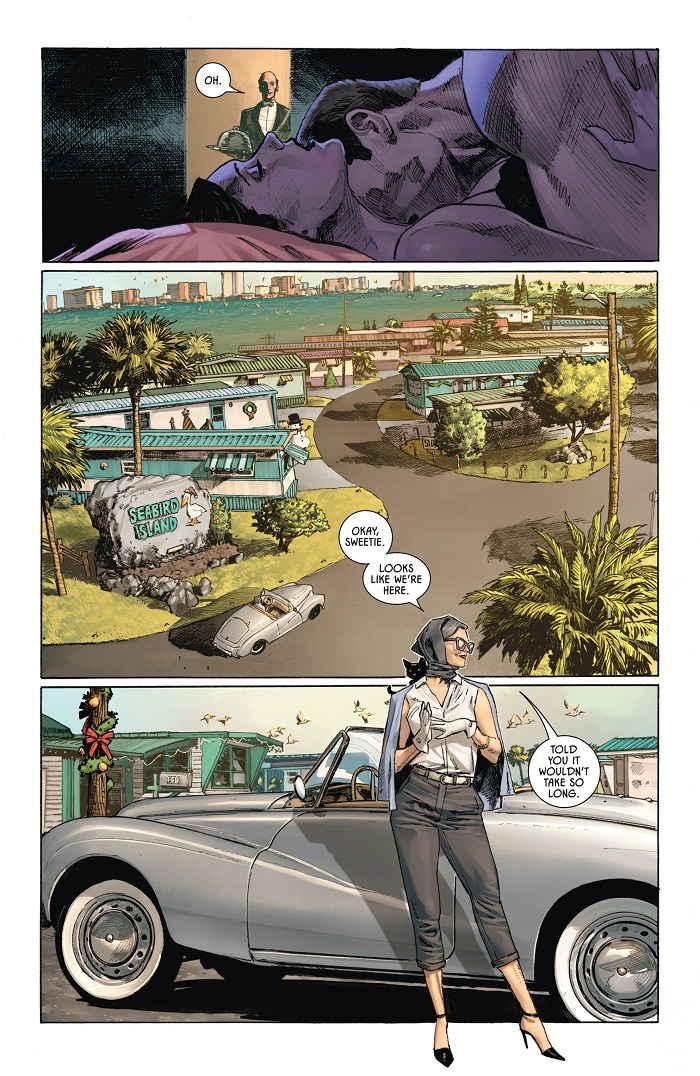 This series takes place over the past, present and future. What unique aspects of the Bat/Cat relationship does that allow you to explore? 
King: For people who have read my run, the basic premise here is we have three timelines that take off from Batman Annual #2 (the first and last kiss issue). We see Batman and Catwoman at the beginning of their relationship after that first kiss, we see them now, and we see the end, after that last kiss. What that allows for is for you to see genuine character evolution, how Catwoman went from being a rogue to a partner and what that transition got her and cost her.
In regular comics, the one thing we don't have a lot of is growth. We're sort of stuck in the one story. In Batman/Catwoman, we try to break that barrier and give you a history and a moment you haven't seen before. 
Readers have been excited and intrigued about Phantasm appearing in the series. What kind of role does she play?
Mann: For me, her role is huge. I'm not even talking story. From laying in front of my grandma's TV watching the VHS she bought my brother and I, to coming out of my shell to tell DC she was my first choice of any character to do, she's been a dream of mine. So for me, it's literally a dream. To really be the first is an honor. It's on Tom to make the little kid back in the '90s dream pay off. No pressure.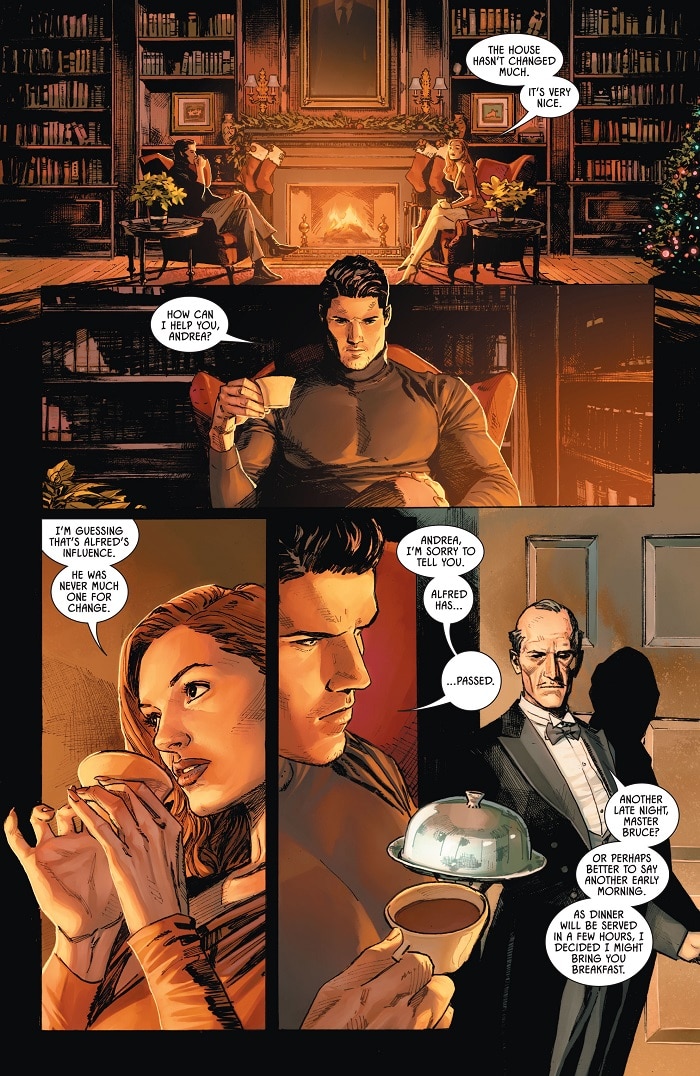 King: She's central to the story. Bat/Cat #1 will be her first appearance in the DCU, and we want to honor how good that move is and what a cool and frighting character she is. After this one, there'll be a lot of Phantasm stories coming, so we want to set the bar high.
In summary, I'm feeling a lot of pressure. 
What, if anything, can you share about the Joker's role in the story?
King: He dies. 
 
Batman/Catwoman #1 by Tom King, Clay Mann and Tomeu Morey Is now available in print and as a digital comic book.