For over 80 years, Batman has taught the world that there will always be a light in the darkness, a force for good and that anyone, no matter how big or small, can be a hero. Batman's legacy throughout the world is truly exceptional, however, there is one city in the United States that really holds a special place in the Batman legacy— Burbank, in sunny Southern California.
Burbank is not only the headquarters of DC, but also the location of Warner Bros., the iconic studio that has brought to life numerous interpretations of the Dark Knight in film, television and animation. In celebration of Batman's 80+ years of doing good, Visit Burbank has partnered with DC to create a one of a kind, life-sized bronze statue of Batman himself, which was recently unveiled in the busy downtown district of Burbank.
A pillar of the community, Warner Bros. has been a part of Burbank for over 90 years and Visit Burbank wanted to do something to honor the longstanding relationship between the studio and city.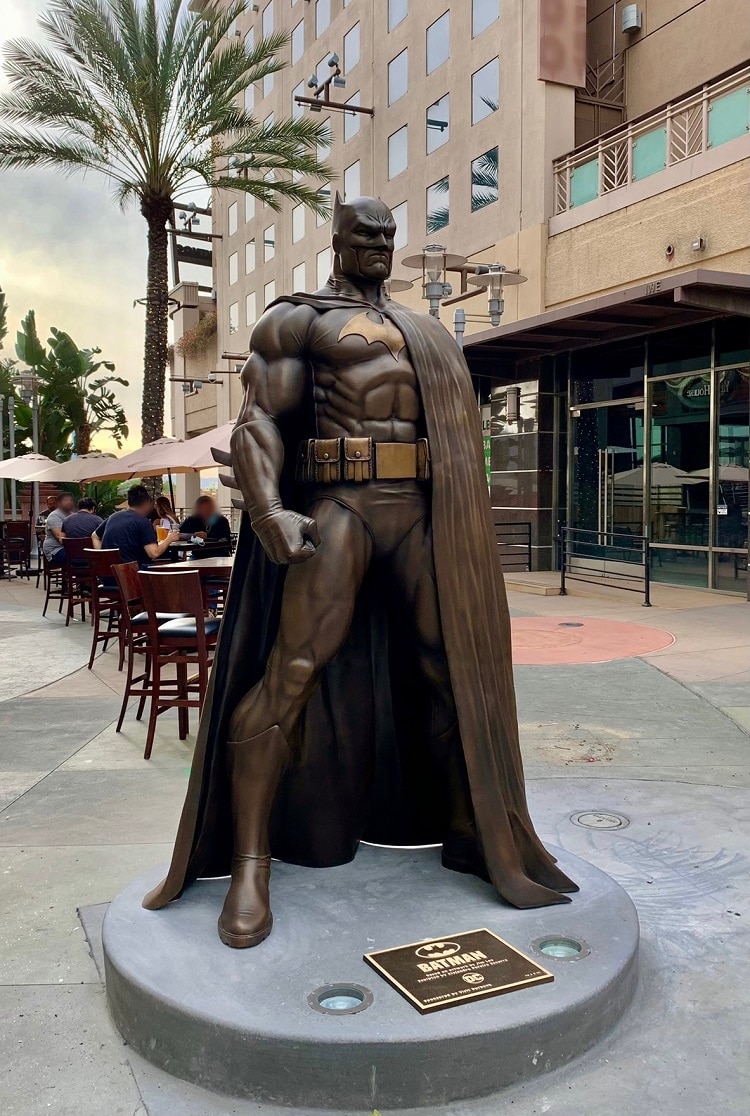 "The fine folks at Visit Burbank came to us saying they wanted to do something fun and special that would be symbolic of the connection that the studio and DC has had with the city," said DC Creative Director, Doug Prinzivalli. "We brainstormed a bit and decided that Batman would be the perfect character to welcome visitors to our great city."
The design was chosen based off of a statue recently created by DC Direct, the in-house toy company of Warner Bros. The statue itself, originally created to be a 7-inch creation in the Batman Black & White collectible line, is based on the art of Jim Lee, Publisher and Chief Creative Officer of DC, from one of his most beloved and widely read graphic novels, Batman: Hush.
"DC Direct was proud to be a part of this fantastic monument," Said DC Direct Creative Director, Jim Fletcher. "The statue is based on our Batman Black & White series, which explores and celebrates the many iterations of Batman throughout the years. Jim Lee's iconic version of Batman has been a fan favorite since he first appeared and is a powerful representation of the Dark Knight at this large scale."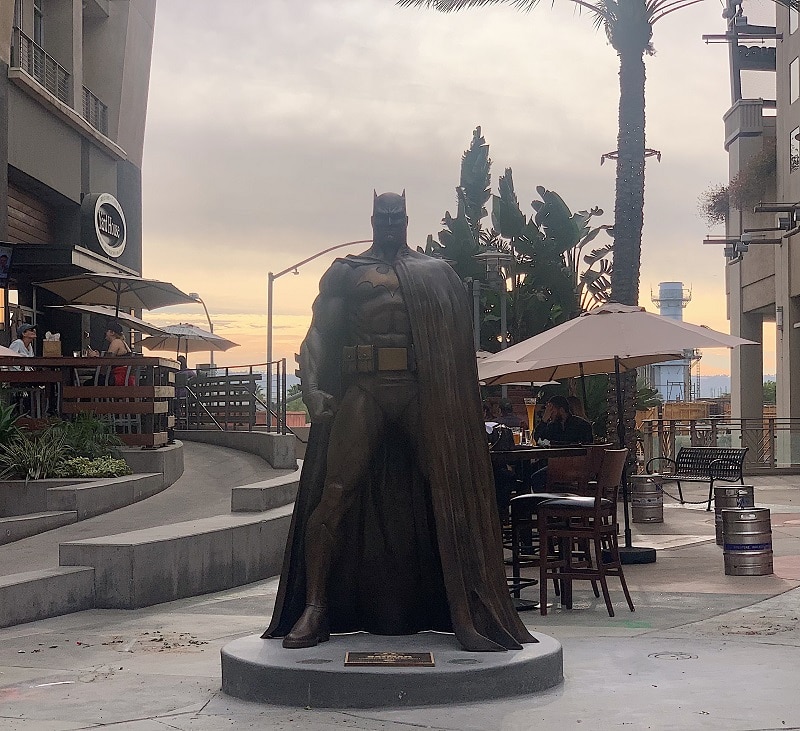 As for the artist himself, he couldn't have been any more pleased with how his work was translated into large-scale 3D form.
"The sculptor of this piece, Alejandro Pereira, really captured the majesty and strength of the Dark Knight in breathtaking fashion," said Lee.
Of course the initial statue was originally intended to be much smaller, so a close collaboration between DC Direct and the DC Creative team was vital to the success of the creation of the life-sized bronze statue.
"The DC Direct team was great to work with on this project," shared Prinzivalli. Creating, manipulating and delivering a digital file that was originally intended for a 7-inch collectible and was output as a 7.5-foot bronze statue was quite a feat!"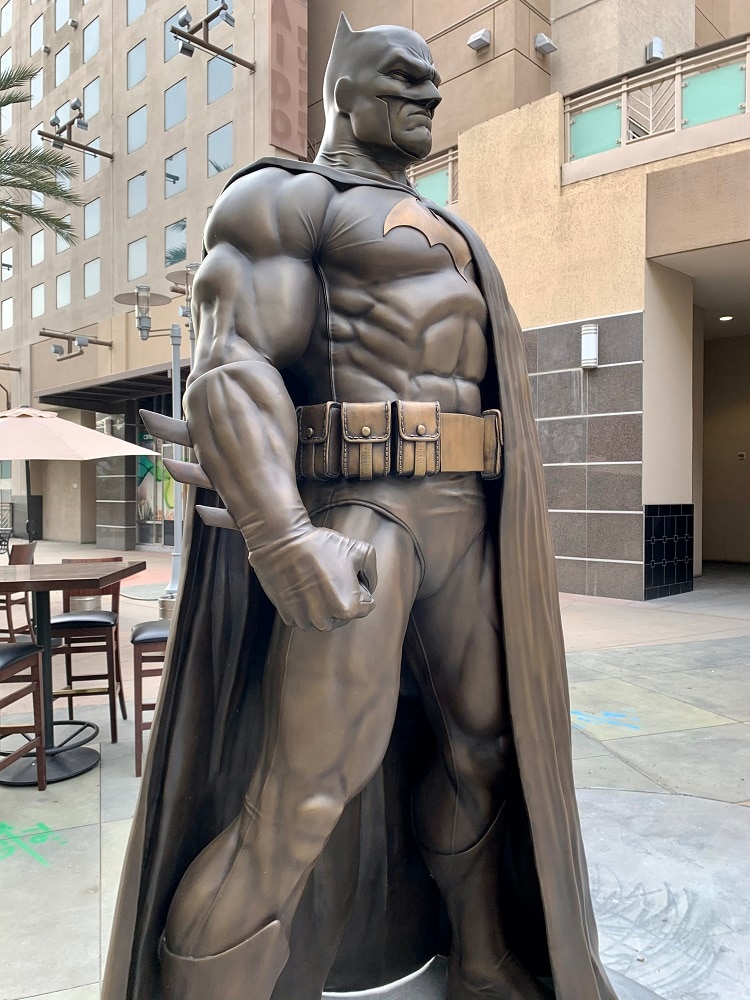 Once the final design was agreed upon, the DC team decided to work with a local Burbank foundry, The American Fine Arts Foundry, to create the life-sized sculpture. Working with a local company only strengthened the closeness of the collaboration between the studio and the city and added to the feeling that this was a truly home-grown project.
"Working with The American Fine Arts Foundry was a truly unique and wonderful experience," revealed Prinzivalli. "The commitment to the artistry and attention to detail is astounding. Being there when they poured the molten bronze was surreal, magical and a once-in-a-lifetime experience."
This new life-sized statue, a first of its kind, can be found outside of the Burbank AMC theaters in the downtown district of the city, standing tall and proud and watching over all who come to see him.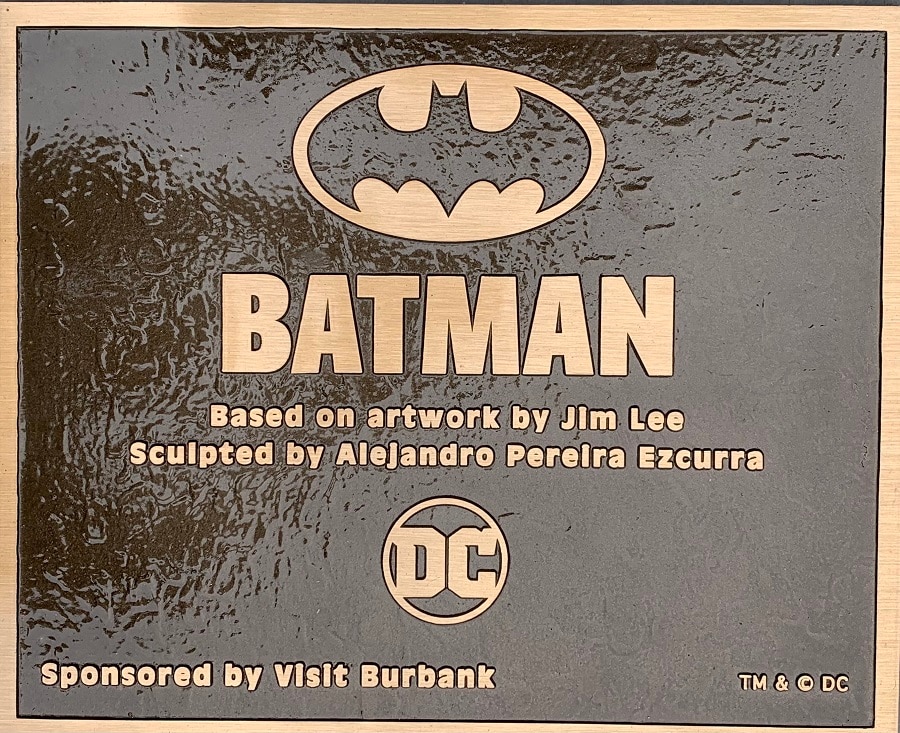 Lee perhaps said it best, about what this statue not only means for Warner Bros. and Burbank, but for fans of the Caped Crusader around the world.
"Batman fans are fans for life," he shared. "He's not just a character, but a way of life. While Batman is one of the few DC Super Heroes without actual powers, Batman does actually possess the unbelievable ability to bring fans of all kinds together around something they love. And if any superhero deserves a statue raised in their honor in times likes this, Batman is that hero because Batman is truly a hero for all."

Will you be visiting Burbank? Click here to learn where you can see the Batman statue for yourself!
Amanda Levine covers collectibles, cosplay and pop culture for DCComics.com and is a regular contributor to Ink Spots, our corner of the site devoted to Young Adult comics and graphic novels. Follow her on Twitter at @pixiedust0623.