Cons are magic. Where else can you go and watch an all-star panel, bump into old friends, score exclusive merch, and get a selfie with Batman and Wonder Woman on the same day? I have so many great con memories—meeting fans cosplaying characters from my books, emceeing a live draw with Gabriel Picolo, the artist and co-creator of my Teen Titans graphic novel series, and getting my picture taken with Spike (James Marsters) from Buffy the Vampire Slayer.
But there is one con moment in particular that I'll never forget—meeting my literary idol, Anne Rice. I was walking through the autograph area at SDCC with my agent. We were on our way to grab lunch when I spotted the sign for Anne Rice's signing line. I immediately ditched my agent (even though I love her) and I rushed to the Mysterious Galaxy table to find out how to get a ticket. Unfortunately, all the tickets were gone and unless I had a ticket, or I worked at MG, I wouldn't get to meet Anne Rice.
I'm nothing if not resourceful—especially when meeting the Queen of Vampires is hanging in the balance. So, I walked around to the employee side of the table and offered my bookselling services. The folks from Mysterious Galaxy let me help and after they realized my handwriting was too messy to fill out legible receipts, they let me get in line.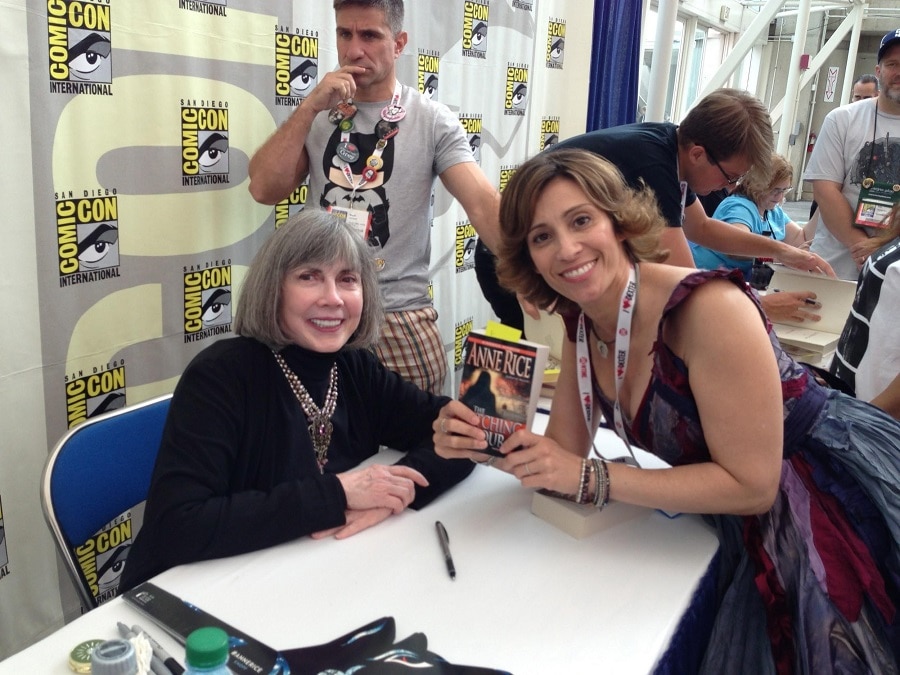 When it was finally my turn to get my book signed, I approached the table tentatively. Anne Rice graciously took the book and asked me my name. Suddenly, I realized why they give out Post It notes at signings because I forgot how to spell my name. "I wrote a book, too," I stammered. When I didn't add that I was a published author with a bestselling Southern gothic series or that she was one of my literary inspirations, she said, "That's wonderful. Good luck."
Before I walked away, I did manage to remember how to spell my name and I got my picture taken with the Queen of Vampires.

Kami Garcia is the #1 New York Times bestselling writer of Teen Titans: Raven, Teen Titans: Beast Boy, Joker/Harley: Criminal Sanity and the upcoming Teen Titans: Beast Boy Loves Raven. She's also the co-author of the popular Beautiful Creatures series and the co-founder of the YALLfest book festival. Follow Kami on Twitter at @KamiGarcia.