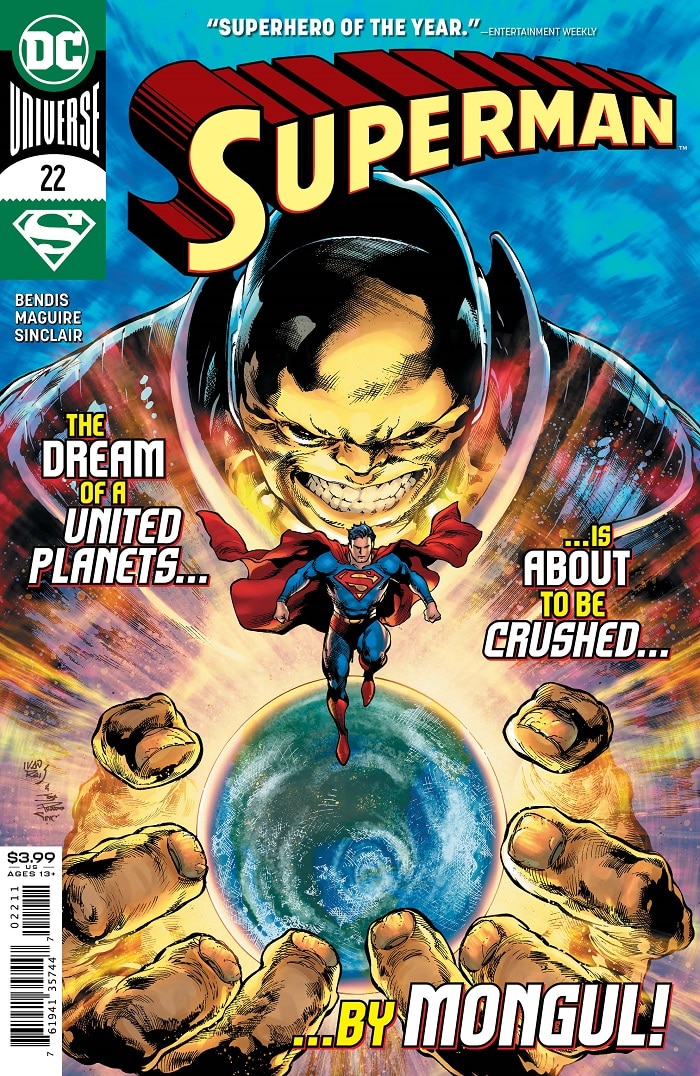 It wouldn't be summer without Supes! After a far-too-long hiatus, the Man of Steel's ongoing series returns to shops in spectacular fashion, as Brian Michael Bendis's game-changing storyline, "The Truth," reaches its climactic chapter. While Superman thought he was doing right by revealing his secret identity to the world and helping to establish a United Planets organization in order to preserve intergalactic peace, it seems like no good deed goes unpunished, especially when Mongul is involved.
Enraged to discover the existence of the United Planets, the powerful despot attacked the still tender endeavor at its very heart, unleashing mass destruction and death and bringing its participants to the brink of war. Superman managed to defuse the situation—barely—and forced Mongul to leave, but it was all a violent ruse. Mongul only left so he could set his sights on Earth, which is currently unguarded with the Justice League assisting in rebuilding the United Planets. To defend his adopted home, Superman will have to once again face Mongul by himself, only this time the villain has all of Warworld at his disposal.
Even worse, this is only one of the crises unfolding in Superman's life. Completely unbeknownst to him, Lois has been besieged by reporters looking to ask Clark about his role in the United Planets—the existence of which was just leaked by an unknown source. And while the press has been plenty persistent, Lois's most recent unwelcome visitor could spell even worse trouble—FBI Agent Cameron Chase.
Clark's world seems to be unraveling from all sides, and it just may bring down the entire planet in the process! You can discover what happens in next week's Superman #22, but if that's too long to wait, check out our exclusive preview of this pivotal new issue right now.
Superman #22 by Brian Michael Bendis, Kevin Maguire and Alex Sinclair is in stores and available digitally on Tuesday, June 16.