DC's latest graphic novel for young adults is Batman: Nightwalker, based on the prose novel by Marie Lu and adapted by writer Stuart Moore and artist Chris Wildgoose.
On the trail of a mysterious new terrorist group called the Nightwalkers, 18-year-old Bruce Wayne is sentenced to community service—in Arkham Asylum, where he meets the brilliant-but-deadly Madeleine Wallace.
DC Nation talked to Lu, Moore, and Wildgoose about the Batman: Nightwalker graphic novel, and the storytelling opportunities inherent in a teenage Bruce Wayne.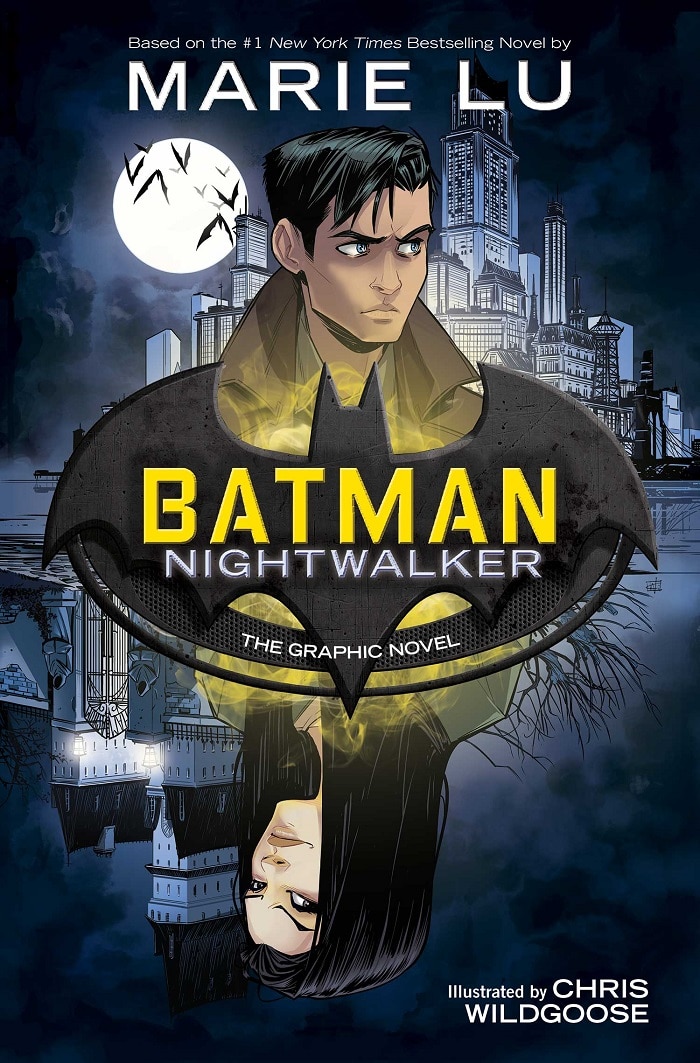 What's compelling to you about Bruce Wayne as an 18-year-old? What aspects are you able to explore that you wouldn't see in a typical Batman story? 
Marie Lu: One thing specifically cool about writing a teen Bruce Wayne is that there's so little out there about him at that age. Who were his friends? Did he have crushes? How did he navigate adolescence while being both a billionaire and an orphan? I was excited to play with these questions and explore how Bruce Wayne grew up to become Batman.
Stuart Moore: It's a fascinating time in Bruce's life. He's got all the drive and intelligence he needs to become Batman, but he hasn't figured out what to do with it yet. He's already very used to taking care of himself, but he's not an officer of the law yet, officially or unofficially. And that gets him in trouble.
In writing the adaptation, I looked for moments to show Bruce's intensity. He doesn't have an outlet for that yet either, but he's trying things out. Sometimes he gets very frustrated at other people's rules.
Chris Wildgoose: To me, Bruce came fully formed before I'd even attempted to sketch him. Marie's novel absolutely nailed what I expected a young Bruce to be like. Just as quick, clever, and as broody as the older Bruce we're all familiar with, but with this slight teenage optimism that hasn't been worn down by years in the cowl. He smiles a lot more. Perhaps stands a little more awkwardly. But when his detective brain kicks into gear, he instantly looks broody and intense and a hint of the Bat shines through.  
New character Madeleine Wallace is at the center of the story. How did you approach this addition to the Batman mythos?
Lu: Batman is defined by his villains, so I knew the best way to explore how Bruce grew up was to give him a villain that pushed him in all the crucial ways. But I wanted Madeleine to be more than just a catalyst for Bruce. She needed to have her own goals, ambitions and complexities—someone as intricate as many of the other villains in the Batman universe.
Moore: We see Madeleine through Bruce's eyes, and she keeps him guessing...feeding him half-lies, then telling the truth when he doesn't expect it. I tried to be very careful to keep her character balanced. There is a logic to what she does, but she's also conflicted.
How did the story lend itself to adaptation as a graphic novel?
Moore: As adaptations go, this one was pretty smooth…partly because I had a lot of pages to play with! Again, I wanted to make sure that the Bruce/Madeleine scenes, which are very dialogue-heavy, worked visually as well. Chris Wildgoose was an amazing partner in that—he can draw anything. And his people are so expressive, you just want to watch them interact for pages and pages and pages.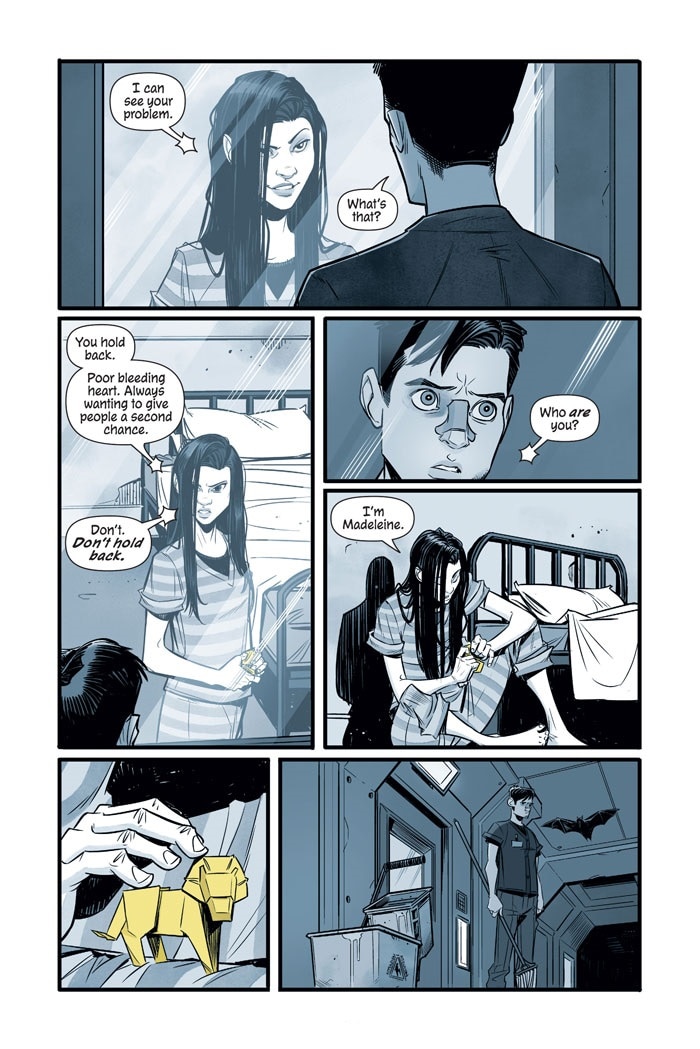 Wildgoose: I read the entire novel before starting the book, and then listened to the audiobook while working on character design and the initial pages. I like to really soak in the story. It's useful to be reminded of where it's going while working on the beginning.
My biggest inspiration from the novel has to be the descriptions of Madeleine. Marie's book has these beautiful descriptions of her hair. How it fell around her like a black waterfall and the way she would move around her cell, almost witch-like. These were always at the front of my mind while drawing her.
Marie, what's it like seeing your novel adapted in this format?
Lu: It was surreal. I see everyone in a certain way in my head, but then to have an artist as talented as Chris Wildgoose bring Bruce, Dianne and Madeleine to life was like having an out-of-body experience. I recognized my story, but it also felt entirely separate. Plus—it's Batman! It was extremely cool.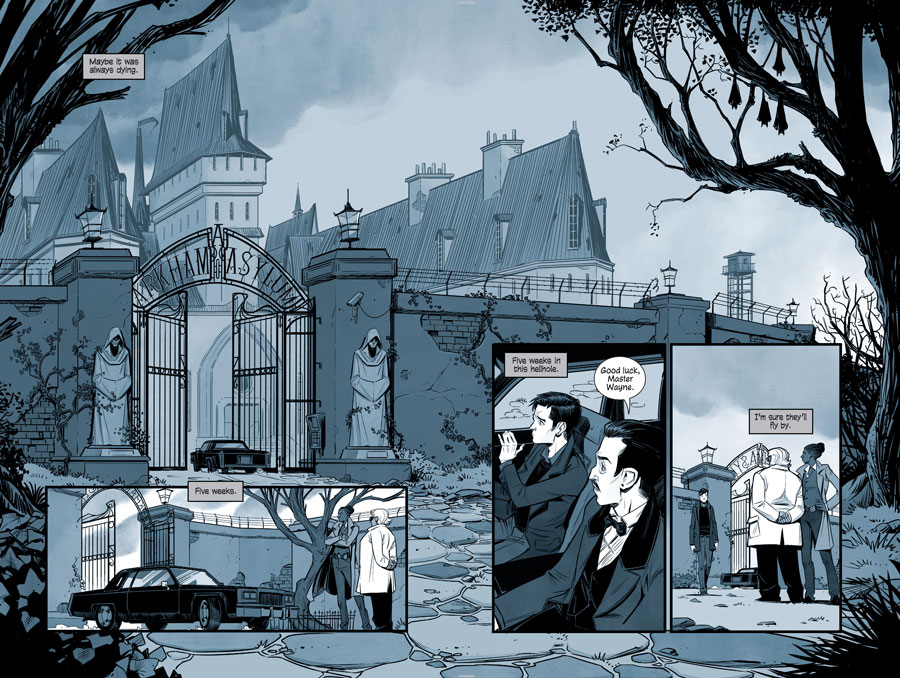 Chris, how did your experience with Gotham Academy and Batgirl help prepare you for Batman: Nightwalker? 
Wildgoose: My previous visits to the Batman world brought me a whole bunch of things to keep in mind when returning to the Gotham sandbox. Gotham Academy has such a deep love for the universe, full of Easter eggs and pieces of Gotham history. They're always fun to spot as a reader, and I tried to carry that with me into the world of Nightwalker. 
My run on Batgirl had a very lighthearted and fun approach, which helped me to stay in the right headspace and not feel too weighed down by this. But Bruce is a whole other beast. He's Bruce Wayne! It's hard not to let that name (and the expectations associated with it) get into your head as you sit down to draw a page. All I can hope is that if I enjoy drawing it, fans will enjoy reading it.
The grays and colors by Laura Trinder really capture the vibe of the book. How would you describe Nightwalker's overall aesthetic?  
Wildgoose: I think it's very Batman. The blue/grey tones with the shock moments of the bat logo yellow give it this extra homage to Bruce's future. 
I'm so proud of how Laura's work really finished off the pages and brought them that essential step into a better page. We work in the same studio room, so we talked over a lot of the pages and asked each other's opinion on what worked and didn't and I think that really helped fine tune this book.
 
Batman: Nightwalker, adapted by Stuart Moore and Chris Wildgoose from Marie Lu's prose novel, is available now at comic shops and at all other retailers tomorrow.