The world of an expanded comic book universe is so fascinating to me, not only because it's still pretty new for me, but also because of how specific the experience can be for every fan. We get so many different Superman and Superman-adjacent comic books every month, telling different stories about different characters, that still remain connected in some way. You can only read one comic if you so choose, or you can read them all. It's a choose-your-own-adventure that yields different results for each individual.
I'll be the first to admit that I experienced this kind of pop culture through a different medium before I got into comic books. The CW's Arrowverse shows—Arrow, The Flash, Supergirl and Legends of Tomorrow—were my first taste of what an extended universe can really be like. I've watched all of those shows since they began, so getting mini-crossovers or seeing details on one show mentioned or referred to on another was so exciting, and a completely new concept for me. I wondered how viewers who only watched one show would experience missing out on crucial information or react to the annual crossover filled with unfamiliar storylines, information and characters. It seemed like if you weren't watching all four of the shows all the time, you wouldn't get as much out of the experience.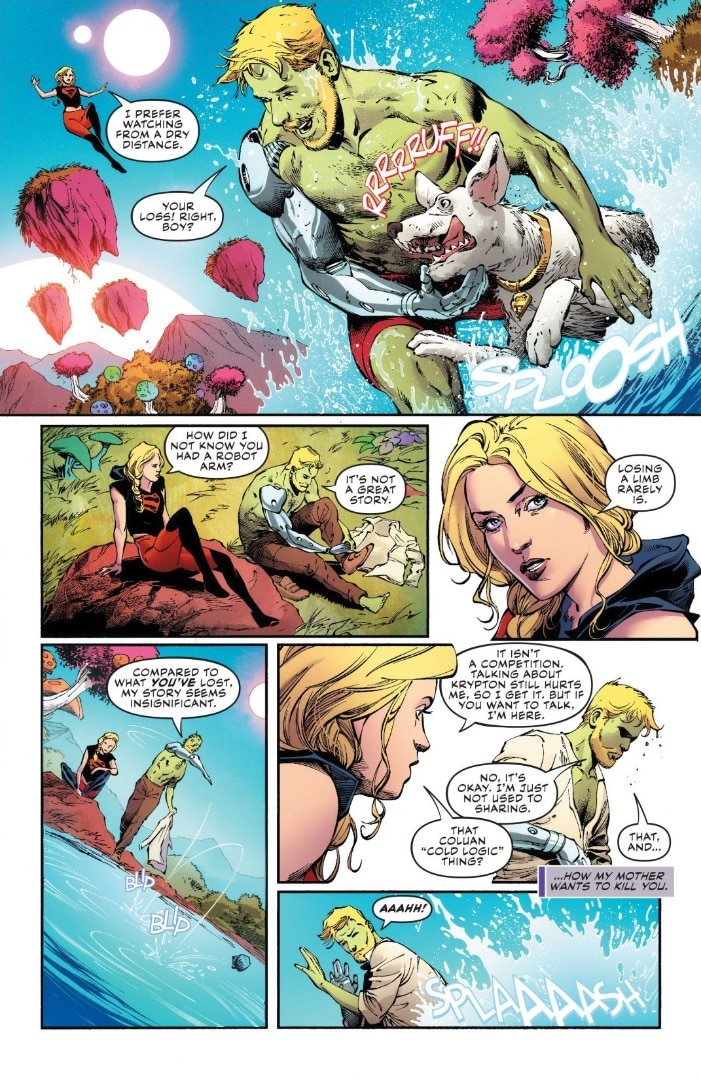 Then I started reading comic books and appreciated just how much the Arrowverse was inspired by them. Of course, I know that the characters and storylines are literally ripped from the pages of comics, but I'm talking more about the experience of enjoying an extended universe across multiple projects. It's really exactly like reading a bunch of ongoing comic books about related characters. I have a renewed appreciation for how the Arrowverse took the feeling of reading comics and translated it to a different medium (and how it inspired other extended universes on TV as well).
And the recent Supergirl #29 reminded me just how rewarding and complicated an extended universe can be. As Kara was relaxing on Planet Tavaar with Krypto and Z'ndr Kol, Krypto unintentionally found what might be the most important thing that has ever been featured in any Superman-related comic book: crystals containing information about the real reason for Krypton's destruction. Kara was able to hear the confession of Appa Ali Apsa regarding the Circle and Rogol Zaar, and their many planetary genocides at the hands of Empress Gandelo of the Fourteen Suns, aka Z'ndr's adopted mother.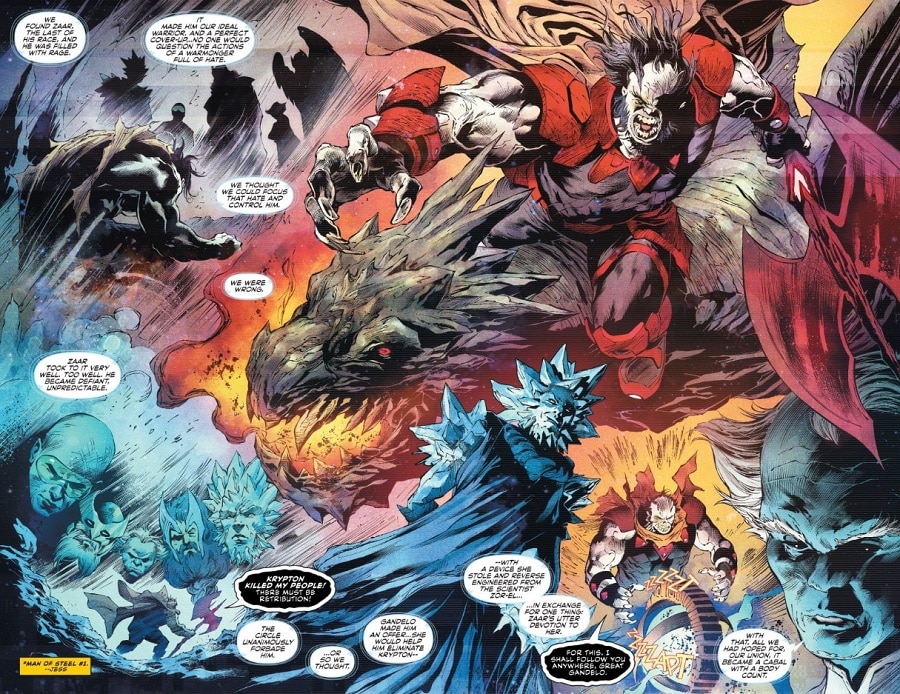 These were answers that have been teased since Brian Michael Bendis took over as Superman and Action Comics writer and mysteries that have existed since the very beginning of Superman lore, and we got them in Supergirl. These are significant reveals about the history of Superman and the ongoing mystery of Rogol Zaar, and they didn't come in Superman or Action Comics. For any Superman fans that haven't been keeping up with Supergirl, these crucial details could go unnoticed.
It's a wild risk to take, but it goes back to the idea of extended universes. You get out of them what you choose. If you commit time and energy in keeping up with every project in a specific universe, you'll get the maximum reward out of it. If you only pick and choose some projects to follow, but not all of them, you'll miss out on some payoffs. In the case of Superman, you might miss out on the biggest reveal of them all.
It will be interesting to see how the Superman books handle this arc moving forward. So far, we've only gotten a taste of the revelations from Appa Ali Apsa's final testament. Kara didn't finish listening because Rogol Zaar's army attacked and then pledged their loyalty to her (because she wielded Zaar's axe). She's got a lot of things on her plate at the moment, and for now, the rest of Appa's confession has to wait.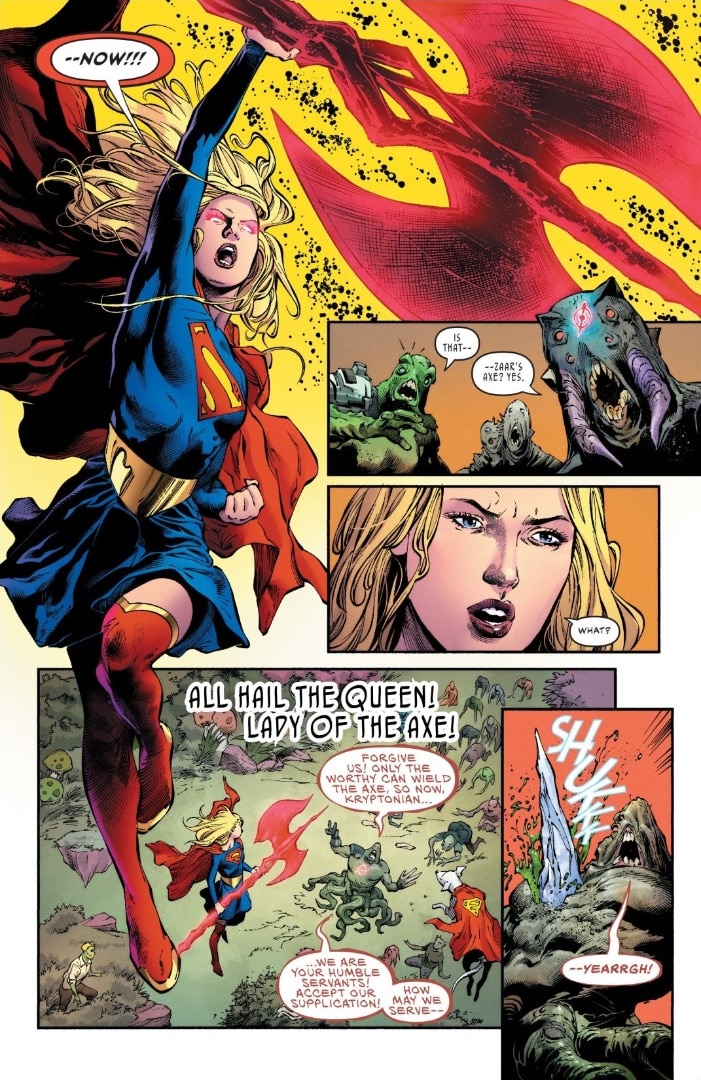 But in the coming issues, when she finally gets the full story, how will the other Superman books be affected? Will the other Superman books be affected? I can't imagine they'd just ignore something as major as this retconning of Krypton's destruction. We're watching Super-history being made and I can't wait to see the ramifications. I wonder which book they'll come in next?
 
Sydney Bucksbaum covers movies, TV and comics for DCComics.com, and writes about Superman every month in her column, "Super Here For..." Follow her on Twitter at @SydneyBucksbaum.