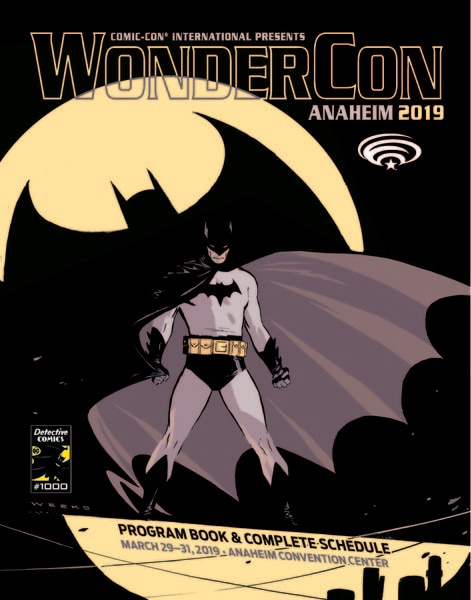 Comic and entertainment fans the world over are heading to Anaheim this weekend for WonderCon, and DC is no different. We'll be there with a full slate of panels, signings, screenings and more. Check in on all the latest news and happenings right here!
It's March, which means spring showers, NCAA basketball…and WonderCon! DC will be in Anaheim this weekend with an exciting new booth and plenty of announcements and sneak peeks. There's lots of Batman action going down in Anaheim as we are in full swing with the Batman 80 celebrations. We'll have world premiere events for the animated films Justice League vs. The Fatal Five and Batman vs. Teenage Mutant Ninja Turtles, a look at what's coming up in our ground-breaking digital subscription service DC Universe and, as always, Jim Lee and Dan DiDio talk comics in our Meet the Publishers panel.
Follow us on social media or check back here at DCComics.com for all of the latest news and announcements!
Full Schedule of DC Activities
Panel Highlights You Won't Want to Miss
DC CELEBRATES 80 YEARS OF BATMAN
Friday, March 29


3:30-4:30 p.m. 
Eighty years after his first appearance in DETECTIVE COMICS, Batman endures as one of the most iconic heroes in history. Join a star-studded panel of industry talent including Joëlle Jones (CATWOMAN), best-selling Batman creative team Scott Snyder & Greg Capullo (BATMAN: THE LAST KNIGHT ON EARTH), Tom King (BATMAN), Becky Cloonan(DETECTIVE COMICS #1000) and Peter J. Tomasi (DETECTIVE COMICS) as they discuss the World's Greatest Detective at this must-see panel moderated by Sam Humphries (HARLEY QUINN). Room: North 200B
Come hear firsthand the latest on the World's Greatest Super Heroes from DC publishers Dan DiDio and Jim Lee. Combining humor, breaking news and filled with lots of surprises, this panel is the perfect place to find out what the Publishers have in store for your favorite DC heroes and villains. Room: North 200B
Calling all Batfans! Batman's official birthday bash will be the can't-miss panel of WonderCon. Join the all-star panel featuring David Mazouz, Jim Lee, Lee Meriwether, Kevin Conroy, Roger Craig Smith, and Grace Randolph to celebrate the Caped Crusader and his many incarnations across film, television, animation, games and comics. Room: North 200B
A LEGACY OF EVIL – CREATING DC VILLAINS
From The Joker to Lex Luthor, Black Manta and more, DC has created a legacy of the greatest villains in all of pop culture. A well-crafted adversary drives the plot of any story but most of all, they are the makers of Super Heroes. Come meet some of the writers and artists who've put their mark on the most wicked characters in the DC universe including Joëlle Jones (CATWOMAN), Scott Snyder (BATMAN: THE LAST KNIGHT ON EARTH), Sam Humphries (HARLEY QUINN), Joshua Williamson (JUSTICE LEAGUE ODYSSEY), Cecil Castellucci(FEMALE FURIES), and Adam Glass (TEEN TITANS). Room: 213AB
DC Booth Activities
DC's spectacular booth (#1101) will be a can't-miss destination for fans, featuring DC's iconic characters and exciting releases including special fan giveaways, a display of Batman cowls from Warner Bros Archives and a packed signing schedule with appearances from the biggest names in comics. Fans visiting the booth will also have the chance to put themselves on Jim Lee's cover of the milestone issue of DETECTIVE COMICS #1000 with a special, must-see green screen photo booth experience!
Exclusive Variants
The Graphitti Designs booth (#1001) will also have exclusive variant issues of DC's hottest comics including DETECTIVE COMICS #1000 with a variant cover by Jim Lee, Scott Williams and Alex Sinclair, available for $25 while supplies last. Other available variants will feature covers by artists Nick Derington (DIAL H FOR HERO #1), Mitch Gerads (HEROES IN CRISIS #7), Jorge Jimenez (JUSTICE LEAGUE #20), Jim Lee (SHAZAM! #4), Francis Manapul (ACTION COMICS #1009), and Lee Weeks (BATMAN #67). Each of these will feature a silver foil finish and sell for $15 apiece, while supplies last. Fans can pick up the official WonderCon T-shirt as well, featuring commissioned art by Weeks.