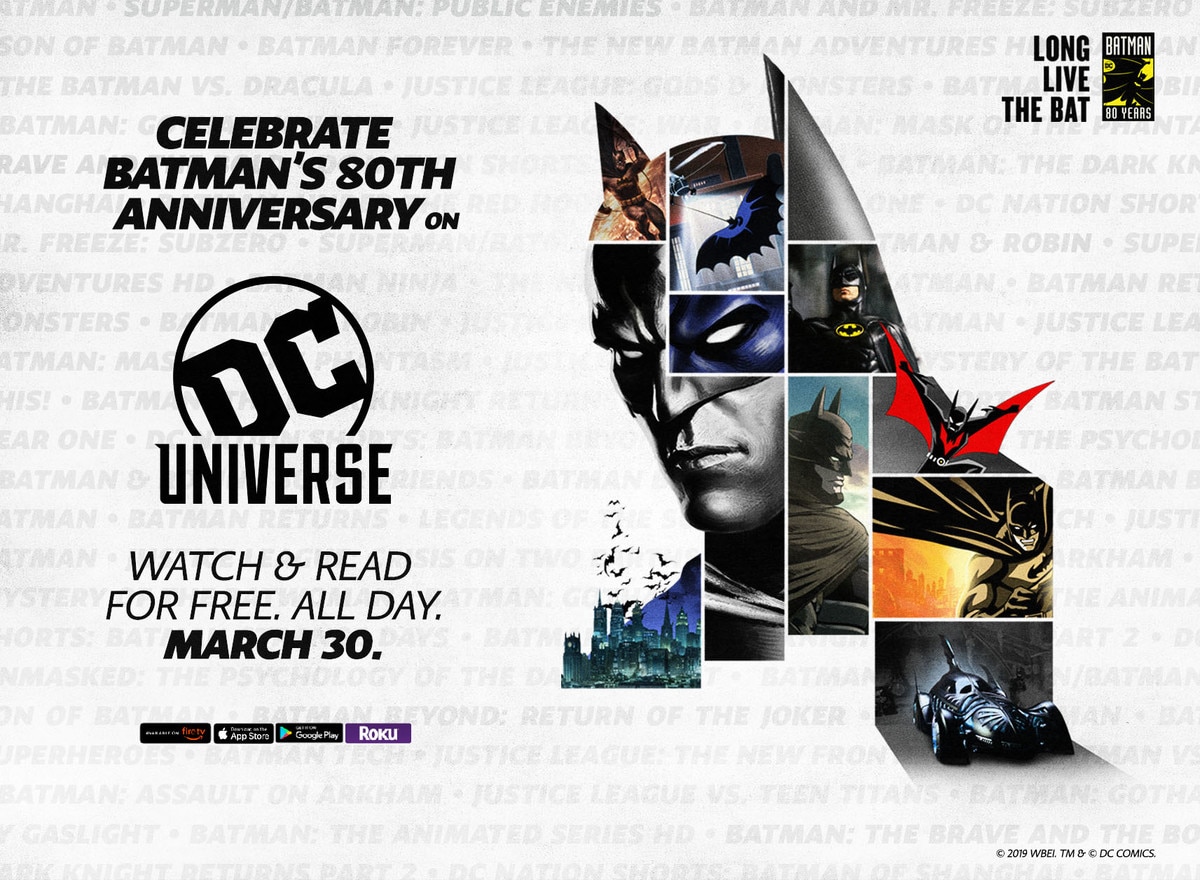 On Saturday, March 30th - Batman's Birthday - popular films, TV series and comics featuring the Dark Knight will be available for free on DC UNIVERSE
First month of DC UNIVERSE Digital Subscription Service only $0.80 for a limited time
On Saturday, March 30 DC UNIVERSE will open its digital doors to Batman fans for a day of free live action and animated films, TV series and comics. The one day stream free event is part of DC's year-long festivities that commemorate 80 years of Batman and recognize the Dark Knight as a symbol of courage, bravery and perseverance for generations of fans. Everyone in the US can get in on the celebration hosted by DC's first-of-its kind digital subscription service by visiting dcuniverse.com or by downloading the app for free at the Apple App Store, Google Play Store, on Roku, Android TV or Amazon Fire TV.
The celebration begins at Midnight EST, Saturday, March 30th - exactly 80 years to the day Batman first stepped out of the shadows of Gotham City in DETECTIVE COMICS #27 - and will run 24 hours, until 11:59 PM EST. From the Caped Crusader's origin in Frank Miller's landmark "Year One" to Tim Burton's 1989 movie blockbuster to the epic Batman: The Animated Series, you'll be able to binge hundreds of the greatest superhero stories of all time, featuring the most iconic character in pop culture history.
And, if 24 hours of Batman binge-watching is not enough, DC UNIVERSE is supporting the celebration with a special offer. The first month of DC UNIVERSE will cost only $0.80 cents for new members who sign up between March 29, 2019, 12:01 EST and April 4, 2019 11:59pm EST. The special offer is available in the US at www.dcuniverse.com. After the first month at $0.80 the monthly subscription price will renew at the standard rate of $7.99 a month.
WATCH BATMAN
DC UNIVERSE is highlighting many of the most iconic live action films and animated movies and series that showcase decades of the Dark Knight's heroism. From the animated series Batman: Beyond to a full selection of Justice League animated classics, as well as live action films that illustrate the many facets of Batman's character and back story including Tim Burton's groundbreaking Batman and Batman Returns and Joel Schumacher's Batman & Robin.
Available film and TV titles include:
Batman (1989)
Batman & Mr. Freeze: Subzero
Batman & Robin
Batman Beyond
Batman Beyond: The Return of the Joker
Batman Forever
Batman Ninja
Batman Returns
The Batman vs Dracula
Batman vs. Robin                                                                     
The Batman
Batman: Assault on Arkham                                                            
Batman: Gotham Knight
Batman: Mask of the Phantasm
Batman: Mystery of the Batwoman
Batman: The Animated Series HD
Batman: The Brave and the Bold
Batman: The Dark Knight Returns Part 1
Batman: The Dark Knight Returns Part 2
Batman: Under the Red Hood
Batman: Year One
Gotham By Gaslight
Justice League
Justice League Unlimited
Justice League: Flashpoint Paradox
Justice League: War
Justice League vs Teen Titans
Justice League: Crisis on Two Earths
Justice League: Doom
Justice League: Gods & Monsters
Justice League: The New Frontier
Justice League: Throne of Atlantis
Legends of the Superheroes
The New Adventures of Batman
The New Batman Adventures
Son of Batman
Super Friends
Superman/Batman: Apocalypse
Superman/Batman: Public Enemies
READ BATMAN
Fans will be able to access a curated selection of Batman comics, many of which inspired the films and TV series that are available during this event. One-of-a kind art, captivating characters, and storylines have been digitized so that they can be enjoyed anywhere, on more devices than ever. The DC UNIVERSE comic reader includes access across devices from a smartphone to a 10-foot screen, in vivid detail.
Among the comics included are classic storylines like "The Laughing Fish", "JLA: Tower of Babel", "Superman/Batman: Public Enemies", "Under the Hood", "Batman and Son", "Flashpoint", "Superman/Batman: The Supergirl from Krypton" and writer Scott Snyder and artist Greg Capullo's bestselling "The Court of Owls".  
Available Comic Books and Series include:
Batman: Year One - Batman (1940) #404-#407
Batman and Son - Batman (1940) #655-#658
Batman: The Court of Owls – Batman (2011) #1-#7
Batman: Under the Hood – Batman (1940) #635-#641, #645-#650
DC: The New Frontier #1-#6
Flashpoint #1 -#5
JLA : Tower of Babel – JLA  #43 - #46
Superman/Batman: Public Enemies (Superman/Batman #1-#6)
Superman/Batman: The Supergirl from Krypton  (Superman/Batman #7-#13)
Batman: Arkham Knight #1 - #12
Batman #232, #244, #251
Detective Comics #471, #472, #475, #476
Justice League of America (1960) #29, #30
Batman: The Demon's Quest #232, #244
Batman: The Laughing Fish #251
Batman Annual: Under the Hood #25
Detective Comics: The Strange Secret of Bruce Wayne #471, #472
Detective Comics: The Laughing Fish #475, #476
Justice League: Crisis on Earth Three #29, #30
Fans can also join in on social media using the hashtag #Batman80 and #LongLiveTheBat. Visit www.Batman80.com for the latest news and updates.
Viewers enjoying the stream free event will not have access to the DC UNIVERSE community or shop where exclusive merchandise is sold. Those areas of the service are exclusive to DC UNIVERSE members and are not included.
Launched on September 15, 2018, DC UNIVERSE is available today at $7.99 per month or $74.99 annually (plus taxes, where applicable). To learn more and purchase today, visit dcuniverse.com and follow DC UNIVERSE on social networks including Facebook, Instagram and Twitter.