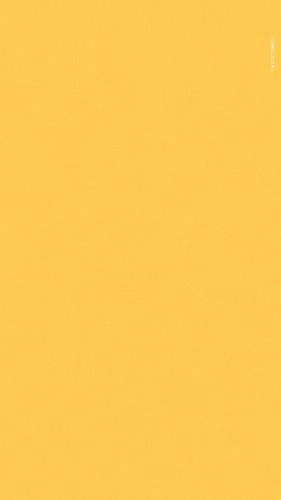 For 80 years, the Dark Knight has stood as a symbol of determination, bravery and justice to generations of fans. Since appearing in the pages of DETECTIVE COMICS #27 on March 30, 1939, Batman continues to leave his mark in every form of entertainment imaginable. Appearing in countless comics, animation, television, films, video games, toys and other products, he remains the single most popular superhero. He would not be complete without the most iconic gadgets and of course, the Batmobile; not to mention, an unparalleled rogues gallery.
Batman is humanity's timeless hero and he's just getting started.
Join us for a year-long global celebration of the Caped Crusader! #LongLiveTheBat #Batman80 #Detective1000
Batman Bat-Tracker
Batman Day occured on September 21 and to celebrate the Dark Knight's 80 years as the World's Greatest Detective, DC and Warner Bros. lit up the night skies by projecting the iconic Bat-Signal, as well as producing fan celebrations, in major cities around the globe.
Scroll and zoom your way around the world in the map below to see where the Bat-Signal shone in tehse global celebrations.
Batman 80 Playlist
Read Batman
In his 80 years, Batman has been the central figure at the forefront of graphic storytelling. These titles, from seminal industry benchmark Batman: The Dark Knight Returns to the modern classic Batman Vol. 1: The Court of Owls, are essential to every comic library.
Customize Your Facebook Profile Picture
Celebrate Batman by adding this custom frame to your profile picture! Simply visit this link while logged into Facebook and type "Bat-Signal" in the search bar.
Batman: The Definitive History of the Dark Knight in Comics, Film, and Beyond
For the first time, this deluxe volume tells the complete story of Batman and the many forms he's taken throughout the years across comics, TV, animation, film, video games, and beyond, to present a compelling portrait of one of the most recognizable and versatile characters in the history of fiction. Covering the complete history of Batman in vivid detail, the book features exclusive commentary from the key creatives who have been instrumental in building the Dark Knight's ongoing legacy, including Neal Adams, Tim Burton, Paul Dini, Steve Englehart, Mark Hamill, Grant Morrison, Julie Newmar, Christopher Nolan, Denny O'Neil, Joel Schumacher, Scott Snyder, and Zack Snyder.
Batman 80th 18-Film Collection
For 80 years, Gotham City has been a haven to the world's most notorious criminals and only one man has defeated them at every turn: Batman. The Joker, Penguin, Harley Quinn and a host of other vile villains have all been thwarted by the Dark Knight. Join Robin, Catwoman, Jim Gordon and more as DC celebrates 80 years of the Caped Crusader with this 18-film collection, available now on BLU-RAY™ and DVD!.
Quick! To the Batcave™ with Build-A-Bear Workshop!
Collect the coolest furry friends in Gotham City™ today at Build-A-Bear Workshop! 80th Anniversary Batman™ Bear, The Joker™ Bear and Harley Quinn™ Bear make one-of-a-kind additions to your collection!
More details from Build-A-Bear!

Celebrate 80 Years of Batman on Snapchat
Experience the evolution ofn teh Batmobile and Bat-Signal and transform into Batman with our new Snapchat lenses! Set against Gotham City's skyline, users will experience the Bat-Signal, the Batarang, and much more! Do you have what it takes to be Batman? Find out when you unlock the Batman lenses with these snapcodes #LongLiveTheBat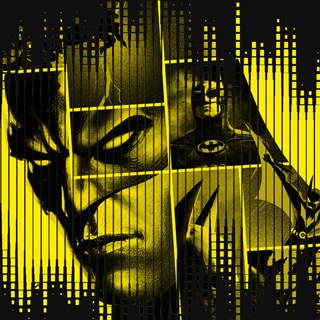 The Ultimate Batman Playlist
We've compiled the best of music from Batman-related films, television and games. From Batdance to Hans Zimmer, this is the perfect soundtrack to set the mood during a cruise through Gotham City.
New Detective Comics #27 Merch Collection from Rooster Teeth!
Introducing the DC27 Collection, the first in a series of Batman x Rooster Teeth merch collaborations. Launching on 9/21, this collection is celebrating 80 years of Batman, and includes an assortment of apparel items featuring designs inspired by Detective Comics #27! This is the first time that the art from Detective Comics #27 has been licensed in its entirety for use on apparel, and Rooster Teeth is excited to bring this collection to Batman fans all over the world.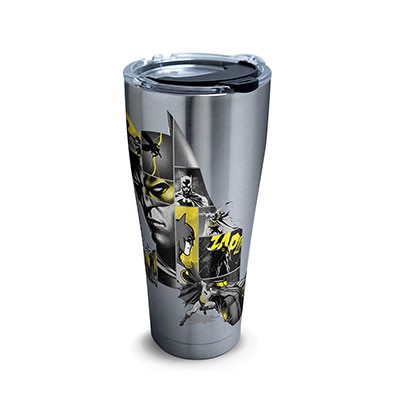 Tervis Tumbler - LONG LIVE THE BAT 30oz
For 80 years Batman has been the protector of Gotham City and now, the Caped Crusader can protect your drinks in this exclusive sustainable tumbler available only at Tervis.com. Triple-wall insulation keeps your favorite Beverage hot or cold longer. Celebrate 80 years of Batman every time you hydrate.
Available now at Tervis.com and select Tervis stores!
Come back for details on more upcoming events, exclusive products and coverage of all things Batman as we celebrate the Dark Knight all year long!
#Batman80 #LongLiveTheBat #Detective1000