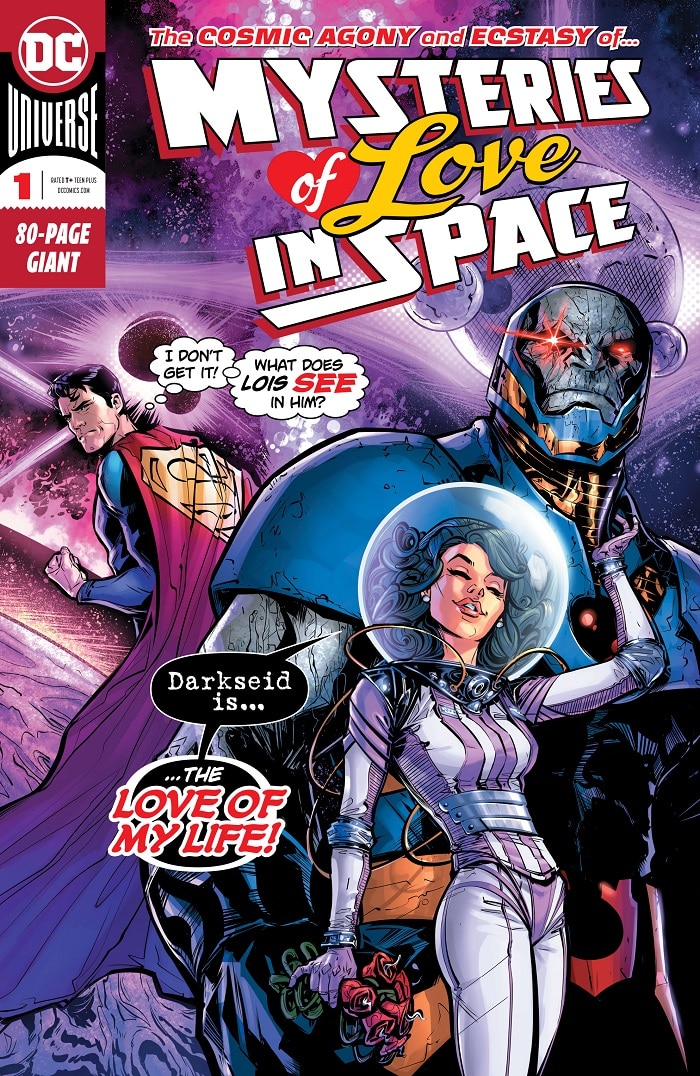 Space can be a lonely, lonely place, even for the heroes of the Green Lantern Corps. Sure, there's camaraderie and friendship, but love and romance? For many Lanterns, there's only enough room on their hand for one ring. But what about Kilowog? Is it possible that the tough-as-nails Green Lantern instructor has a tender side? Or is he too devoted to his job? Or could there be something else that's standing in his way?
Such are the questions posed by "Old Scars, Fresh Wounds," one of the many romantic sci-fi tales to be found in MYSTERIES OF LOVE IN SPACE #1, a new 80-page anthology out this week. "Old Scars, Fresh Wounds" is written by Kyle Higgins and drawn by Cian Tormey, and their story is just the start of the heart-shaped fun. Look for other sweetly and sadly romantic stories from creators including James Tynion IV and Jesus Merino (who craft a particularly twisted Fourth World tale about the dark side of love), Cecil Castellucci and Elena Casagrande, Andrea Shea and Amancay Nahuelpan, and many, many more. Andrea and Amancay contribute a shocking short featuring Teen Titans' Crush called…well, "Crushed." And that's exactly how it left us.
We have exclusive sneak peeks at both "Old Scars, Fresh Wounds" and "Crushed" to whet your appetites for this sweet, sexy and sometimes scary new collection, so light some candles, open up a bottle of wine…and enjoy!
MYSTERIES OF LOVE IN SPACE #1 is in stores this Wednesday.