It's not every day you get to help shape a universe, and yet, that's exactly what writer Tom Taylor has been doing for the past five years as the original writer of INJUSTICE and INJUSTICE 2, the two digital first comics that have helped shape the world of Netherrealm's blockbuster DC fighting games. Set on and around an alternate Earth where Superman's gone bad and taken about half of our favorite heroes and villains with him, the Injustice comics have broadened the universe considerably, introducing new takes on beloved characters who haven't yet appeared in either of the Injustice games, and telling the sort of broad, large-scale stories that would be difficult to tell in a fighting game. Along the way, he's staged some of the craziest battles imaginable (remember Ch'p and Superman?), unlocked remarkable new layers of depth from Harley Quinn, broke our hearts by killing off both Black Canary and Green Arrow (only to find a clever way of bringing them back), put Jason Todd in Batman's cowl, put Guy Gardner in Hal Jordan's head, and most recently, put Lobo in a Green Lantern ring in one of the most brilliant bits of lunacy we've seen in a comic all year.
In short, it's been quite a ride, so with the final Injustice 2 chapters now just weeks away, we thought we'd sit down with Taylor to see what it feels like to be nearing the end.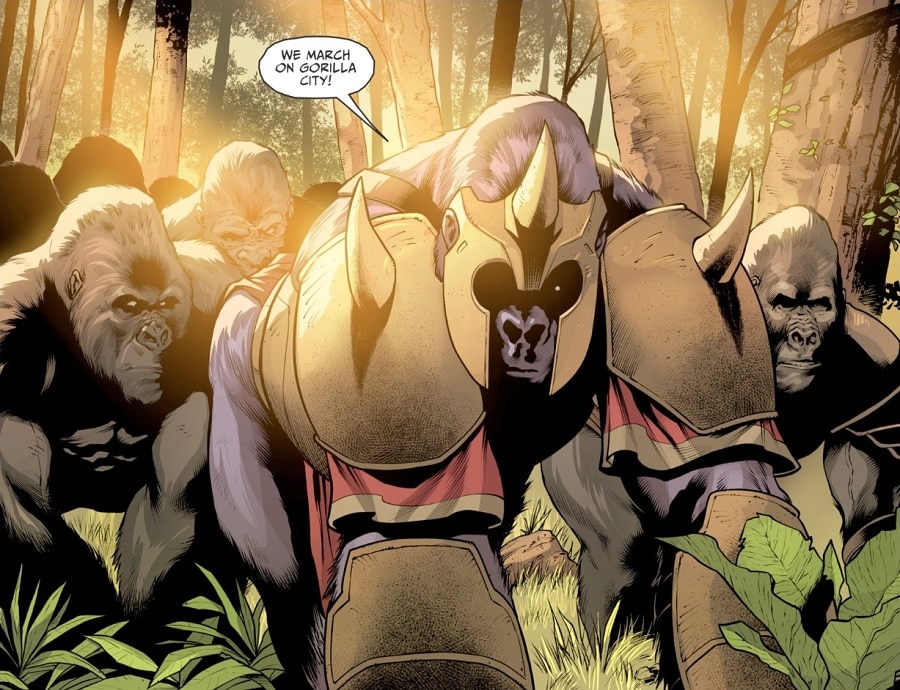 You helped us launch the Injustice comic back in 2013. Now, over five years later, how does it feel to be reaching the end of Injustice 2?
It's a big honor to have had a run like this. I got the job offer something like six years ago, and I was originally hired for something like fifteen chapters. I believe I've now written about 115, with Brian Buccellato and Chris Sebela each making some big contributions. It's crazy. We're still in the top ten every single week on Comixology. We're still being read, and this fanbase that's come with us the whole way is amazing.
Injustice has always been a unique title for us. You're not just focusing on one character or even on one team, you're focusing on an entire universe. How do even approach that as a writer?
First and foremost, I'm a fanboy. Usually when I decide to tell a story about a certain character, it's because I want to see it! I wanted to write Blue Beetle and Booster Gold, and I wanted to write the Titans, so I decided to bring them in. Or Lobo. I do it because I'm a fan.
But having now had a couple of chapters where I've had about 41 separate characters all with different stories happening at the same time…yeah, it's tricky.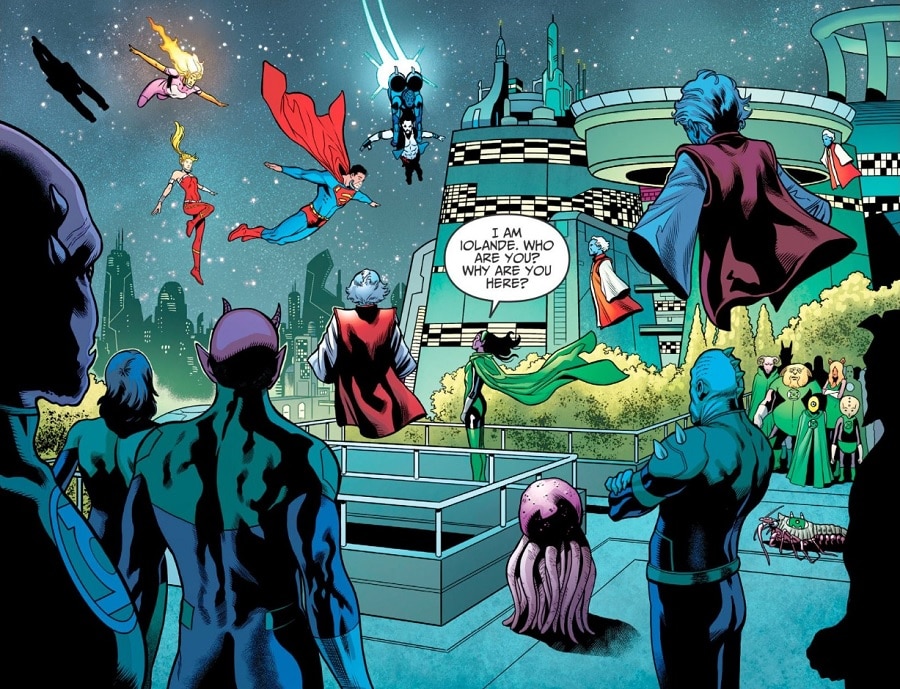 Over the past five years, Injustice has been your primary project for us. Does that change how you see these characters? Do you see Superman primarily as a villain now?
Oh, god no. Superman is still my greatest hero. Superman has been my hero for as long as I can remember. I was raised by a single mom, very poor. I used to have these red underpants that I would wear over my blue jeans and my thrift store gumboots. I'd walk down the street proudly like that! The Superman movie came out around the year I was born, and I grew up believing a man can fly. I actually like Superman more than Star Wars. It's my film. Having been lucky enough to sit and talk to Margot Kidder and meet so many people who were involved with the movie, it's been amazing.
So, I still 100% think of Superman as the greatest hero. Hopefully, DC will one day let me write him in a heroic way. But yeah, for me, he's the ultimate hero. He's here and he wants to help, and I love that.
In light of all that, has it ever been hard writing this villainous version of him in the Injustice comics?
I think that's one of the reasons that it's resonated with so many people. What you're reading is a writer in pain who doesn't want to write this terrible stuff happening to his greatest hero, along with his wife and friends. So, it is true. I'm feeling that as well when I write. "I don't want this to happen to him!"
When I first got the job, I actually called my mom, and I told her, "Mom, DC wants me to write Superman and Lois, and they want me to do THIS to them! It's terrible!"
And she said, "Well, you still have to take the job."
"I knoooow!"
Yeah, I was tortured, man.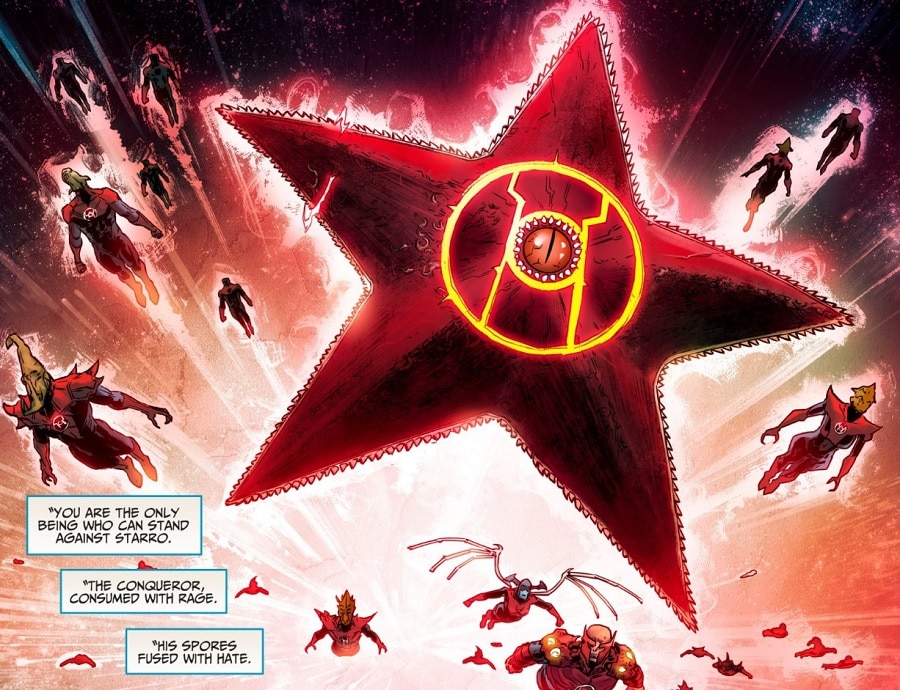 You've somehow figured out a way to make Starro even more terrifying. Where did the idea of making him a Red Lantern come from?
Honestly, I was so happy when I thought of that—Starro the Conqueror as a Red Lantern. I thought of it and then put it aside because it felt like it had to have been done somewhere. It couldn't have just come out of the ether. But I checked, and no, it hadn't.
It just felt perfect because the Red Lanterns are quite a small group. I was wondering how I could make them bigger. Well, enter Starro and his little starfish, and suddenly that spreads the hate and anger, and the Red Lanterns become a universal threat.
We have a few chapters left. What can we expect from them?
Well, we have Lobo as a Green Lantern, which is the most ridiculous thing in the world. He gets the ring and finds out that Red Lanterns are fueled by rage, and he's like, "Well, I can piss people off better than anyone in the universe. Watch me go!"
The Lobo stuff's pretty hilarious, but I think the biggest news to come out about Injustice is that we're marrying Orca and Killer Croc. That's the biggest news ever.
Oh yeah! Forget this Bat Wedding stuff!
This is way bigger! I actually wanted to send out rsvps with the Bat Wedding image with claws ripping through it and a little bite taken out of it, but I didn't talk to publicity early enough, obviously.
The proposal is one of the most beautiful scenes I've ever seen in anything I've worked on. The whole team has embraced it. There is no tongue and cheek to this. This is true love between a crocodile man and a killer whale woman. And she's pregnant!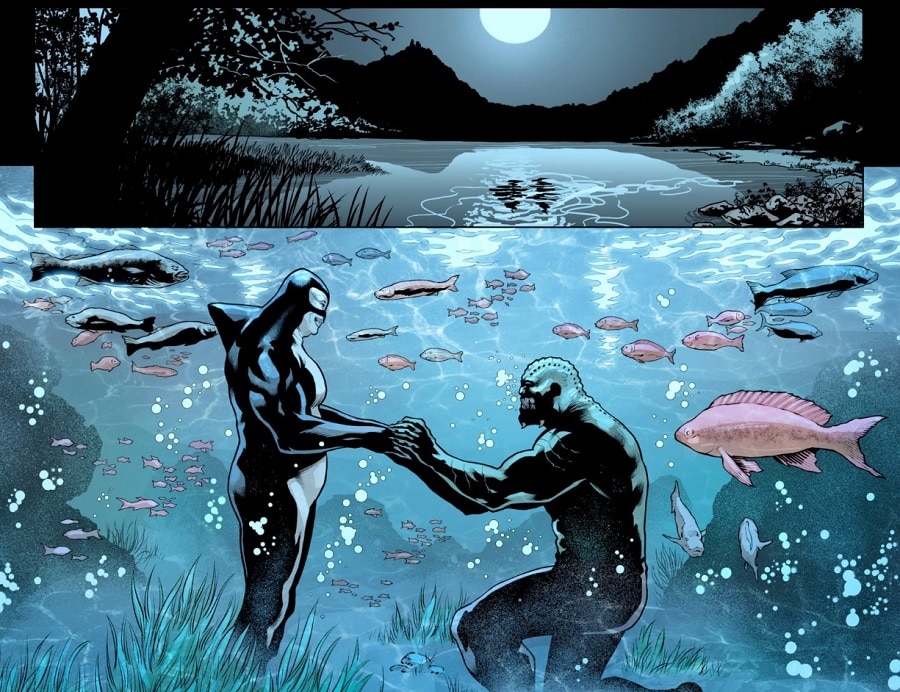 Listening to this, it's clear how much fun you've been able to have with Injustice over the years.
It is probably the most fun I have anywhere. I have so much freedom on this. Jim Chadwick, my editor, has been fantastic. Any time I've come up with something crazy, he basically just asks if I can make it work, and when I say yeah, he trusts me. That's the thing. To have an editor who trusts you implicitly like that for so many years… There's nothing better than that.
Cameron Cuffe, who plays Seg-El on Krypton, is a HUGE fan of the Injustice comic.
Yeah, he talks to me on Twitter!
How does it feel knowing that someone else who's also a big Superman fan and part of the Superman universe appreciates what you're doing?
It's fantastic. We've tweeted at each other a bit. He's a Superman fan, but he's also a Liverpool fan, which is my other love. I like comics and I like Liverpool, and he's exactly the same. We're clearly very similar people.
I got to talk to Tyler Hoechlin just before he took on the role of Superman . I also got to talk to Zack Snyder about Superman in a green room in Australia for a couple of hours. Knowing that these guys are reading the comics—that's so important. It's exactly what you want. You want them to know the material and to love these characters. I think everybody who writes comics or acts as these characters owes it to their audience to be a fan as well. I think it's fantastic that Cameron is such a hardcore fan.

INJUSTICE 2 Chapter 70 by Tom Taylor, Daniel Sampere, Juan Albarran and Rex Lokus, and featuring the wedding of Killer Croc and Orca, is now available digitally.
Prefer print? INJUSTICE 2 #31 by Tom Taylor, Daniel Sampere, Juan Albarran, John Kalisz and Rex Lokus is now in stores!