It's the question every Batman fan has been asking us.
…Not that one. No, not that one either. The OTHER one.
We're talking, of course, about the songs that are going be played at Batman and Catwoman's wedding reception!
Okay, maybe we haven't been inundated with tweets about that (yet!!!), but we know you've been wondering about it, and we now have a pretty good idea thanks to the just-released "Batman Wedding Reception Playlist." Assembled by Tom King, Joëlle Jones, Mikel Janín, Tony Daniel and Mitch Gerads, five of the creators behind the landmark BATMAN #50, the playlist can now be found on DC's official Spotify page.
The diverse song list does include some wedding standards, like the Beatles' take on "Besame Mucho," Bruno Mars' "Marry You" and Death Cab for Cutie's "I Will Follow You into the Dark." However, it also includes some eyebrow raisers like Bob Dylan's "Jokerman," Taylor Swift's "Superman" and Band of Horses' "No One's Gonna Love You." You can find the playlist, as well as the full list of songs, along with which member of the creative team chose them, directly below.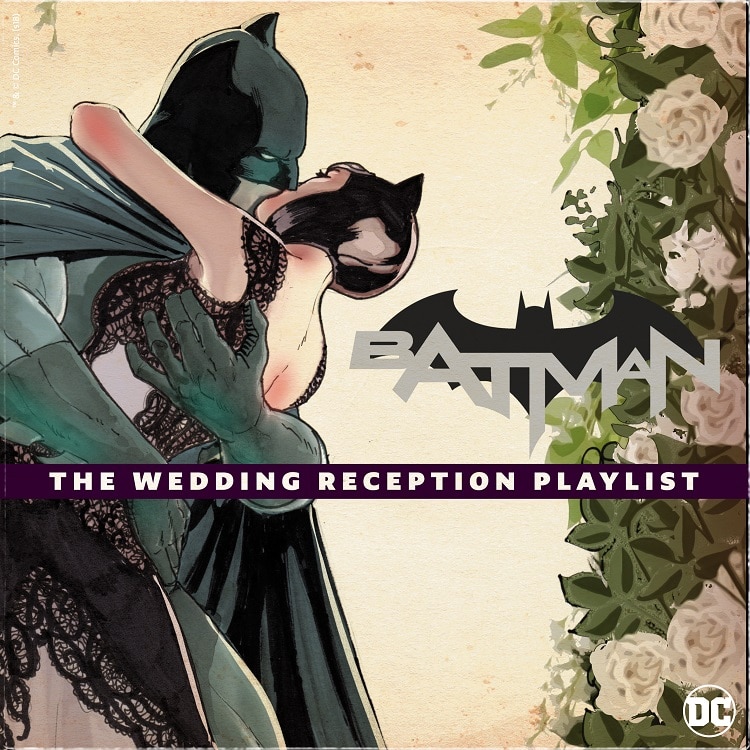 Holding Out for a Hero – Bonnie Tyler
Joëlle Jones
Marry You – Bruno Mars
Tony S. Daniel
The Nights – Avicii
Mitch Gerads
More Than You Know – Axwell /\ Ingrosso
Tony S. Daniel
Como un lobo – Miguel Bosé
Mikel Janín
Superman – Taylor Swift
Mitch Gerads
Acrobat – U2
Mitch Gerads
The Girl Is Mine – Michael Jackson, Paul McCartney
Joëlle Jones
Pussycat Meow – Deee-Lite
Tom King
Noches de Boda – Joaquín Sabina
Mikel Janín
I'm A Midnight Mover – Bobby Womack
Tom King
Let's Pretend We're Married – Prince
Tom King
Besame Mucho - Anthology 1 Version – The Beatles
Joëlle Jones
Tired of Being Alone – Al Green
Tom King
Es por Ti – Cómplices
Mikel Janín
Jokerman – Bob Dylan
Mitch Gerads
This Could Be The Night – The Modern Folk Quartet
Tom King
Eyes Of Green – Isobel Campbell & Mark Lanegan
Tom King
Thank The Lord For The Night Time – Neil Diamond
Joëlle Jones
Y Nos Dieron las Diez – Joaquín Sabina
Mikel Janín
I've Never Been To Me – Charlene
Joëlle Jones
The Night We Met – Lord Huron
Mitch Gerads
My Way – Calvin Harris
Tony S. Daniel
No One's Gonna Love You – Band of Horses
Tony S. Daniel
Y, ¿si fuera ella? – Alejandro Sanz
Mikel Janín
I Will Follow You Into The Dark – Death Cab for Cutie
Tony S. Daniel
BATMAN #50 by Tom King, Joëlle Jones, Mikel Janín, Tony Daniel, Mitch Gerads, Frank Miller, Andy Kubert, Lee Bermejo and more is in stores on Wednesday, July 4.