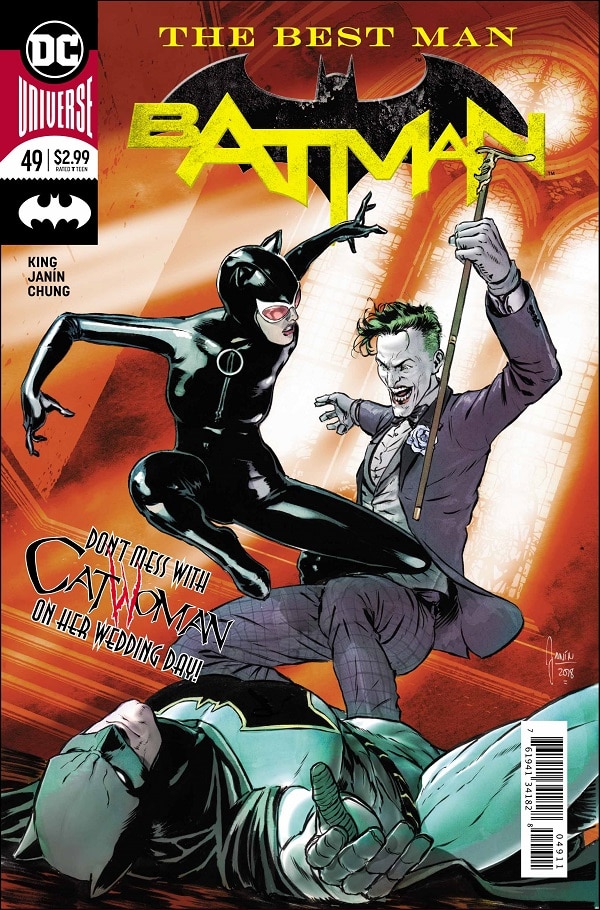 Selina Kyle enjoys a good laugh as much as anyone, but when it comes to her upcoming wedding, she's dead serious. In last week's BATMAN #48, the Joker at last confronted Batman about his lack of invitation in what became a violent showdown at a hostage-filled church. After executing the hostages, the Joker surprised the Dark Knight by turning the gun on himself before asking Batman to pray with him at the altar. (Oh yes, you read that right. Turns out the Clown Prince is quite an expert on Saint Augustine.)
And then he ignited the bomb behind the cross.
All of it was to make a point about love being the enemy of chaos, but it proved to be too much for Catwoman, who had stayed away from the confrontation at Batman's request. Now, in this week's BATMAN #49, she'll find herself going hand-to-hand with Batman's most unpredictable enemy. Can Catwoman get the jump on the Joker? Or will the Joker turn this couple's happiness into his latest punchline? Perhaps the answer lies in our exclusive sneak peek. Enjoy!
BATMAN #49 by Tom King, Mikel Janín and June Chung is in stores this Wednesday.