Can you believe summertime is almost here? A couple of months and we'll be breaking out the sunscreen and hitting the beach. Or heading to the local megaplex to check out the newest loud, explodey movie…in 3D! Or camping out beneath a starry sky. For most of us, there are picnics to be had, barbecues to be lit, schools to bid adieu and trips to embark on. Whether you prefer to spend it outside in the sun, or indoors in the air conditioning, summer's an exciting, playful time.
So, why should it be any different for super-villains?
This summer, grab some shade and kick off those sandals for the first ever DC BEACH BLANKET BAD GUYS SPECIAL #1, a new 80-page one-shot featuring the work of Paul Dini, Lee Bermejo, Carlos D'Anda, Corinna Bechko, Shea Fontana, Gabriel Hardman and more! Packed full of hot weather hijinks, this unique anthology shows what the less lawful members of the DC Universe get up to when the temperatures rise.
Mr. Freeze, for example. Ever wonder how he beats the summertime heat? Or how about Gorilla Grodd? Something tells us he doesn't spend the summer months monkeying around. DC Beach Blanket Bad Guys Special #1 contains ten new tales of bad behavior, guaranteed to shock, surprise and delight you (provided you're not a superhero).
Sadly, summer isn't quite here, so you'll have to wait until July 25th to grab this hot new collection. But don't put those sunglasses away just yet. While it may not be enough to kickstart your tan, you can bask in the glow of Amanda Conner's hilarious cover along with the full solicit information below…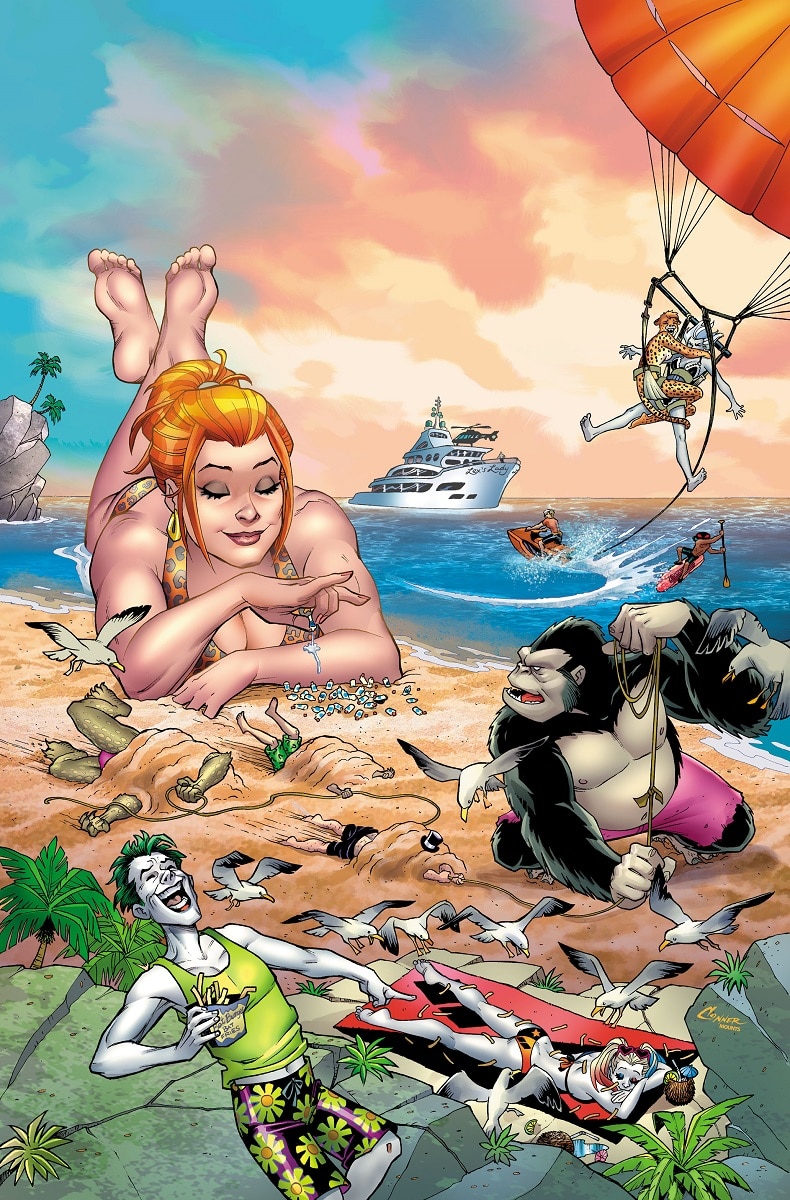 DC BEACH BLANKET BAD GUYS SPECIAL #1
Written by PAUL DINI, LEE BERMEJO, GABRIEL HARDMAN, CORINNA BECHKO, TIM SEELEY, SHEA FONTANA and more
Art by CARLOS D'ANDA, GABRIEL HARDMAN, DAVID WILLIAMS, OTTO SCHMIDT and more
Cover by AMANDA CONNER
It's summertime in the DCU and the bad guys are taking over! Beat the heat with 10 all-new stories by top comics talent starring DC's most spectacular super-villains! In this issue, find out what Mr. Freeze does on the hottest day of the Gotham City summer! Learn what made Grodd such a bad gorilla! Then, while in a small beach town, Deathstroke gets hired for murder by the last person he'd expect! And The Joker and Bizarro team up for a truly weird summer bromance!
On sale JULY 25
ONE-SHOT • PRESTIGE FORMAT • 80 pg, FC, $9.99 US • RATED T+