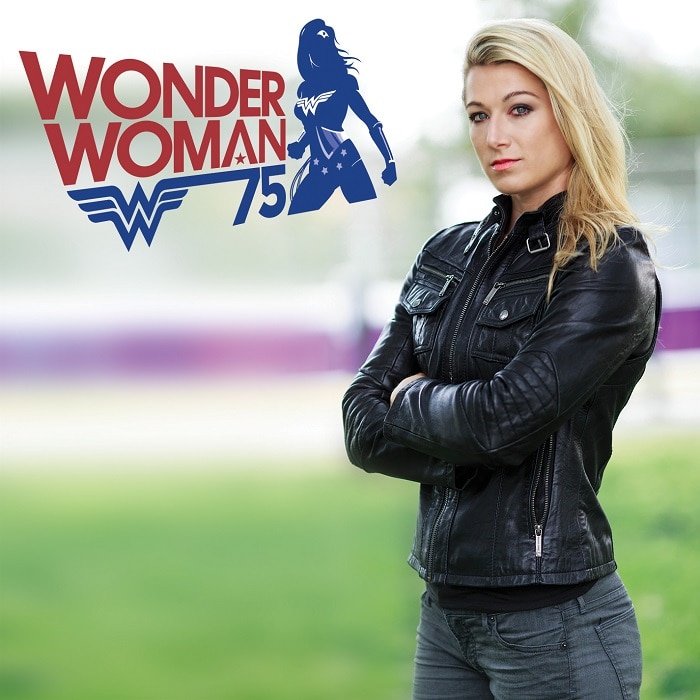 With her greatly enhanced strength and remarkable dexterity, it's hard to think of someone outside the world of comics who's able to do the things that Wonder Woman does. Except for maybe Jessie Graff, the amazing stuntwoman and martial artist who made a splash when she became the first woman to qualify for the city finals on American Ninja Warrior (wearing a Wonder Woman-esque suit, no less!)
Just this week, Graff qualified for America Ninja Warrior's Las Vegas finals, finishing second overall in last night's Los Angeles finals. She's also been spending time with another DC heroine lately, doing some behind-the-scenes stunt work on Supergirl. But whether your comic book preference is for Amazons or Kryptonians, we think both would be very impressed with Graff, who may just be the closest thing we have to a real world super hero.
We invited Graff to assemble the latest in our series of Wonder Woman 75th Anniversary playlists, and were thrilled when she not only agreed, but offered her thoughts on each song, which run the gamut from pop and rock to Broadway.
Geronimo – Sheppard
I love the freedom and exhilaration of freefall—the anticipation of jumping off, the drop of the stomach as I fly over the edge, and the wind in my face as I fall.  It's even better when there's a waterfall. ;-)
I Believe I Can Fly - Me First and the Gimme Gimmes
I do believe I can fly.  It sounds crazy and unrealistic, but I've found so many ways to fly in my life (gymnastics, flying trapeze, russian swing, wire work, pole vaulting, sky diving, high falls...) it makes me feel like anything is possible.  The original song always felt sad and whiny, but this one is fun and hopeful, and matches the triumphant feeling I get when I sing the lyrics.
The Climb - Miley Cyrus
Literally speaking, I do like climbing.  But figuratively, I love the climb.  I love having lofty goals.  They keep me inspired, working hard, and pushing my limits.  But I try to stay grounded in the understanding that the journey is more important that the destination.  Winning the Olympics would be great, but even if I fall short, the goal kept me motivated to train harder, be more disciplined, and constantly work to be better. If I'm not the best in the world, I'm still stronger, faster, and more capable than I would have been without that goal.  
Boom De Yada! - Oliver Twist feat. Dave 
When I'm happy aware, and appreciative of the world around me, I'm more productive. This song just makes me happy.  People are so amazing and different, and the ones in this song are all loving life, because they've found and embraced their passions. It reminds me of how much beauty is in the world if I keep my eyes open.  The world is just awesome.
Unwritten - Natasha Bedingfield
Write your own story, because "no one else can do it for you."  The possibilities are endless.  Be open and connected to the source that brings you joy and ideas...if you can't feel the stream of inspiration flowing, remember what you were doing last time you felt it.  When I feel stagnant, I go outside and climb trees, run through a forest, or swim in the ocean—I connect with nature to "let the sun illuminate the words that could not find."  You could plug into the standard normal story, and operate on auto pilot. But if you're willing to do the emotional footwork to find and follow your own true inspiration, you will love your story.  Man, I'm inspired to go journal now!
You May Be Right - Billy Joel
There are several different definitions of the word "crazy."  My favorite definition is:  thinking and acting outside of the cuItural norms, and that's not bad.  It's just different. I'm a little crazy by many standards, but I follow my dreams, and do what feels right to me.  I try never to let fear of what people will think of me, stop me from doing what I believe is right. Even if it's weird by normal standards.
Seize the Day - Newsies
The words remind me that now IS the time to seize the day, and the beat jump starts me into action.  It makes me want to get up and do stuff right now!  
I'll Make a Man Out of You – Mulan
Let's get down to business, to complete this impossible task.  We're too weak and slow, and the journey looks insurmountable; but we have to start somewhere.  We'll work harder than we ever thought we could, and push beyond every limit we thought we had, until impossible begins to feel plausible, then probable, and then easy.  I also love that Mulan is the only girl in this army of men, and that she has to work so much harder to keep up in the beginning, but because she is so determined and disciplined, she ends up saving them all.
Firework - Katy Perry
The lyrics speak for themselves, don't they?  
Edge of Glory - Lady Gaga
I think the 'edge of glory' is my favorite part of the journey.  You'd think it would be the triumph of victory, and that's a great moment, but I love the inspiration of that moment right before—where you know you can do it, but every part of you has to be present and engaged.  The sense of purpose, passion, motivation, and adrenaline that courses through me in that final battle is the most exhilarating thing I know—the culmination of years of hard work.  I guess it's a high stress time, but I LOVE it.
Livin' On A Prayer - Bon Jovi
This one always goes through my head halfway through a hard workout—typically sprints.  There's that moment of "yes!  I'm halfway done!" immediately followed by "dah!  I'm only halfway done!?"  But at least it's a happy, catchy tune.  That keeps me entertained until I'm at least 3/4 of the way there. ;-)
I Need A Hero - Bonnie Tyler
When I hear this song, I hear my own lyrics: Somewhere after midnight, when I've faced reality, If my hero's on his way, he's farther off than I can see.  If I'm gonna make it, then I must rely on me.  If it takes a super human, that is what I'll be----   I'll BE a hero.  I've got the heart of a hero, and I'll make it alive.  I work hard to be strong, and I'm trained to be fast, and I'm agile and fit for the fight.  I'll be a hero.  No damsel lost in distress, no, for myself I will fend.  I can take a hard hit, I can keep coming back, and I'm going to fight to the end.  I'll be a hero!
It's My Life - Bon Jovi
We live in a society that has built a cookie cutter mold for us to learn, grow, find normal jobs, and live a comfortable life.  That works for a lot of people, and that's fine, but I'm not aiming for comfortable.  I want daring adventures, huge risks, hard work, heroic efforts, and I'll suffer through the devastating lows to reach my highest goals.  And you don't get that life by following the beaten path.  When people tell me I can't, or try to put me in a box, I remember that it's MY life, and I have to take action NOW.
Hurts So Good - John Cougar
This is for stretching and feeling the burn.  When I'm pushing myself to my limits, getting stronger and more flexible, it hurts sooooo good.  Know the difference between a good hurt and a bad hurt.  Live in that good hurt, and sing this song to yourself to get through it.
Carry On - Fun
Everyone struggles through hard times, and sometimes, all you can do is carry on.  But if you do, the hard times will pass, and you'll be back on track (as long as you didn't give up and quit while you were feeling down).  So just keep taking the right actions, do the best you can, and things will turn back around.
The Magic Clap - The Coup
If you haven't seen the youtube video "Rope-a-dope", watch it now.  Nothing inspires me to get up and workout like the training montage in this video to this song. https://www.youtube.com/watch?v=G5xAbp1SW5c
I Will Survive - Gloria Gaynor
My mom taught me to be strong, self-sufficient, and always know how to take care of myself.  She said "you never want to be trapped in a relationship because you don't know how to live without someone.  When you have confidence in your abilities to thrive on your own, you have the freedom to wait for the right partner." Also, I have a gymnastics version of this song: "well it took all the strength I had, conditioning all alone. Just trying hard to mend the pieces of my broken bone. And I spent oh so many nights just doing pull ups by myself. But now I'm well. It's almost like I never fell!"
Unbreakable Kimmy Schmidt Theme Song
The theme song to the Netflix series "Unbreakable Kimmy Schmidt" cracks me up.  It's hilarious.  But it also has a few key phrases that I like: "Unbreakable. They alive, damnit! ... Females are strong as hell."
   
Everything Is Awesome (from The Lego Movie) – Tegan & Sara feat. The Lonely Island
When everything is awesome, I feel like I can do anything. I push myself harder, and have more fun while I'm getting better and stronger, and everything gets more awesome....this song jumpstarts the cycle.
Defying Gravity - Wicked
In case it's not obvious already, I love the concept of defying gravity literally, but I've also always marched to the beat of my own drum.  I never give in to peer pressure or sacrifice my beliefs to fit in with the crowd.  This song is about defying convention, going your own way, and doing what YOU think is right.  And it's about flying. ;-)
Do You Believe In Magic - The Lovin' Spoonful
Yes.  I do believe in magic.  The world is more fun that way.
Shut Up and Dance - Walk The Moon
Don't overanalyze, or get stuck trying to figure everything out.  Don't look back, keep your eyes on the goal, don't hold back.  Just shut up and dance.
Kung Fu Fighting – Carl Douglas
Jackie Chan is my idol.  I want to be just like him.  His kung fu is beautiful, dynamic, funny, and this song makes me want to train harder to be like him!
Best Day Of My Life - American Authors
Great song to start your day with.  I think I'm going to program my alarm to sing this to me in the morning, to start my day off with the right attitude.
I Lived - OneRepublic
I want to do everything and experience everything.  I am most productive and efficient when I have a structure and routine to my life.  But it's easy to get comfortable in that routine, and do the same things all of the time, never moving out of your comfort zone.  I try to build at least one adventure day or new experience into every month, so that I can keep growing and pushing my boundaries. And I keep my structure as a loose guideline, so that when amazing or scary opportunities come up at the last minute, I can say yes to them.  A lot of the most exciting and challenging experiences are one time offers, and you have to act fast.  I hope, when the moment comes, I'll say "I did it all."
You can listen to Jessie Graff's Wonder Woman playlist at the official DC Spotify Profile, or you can just listen to it below.