When the Robins group together, what do you call them? A flock, a pack, a round, a war?
Let's just call them dangerous! Dick Grayson, Jason Todd, Tim Drake or Damian Wayne - which Boy Wonder is your favorite Robin? And who would you pick as your champion? All have lived under the shadow of the bat, so place your bets!
So what is ROBIN WAR? It's exactly what you think, and nothing that you could expect. In this month-long December epic, it's Robins vs. cops! Robins vs. Robins! Robins vs. Batman! And Robins vs. the Court of Owls?!
THE ROBINS FACE THE COURT OF OWLS!? How awesome is that? Feathers won't just get ruffled... they'll fly!
Kicking it off with ROBIN WAR #1 this week, Damian Wayne returns to Gotham City, and he is not happy. There are kids all over the city calling themselves Robin, Bruce Wayne is no longer Batman and the GCPD, led by the new, armored-up Batman, is cracking down on anybody wearing the "R." And things only get worse when Red Hood, Red Robin and Grayson all come back to Gotham City... 
The Robins should have flown south for the winter.
Behind the scenes, the Court of Owls have their own agenda. They've built their nest in Gotham City, and they're willing to go to extremes to get what they want. But what do they want? What's their goal in inciting a full-on war, with all the Robins at the center of the action?
We're not going to say anything out loud. But, if what the last page implies is in any way true, this event is a game-changer!! If the Court of Owls wins the Robin War, a character that's been 'missing' since FOREVER EVIL might return! Take a look, and sound off in the comments below!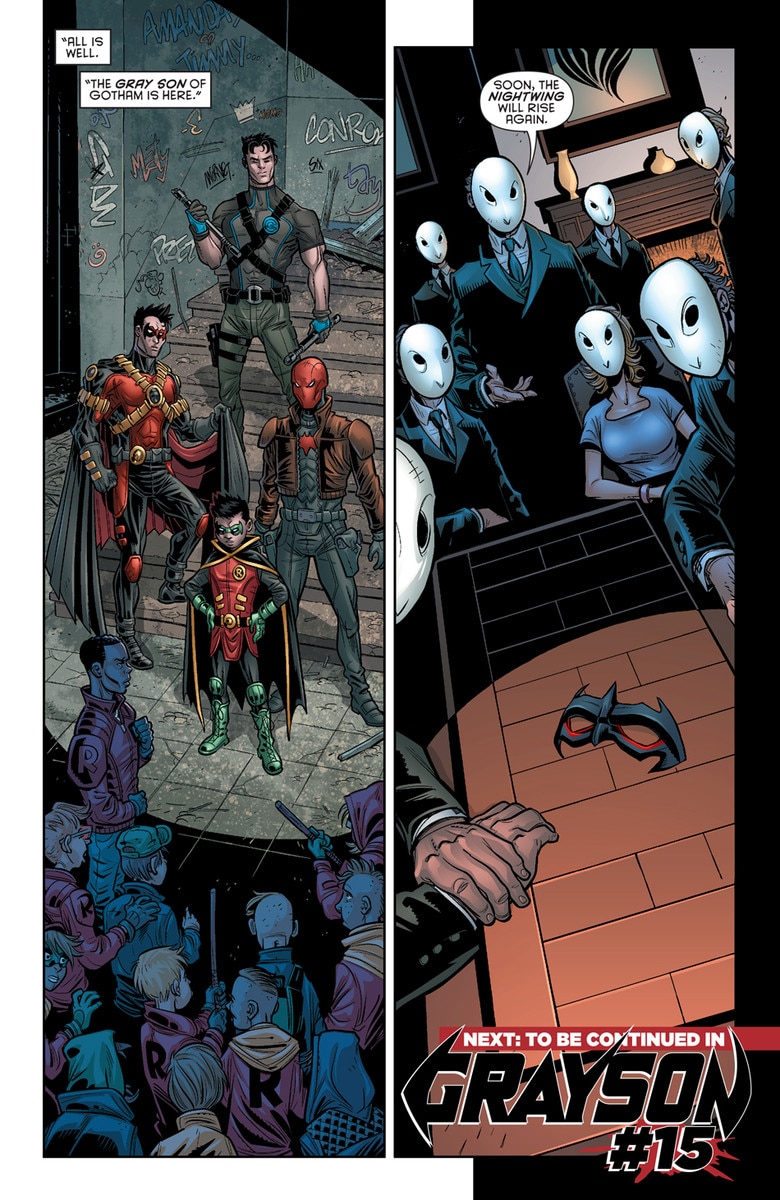 ROBIN WAR #1, written by Tom King with art by Khary Randolph, Alain Mauricet, Jorge Corona, Andres Guinaldo & Walden Wong, Emilio Lopez, Chris Sotomayor, Gabe Eltaeb & Sandra Molina and Rob Haynes, is available in stores now!
And the pace doesn't let up. ROBIN WAR continues next week with GRAYSON #15 and DETECTIVE COMICS #47, with WE ARE ROBIN #7 and ROBIN, SON OF BATMAN #7 in the weeks after that.