We've known for a little while now that Jay Garrick is coming to The CW's The Flash. The character was teased in the Season 1 finale and confirmed at San Diego Comic-Con where we learned that he'd be played by actor Teddy Spears (we also got another tease of the character at the end of the Season 1 highlight reel that debuted during the WBTV panel). However, while we've seen Garrick's signature hat and heard his voice, we haven't actually seen what he'll look like…until now.
The CW released their first official image of Spears as Jay Garrick today, and it's a fun one.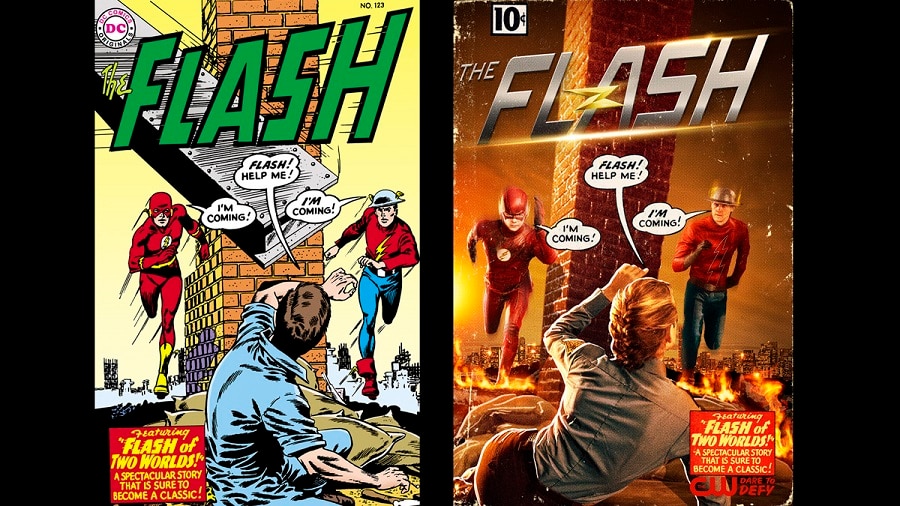 Click the image to view it full-sized!
 
Yes, that's Gustin and Spears paying tribute to the classic and hugely seminal Silver Age story, THE FLASH #123's "The Flash of Two Worlds!" by Gardner Fox and Carmine Infantino. In this story, Barry Allen was transported to Keystone City where he met the Golden Age's Flash, Jay Garrick. This was the first time that a previous version of a DC Comics character met with a current iteration, and it was accomplished by establishing that Garrick and other Golden Age heroes were actually living on a parallel world that came to be known as Earth-2. In other words, it was on the shoulders of "The Flash of Two Worlds!" that the entire DC Multiverse was born.
The story was influential in other ways as well. After meeting an earlier version of himself in The Flash #123, trips to alternate worlds went on to become something of a staple for the Scarlet Speedster (most recently in Geoff Johns and Andy Kubert's FLASHPOINT, which kicked off The New 52). Therefore, it's not surprising that The CW's small screen adaptation would explore the concept of the Multiverse in its second season or pay tribute to the story that started it all with their first image of Garrick.
So what do you think? Are you excited to see Earth-2 onscreen? And who do you think would win in a race…Barry Allen or Jay Garrick? Comments and answers below, please!