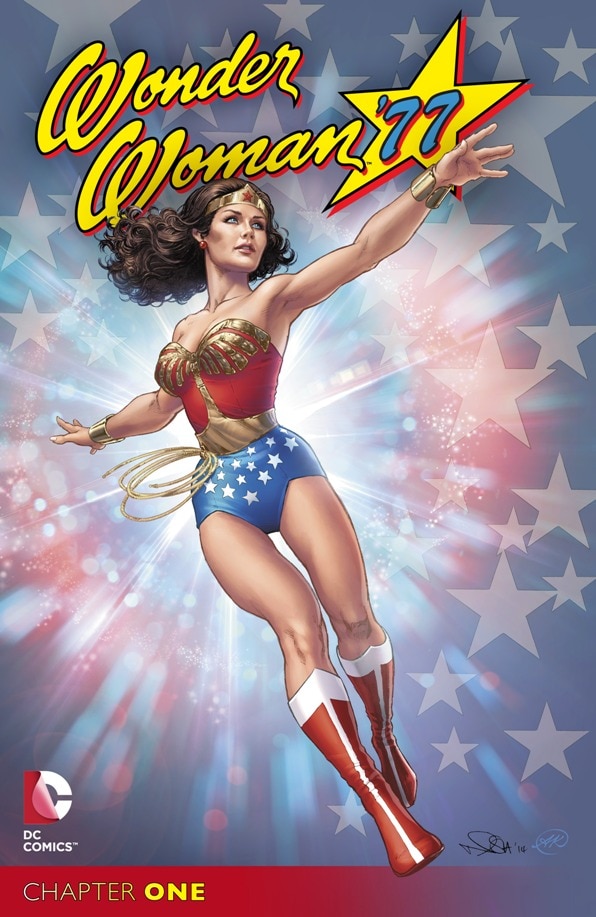 For a certain generation of fans, actress Lynda Carter is Wonder Woman. For them, it's impossible to think of the Amazonian Princess without thinking of her disco theme song, flashy spins, or most importantly the striking actress who embodied her on the '70s-era Wonder Woman TV show. Nearly four decades have passed since that show hit the air, but much like the Adam West Batman TV series before it, the classic Wonder Woman is back—as a brand new, digital first comic series.
Written by Marc Andreyko, WONDER WOMAN '77 debuts digitally today with a disco-driven adventure that serves up polyester and punches in equal measure and that boasts impressive likenesses of the shows two leads (Carter and actor Lyle Waggoner, who played Steve Trevor) by artist Drew Johnson. Embracing its '70s setting wholeheartedly, it promises to be a distinctly lighter take on Diana that should be a welcome return for viewers who grew up with the TV series and a fun surprise to fans who haven't ever seen it.
To learn more about this brand new comic book, and to get a better understanding of the importance of the show, we sat down with Andreyko to discuss Carter, embracing the 1970s and why the Wonder Woman theme song should be our national anthem.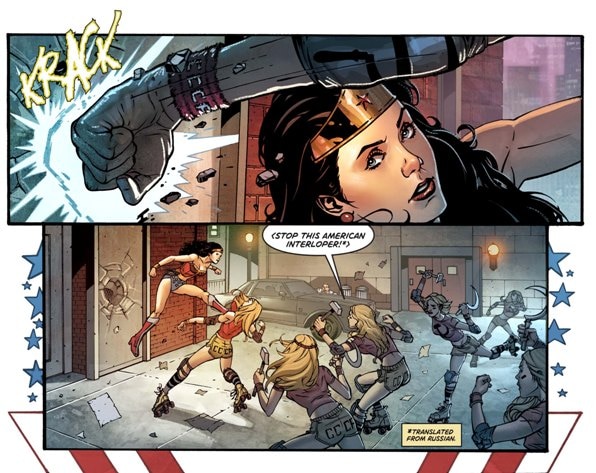 For fans who haven't ever seen the Lynda Carter Wonder Woman TV show, how would you describe the show and your comic?
Wonder Woman '77 follows the adventures of Princess Diana, the Amazon super hero known as Wonder Woman, who in her civilian identity is Agent Diana Prince who works for the government. Basically, it's your typical, "I've got my secret identity. I've got my super hero life. I'm juggling those while fighting crime!"


When was the first time you remember seeing the Wonder Woman TV show, and was that your first exposure to Wonder Woman as a super hero?
I was five or six when the Wonder Woman show started, and I'd known who she was from the Super Friends cartoon and from the comic books that I had read. But what caught me was that I remember seeing a commercial for it with her turning from a pretty lady with glasses to having a cool costume, and I remember just dancing around to the theme song and really being obsessed with wanting to watch this show.
I also remember that Olivia Newton John was a big star when I was a kid because of Grease, and she had a TV special and one of her guests on this variety show was Lynda Carter—or rather, not Lynda Carter, but Wonder Woman. I remember watching the show as a four or five-year-old asking my mom where "Newton" and "John" were because I thought Olivia Newton John was a trio.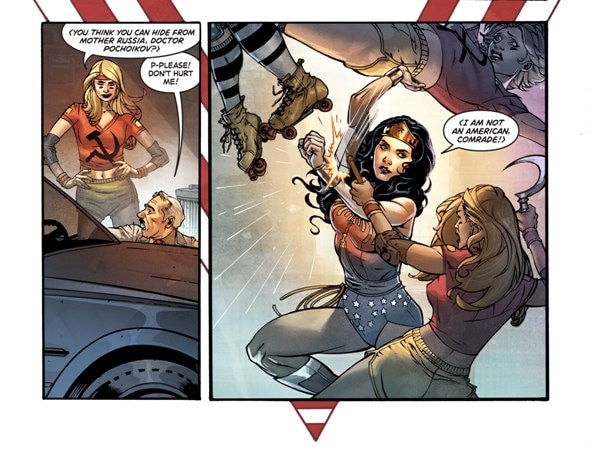 Why do you think this TV show has so many fans today?
I think it has a lot to do with Lynda's performance. There's just something…  She's stunningly beautiful, she's empowered, she's attractive without being too sexy. There's just a sort of all-American, beautiful, soothing, maternal quality to her. She's what Wonder Woman should be. She encompasses everything great and powerful about being a woman, and Lynda took it all seriously. There was no judging the fact that she was playing a super hero. She took it as seriously as if she was playing Florence Nightingale or Eleanor Roosevelt. It was a role and she threw herself into it, and it shows. It's what makes it have so much impact and such timelessness.
People tend to get spoiled reading those lists of the fifty super hero movies coming out in the next five years. Back in the day, until Tim Burton's Batman changed everything, super hero stuff was few and far between, and most of it erred on the side of being really silly. So to have something that spoke to a character in a way that was fun, accessible and respectful, that really stood out and it continues to do so—it's one of the best performances in super hero film and television.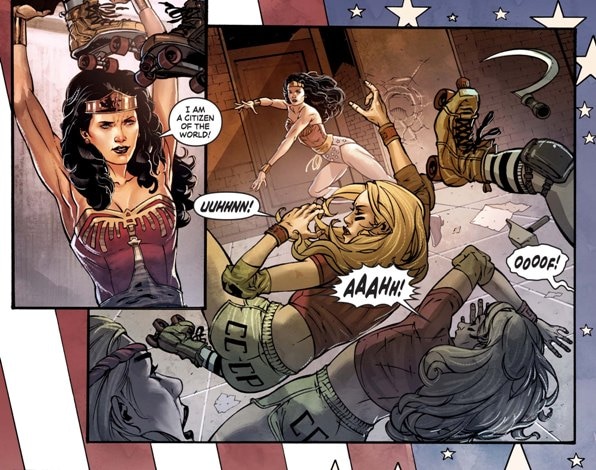 As a show, Wonder Woman is full of visual and musical cues, most of which have a lot to do with the era it was filmed. How do you translate that to comics? What are you doing in the series to bring that sensibility to the book?
That's probably more of a question for the artist. I'll write the stuff in the script. I'll write something like, "Wonder Woman is spinning around and turning back into Diana Prince," and it's up to the artist to do the heavy lifting when it comes to making it work. I don't know if you've seen any of the art for the first chapter, but Drew Johnson is our artist on it, and he's doing exemplary work with capturing that '70s vibe in a really clever way.


What can you tell us about the first storyline?
The first storyline involves Diana Prince and Steve Trevor who are faced with protecting a Soviet scientist who has defected. It's called "Disco Inferno." We are embracing the '70s full on!


You've mentioned a few of the show's signatures, and I'm wondering, how does Diana's spin come across on paper?
It's beautiful. I've only seen one because different chapters are being worked on simultaneously, but the one in the first chapter that Drew has drawn, you can hear the sound effect when you see it.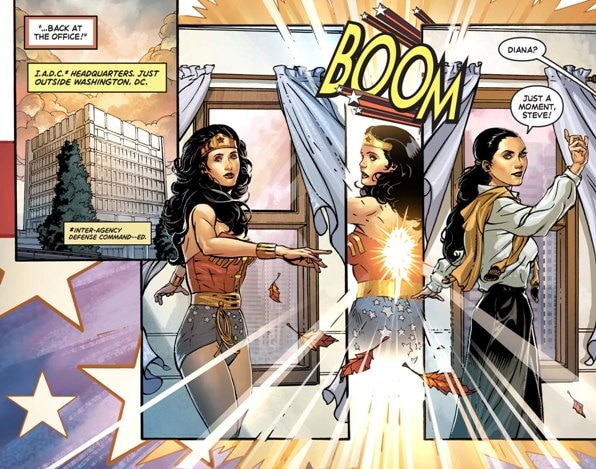 Wonder Woman's signature spin


Have you had the Wonder Woman theme song going through your head as you've written some of these action scenes?
Oh, I've had the Wonder Woman theme song going through my head since 1975!


It's one of those ones that just gets stuck in there, isn't it?
Any theme song that has the lyrics, "In her satin tights, fighting for your rights and the old red, white and blue"—it should be our national anthem!


Final question, for the record, how does Wonder Woman remember where she parked her invisible jet?
Well, we have not seen the invisible jet yet. That might be a very Kafkaesque story. You might getting co-plotting credit for that one!

Wonder Woman '77 #1 is now available in the DC Digital Comics Store and anywhere else digital comics are sold.