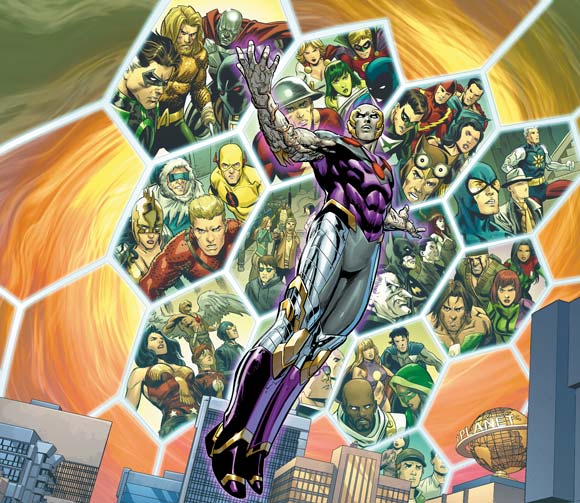 Comic book fans have a lot to be excited about! Today, DC Entertainment and USA TODAY announced the next major DC Comics event: CONVERGENCE.
Comprising a weekly comic book series with veteran TV writer Jeff King (Executive Producer of White Collar and Continuum) making his comic book debut as the lead writer on the 9-part series and 40 brand-new 2-part miniseries written and drawn by an exciting and diverse array of star talent, whose teams and titles will be announced in the coming weeks, CONVERGENCE is one of the most epic and inclusive events DC Comics has ever constructed—touching upon every facet of DC Comics' rich publishing history.
If you've been reading THE NEW 52: FUTURES END and EARTH 2: WORLD'S END, now is the moment you've been waiting for. All things converge as readers get to experience the DC multiverse like never before—hundreds of heroes, hundreds of villains, numerous worlds, and universe altering events all in one place, one time.
Taking place outside of time and space—on the question mark, just below Earth 29 and above Chaos, on the Map of the Multiverse—and introducing the new villain—Telos, this massive event will be published throughout April and May.
Head on over to USA TODAY (or pick up a copy of the paper) to get the full details and find out what co-publishers Dan DiDio and Jim Lee have to say about this event.
Look for CONVERGENCE beginning April 1, 2015. CONVERGENCE #0 will be co-written by Dan Jurgens and Jeff King and illustrated by Ethan Van Sciver. CONVERGENCE #1-8 will be written by Jeff King with art by Carlo Pagulayan and Stephen Segovia. All issues will include covers by Ivan Reis and Joe Prado.
And check out the promo art above by Carlo Pagulayan and Jose Marzan, Jr with colors by Hi-Fi.